Faculty and Staff
Dyson Voices: A Conversation with S. Brian Jones
The published playwright, actor, and arts educator shares his passions and excitement as the new Assistant Dean for Diversity and Equity in the Arts at Pace.
Image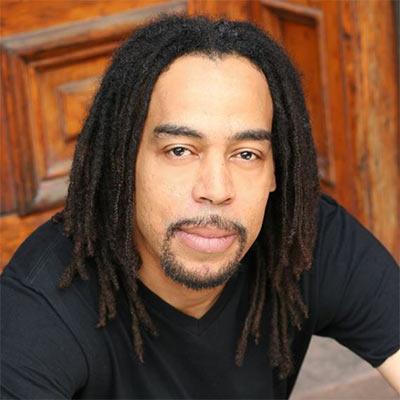 S. Brian Jones, or simply, Brian, is nothing short of a jack-of-all-trades in the theater industry. An actor, playwright, and educator, Jones has inspired underrepresented youth and helped to broaden the mindsets of many through his work. His most well-known plays, including Sister Mother Daughter Wife (2009), Deconstructing Family (2005), and Limited Engagement (2002) explore themes of diversity and cultural identity. Emiliana Hokr, '21, Communications, met virtually with the new assistant dean recently to discuss his passion for the arts, working with students, and championing diversity, equity, and social justice.
When did you realize you were passionate about the Arts?
I was 9 years old when my godmother took me to see the play Purlie Victorious at Playhouse in the Park. The curtain came up, and I was hooked. For two hours, I forgot everything that was going on in my life. I remember going, 'I wanna do that. If I can make people forget what they're going through for two minutes, and lift them up, that's what I want to do.' That's when I knew that it was my passion.
What are you most excited to do for students as the new assistant dean for diversity and equity in the arts?
Everything! I am very student-focused. I want students to know they have me as a resource, an outlet, a sounding board, specifically with topics such as diversity and equity. I'd really love to offer you a space where your voice will be respected.
You have a BA in Communications/Theatre from Rhode Island College and and an MA in Applied Theatre from CUNY, School of Professional Studies. How did your own education influence you?
My education and experiences have informed me that whatever path you take, you have to make the decisions that best suit you. I was supported on my path so that I could [empower] other people to take the path that best suits them, not their parents, not their guidance counselors. I started out at a Historically Black College, Morehouse College in Atlanta, Georgia, and had to take a year off for financial reasons. I enrolled and graduated from Rhode Island College later.
How does your writing explore diversity and its relationship to cultural identity?
I'm a very subtle writer. I don't like to beat people over the head with race, but I want people to have access to cultural identity and what's going on. I want you to look at my characters and say, 'That could be me, but I'm appreciating that it's African Americans, women, people with disabilities.'
Tell me about your most memorable experience as an actor.
As an actor with Rites and Reason Theatre [founded in 1970 at Brown University], I got to work with Ruby Dee [A Raisin in the Sun]! I was the narrator for a show she was directing. At a performance, I introduced her to my mother, and I watched my mother become a little girl because she was meeting [a celebrity]. It touched my heart so much.
How has teaching changed you as a person?
Completely! When I first started teaching, I was working in a prison program for juveniles. [I learned] that they needed me in that room, they needed my lived experiences, my authenticity. That's all anybody really wants from [a teacher] because that's what they can learn and grow from.
What can students do to support and champion diversity, equity, and inclusion?
Be present, open, and honest. We all have to have space for each other, and learn to be okay with being uncomfortable.
About Emiliana Hokr
As a natural extrovert, I have always had a desire to meet new people. I am passionate about hearing the stories of others, their lived experiences, lessons, and adventures; it energizes me when I transform a stranger into an acquaintance. I chose to study communications because it would offer me an outlet to effectively reach more people. Though I do not have a single career set in mind, I know that with the relationships I have fostered throughout my years at Pace, I will be led on the best path that is made for me. Speaking with Brian turned my whole day around. It was a brief interview, but really it was a moment to share, laugh, and connect with a truly exceptional and charismatic individual. His energy was ricocheting through my screen! I'm grateful I had this experience, not only because I got to meet a great administrator, but also because I learned that bringing your authentic self wherever you go will open so many doors for you, and inspire others along the way.