Students
The Founding Editor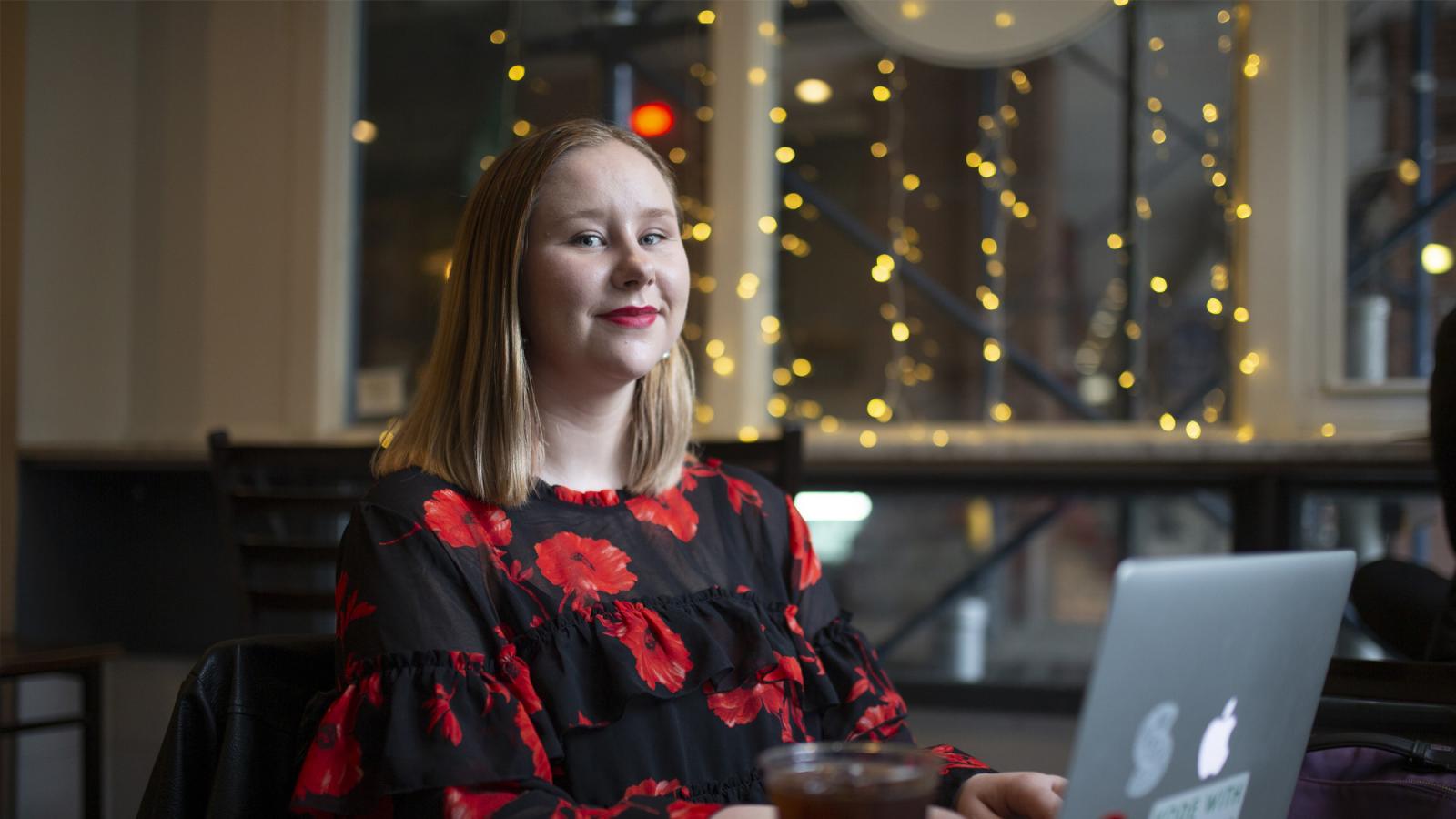 Brianna Adkins '21 is at the intersection of two disciplines: communications and technology, and she's paving the way for others with her fresh take on harnessing the power of media to make the world a better place. It comes as no surprise, then, that she's taken advantage of everything Pace has to offer since coming here.
"My education at this University has opened doors for numerous encounters, job opportunities, and internships, and I can't wait to see what I accomplish in the future," Adkins told us. But it wasn't all a walk in the park. "I have the opportunities to succeed, but they won't fall in my lap. I have to fight and hustle for every chance to be a better student, editor, and communicator." And she certainly has. Adkin's list of accomplishments are extensive; from founding Pretty Smart magazine to being interviewed by Amy Poehler's Smart Girls to attending and teaching at Kode with Klossy camp, her schedule is jam-packed. She even finds time to write for The Pace Press (and intern for them!) as well as Seidenberg's blog, two well-known publications right here at Pace.
But despite her impressive writing credentials, Adkins ultimately didn't focus on that particular subject when choosing a major. "I knew I wanted to explore options other than writing," she told us, having started out as a Digital Journalism major on the Pleasantville Campus before settling on Communication Studies—on the New York City Campus. "[It] was definitely a transition, because I felt like it was freshman year all over again, but [...] my new major has opened up a brighter chapter for me. I've been studying media theories, how media impacts society, and so much more."
Adkins is no stranger to using media as a tool to advocate for positive change. She launched Pretty Smartmagazine in high school as a means to promote body positivity through featuring women and girls of all different shapes and sizes. "I have the opportunity to highlight individuals who give others the guidance and encouragement to be better people," Adkins enthused. "Whether it's women who are leaders in STEM, journalists who cover positive or groundbreaking news, or activists who activate social change, I have the platform to give them a voice."
It was through the work of another platform, Kode with Klossy, that Adkins was able to amplify her own voice. She's worked for supermodel and entrepreneur Karlie Kloss as a teaching assistant at her coding camp, where she also attended. There, Adkins was featured alongside other Kode with Klossy scholars in a Wix commercial, went to a runway show in St. Louis, and met former Teen Vogue Chief Content Editor and current Out Editor-in-Chief Phillip Picardi. "I will always be grateful to Karlie and the Kode with Klossy community for the opportunities they've opened up to me," she said.
Through her involvement at Seidenberg writing for their blog, Adkins continues to hone her tech savvy skills—and engage with others in the field. "I've interviewed students who are at the forefront of innovation through their positions at Pace's Design Factory, those who are presidents of Seidenberg organizations, and others who are building incredible applications on their own or within groups," she told us.
Perhaps all of this might seem strange for someone so talented with the written word, and yet, the two subjects aren't so different to Adkins. "I love code because it's the language of technology," she explained. "With knowledge of coding, you have the opportunity to build applications and websites that can do so much good. I've used coding in jobs, for the Pretty Smart website, and [for] other occasions." We foresee an incredibly bright future for Adkins, not to mention all the people she will continue to inspire throughout her career.