Students
Graduating with Impact: The Legacy of Fare Trade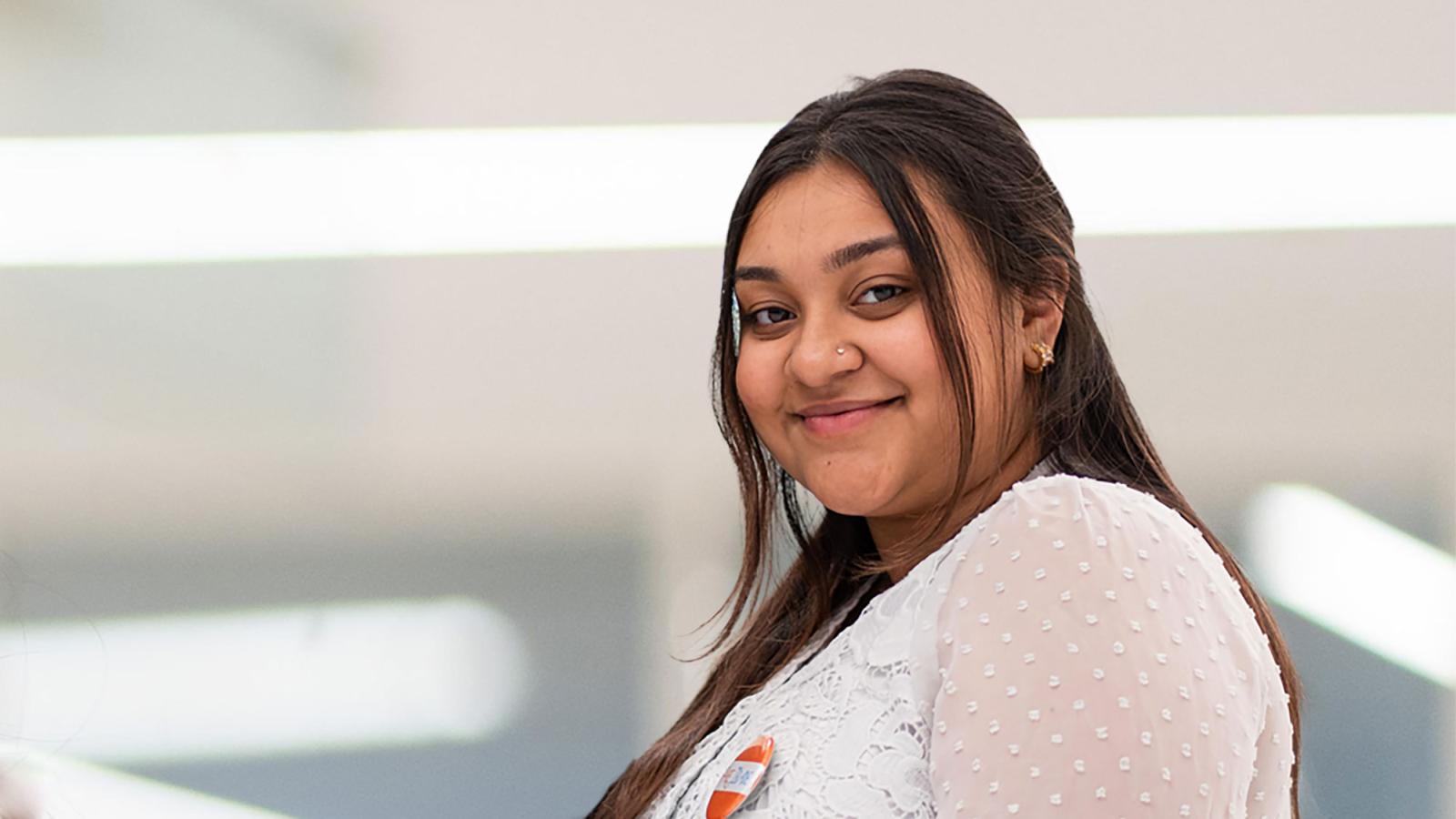 "All it took was a little idea."
Tasfia Rahim '23 is set to walk across the Commencement stage later this month with a BA in Political Science, a BA in Economics, and a Community Service Award. But she's leaving one of her greatest accomplishments behind, right here at Pace.
Back in 2020, Tasfia Rahim '23, Alex Kennedy '22, and Marisa Medici '22 had a small idea. They had long been acquainted with jokes of college students surviving off ramen or sleeping through meals, but the pandemic brought the issue of food insecurity into even sharper focus as they saw food pantry lines stretching across their neighborhoods. Newly selected as UN Millennium Fellows, they came together with an idea for a project: tackling food insecurity on campus.
For a year, they conceptualized an idea, collaborated across multiple University departments, and finally solidified their idea. They established Fare Trade, a mutual aid fund where students could re-allocate meal plan dollars to students in need. Beyond running and marketing the program, they also planned to help fortify existing food insecurity services and raise awareness.
Image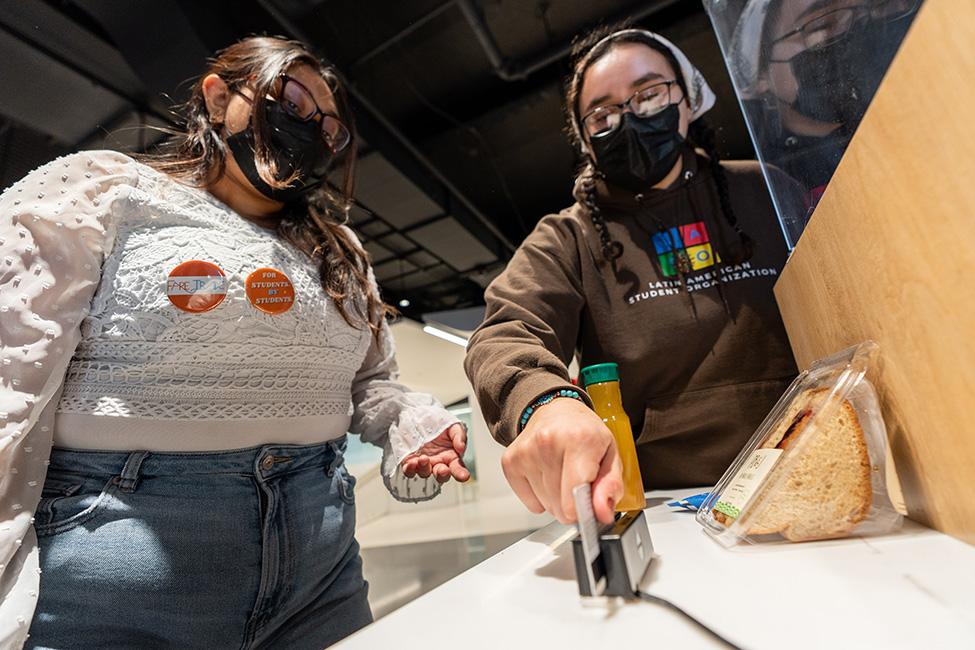 Fare Trade launched in the Spring semester of 2022. In the meantime, both Alex and Marisa have graduated, leaving Tasfia to continue the custodianship of the program on her own. Now, three semesters later, Fare Trade is stronger than ever and is firmly established as an institution created by students, for students.
The shape of Fare Trade has grown but by its very nature, it's ever-evolving. "During our first semester, we distributed $500, but last semester we saw significantly less," Tasfia explains. Interestingly, that dip in donations may come from Fare Trade's mission of raising awareness about food insecurity. "There was so much conversation about food insecurity, and students rising up to voice their concerns," Tasfia explains. "So, their mindset was less about giving but rather about having their voices heard."
Little passion projects like that makes such a huge difference to students.
Fortunately, those conversations did elevate the issue and ignited action from across the University. New York City's Student Government Association rose to the challenge and donated $5,000 to Fare Trade to be distributed. Which proved necessary, as Fare Trade's dip in donations coincided with a rise in number of appeals. Fare Trade began with 10 applicants in the first year to now 96―likely, once more, the result of raised awareness, and expected to grow. With this help from SGA, Fare Trade distributed $5,538.50 to 50 students in need this spring.
Pace also launched a Food Insecurity task force, where Tasfia participates in the funding group. "There's only so much students can do for each other, the University needs to take a step to address this issue. Which they are now with the Food Insecurity Taskforce," Tasfia says. "There's a lot of conversation, which I appreciate. Now we need to see action." Since its founding, Pace has urged community members to support food assistance programs currently in place, created a permanent food pantry on the Pleasantville Campus, and is currently re-evaluating meal plan options for students.
The program is in safe hands, even after Tasfia graduates. Fare Trade is now officially recognized and falls under the umbrella of the Dean for Student's department, ensuring its longevity. Even more encouraging is that the Fare Trade Coordinator will be a work-study position, empowering student workers to dedicate the time and effort Fare Trade demands. "It's a lot of work because there's so much communication, not only with the student body but also with the administration and other collaborators," Tasfia explains. And even better? "With our expansion onto the Westchester Campus in the fall, they'll be a paid coordinator position on both campuses."
I never anticipated my freshman year that when I graduated I'd have this big project—a legacy—I'm leaving behind.
She's not just excited about where Fare Trade will go but is thrilled to see other students rising up to make an impact. "So many good things come out Pace and especially the UN Millennium Fellowship, such as the period poverty project. I love that there are now so many period products in the bathrooms, I see such a big change… See? Little passion projects like that makes such a huge difference to students."
Tasfia's plan for after graduation is to continue on to law school, but in the short term she's excited to see what new passion project grips her.
"I never anticipated my freshman year that when I graduated I'd have this big project—a legacy—I'm leaving behind. I would have never guessed," says Tasfia. But according to her, that's what is special about Pace. "You will find your community somewhere here. Someone shares the same values as you and you're going to help each other work on something you care about. It's amazing that Pace gives these platforms to students, and that's something I'll always appreciate."
Learn more about the food insecurity initiatives and programs at Pace.
More from Pace
Pace Magazine
Community led food pantries have been supporting Pace Community members facing food insecurity for many years. See the options in Westchester and New York City.
Pace Magazine
Through the U.N. Millennium Fellowship, three Pace students are innovating the way food insecurity is addressed on campus with the Fare Trade program.
Students
Criminal Justice major and Millennium Fellow Danielle Harari set out to tackle period poverty in prison before realizing the issue was impacting her on-campus community. Now, with help and inspiration from fellow students, she's working to ensure every student in need on has access menstrual products.