Students
Lyfting to Success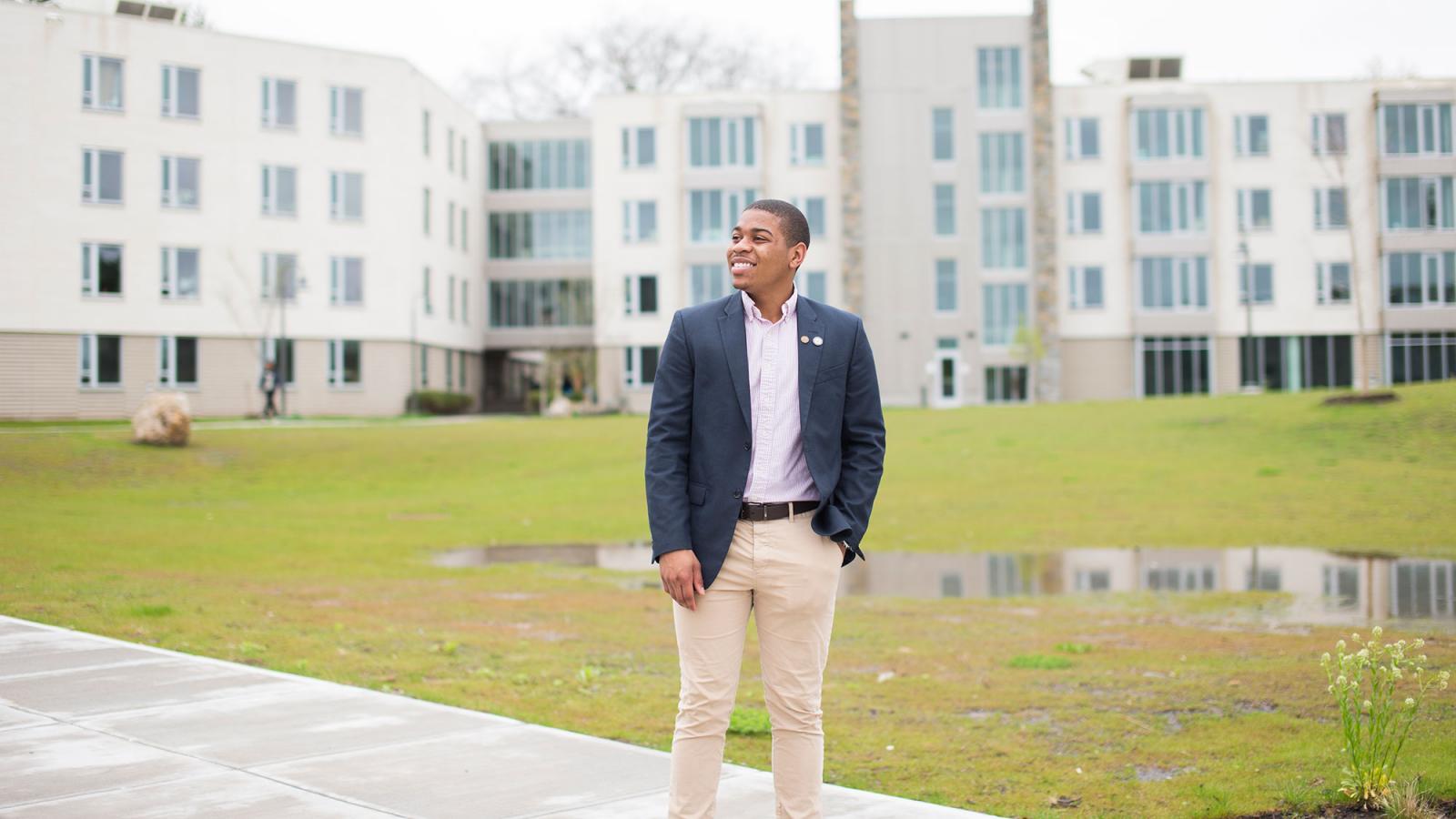 Julian Alston '18 values his tight knit-community at Pace Pleasantville—a smaller university setting full of unique opportunities and experiences in the heart of a campus that has fostered his immense pride for Pace.
My favorite thing about being a Pace student is the diversity of my campus. Pleasantville is smaller but it still feels big because of all the different people we have here from across the country and the world.
As a junior, Alston has already explored a wide range of organizations, internships, and job opportunities on campus to help him reach his goal of leaving a positive legacy on the Pleasantville Campus.
He currently serves as Student Government Association (SGA) Vice President of Administration, he is a mentor in the African American, Latino, Asian, and Native American (AALANA) program, and he is a member of the Lambda Sigma National Honor Society, the Urban Male Initiative, and the Black Student Union.
After getting elected to SGA and considering ways he could positively impact the community, Alston realized there was a need for better transportation to help make getting around the community easier and safer, he says.
"I want to leave my mark in a positive way and have my community taken care of," he says. "On campus, there are a lot of parking and driving issues, so I thought, is there a possibility to have a partnership with Lyft?"
Instead of driving your own car, waiting for a bus, or calling a cab, Lyft users can request a ride through an app on their phone and be taken to their destination by a local driver in a matter of minutes—providing an easier way for students to go to and from the airport, bars, grocery store, and more.
He pioneered and pitched an idea for a partnership between Lyft and Pace through which students would be able to score special discounts and Lyft would provide more drivers in "hotspots"—popular pick up and drop off locations such as Shoprite in Pleasantville and Grand Central in NYC.
"I want to keep my campus safe, and I know the NYC Campus could really benefit from it too," Alston says.
As a Lyft Campus Ambassador, he executes marketing campaigns on the Pleasantville Campus and the New York metropolitan area and works closely with Lyft's NYC headquarters. He says he is hoping for a launch of the partnership in the near future on both campuses.
His skill for navigating the business world landed him an internship at the global headquarters of Comcast in Philadelphia, Pennsylvania as a summer business operations and strategy analyst. In his role, he oversaw national supply chain and logistics flow, worked with five warehouses across the country, participated in brand strategy, reconciled financial statements, and managed the upkeep of weekly financial reports.
"The most useful tip I learned at this internship was my networking skills—I learned that your network is net worth," Alston says. "I have taken many of the lessons I have learned at my internships and applied them into real life situations, such as how to carry one's self in a business-like setting."
When he is not working 10 hours per week in the SGA office or working 16 hours per week at his two on-campus jobs at the College of Health Professions Center of Excellence and the Goldstein Fitness Center, he is building connections that will continue to lift him toward success.
"The best part is connecting with professors and the relationships I have with my advisors and my managers at my three on-campus jobs," Alston says. "Pace is a great community—it feels like a home away from home. You can't find that at a lot of universities."