Students
The Pioneering Physician Assistant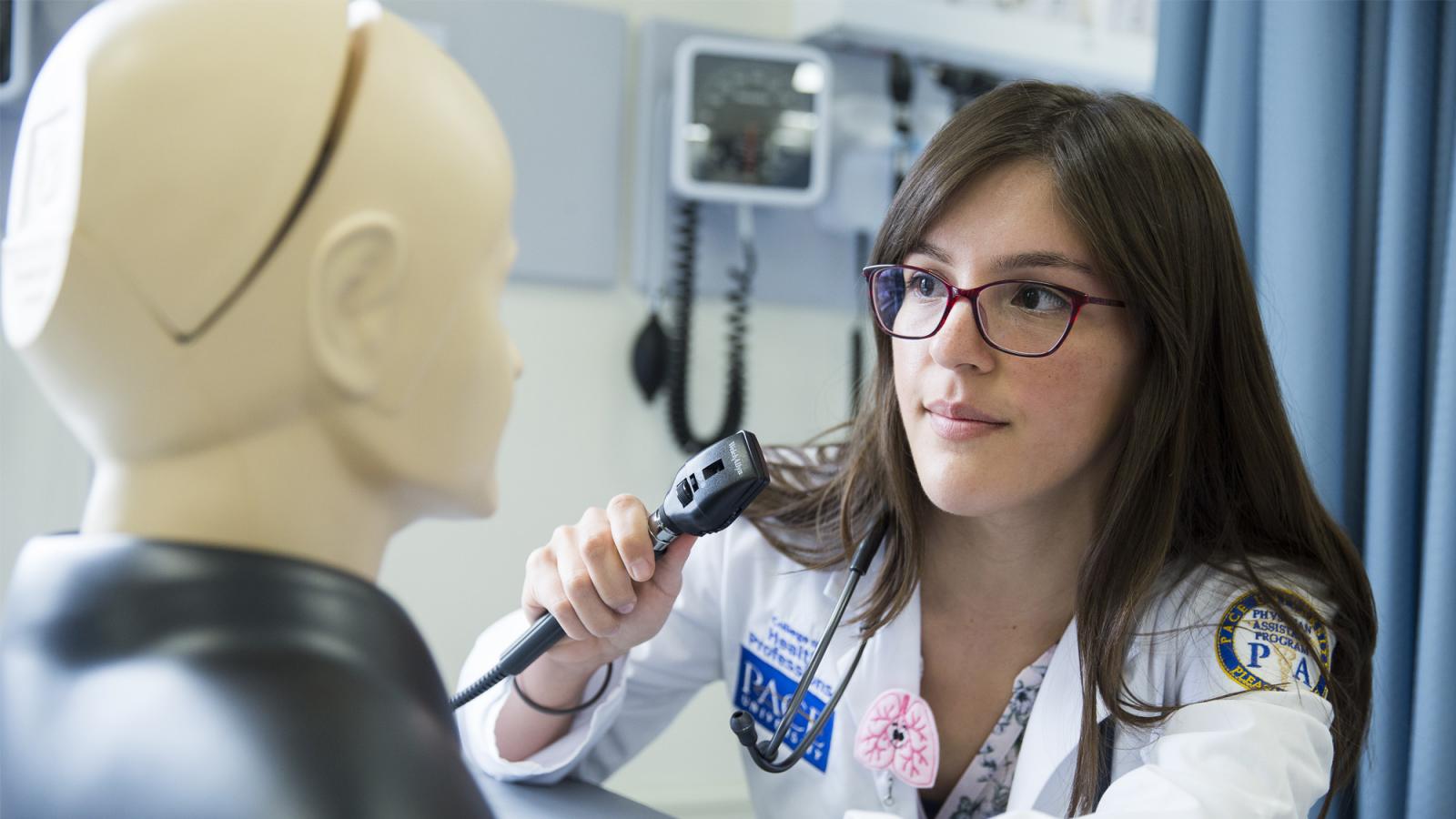 Jessica Jiménez '19 knew about Pace well before she enrolled. "My father learned English as a second language [on the] New York City Campus when he came here from Mexico," she told us. Her mother and older sister graduated from Pace, too, and were supportive of Jiménez's decision to apply. "They always talked about Pace with such pride," she said, a legacy she would easily live up to when pursuing her BA in Psychology. Jiménez was named one of Pace's Top 100 Scholars in 2016, received Dean's List First Honors four times, won first place in the English Department's Writing Contest for poetry, and also won for an experimental psychology research paper in the Writing Enhanced Course Contest, which was presented at the Annual Pace Psychology Conference. Talk about work ethic!
She cited her professors as just one of the many reasons why she ultimately decided to pursue a master's degree at Pace as well, saying that, "I believed that Pace's graduate professors would be just as good—if not better." Her new focus? The recently launched Physician Assistant (PA) program on the Pleasantville Campus. "I had to take numerous science prerequisites," Jiménez explained, who also worked as a physical therapy aide all while maintaining a 4.0 GPA.
"The biological and pathological components of medicine have always fascinated me," she said, but it was the team aspect of the work that also sparked her interest in pursuing the career. That and their dizzying breadth of knowledge across a variety of medical specialties. "There are many callings in life," Jiménez told us, "but for me, they all pale in comparison to the skilled care and healing touch that a PA can provide to so many people."
It was that level of dedication and a desire to lend her skills for the greater good that she took up the mantle of Historian and NYS Chapter Representative of the PA program on the Pleasantville Campus, becoming a leader for her peers. "I wanted to be a part of that impact to set an example for future students," she explained. "Everything we do reflects on our program, and since we are the first class, first impressions are crucial to succeed."
Currently, Jiménez is in the clinical phase of the rigorous 27-month PA program. In general surgery alone, she faced a challenging schedule beginning in the early morning hours and working well into the evening, covering "trauma, acute care, minimally invasive, and vascular surgeries (including a 24-hour shift), as well as completing projects at night for my surgeons, creating a presentation for my class, and studying every day for my end of surgery exam." Whew!
During one of those many surgery rotations, Jiménez encountered a patient and his wife who were both extremely nervous about his upcoming procedure. "I volunteered to wait with [them] until a medical transporter came to take him to the operating room," she said, explaining that she listened carefully to the couple's concerns. "I reassured them that they [were] in good hands, [and] mentioned how I saw a lot of people who maintained a good quality of life after," as Jiménez was very familiar with this particular procedure. "I went with him down to pre op and the couple said they felt better knowing that I was going to be there surgically assisting in the operating room."
We know Jiménez will go on to help countless others in her medical career, and we're excited to hear more about what will undoubtedly be a bright future for her.