Faculty and Staff
Selling Setter Success
Image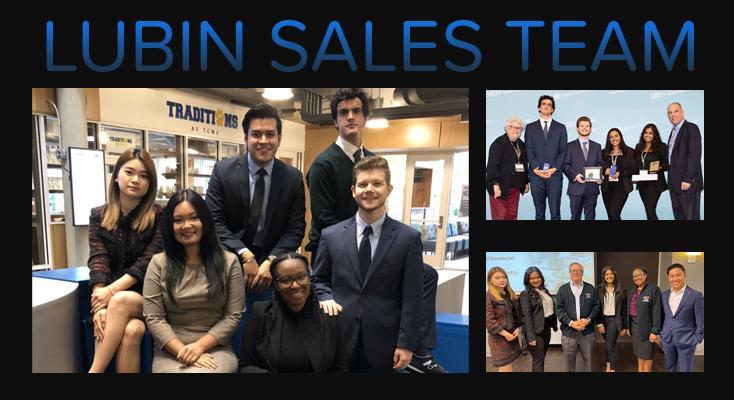 "Think about selling a car, it's so much more in that," said Mariama Diallo '20. "First, you have to believe in your product or solution. Then you have to be motivated."
"I consider myself a bullfighter," said Eduardo Flo '21.
Such are the mantras of the newly-formed, yet already considerably accomplished Lubin Sales Team. Founded in fall 2018, this interscholastic team, led by Lubin Clinical Professors Harvey Markovitz and Deborah Fain, has been racking up awards at numerous collegiate sales competitions throughout the country—including recognition at Kennesaw State University, Temple University, Duquesne University, The College of New Jersey, and more.
Through these compelling and practically-minded competitions, Pace students have been taking advantage of what's proven to be quite a unique opportunity; the competitions enable students to simultaneously hone their professional sales skills, win prize money, and even secure job and internship offers.
Markovitz, who notes that Pace is the only college in Manhattan teaching professional sales, decided to form a sales team at Lubin after learning about the burgeoning sales competition network that continues to grow across the country.
"I go to various conferences with other professors teaching sales, I learned there's this whole process amongst universities to develop students to become professional salespeople in a formal manner, to the extent that they can go to competitions and compete with one another," said Markovitz. "It becomes a huge interscholastic competition network. There are about 120 schools involved."
From there, Markovitz pitched the idea of forming a sales team to some of his students. The pitch, unsurprisingly, turned out to be quite successful.
"I was in his sales management class, he talked about his sales team, I was happy to see that I would have so many opportunities job-wise, and meet other people that would share the same passion," said Diallo. "Professor Markovitz gave me the right sales pitch."
As an international student, Diallo realized that the sales team could potentially open invaluable doors to companies and opportunities—some of which she has already taken advantage of.
"With the sales team, there are a lot of opportunities—winning money, being able to get a job," said Diallo. "As an international student, it's really hard to stay here because we need a sponsorship. Through this competition, I was able to find companies willing to sponsor me in the future, and I had a wonderful internship this summer with Granite Telecommunications."
At Granite, Diallo even went on to win an intra-company sales competition amongst interns, first winning the competition amongst the interns in New York, then traveling to Boston to win the company's national competition.
"I was able to win $1,000 in scholarship money," said Diallo. "That was a great experience."
Granite Telecommunications, alongside Guardian Life Insurance, State Farm Insurance, Tom James Co., and View, are the generous external sponsors who help fund the sales team. And while their generosity has been considerable, the companies view their sponsorship as a win-win proposition. By helping fund the team, they gain access to some of the best and brightest salespeople of tomorrow.
"Because we have these sponsors who are very generous, we are able to travel," says Markovitz. "What's in it for the sponsors? They have the opportunity to take our best, hire them, make them job offers. They know these kids are trained to be professional sales-people day one out of school. They're job ready."
After a successful fall, the team is looking to continue to spread its wings with springtime competitions across the country, including the national competition at Kennesaw State University in Georgia. Given that last year's graduating team members secured jobs at UPS and FDM Group, Markovitz is confident that this year's outgoing batch will continue this new, yet exciting Pace tradition.
As for the future? Markovitz, Diallo, and Flo all believe the sky's the limit—both for the continued growth of the team and their own personal trajectories.
"It's the most exciting thing that's happening at Lubin right now," said Markovitz.
Pace Now
Faculty and Staff
The Department of Criminal Justice and Security and Westchester Department of Correction (WCDOC) joined together to complete a virtual course offering on Crime and Public Policy within the Inside-Out Prison Exchange Program, in which Pace students learned in conjunction with incarcerated students.
Pace Magazine
Professor Claudia Green, director of Pace's Hospitality and Tourism Management program, was faced with a challenge as she prepared to teach her civic engagement and public values course remotely: How would the class build a community project when the students were located around the world?
Students
Morgan Shanske '21 doesn't wait for opportunity—she goes out and gets it by launching a new business: Get Morganized LLC. She's also an aspiring attorney working for a nonprofit and volunteering at the Brooklyn District Attorney's Office. Keep up!