Students
Trans-Atlantic Connections: First-year Experience in London Bonds Students to Each Other, Pace
Imagine studying British literature from the heart of London, exploring world-renowned theaters and museums, forming lifelong friendships. That's what students in Pace University's First-Year Experience in London program did this past fall, spending their first semester in a truly unique—and memorable—fashion.
Image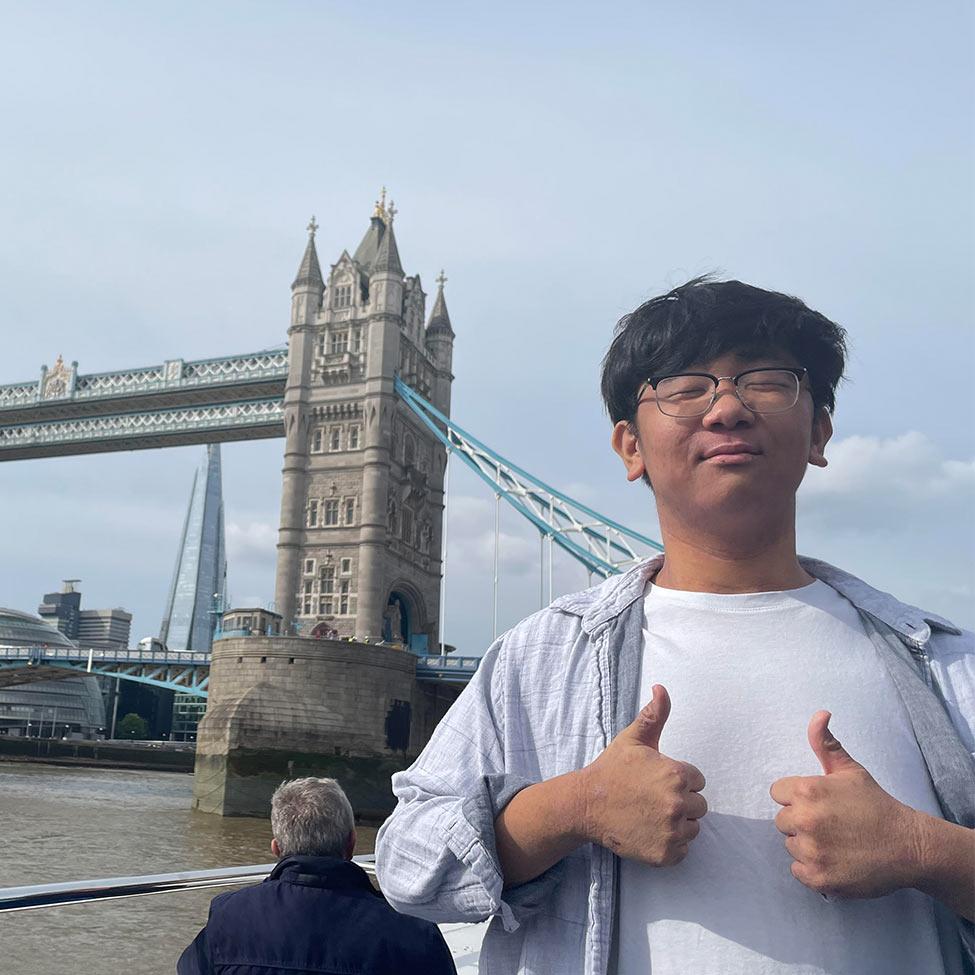 "I've dreamed of studying abroad, and specifically in London, since I started high school," said Ryan Kwon '26, Film and Screen Studies. "Something about the city–its people and its opportunities–have always enticed me. Since this program is only a semester long, I figured it would be the perfect chance to experience London."
The First-Year Experience in London (FYE), developed and managed by Pace Education Abroad, provides students in their first semester at Pace the opportunity to begin their college career abroad. With courses designed to satisfy Pace's core curriculum requirements and with dedicated professors and student support, students in this program have a once-in-a-lifetime opportunity to study in one of the world's most prominent academic cities.
"The aim of the program is to bond the cohort to each other and to Pace," said Senior Associate Dean and Associate Professor of Writing and Cultural Studies Bette Kirschstein, PhD, who served as the on-site academic director for a cohort of 20 students in fall 2022. The FYE program is also designed to help students become global citizens and strengthen their essential "soft skills" that future employers want, such as adaptability, time management, resourcefulness, and teamwork.
Students in the program study at the Kaplan International College. They take two online courses taught by Pace faculty, two courses—including Modern British History—taught by Kaplan faculty, and two taught by the academic director.
Kirschstein taught two English courses, an introductory writing course and Great Britain: Literature, Art, and Culture, both of which she intentionally tailored to their location. "For example, for the ENG 120 ethnography, students did their fieldwork at different local pubs," she said. "The British culture class also benefitted greatly from being in London, as we visited museums to see the art we were studying."
Jessica Almonte '26, a student in the cohort, mentioned the impact of seeing what she was studying in person. "I loved Dr. K's classes," she said. "It made us feel really connected to everything around us." Almonte added that, while she hasn't chosen a major yet, her time in Kirschstein's classes and in London has her seriously considering studying English.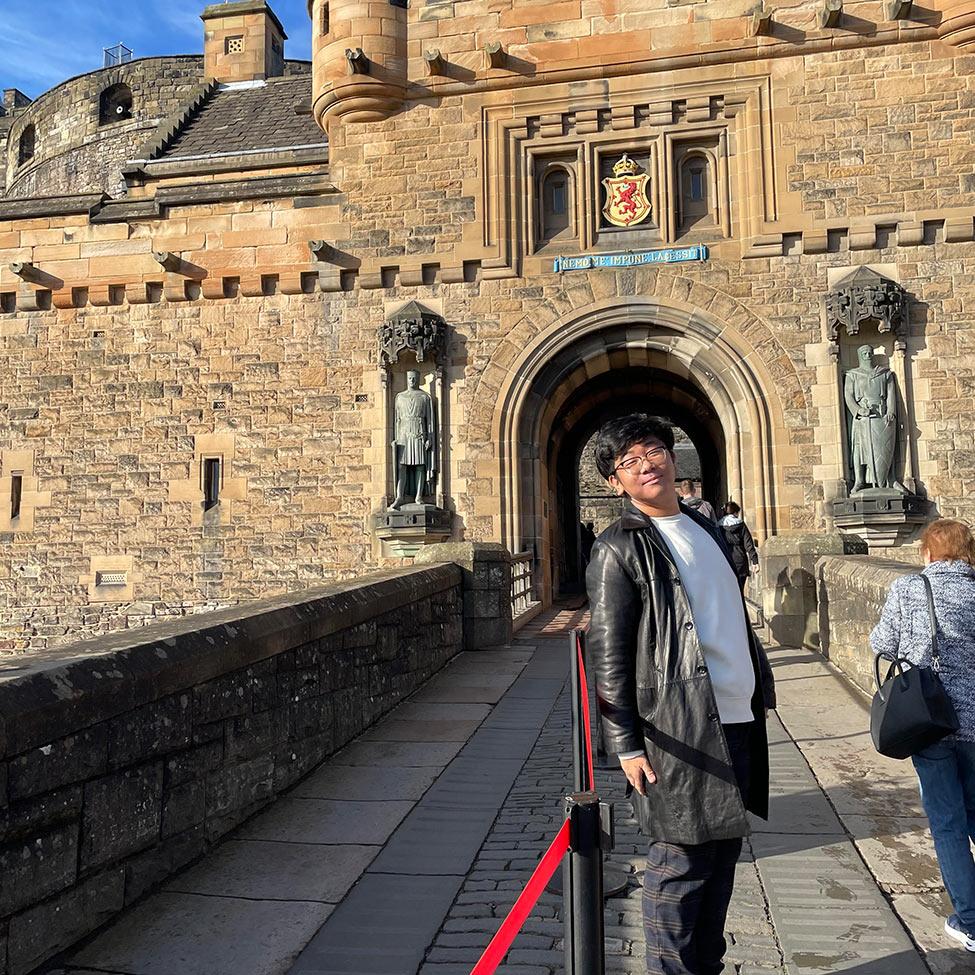 "I noticed I loved being a student in a big city," Kwon said. "All of my professors were so excited to teach us new and inspiring lessons, even outside the classroom, during trips and group dinners."
Kirschstein and the cohort embarked on a number of excursions, including a ride on a canal barge, a trip to the London Eye, a boat ride up the Thames to Greenwich, and a day trip to Bath after reading Jane Austen's Northanger Abbey, which was set in that city.
Almonte also noted the benefit of the program's small cohort, all navigating the experience of being away from home—most for the first time—together. "We all felt like we were in the same boat and had each other to lean on," she said.
And now, after returning to Pace, the cohort continues to be a support system for one another. In fact, Almonte is now roommates with another member of the program.
"Having made these friends is such an amazing security blanket," she said of the transition to Pace. "London provided me with a sense of responsibility and independence that I didn't have before. Now I feel like I'm going to college for the first time, but I always have the people from the cohort to lean on."
London provided me with a sense of responsibility and independence that I didn't have before. Now I feel like I'm going to college for the first time, but I always have the people from the cohort to lean on.
The Pace Office of Education Abroad also organizes a number of initiatives to support the First-Year Experience program students' transition back to Pace in the spring. Students take UNV 101 during their semester abroad to learn more about Pace and discuss reverse cultural adjustment. They also participate in new student orientation upon their return in January and attend an FYE reunion with their cohort-mates. Academically, students meet with a Pace academic advisor to discuss how to incorporate their FYE courses into their intended major.
"The transition to Pace has been going a lot more smoothly than I imagined, especially thanks to the three-day orientation we had to the New York City campus," said Kwon. "I still run into those I traveled with and it's always a pleasure to say hi. And meeting even more kind and motivating people is another plus."
Almonte said she would "100 percent" recommend the program to any student considering it, noting, "I've never had a better four months of my life, and it made me so excited to come back here."
Kwon added: "This chance has taught me that most times, you are more prepared than you may think, and taking the first step is all you need to do."
Associate Professor of English Sarah Blackwood, PhD, will serve as the on-site academic director for fall 2023. The application deadline for the fall 2023 First-Year Experience in London is April 15. Learn more about the program and how to apply.
A Day in the Life of a First-year Experience Student
Jessica Almonte shares, in her own words, what a typical Day in the Life of a Pace FYE student might look like.
8:00 a.m.: Wake up!
8:30 a.m.–9:30 a.m.: Get ready for day
10:00 a.m.: Get coffee and pastry at The Mess Hall (best café in Southwark, you'll meet Richard)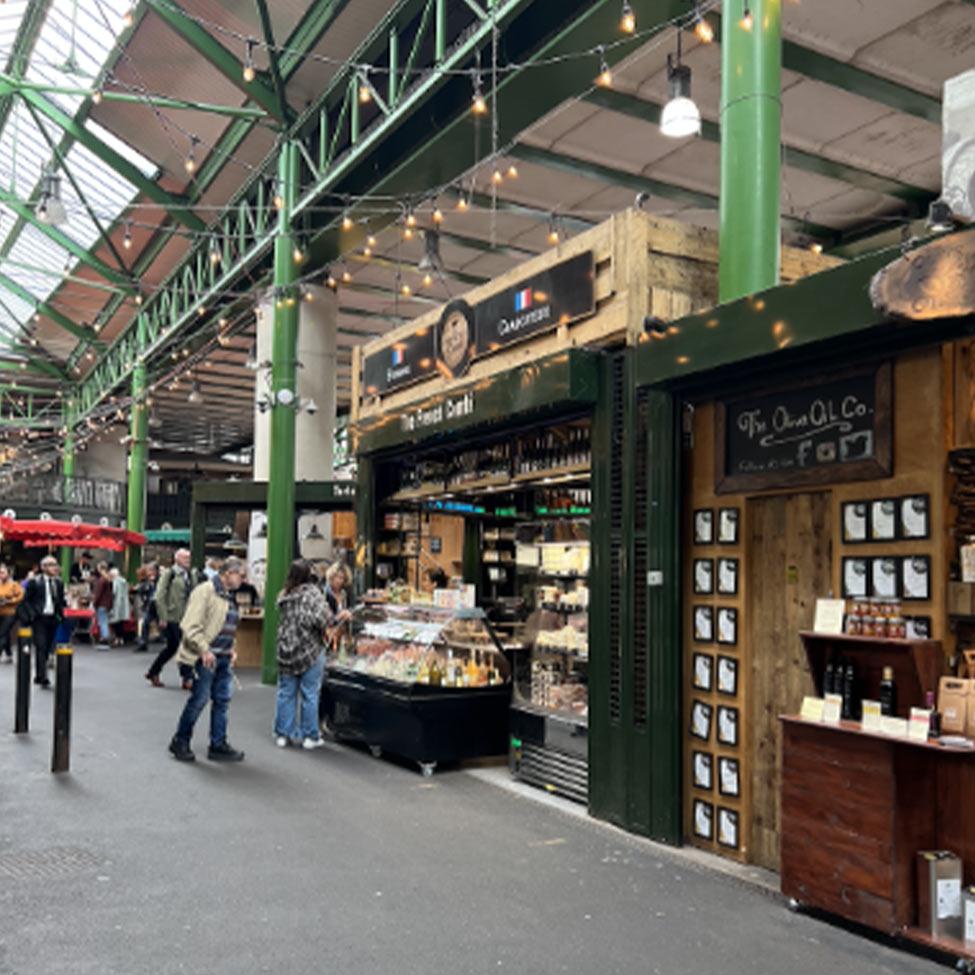 10:15 a.m.: Walk to school through Borough Market
10:30 a.m.: English Literature and Culture with Dr. Kirschstein (all classes start at 10:30)
12:00 p.m.: 2-hour lunch break until next class (lots of food options in Borough Market)
2:00 p.m.-4:00 p.m.: Critical Writing with Dr. Kirschstein
4:00 p.m.: Walk home
5:00 p.m.: Take tube to get groceries at Tesco, Sainsbury's, or M&S
6:00 p.m-8:00 p.m.: Homework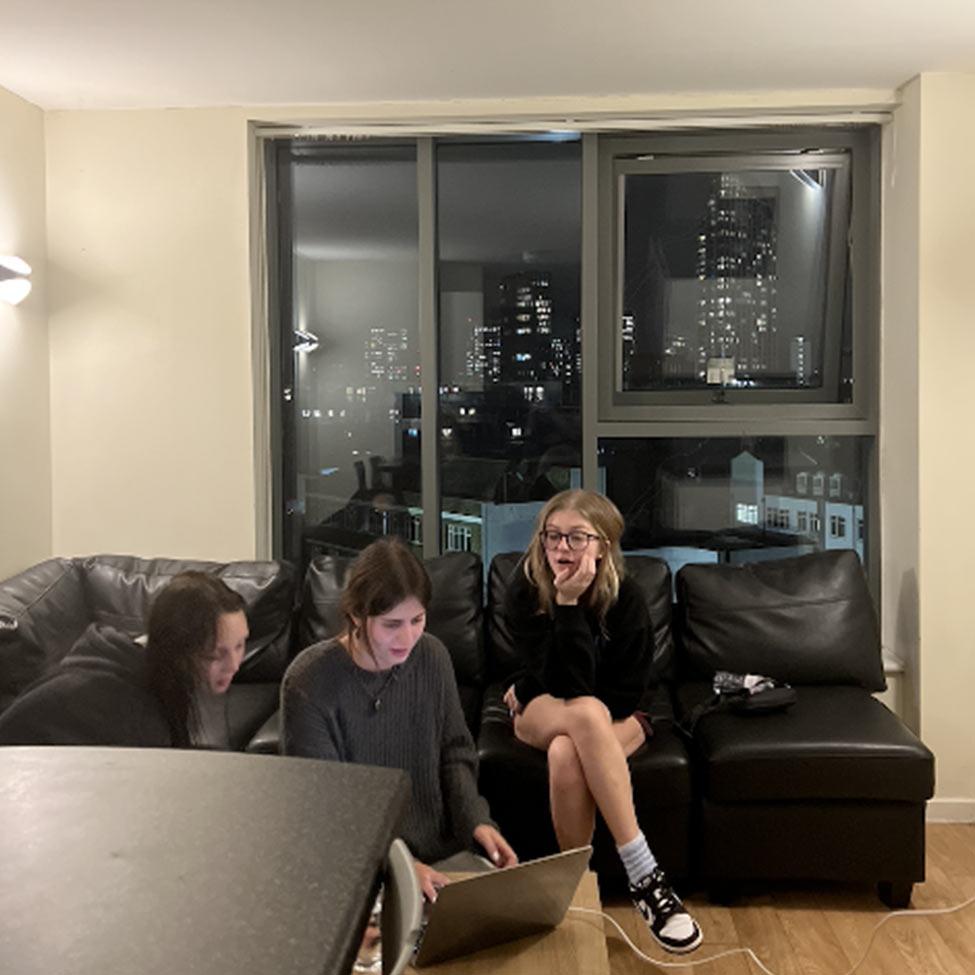 8:00 p.m.: Watch movies with your friends in common kitchen
11:00 p.m.: Go to sleep!
This is what a typical (school) day of my life was like during my semester abroad. It might seem boring on the outside, but I promise you, even the mundane things were so exciting. I made lifelong friendships and experienced things I will never forget. In my first semester of college ever, I went to Scotland (our cohort organized trip), Paris, Brussels, Amsterdam, Brighton, Bath, and Oxford. There were other people in the cohort who went to Iceland, Spain, and Ireland. That's not something many other college freshmen can say. There is a far vaster world out there than you would expect. It's full of beauty and hope and promise and new foods and new music and new friends. People found love and their purpose in life. If you have the opportunity to experience this, I urge you to!
More Dyson Digital Digest Stories
Students
Last winter, Pace University received a Collegiate Science and Technology Entry Program (CSTEP) grant from the New York State Education Department, aimed at providing resources—including scholarships, faculty-student research opportunities, and professional development workshops—to students from underrepresented groups in STEM fields. Four Dyson students describe the impact the program has had on their undergraduate experience and their lofty plans for the future.
Students
Through a Provost Office Student Faculty Undergraduate Research Initiative Award, Film and Screen Studies major Veronika Orlovska '25 visited a Ukrainian refugee camp in a small town in Ireland to share the experiences of children±—rooted in her own personal story—through the power of art and film.
Students
As recipients of a 2022 Dyson Summer Research Award, Dante Dallago '24, Directing and Peace and Justice Studies, and Kalina Walaski '24, Acting and Peace and Justice Studies, collaborated on "Happy Holidays," an investigative theater performance piece exploring the dynamics of the holiday dinner table from the perspective of Gen Z students. They will present it at the International Peace Research Association Conference in Trinidad and Tobago in May.