Students
The Trash You Can't See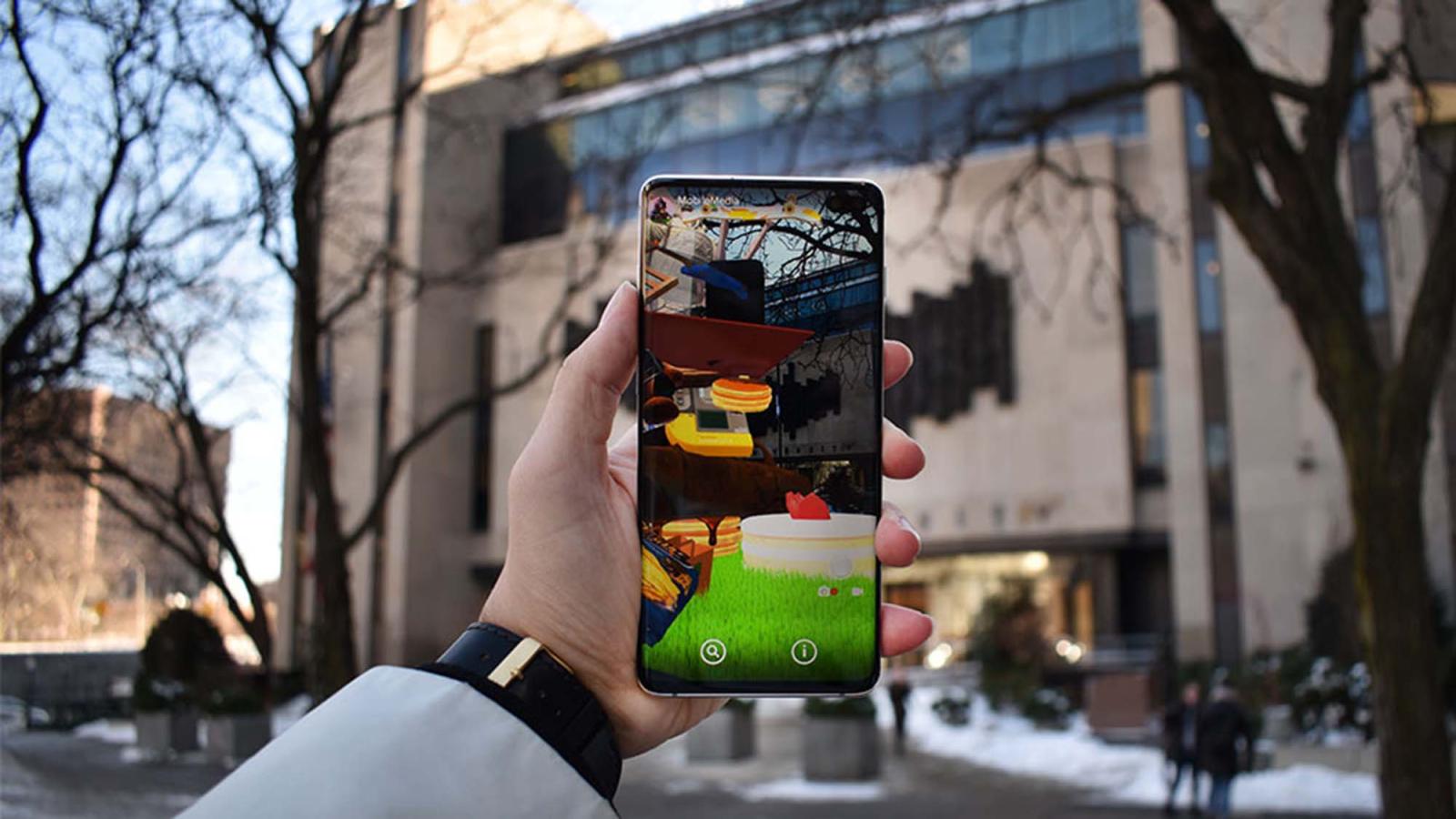 We often think of trash as something physical; we put garbage in a bin, that bin gets collected, and the cycle continues. When it comes to large-scale environmental problems, we might think of oil spills, reef decimation, or hazardous agricultural practices. In 2022 however, there is another, increasingly relevant type of trash that is accumulating by the nanosecond.
"There's a lot of invisible things about technology," says Dyson Art Professor Will Pappenheimer, a pioneer in the use of augmented reality (AR) as an artistic medium. "We are calling attention to the idea that digital trash is not completely without cost."
This reality—that the files stored on our computers and servers aren't entirely without environmental impact—was the idea behind Digital Trash, an exhibit recently showcased at the Pace Art Gallery. The exhibit was conceived and created by students in Pappenheimer's ART 288 Mobile Media course, a class that requires students to imagine New York City a canvas and their phones as a window into a new dimension.
Yet, this was no ordinary exhibit. To demonstrate that digital trash is not entirely dissimilar to an empty McDonalds wrapper, or an empty plastic cup strewn about the sidewalk, the class created a virtual "trash heap" in front of One Pace Plaza as part of the exhibit, which could be viewed through one's smartphone via AR.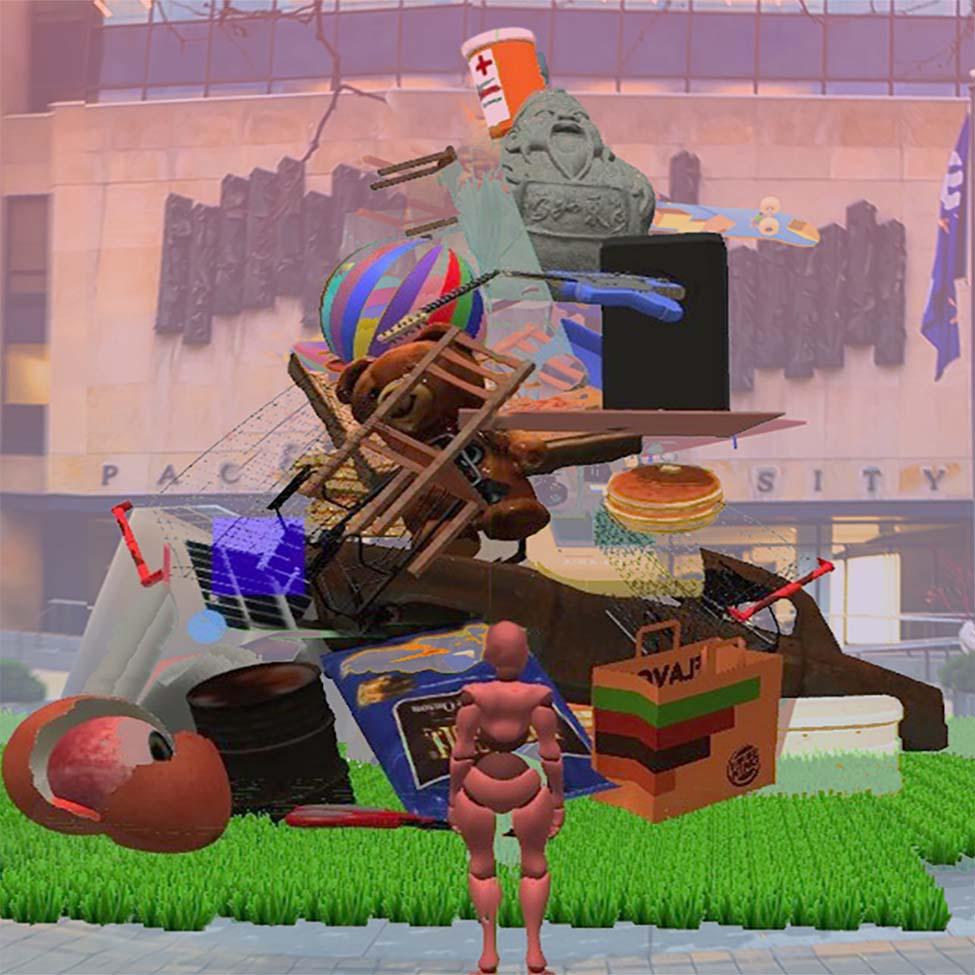 Through Pappenheimer's encouragement and technical expertise in the realm of AR, students in the class were able provide creative commentary on this real-world issue, in a way that arguably very much fits the subject matter at hand.
"I enjoyed collaborating with Professor Pappenheimer and our class as we experienced the excitement and challenges of AR together," said Czarina Manipon '22. "Creating a space limited to digital screens but offering greater imaginative potential presented a unique blending of artistic design with technical experimentation."
"It really opened a new insight into digital art and AR capabilities for me," added Thai Van Nguyen '22. "It was different in the sense that I was still creating art, but I was sourcing it from online and trying to understand virtual space."
The idea of digital trash, although perhaps not firmly in the mainstream, is likely only to grow in size and importance in the coming years. In 2020, it was estimated that each human creates about 1.7 MB in data per second, a number that will likely only grow with our increasing reliance on the digital realm. And as our files and file sizes grow, the energy that it takes to power all of this data—often supplied by large server farms consisting of thousands of computers—will also increase.
"I hope the concept of digital trash will gain more visibility within the Pace Community and beyond because of its potential as a conversation starter."
"We're generating an enormous amount of digital files. We don't really think about it, and we tend to think of digital trash as costing very little. But then a lot of people aren't aware of these server farms, which are keeping this information and are constantly using up energy," explains Pappenheier. "The more files each person creates the more energy it takes."
Pappenheimer also noted that while the Digital Trash exhibit doesn't explicitly comment on emerging technologies like cryptocurrency and NFTs that the project can also reverberate in these areas. Bitcoin, for example, requires a considerable amount of energy in order to function effectively.
As businesses place increasing importance on Environmental, Social, and Corporate Governance (ESG), being more aware of the complications and environmental implications surrounding digital waste will likely only help Pace students be more prepared to tackle the ever-complex challenges of the future. The emerging phenomenon known as the metaverse, for example, will likely raise fascinating questions and solutions surrounding the ways the future might be powered.
By being challenged to express the evolving problem of digital waste in an innovative fashion, students like Nguyen and Manipon have been starting a dialogue in the Pace Community in a way that would certainly not have existed without this exhibit.
"There are so many clouds holding data, music, emails, anything, and everything but that doesn't mean there is infinite space," said Nguyen. "There is still the energy source that powers the Cloud which has just as much contribution to the power running our planet. So, every decision we make is factored into Earth's life span, and it is important to be aware of that."
"I hope the concept of digital trash will gain more visibility within the Pace Community and beyond because of its potential as a conversation starter," added Manipon. "Themes such as the power of AR as a rising media, awareness of how we utilize digital space, or simply taking in the oddity of it, could each start engaging conversations between viewers just as it was for us putting it together."
More from Pace
Faculty and Staff
Dyson Environmental Studies and Science Professors Monica Palta and Anne Toomey have been conducting research in Coney Island Creek, documenting the existing environmental and social ecosystem. Their work aims to reshape the conversation surrounding urban waterfront development.
Pace Magazine
Dyson Biology Professor Melissa Grigione, PhD, has spent her career traveling all around the world to better understand a wide range of animal populations. She's now passing on what she's learned to the next generation.
Faculty and Staff
Internet addiction, the rise of esports, and stigma surrounding digital gaming in China. Pace professor Marcella Szablewicz examines how new communication technologies impact a growing culture shift.