Students
A Winning Culture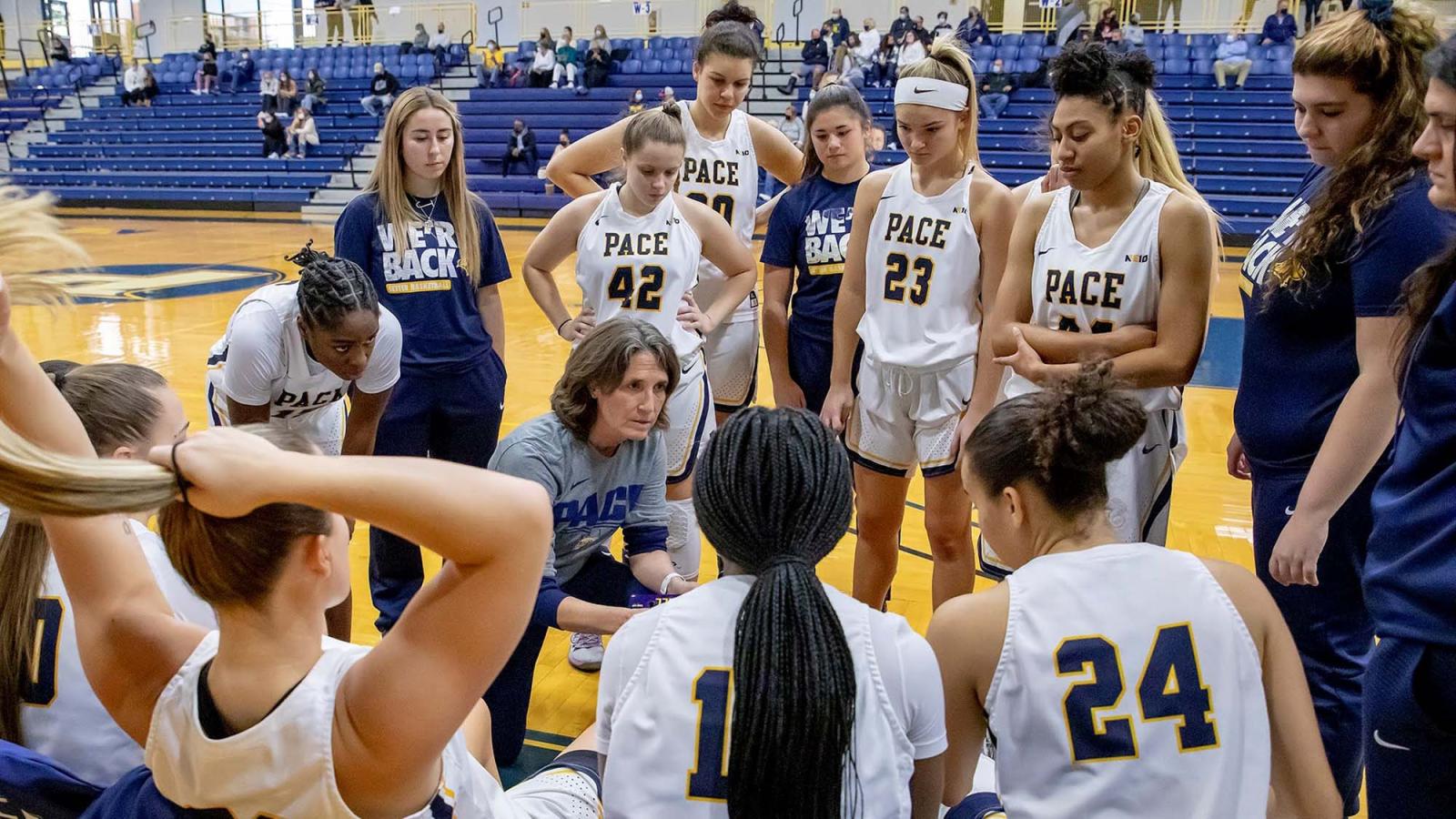 It's been a bizarre past two seasons for Pace Women's Basketball. After being sidelined the entire 2020–2021 season due to the COVID-19 pandemic, the Setters returned this year to circumstances remarkably different from that of the 2019–2020 season.
Yet, the team has continued to find a way—exceeding expectations considerably, en route to a 17-5 record, hovering at the very top of the NE-10 Conference, even making an appearance in the national rankings.
Even more impressively, they've done it with a squad that looks remarkably different than two years ago. Pace Head Coach Carrie Seymour, now in her 30th year as head coach, has been particularly pleased with this year's core group of veterans—Lauren Schetter '21, '24, Lauren Hackett '22, Naya Rivera '21, and Kelsey Quain '22, the only four returning players, who Seymour believes have set the bar for success.
"Our big question mark was: How were we going to look this year with just four players that have played at Pace? I think Lauren (Schetter), Lauren Hackett, Naya Rivera, and Kelsey Quain have done a really good job setting the tone for how hard you've gotta play in games, how difficult the conference is, just helping the new kids by example," says Seymour.
"From having the whole year off, we were really eager to come back as upperclassmen to meet these new kids and finally get them on court and work with them," added Schetter. "It was hard in the beginning—pre-season was different, last year was different, we had sophomores and freshman coming in, we really had to communicate how hard it is to actually win games."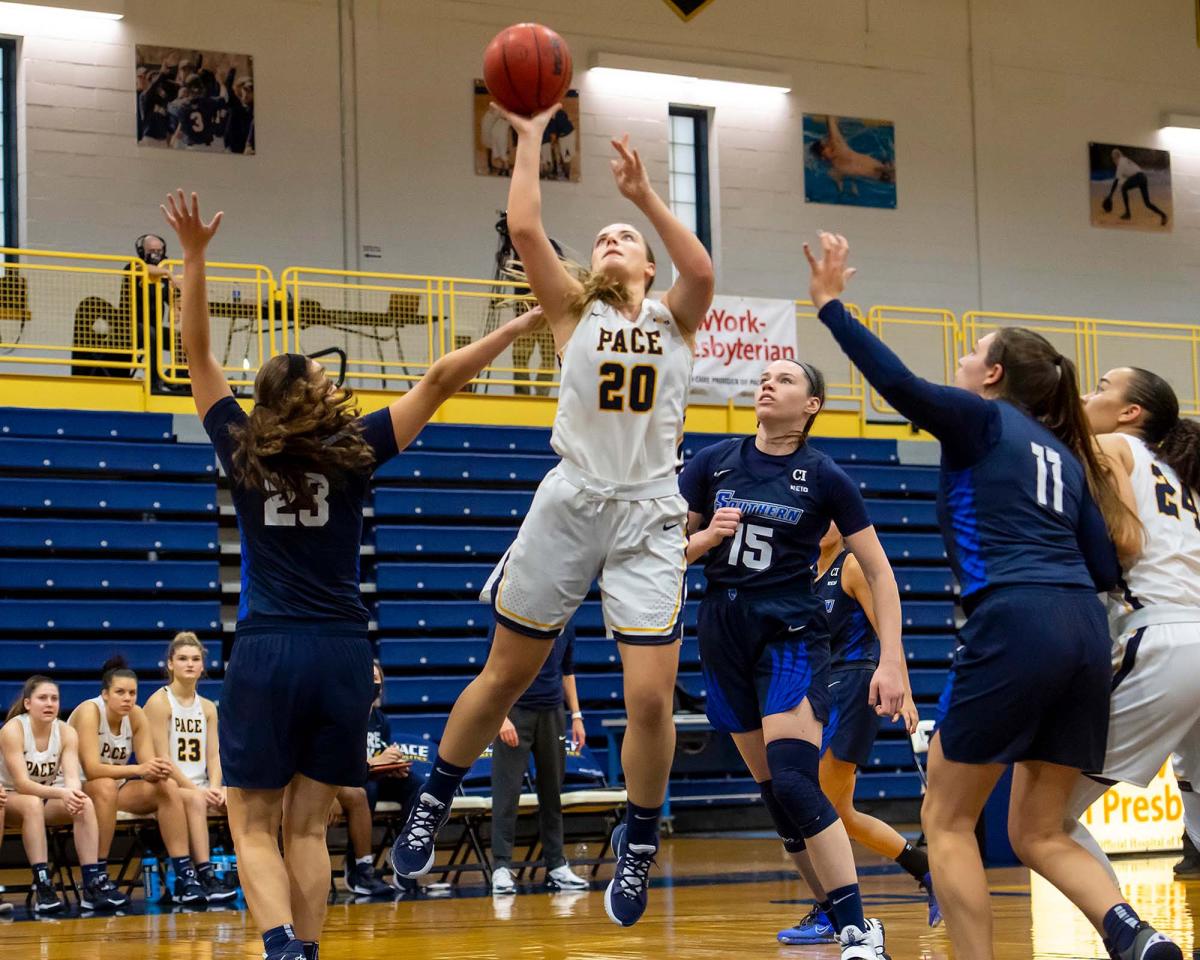 As Seymour and Schetter both note, the team has figured out how to turn the unusual circumstance of last year and this season into fuel for success. They started the year by making a major statement—winning 11 out of their first 12 games—and have managed to continue the momentum as they move toward the later stretches of the season.
"Everybody really just wanted to get back onto the court," says Seymour. "Last year we were limited, and we had some bad luck with quarantines when we were allowed to start doing workouts again, so we had very minimal amount of time in the gym with more than one or two people at a time. I think everyone is playing just a little bit harder."
Like all sports during the pandemic, safety precautions have meant that the majority games have taken place with limited spectators, and some with no spectators at all. Seymour and Schetter note that while the atmosphere has been more squeaky sneakers than screaming fans, being able to wear the Setter Blue and Gold in a competitive atmosphere has been more than enough.
"We're just excited to even be playing against another team," explains Schetter. "We had been playing against teammates and two or three other players for a whole year."
"It's nice when the crowds are back, the cheerleaders are back, the dance team, there's a little more buzz in the gym—it's kind of weird when you have the public address announcer talking to no one," says Seymour. "It's nicer to have people in the building, hopefully we can keep building on attendance."
"Everybody really just wanted to get back onto the court," says Seymour.
Yet, there has arguably still been a buzz in the gym this season—particularly on January 22, when Pace defeated Saint Michael's College 69-65, thanks in large part to Schetter's career-high 31-point performance. The win was Pace's 12th of the season, but more notably, it was Coach Seymour's 500th career win, becoming only the 21st coach in Division II history to reach 500 wins with the same school.
Seymour, as a great coach often does, credited the accomplishment to those around her.
"It's not about Carrie Seymour getting 500 wins, it's about Pace University Women's Basketball getting 500 wins since I've been here," says Seymour.
But Schetter, who graduated in the fall with a degree in human resource management and is currently pursuing an MS in Human Resources at Pace, understands that she has been working with a truly special coach—one who has influenced her well beyond the confines of the court.
"She has a huge role in everything we do every single day—keeping us motivated on the court, keeping us determined to come in every single day. She's taught me so much not only on the court, but things I'll take on for the rest of my life, and I'm sure that all the players who have played for her before can say the same thing," added Schetter.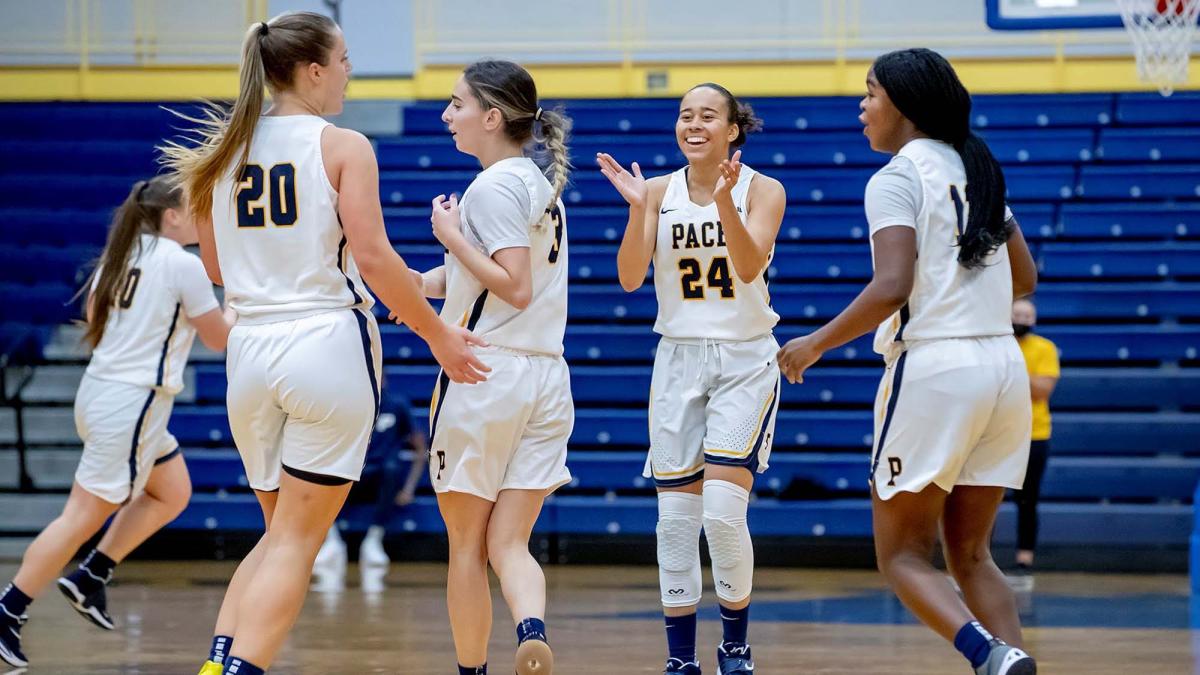 As the team heads into the home stretch, the coming weeks can prove to be truly exciting. The Setters are in position to potentially win the NE-10 Conference and make a deep playoff run. Yet, like any well-disciplined team, they know that they can't look too far ahead.
"The big thing for us is one game at a time," said Seymour. "We could have end goals of what we'd like to accomplish this season, but we have to stay very, very narrowly focused on our next game. If you can do that, wins will fall into place."​
Don't miss the action for the remainder of the season! Follow @PaceWBB on twitter, and if you can't make it to Goldstein, stream the upcoming games on the Pace Sports Network.
See More From Pace
Pace Magazine
The Great Resignation. Remote Work. COVID-19 and the future of work. You've heard it all, but what does it mean? Talent Management expert Ibraiz Tarique, PhD, breaks down the ever-evolving relationship between employers and the people who truly make workplaces tick.
Alumni
From the basketball court to the NFL sidelines, Maral Javadifar's got game.
Faculty and Staff
In an award-winning research paper, Dyson Assistant Professor Melvin Williams examines how LaVar Ball was successfully able to build a media agenda while simultaneously countering stereotypes faced by Black athletes and fathers.