Her maturity, her focus, and her determination to succeed was what originally made Maral Javadifar '12 stand out to the Pace University Athletics Department.
Javadifar, still in high school and just a prospective student-athlete for the Pace Women's Basketball team, was recovering from what could have been a career-ending torn ACL when she was recruited by Coach Carrie Seymour and Assistant Coach Patrina Blow. Amid her own concerns that she wouldn't be able to play basketball at the collegiate level, Javadifar said Seymour and Blow believed in her and gave her the opportunity to earn an education and play the sport that she fell in love with as a little girl.
"I developed leadership skills that I have taken with me into the adult world," says Javadifar. "Playing basket­ball for Pace University was a stepping stone for me to follow my dreams."
Thinking back on Javadifar's start at Pace, Seymour recounts, "Our confidence in her ability to compete at a collegiate level never changed in the slightest. Her dedication to her physical therapy and training was off the charts—she was ready to get back on the court and compete her freshman season."
And that's exactly what she did. Javadifar carved a place for herself as a forward on Pace's team, even going on to compete in the NCAA tournament three times during her collegiate career. All the while committing to the field of sports medicine, an interest and passion fueled by her own injury and subsequent recovery.
After graduation, Javadifar went on to earn a doctor­ate in physical therapy from New York Medical College.
I take pride in being part of such an important movement happening in sports. It is a shift long overdue and I'm thrilled to have the opportunity to embark on this path alongside many other talented female coaches.
Fast forward to the spring of 2019 when Bruce Arians, the head coach of the Tampa Bay Buccaneers, announced the addition of Maral Javadifar as assistant strength and conditioning coach and Lori Locust as assistant defensive line coach. Javadifar and Locust were officially the first full-time female coaches in franchise history, making the Buccaneers the first NFL team with two female coaches on staff.
"I know how hard it can be to get that first opportu­nity to coach at the highest level of professional football," said Buccaneers Head Coach Bruce Arians. "Sometimes, all you need is the right organization to offer up the opportunity. The Glazer family and our general manager, Jason Licht, were extremely supportive of my decision, and I know Maral and Lori will be great additions to my coaching staff."
Drawing inspiration from her mother who fled her war-torn home of Iran after the revolution restricted women's rights, Javadifar is deter­mined to break down barriers and make a name for herself in a male-dominated industry.
"I take pride in being part of such an important movement happening in sports," says Javadifar. "It is a shift long overdue and I'm thrilled to have the opportunity to embark on this path alongside many other talented female coaches."
"She's going to open doors for other women in the field," asserts Seymour.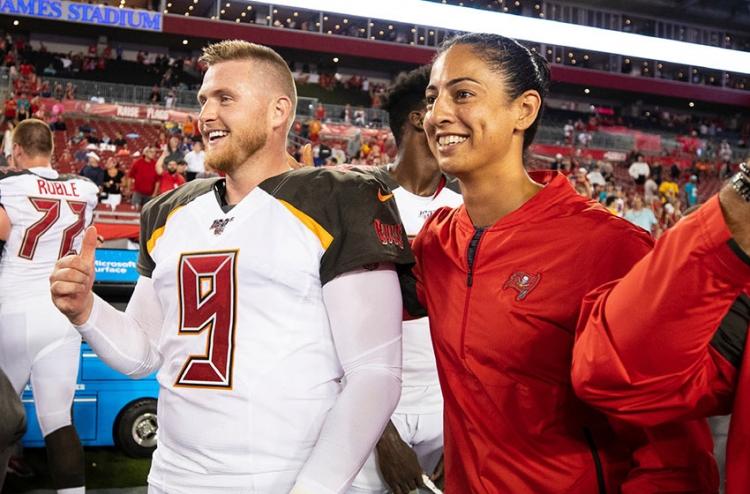 For Javadifar's new colleagues, the Bucs players and other coaching staff, there was an immediate trust and reliance on her expertise. Her back­ground, personal experiences, and knowledgeability have already established her as a go-to staffer.
"Her wealth of experience and knowledge of the hu­man body—guys found out quickly that she was someone to go to," said Bucs' tight end Cameron Brate in a recent interview with ESPN. "Every morning before meetings and after every practice, there's a line of five or six guys waiting to have her work on them."
For Javadifar, there is strength in the diversity of thought and experience that a diverse workforce can bring to an organization. For her, strategy is about the ability to analyze and understand information—it's about how good of a teacher you are.
"Coaches, of all sexes, offer diversity as everyone comes from a different point of view," she says. "It has nothing to do with your anatomy. It has only to do with your mind."
Urging teams to consciously seek out and recruit women candidates for coaching positions, Javadifar be­lieves there are numerous equally talented women ready for the coaching ranks, but they need the opportunity to showcase their abilities on that stage. Other sports, she says, should first recognize and acknowledge the lack of diversity in their field, and then create initiatives and programs that can address the inequity there.
"There may not be as many women with the same resume as their male counterparts, but that is because of the lack of access to those jobs and opportunities throughout their careers," she says.
And as for the next generation of up-and-coming athletes and coaches? "The advice I would give to all kids, not just girls, is to take risks and work hard. The sacrifice is worth it."