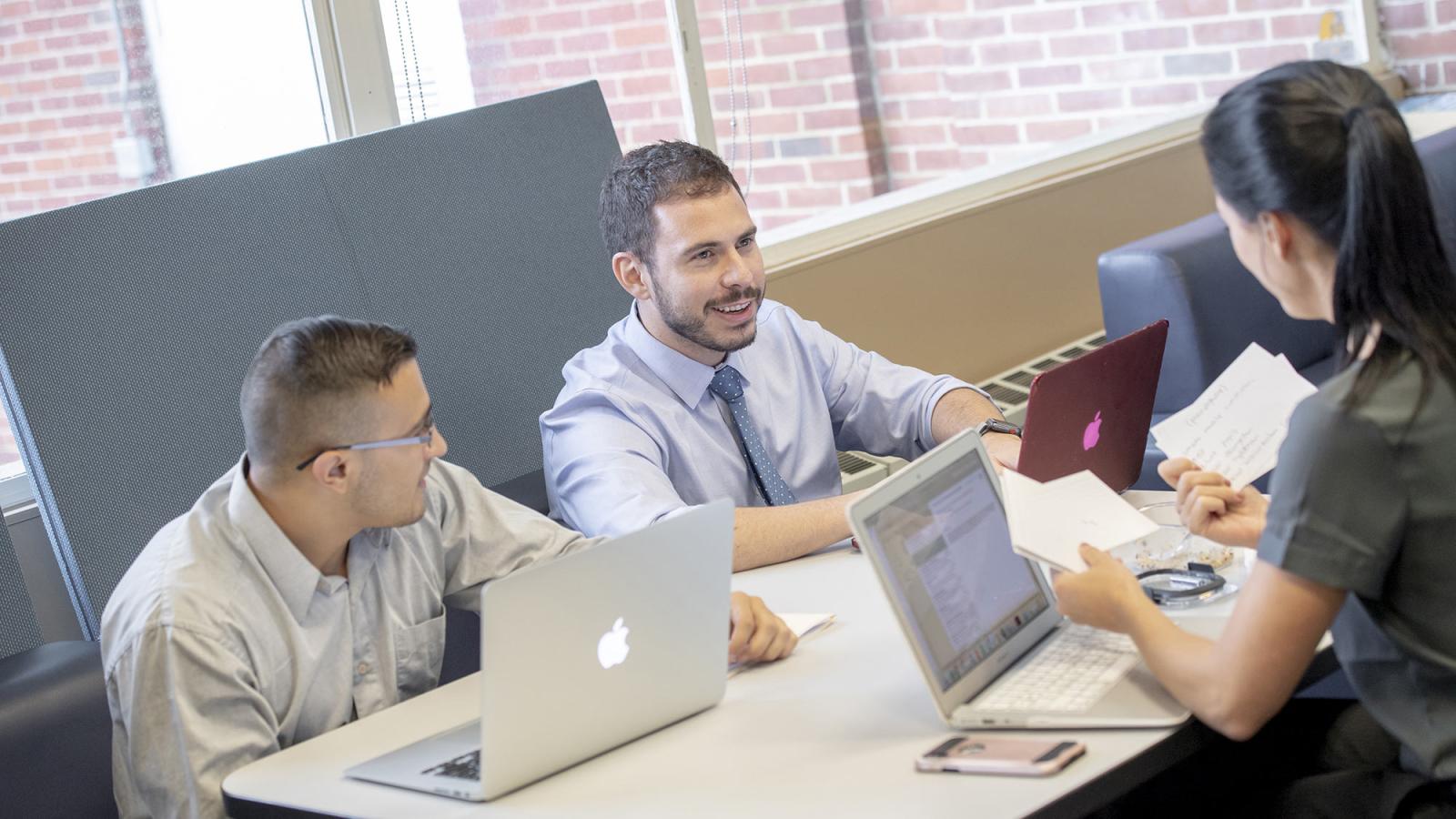 With faculty co-authorship completion program students have the opportunity to submit their literary works; many are published, and some have garnered prestigious national awards, as described below.
Harcke SJ, Rizzolo D, Harcke HT. G6PD deficiency: An update. JAAPA. 2019;32(11):21-6.
Maged M, Rizzolo D. Preventing sudden infant death syndrome and other sleep-related infant deaths. JAAPA. 2018;31(11):25-30.
DeTore J, Rizzolo D. Telemedicine and diabetic retinopathy. JAAPA. 2018;31(9):1-5.
Buzard CL. Rizzolo, D. An overview of anal intraepithelial neoplasia. JAAPA 2018;31(7): 1-5.
Rizzolo D, Krackov R. PA use of point-of-care ultrasound: A pilot survey. Journal of the American Academy of PAs. 2018 Jun 1;31(6):1-3. *Original Research conducted with a Pace Completion Program Graduate.
Moore DM, Rizzolo D. Sandifer syndrome. JAAPA 2018;31(4):18-22.
Roberts A, Rizzolo D. What is this patient's mediastinal mass?. JAAPA 2018;31(3):55-7.
Gillespie M, Rizzolo D. A systems-based approach to patient care after liver transplantation. JAAPA 2018;31(1):14-9.
Bagnall P, Rizzolo D. Bacterial vaginosis: A practical review. JAAPA 2017;30(12):15-21.
Schmidt E, Rizzolo, D. Disease Screening and Prevention for Trangender and Gender-Diverse Adults. JAAPA. 2017;30(10): 11-16.
Quinlan A. Rizzolo D. Understanding Medullobastoma. JAAPA. 2017;30(10):30-36.
Younkin S, Rizzolo D. Tranexamic Acid Use in Reducing Blood Loss in Total Knee Arthroplasty JBJS Journal of Orthopaedics for Physician Assistants: doi: 10.2107/JBJS.JOPA.17.0001
Krackov R, Rizzolo D. Real-time ultrasound-guided thoracentesis. JAAPA, 2017; 30(4):32-37.
Wright ME, Rizzolo D. An update on the pharmacologic management and treatment of neuropathic pain. JAAPA, 2017;30(3):13-17
Batson, L, Rizzolo D. Otosclerosis: An update on diagnosis and treatment. JAAPA, 2017; 30(2):17-22.
Agnoni, A, and Amendola, CL. Necrotizing enterocolitis: Current concepts in practice. JAAPA, 2017:30(8): 16-21.
Green HL, Rizzolo D, Austin M. Surgical management for Hirschsprung disease: A review for primary care providers. JAAPA, 2016;29(4):24-29.
Harris S, Rizzolo D. Botulinum toxin as a treatment for refractory overactive bladder. JAAPA, 2016;29(2):1-4.
Trainham L, Rizzolo D, Diwan A, Lucas T Emergency management of high-energy pelvic trauma, JAAPA. 2015;28(12):28–33.
Bono V, Lazaros Amendola C. Primary care assessment of patients at risk for suicide. JAAPA, 2015;28(12):35-39.
Roberts AL, Rizzolo D. Systemic lupus erythematosus: An update on treat-to-target. JAAPA. 2015;28(9):22-28.
Gershan J, Rizzolo D. Understanding brugada syndrome. JAAPA. 2015;28(6):32-36.
Porta K, Rizzolo D. Preventing group B streptococcal infection in newborns. JAAPA. 2015;28(3):24-29.
Narang-Master J, Rizzolo D. Managing localized unresectable hepatocellur carcinoma. JAAPA, 2015;28(1):27-34.
Rymal E, Rizzolo D. Gout: A comprehensive review. JAAPA, 2014;27(9):26-31.
Clift K, Rizzolo D. Vaccines myths and misconceptions. JAAPA, 2014;27(8):21-25.
Tannery KM, Rizzolo D. Pancreatic cancer: Practical strategies for early diagnosis and management. JAAPA, 2013;26(10): 27-32.
Hariprashad A. Rizzolo D. Acute respiratory distress syndrome: An overview for physician assistants. JAAPA, 2013:26(9):23-28.
Apanah, S, Rizzolo D. Sickle cell disease: Taking a multidisciplinary approach. JAAPA, 2013;26(8): 28-33.
Vadakel H, Rizzolo D. Shock: Early recognition and resuscitation are key. JAAPA. 2013;26(6):21-24.
Skory C, Rizzolo D. Helping patients meet the challenge of complex regional pain syndrome. JAAPA. 2012;25(10):46-50.
Shannon J, Rizzolo D. Carpal tunnel syndrome: Symptoms, diagnosis, and treatment options. JAAPA.2012;25(9):22-26.
Patel S, Rizzolo D. When a patient asks: Is caffeine safe in pregnancy? JAAPA. 2012;25(5):69-70.
Furman M, Rizzolo D. Evaluation of the vertiginous patient: A complex complaint made simple. JAAPA. 2011;24(10): 52-58.
Ricci NA, Rizzolo D. Laceration repair: Avoid infection, optimize healing, minimize scarring. JAAPA . 2011;24(9):28-33.
Sharifi-Azad J, Rizzolo D. Postexposure prophylaxis for HIV: Pivotal intervention for those at risk. JAAPA. 2011;24(8)22-25.
Posner J, Rizzolo D. Venous thromboembolism in cancer: What is the optimal treatment? JAAPA 2011;24(8):44-49.
Larsen A, Piepgras D, Chyatte D, Rizzolo D. Trigeminal neuralgia: Diagnosis and medical and surgical management. JAAPA. 2011; 24(7): 20-25.
Monica Furman, RPA-C (BS class of 2008, completion MS class of 2011) won first place in the PAragon publishing award for this article (published with Professor Denise Rizzolo, PhD, PA-C). The American Academy of Physician Assistants (AAPA) recognizes the nation's top PAs with their highest honor, the PAragon Awards. These awards confer special recognition on PAs who have distinguished themselves through their unparalleled service to patients, their communities, the profession and the Academy. The Awards honor exemplary PA service in six categories: Outstanding PA of the Year, Humanitarian PA of the Year, Federal Service PA of the Year, PA Service to the Underserved Award, Physician-PA Partnership Award and the PAragon Publishing Awards. The PAragon Publishing Awards honored three PAs who authored outstanding articles that were published in peer-reviewed journals in 2011. The winners were formally honored during the IMPACT 2012 AAPA Conference in Toronto.
Kathy Clift, PA-C; Denise Rizzolo, PA-C, PhD; and Jan Enger won a prestigious 2015 Apex Award for Publication Excellence for this article.