Faculty and Staff
Building Bridges Across Disciplines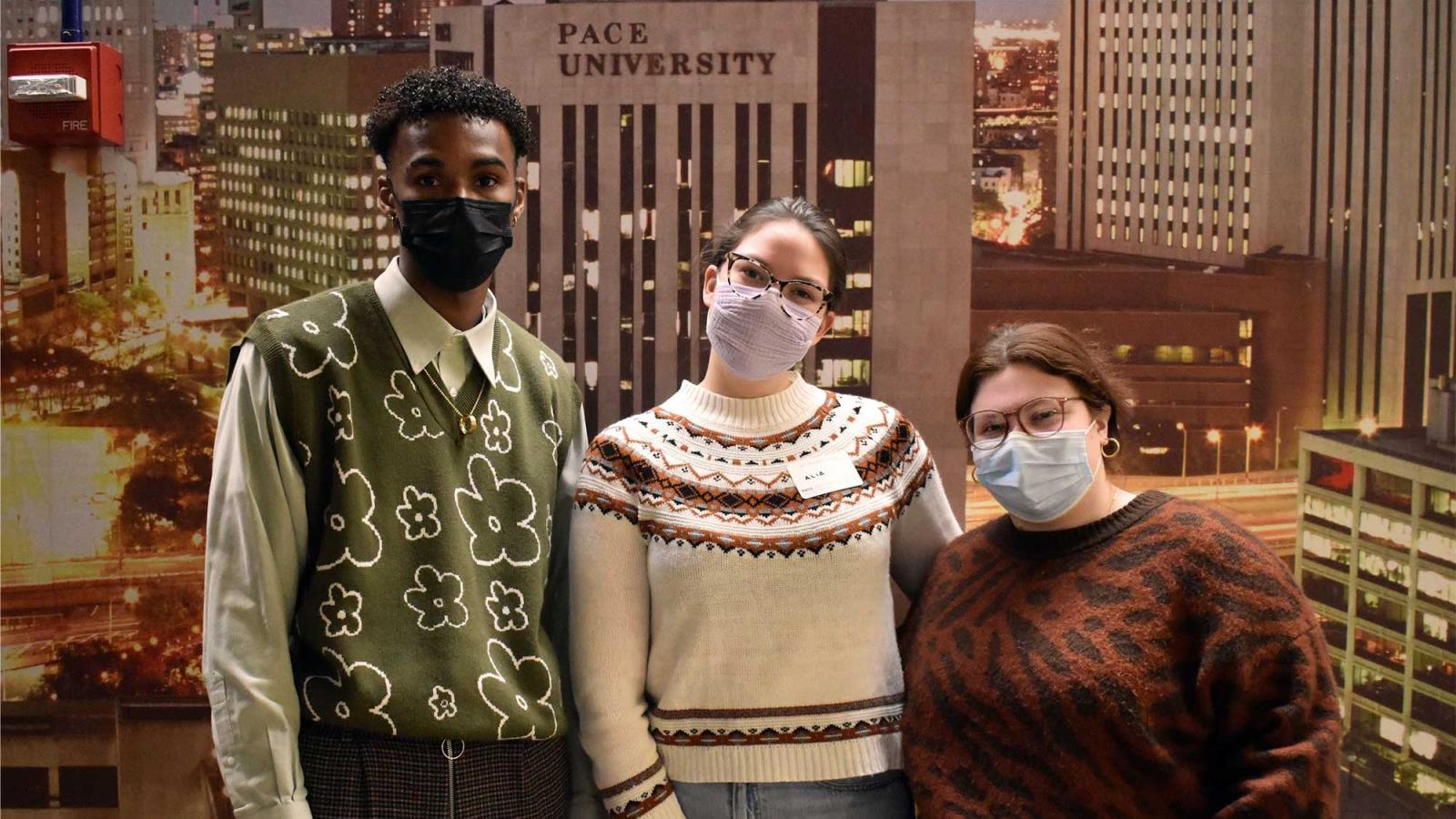 "Any major in Dyson who wants to engage in research and scholarship, there needs to be an opportunity to present that and engage with others."
These are the words of Associate Professor of Anthropology and Chair of the Society of Fellows Judith Pajo, PhD. Ever since becoming a member of the Pace Community over a decade ago, Pajo has been heavily involved in the Society of Fellows—the premier honors organization housed within Dyson that continues to push the boundaries of student and faculty scholarship, interdisciplinary research, and conversation across a diverse range of fields.
Comprising more than 700 Fellows across its 42-year history, the Society of Fellows is a storied organization that stretches deep into the past—consisting of current students, faculty, as well as a large contingent of active alumni. Each year, the Society inducts a new class of students who exemplifies the ideals of liberal education and a commitment to undergraduate scholarship.
One recent inductee, Kailey Liddell '23, considers her involvement in the Society of Fellows to be one of the most formative of her college experience.
"Being an artistic person, rather than a science or mathematical person, you don't really hear a lot about research opportunities that you can actually do," said Liddell. "When I found out my creative documentary was considered something valuable for other people to learn and listen to, that really expanded my own perception of what I could do with my major and my interests."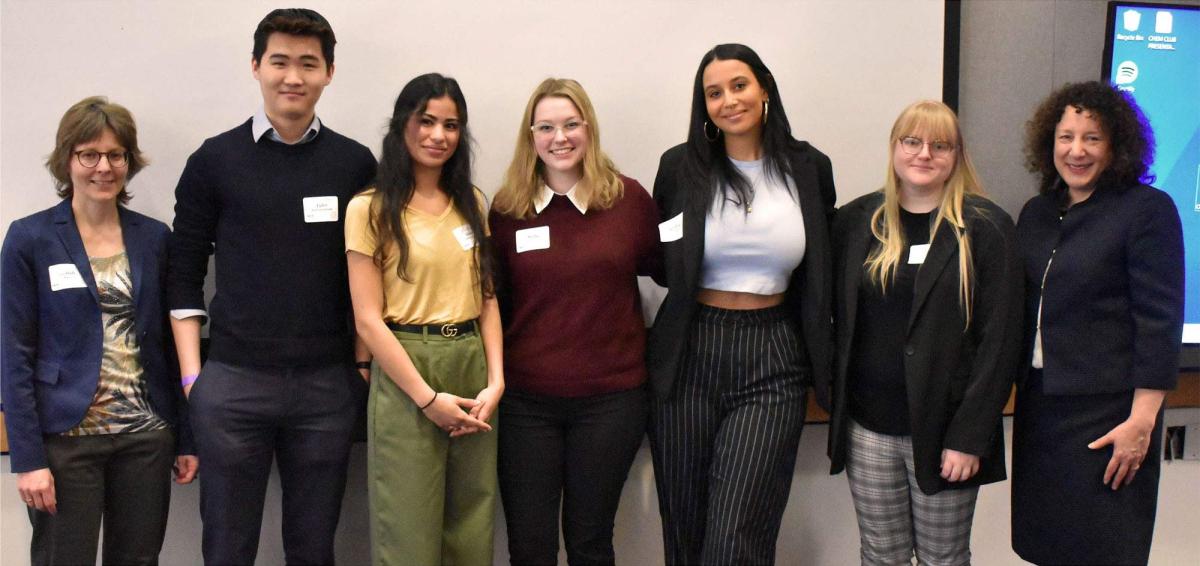 Liddell was first invited to present at the Society of Fellows' Annual Meeting—the organization's showcase event every spring where students present their scholarship completed under the supervision of faculty mentors. Liddell was first invited in 2021 after Assistant Professor in Media and Communication Studies Melvin Williams, PhD, encouraged her to submit a short film she had made about race and representation, specifically addressing the lack of biracial characters in children's media. This past spring, she was invited back as a plenary presenter for research she conducted under the supervision of Professor of English Sid Ray, PhD, and was formally inducted in the Society of Fellows.
The Annual Meeting showcases the outstanding work of students, but just as instrumental to the success of the Society of Fellows is a group of dedicated and encouraging faculty. On the faculty side, Pajo believes it is essential to promote the intellectual curiosity of bright students like Liddell, who intuitively understand that learning isn't confined to the classroom.
"There's always going to be one or two students who stand out in each course, because they want to do more research than what happens to be assigned that semester," notes Pajo. "I think the Society of Fellows is an outlet for students who don't feel like the research is done once the course is done and they got their grade—they want to do more, they want to reach a wider audience so that their research makes an impact."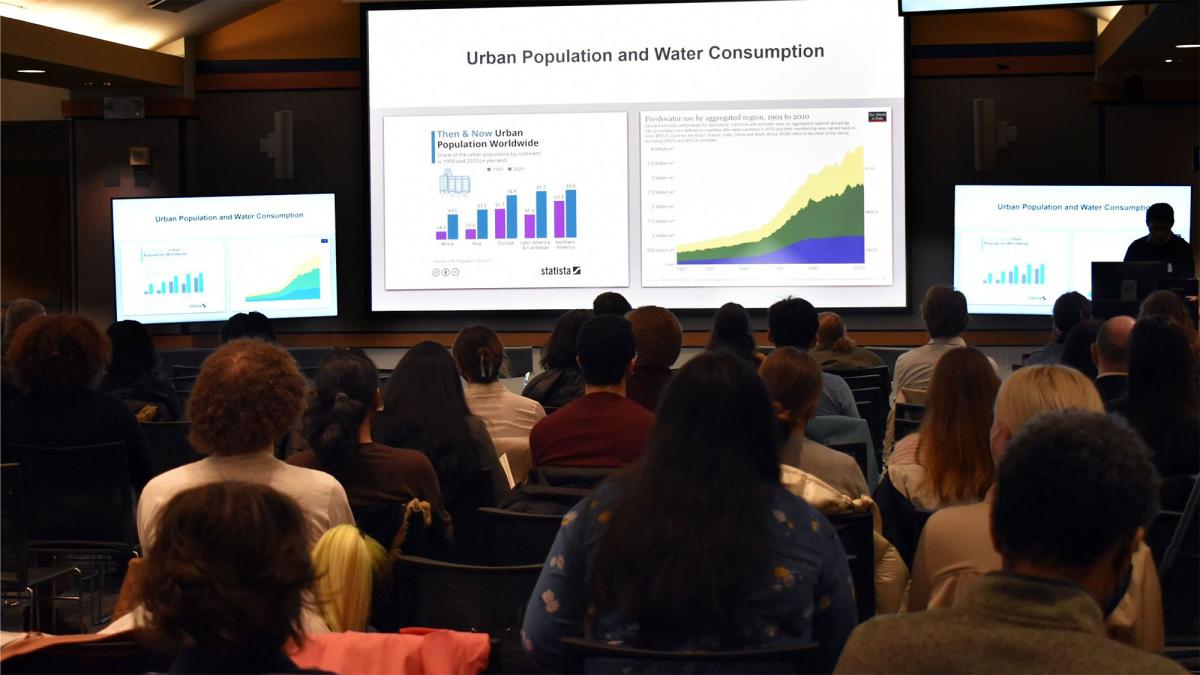 In addition to the Annual Meeting, the Society also holds an annual Weekend Seminar every fall to discuss a particular interdisciplinary issue in depth. This year's seminar, which will be held in Connecticut on the weekend of October 28, is centered around the question Can Computers Make Art?, and will feature a panel of faculty and alumni from both art and mathematics about the role of machines in the creative process.
As Pajo notes, seminars often start out with an academic question that requires interdisciplinary conversation—something the Society is readily equipped to dive into.
"This particular year, the idea for the seminar topic started out with Mathematics Professor Meng Xu, who was reading about some people using the statistical programming language R to create art," said Pajo. "Normally R is used for charts, and graphs, and statistics. He wanted to get students to use R to create art but also wanted to collaborate with faculty in art for this project so he came to the Fellows."
In addition to fostering dialogue about a wide range of issues—and simply being a place where scholarship and intellectual curiosity can grow, students over the years have found the experience to have valuable practical benefits. Liddell, for one, has noticed how the niche ideas and topics she has been exposed to through the Fellows has been useful for interviews, and has significantly strengthened her confidence in terms of conducting research and applying for grants.
"Participating in the Fellows is a great way to get higher-level academic experiences," added Liddell. "You build relationships with faculty, get great presentation experience, and build public speaking skills. It helps you learn how to be an upper-level learner."
"You build relationships with faculty, get great presentation experience, and build public speaking skills. It helps you learn how to be an upper-level learner."
Above all, the Society of Fellows fosters an environment in which intellectual curiosity, mentorship, and a commitment to great scholarship is not only encouraged, but is celebrated—in turn, broadening the richness of the Pace experience for faculty, students, and alumni alike.
"We really value tackling problems of society from multiple angles," says Pajo. "Any one student can't do all of that, so by bringing students and faculty together, we try to evaluate those problems that academia is here to help solve.
See More From Pace:
Faculty and Staff
What is the price of a dream? Dyson Professor Kiku Huckle explores complex questions about belonging, identity, and immigration in her new thought-provoking documentary.
Students
Balancing internships, travel, class, and leadership roles may be a challenge for some, but for Seidenberg student Ava Posner '18 , she knows it is her code to success for rising to the top as a woman in technology and landing a job at a leading startup after graduation.
Pace Magazine
At the intersection of Pace's strategic priorities and opportunities for outstanding academic growth comes the drive to move Pace forward. We're meeting the challenges facing higher education and putting our unique positioning and competitive advantages to work, strengthening our reputation as we move into the future.