Pace Magazine
Curating Curiosities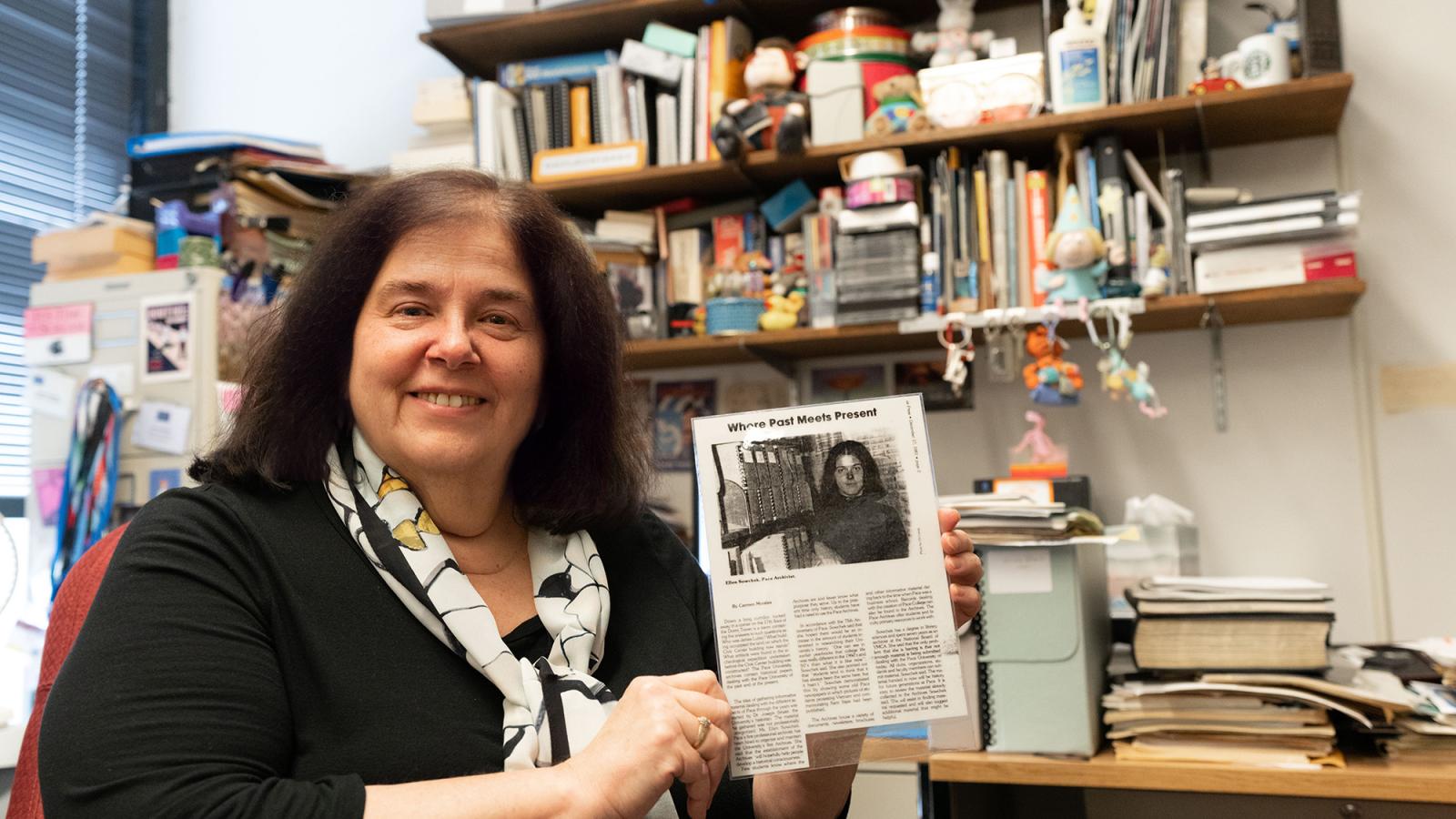 Did you know Fred Kelley, brother to Gene, taught dance at Pace? Or that the public speaking requirement was a passionate value of founder Homer Pace? Or that Pace used to have a championship fencing team?
If there's a niche fact about Pace history, chances are Ellen Sowchek knows it.
For 42 years, Ellen Sowchek has been keeper of Pace University's archives. "I have a number of responsibilities, but to give a very glib answer, it's my job to care about Pace history and make other people care about Pace history," she explains.
It's my job to care about Pace history and make other people care about Pace history.
When she started in April 1981, Pace did not have an archive. Boxes of items related to Pace history were awaiting an enthusiastic custodian to rescue them from basement storage in 41 Park Row, and Sowchek was thrilled for the challenge. "I knew nothing about Pace before I started here," she said. "It was the ideal situation for me because everything I learned came from reading through documents and processing the collections."
On a day-to-day basis, Sowchek is managing curiosity—from the curiosities within the archives, to the curious inquiries of those reaching out to solve a mystery. She gets requests from everything to alumni looking to confirm a course they took decades earlier, to tourists who want to know the history behind a statue on campus.
After 42 years of being the person charged with being curious about Pace's history, she's naturally discovered some favorites over the years. Here are five interesting points in Pace's history:
Dr. Mortola's First Day at Pace Recording
Capturing an oral history of Pace has been an ongoing project, so you can find recordings in just about every format in the Pace archives, from reel-to-reel tape to digital files. The first phase of the oral history project resulted in 26 lengthy interviews recorded between 1982-1986, capturing the recollections of figures such as Robert Pace, Charles Dyson, Joseph Lubin, Gustav Lienhard and more. The current phase of the project, Pace Voices Past and Present: An Oral History of Pace University, expands the number of interviewees and seeks to document life at Pace from a wide range of perspectives, representing members from the entire Pace Community.
One of Sowchek's favorite recordings is of Edward J. Mortola, PhD, on his first day of work as a new Assistant Dean at Pace College. Sowchek has a soft spot for Mortola. Not only does she believe that "after Homer Pace, he was probably the second most important person to Pace history," but he was the one who hired her to set up an archive for Pace's 75th Anniversary.
In the tapes, Mortola describes his first day on the job. "It's kind of a cute story. I reported at Pace in the building at 225 Broadway, where Pace existed at that time, on the morning of August 15, 1947 and sat outside Dean Alice Ottun's office for a while. I was joining Pace then as Assistant Dean. When she finished interviewing a student who was at her desk, she looked up and said, 'Oh, you're here.' She said, 'I forgot all about the fact that you were coming and I don't have an office or a desk for you.' I said, 'Well, in that case, I'll be happy to go home and come back tomorrow.' She said, 'A great idea.' So, my first day on the payroll of Pace I went swimming at Jones Beach." The fact that Mortola gave this interview on the anniversary of his first official working day at Pace brings the story full circle.
Image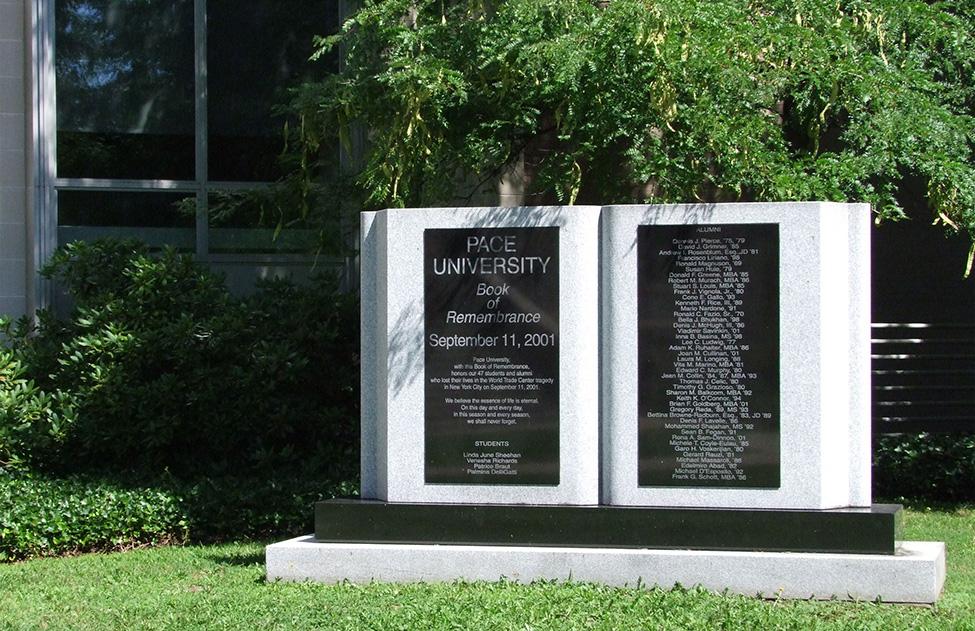 9/11 Tributes
After the events of September 11, Pace University closed for two weeks. In the wake of that day, several memorials were erected honoring those lost and memorializing the feelings of a shaken community. Sowchek explains how soon after the return to campus, The Center for Community Outreach distributed quilt squares and fabric pens to the community. The squares were then sewn together into a nearly ten-by-ten-foot quilt immortalizing the feelings of the Pace community in the wake of the attacks.
Another memorial came in the form of the blue and yellow "Setting the Pace" dog statue located on the Frankfurt Street side of One Pace Plaza. The "Setting the Pace" statue of a German Shepard dog by artist Mike Neville was commissioned by the American Kennel Club's DOGNY public art project developed in collaboration with the City of New York. The project honors the canine heroes of September 11 who served as search-and-rescue dogs. All statues were auctioned off and the proceeds were donated to a fund supporting the training of first responder dogs.
Finally, each Pace Campus has The Open Book memorial, dedicated to those from the Pace community who lost their lives on September 11. A university-wide competition was held and the book design was chosen. The open pages bear the names of members of the Pace community lost on that day. By listing the names in random, rather than alphabetical order, we are encouraged to read through and remember all of them.
Image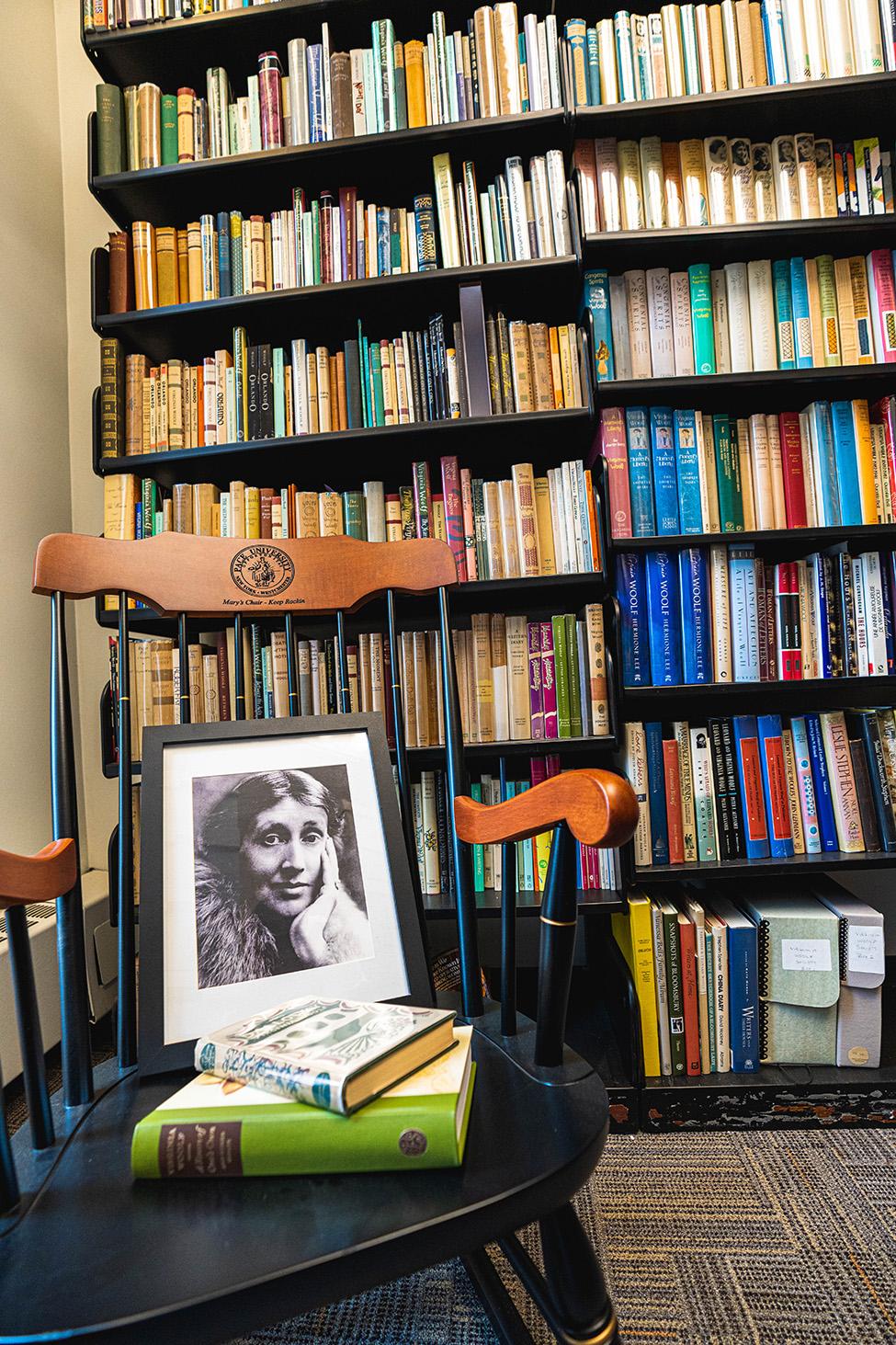 Virginia Woolf Collection
While the Pace archives are dedicated to Pace history, there are some items that fit outside the scope of the institution's history, such as Pace's Virginia Woolf special collection.
The collection arrived at Pace in 2015, with the help of Mark Hussey, PhD, a retired professor from Pace's English department and a Virginia Woolf expert. He knew the collector Linda Langham, a Woolf fanatic, who wanted to ensure that her collection went to an institution who would not sell off the books individually, but rather keep the collection intact. The Pace University Library agreed to her request and happily accepted the items. Together with a Birnbaum Library colleague, Sowchek cataloged and documented the collection, which has been of special interest in the niche world of Virginia Woolf collectors. "Smith College has a Virginia Woolf collection as well. Ours is just as good, if not better," according to Sowchek (with a just a touch of Pace pride).
Image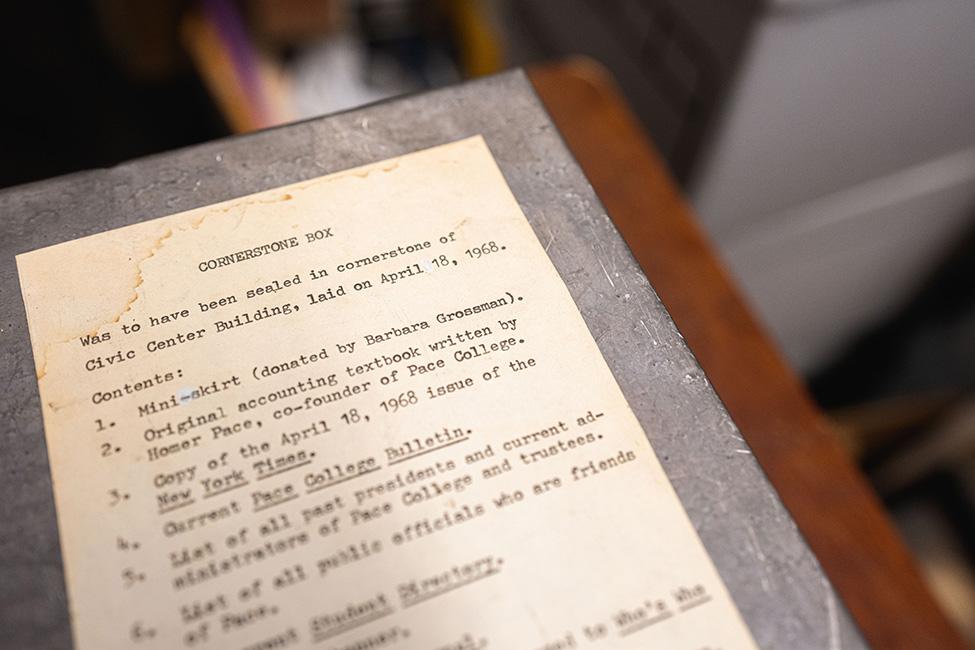 The Lost Then Later Found Cornerstone Time Capsule
Sometimes, Sowchek finds herself becoming a player in Pace history.
One day, in 1981, Mr. Gordon Dodge, Director of Buildings and Grounds at the time, reached out to her with a strange request. When the building of One Pace Plaza was underway, a cornerstone ceremony took place in 1967, commemorating an important milestone in the building's construction. Part of the ceremony entails cutting part of the cornerstone out, placing a time capsule in the opening, and then sealing it inside with cement before the stone is put in place in the building's foundation. Dodge said he had a special addition to the archives–the time capsule itself, which failed to make it into the cornerstone! He begged for her discretion as he explained that the box had somehow been set aside, to be cemented in at the end of the ceremony, and never made it back in. For 14 years, he had kept the capsule in his office, hoping to find a home for this sealed box.
The archives became its new home. Though it is sealed with lead and so far, unopened, Sowchek's deep dive into the archives revealed documents that explained the mysterious contents: a mini-skirt donated by Barbara Grossman '71; original accounting textbook written by Homer Pace; April 18, 1968 issue of the New York Times; current issue of a Pace College Bulletin; list of past and current Pace presidents, administrators, and trustees; list of public officials considered friendly to Pace; a student directory; a Pace banner; The cornerstone Journal; list of students recently named to Who's Who in American Universities; The Pace Report; $1.91; and the latest edition of The Pace College Press.
A History of a Family
Image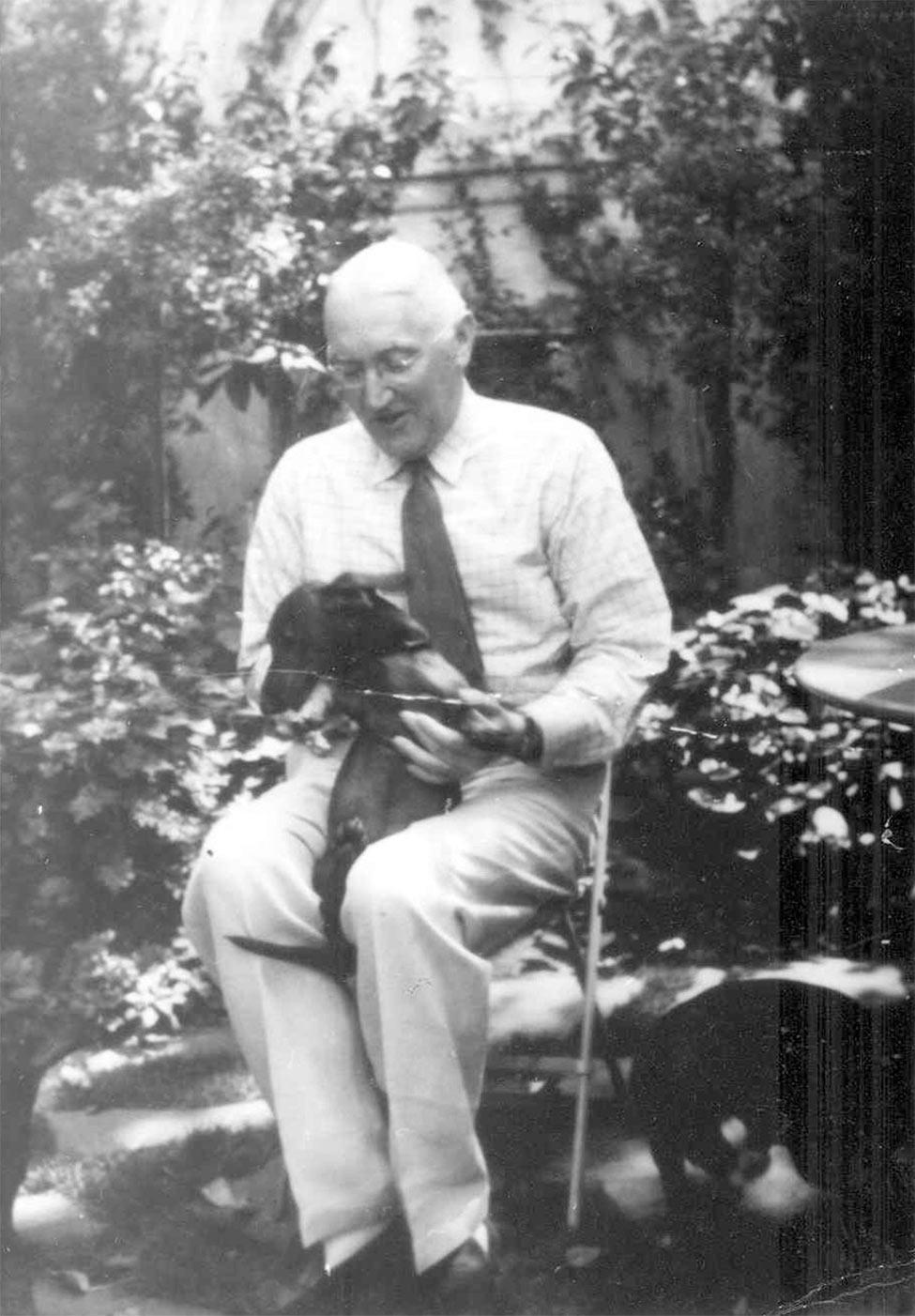 The archives over the years have inadvertently become not just a collection that tells the story of a university, but one that tells the story of a family. The story of the Paces.
Sowchek's absolute favorite item is a letter from founder Homer Pace asking for permission to get married, "because at the time he was under 20 years of age, and in the state of Michigan, where he lived, he was not old enough to get married without parental consent." It's a personal touch that brings the University's first president into living color.
Sowchek is especially interested in helping promote the impact women have had on Pace history, and Homer's wife, Mabel, is a particular favorite figure for her to study. There are several items belonging to Mabel, such as images of her and her own report cards.
Lastly, Homer and Mabel's son Robert Pace, became the second president in 1942, upon the death of his father. That same year he enlisted in the U.S. Army. An accomplished photographer, Robert captured his perspective on the Second World War. Many of those photos, donated by Robert Pace himself, have found their permanent home in the archives.
Image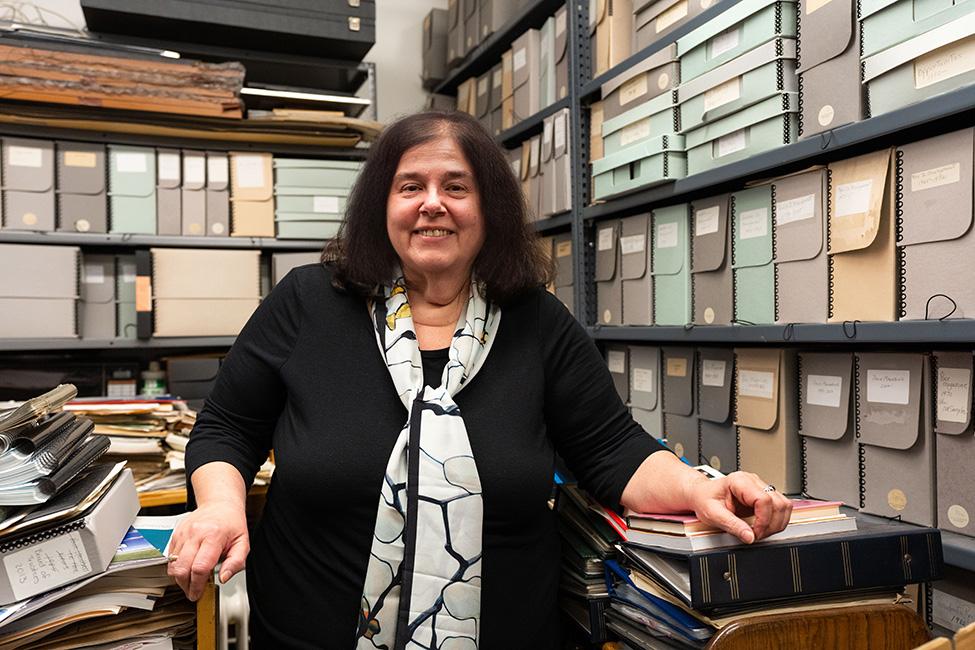 Ellen Sowchek is more than an archivist—she's the ultimate caretaker of Pace University's history. In addition to diligently preserving remnants of the past, Sowchek actively participates in Pace's ongoing story, often going beyond her role with Pace artifacts to bear witness to history as it unfolds. Thanks to her unwavering commitment and tireless effort, Pace's rich history remains vivid and alive. As the Pace Community continues to shape its future, Sowchek's work in the University archives ensures that its past is not just preserved, but also celebrated.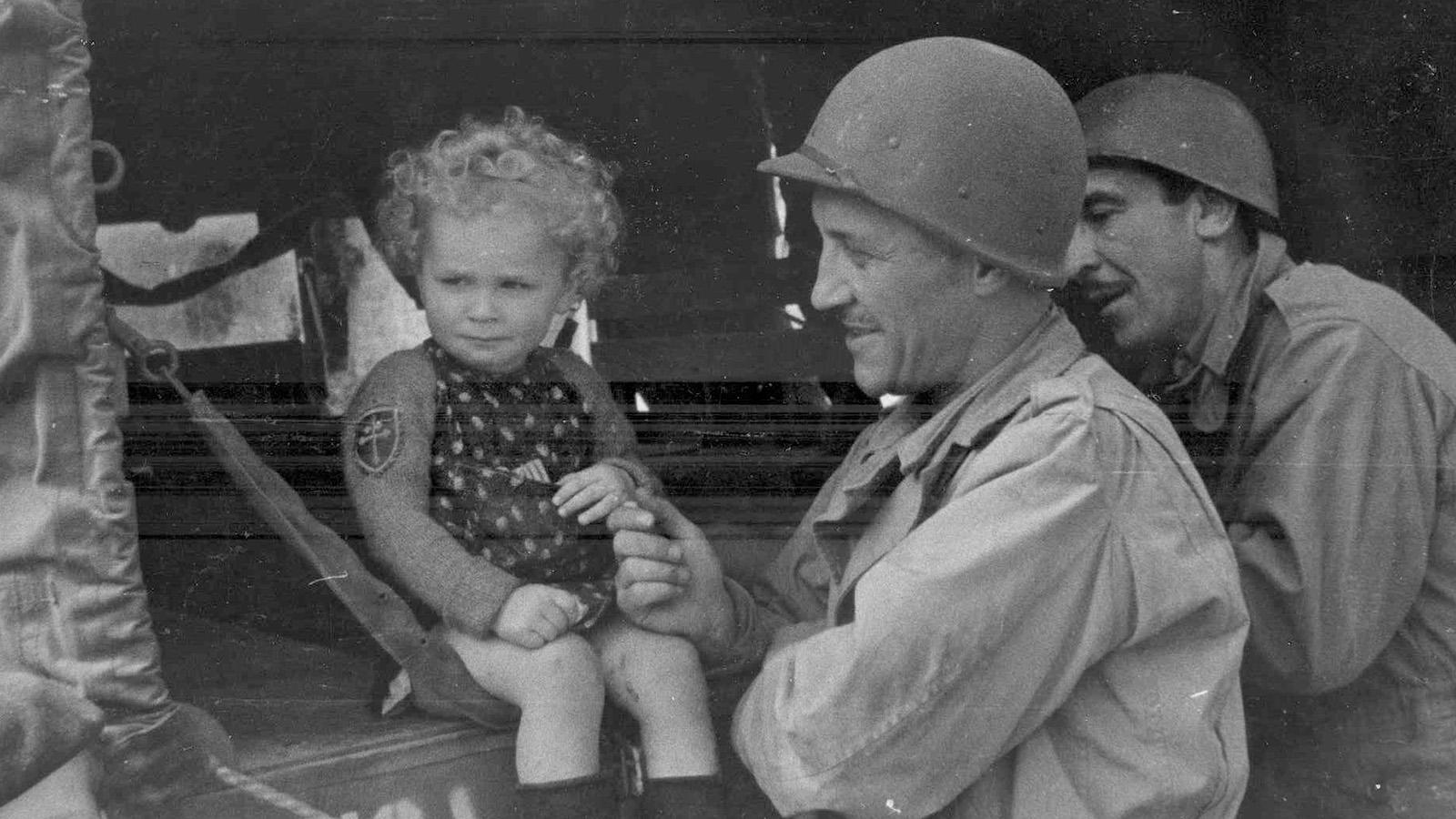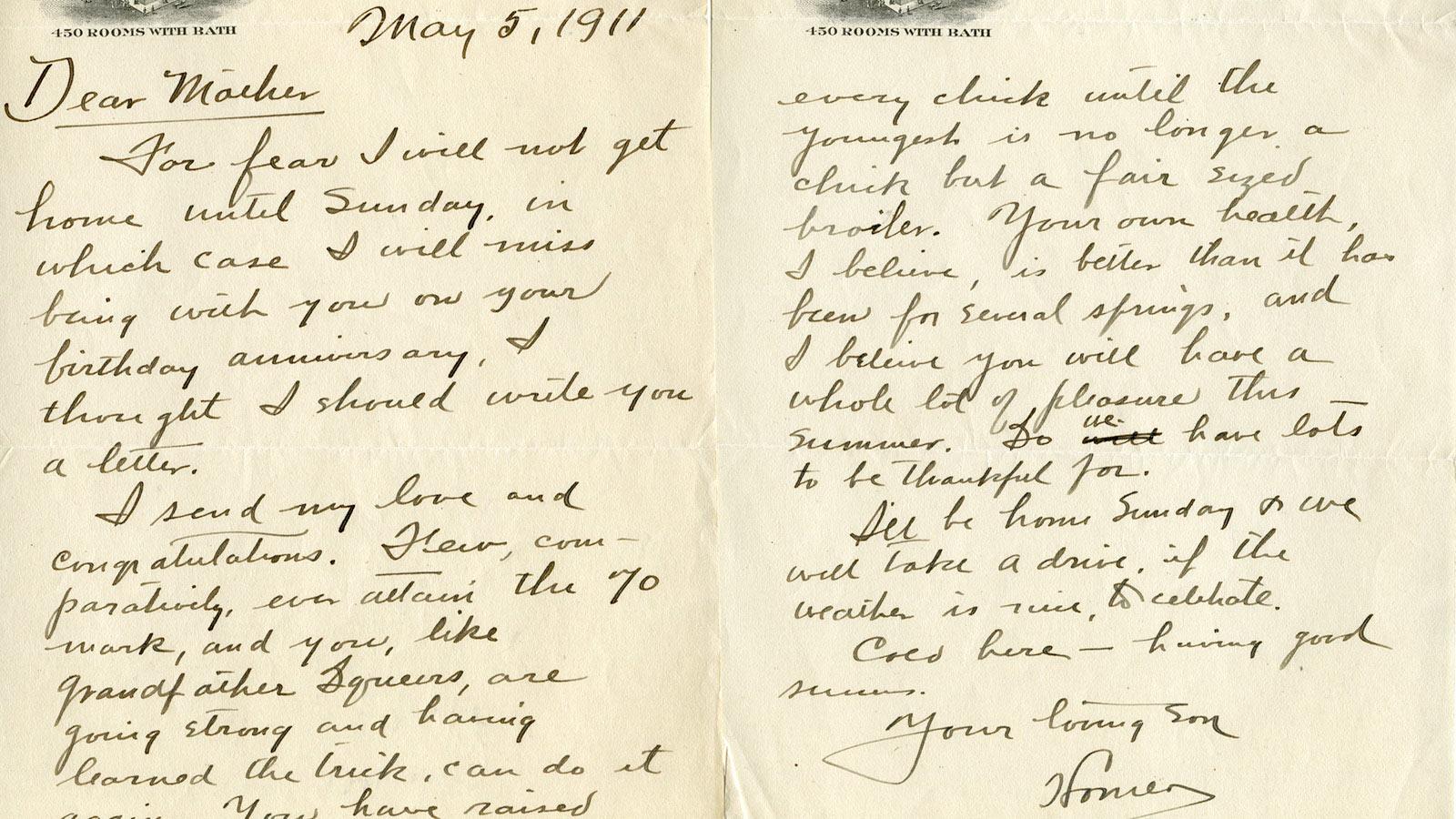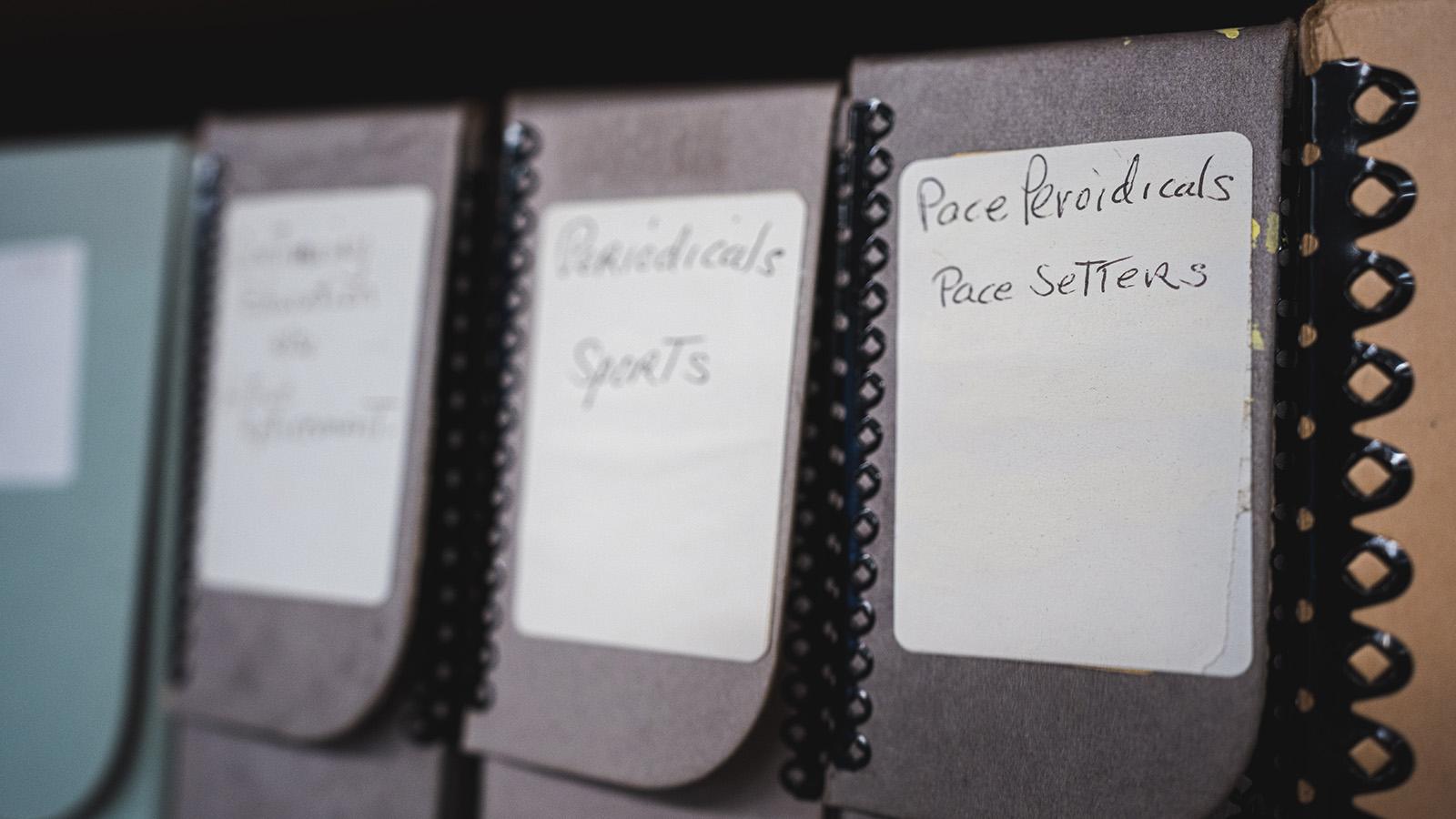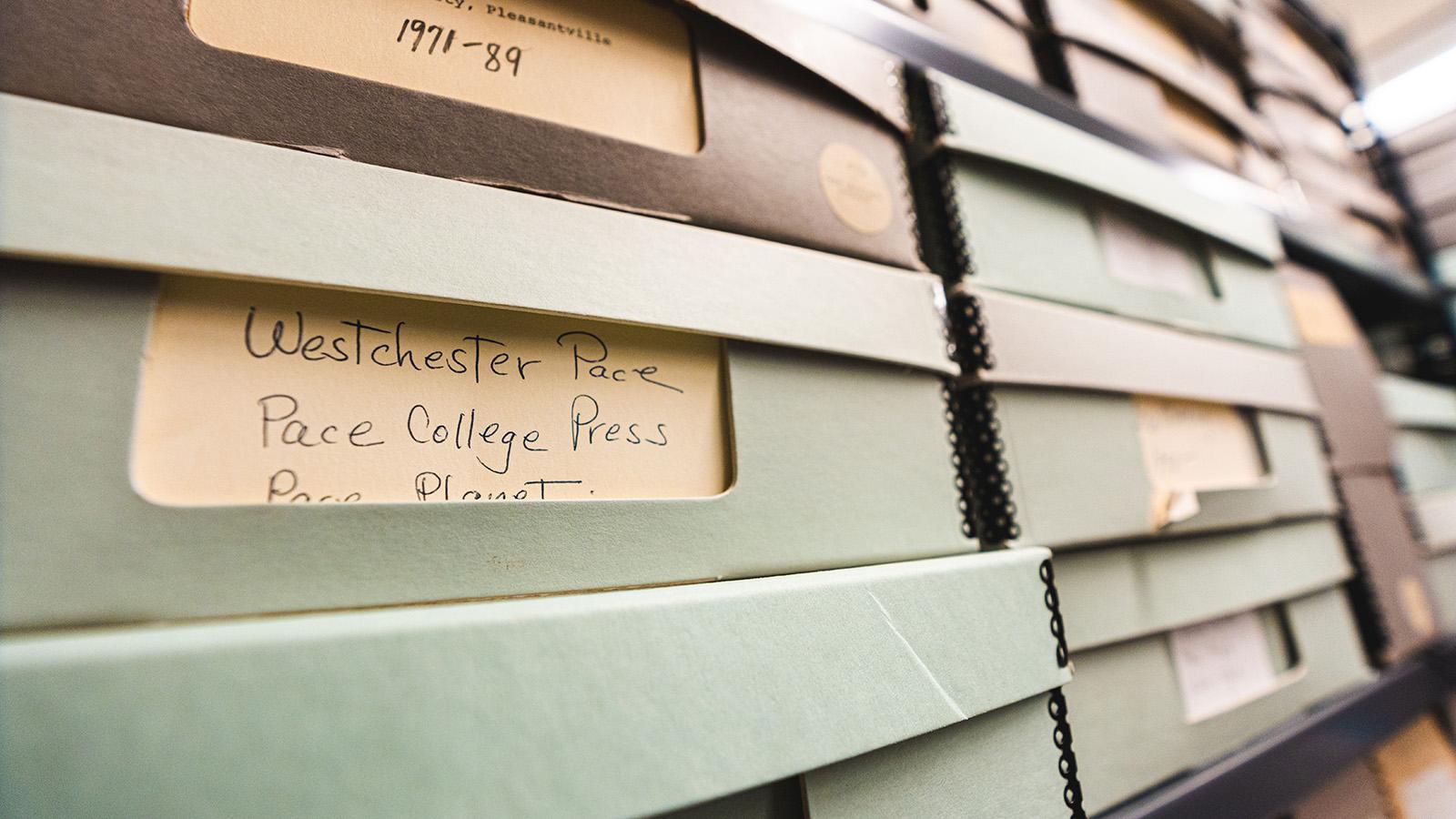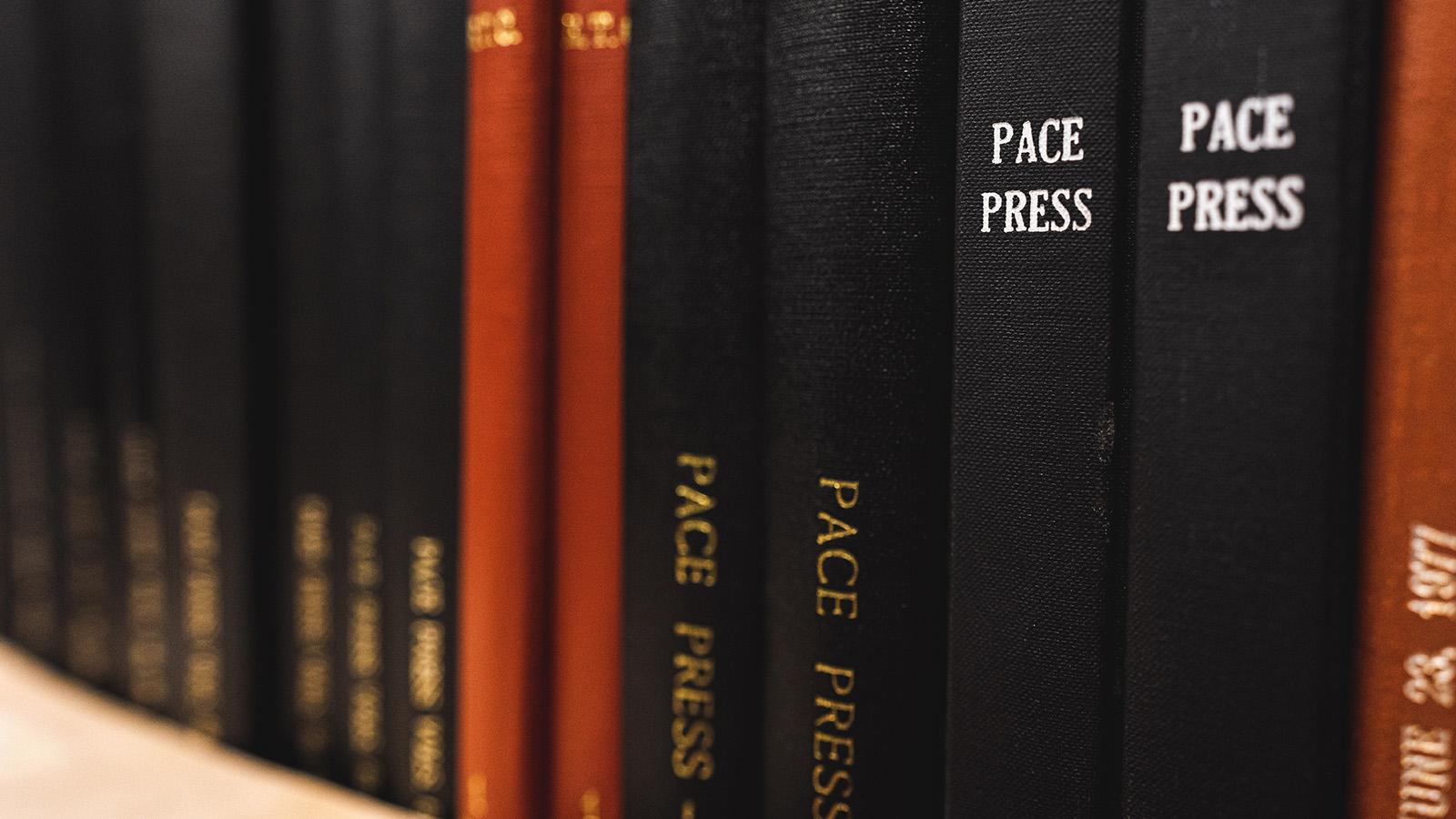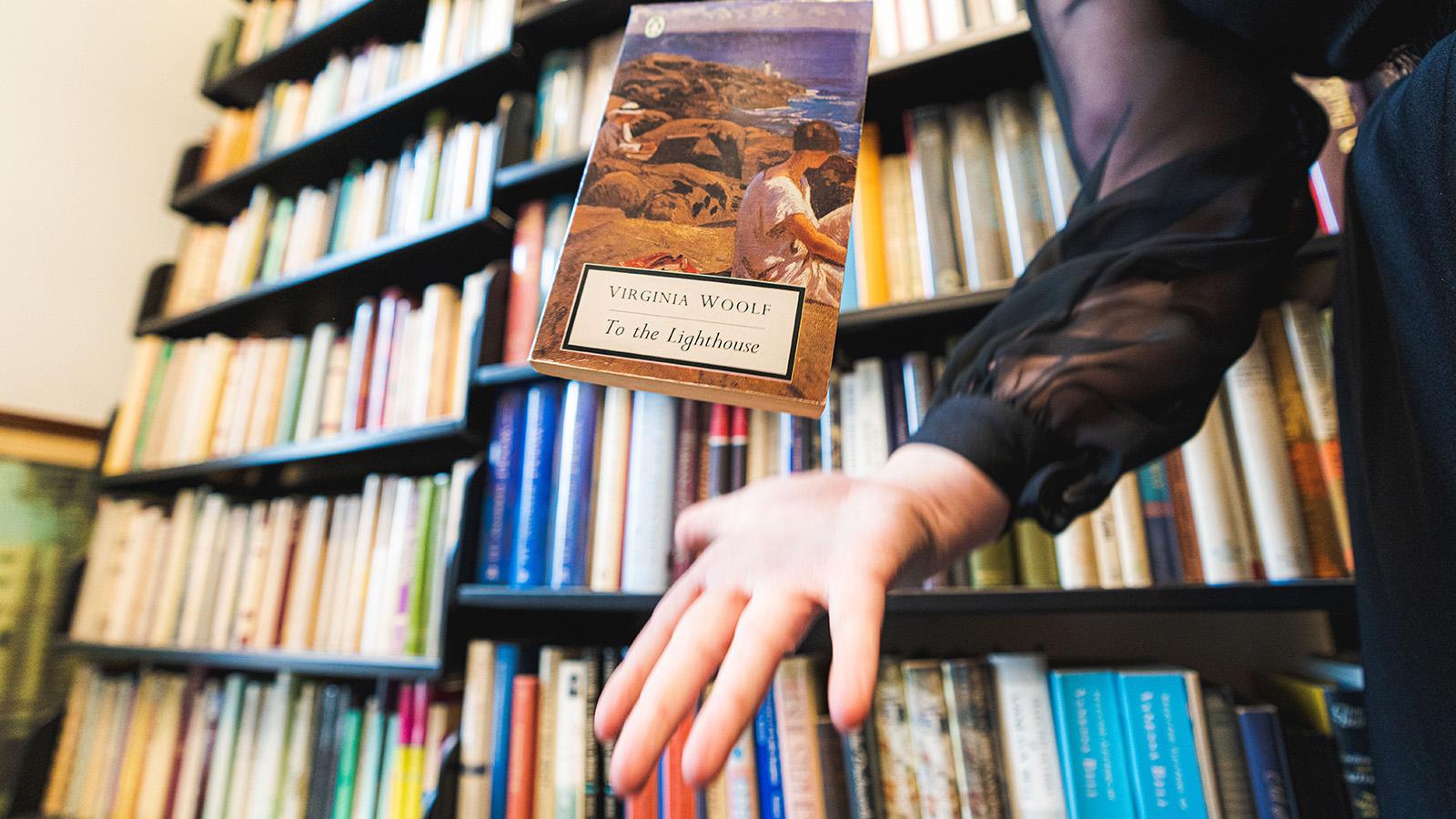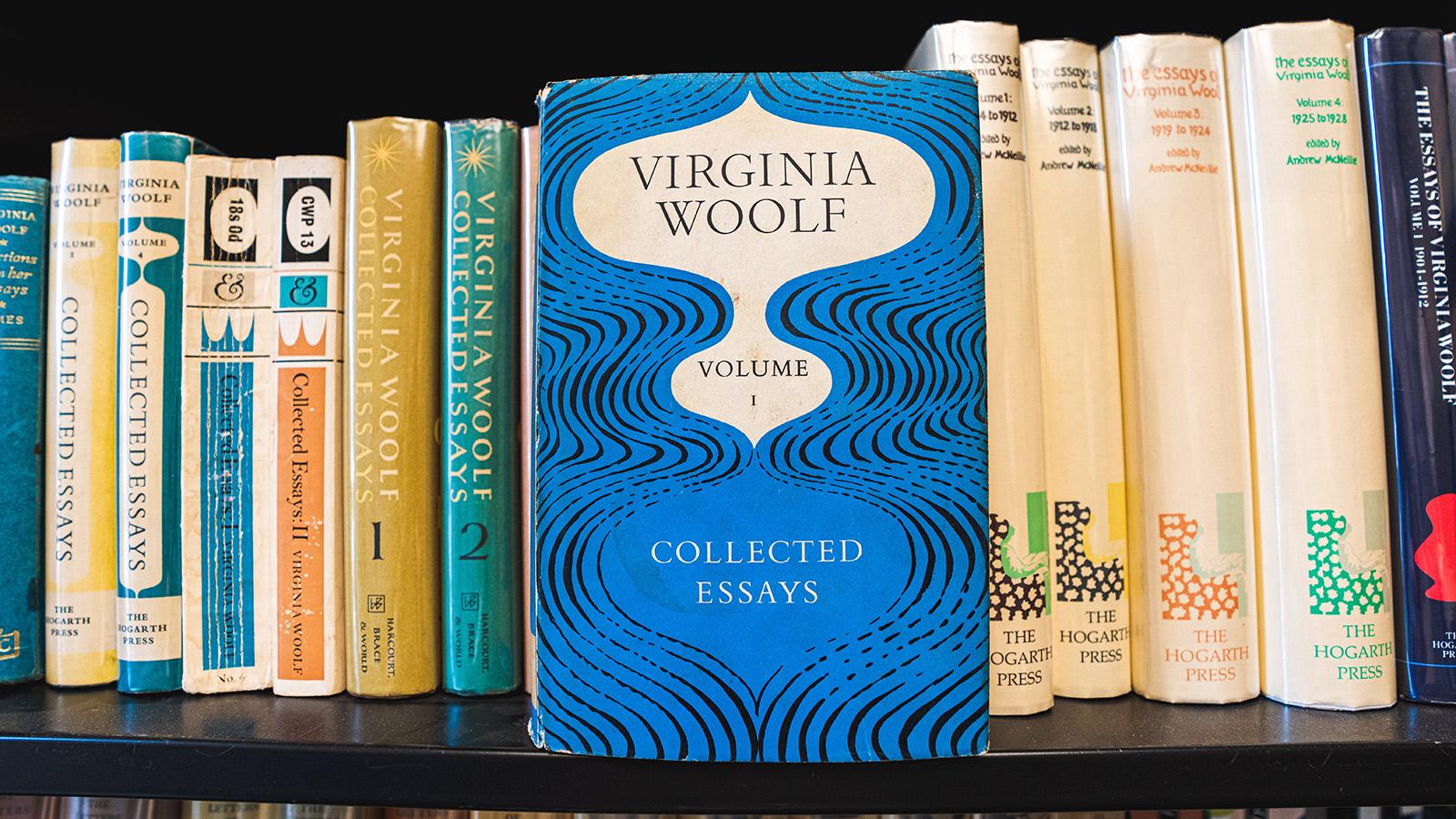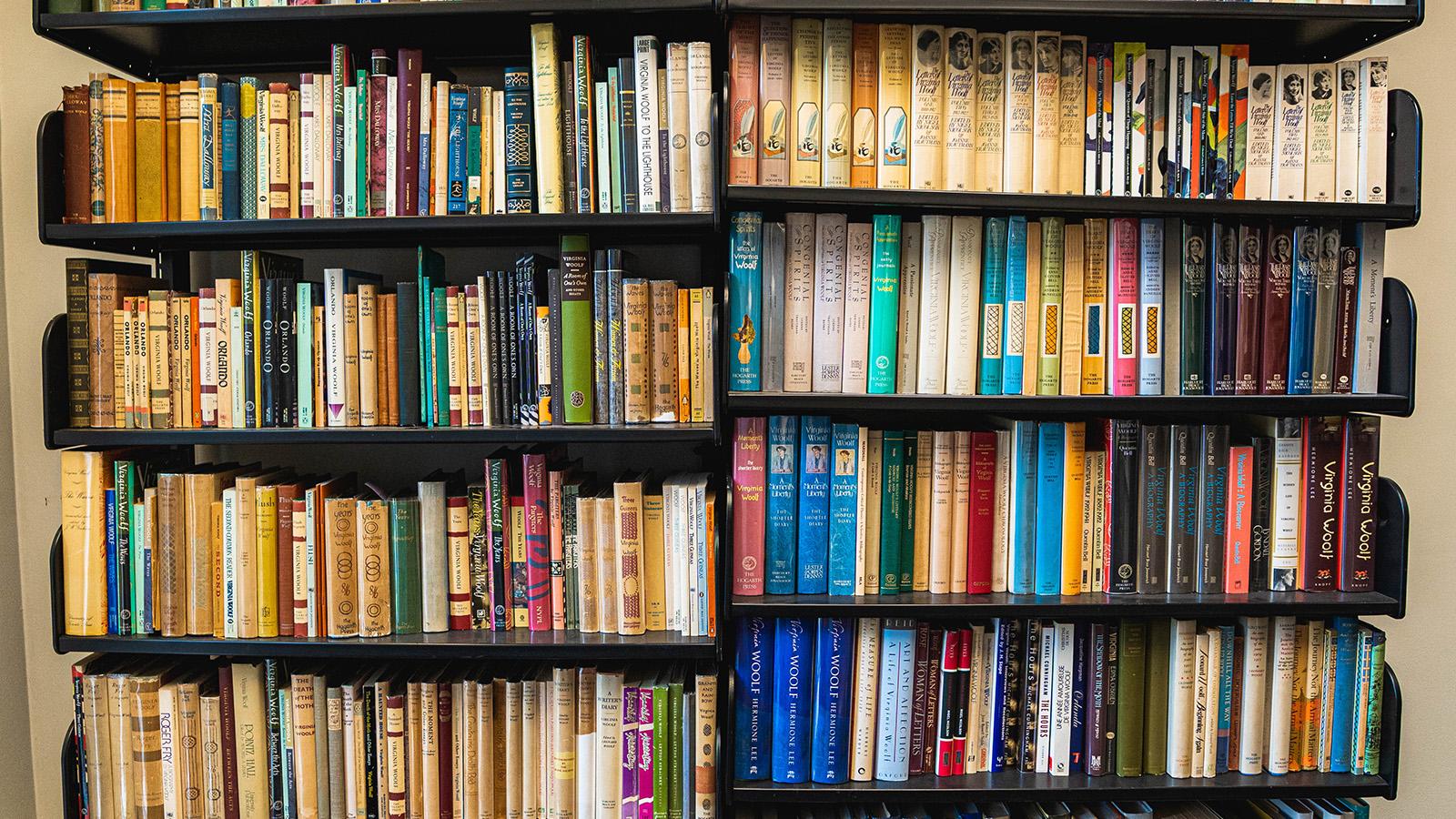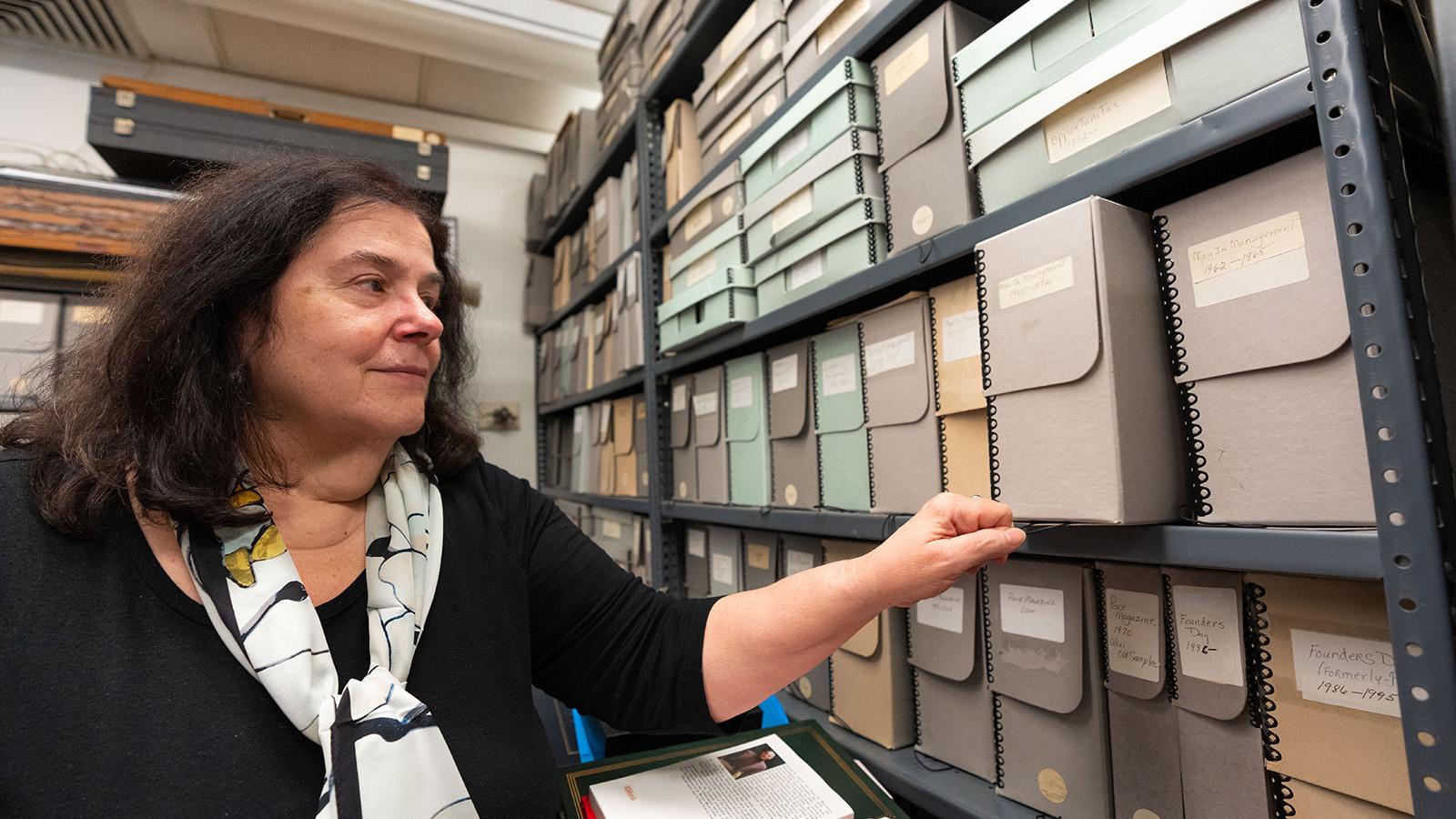 More from Pace Magazine
Pace Magazine
With the impending opening of our new modern, sustainable, and welcoming campus building at 15 Beekman and the soon-to-start renovations of One Pace Plaza East, Pace has big plans for downtown. Simply put: Pace is building.
Pace Magazine
This spring, Pace University joined a winning collaboration chosen by New York City Mayor Eric Adams and The Trust for Governors Island that will create a world-leading climate solutions center on the 172-acre island in the heart of New York Harbor.
Pace Magazine
National Championship? Check. A trip to the White House? Check. Read all about Pace women's lacrosse's dream season.