Students
Interning at Warner Bros. Discovery: Bianca Mazur '27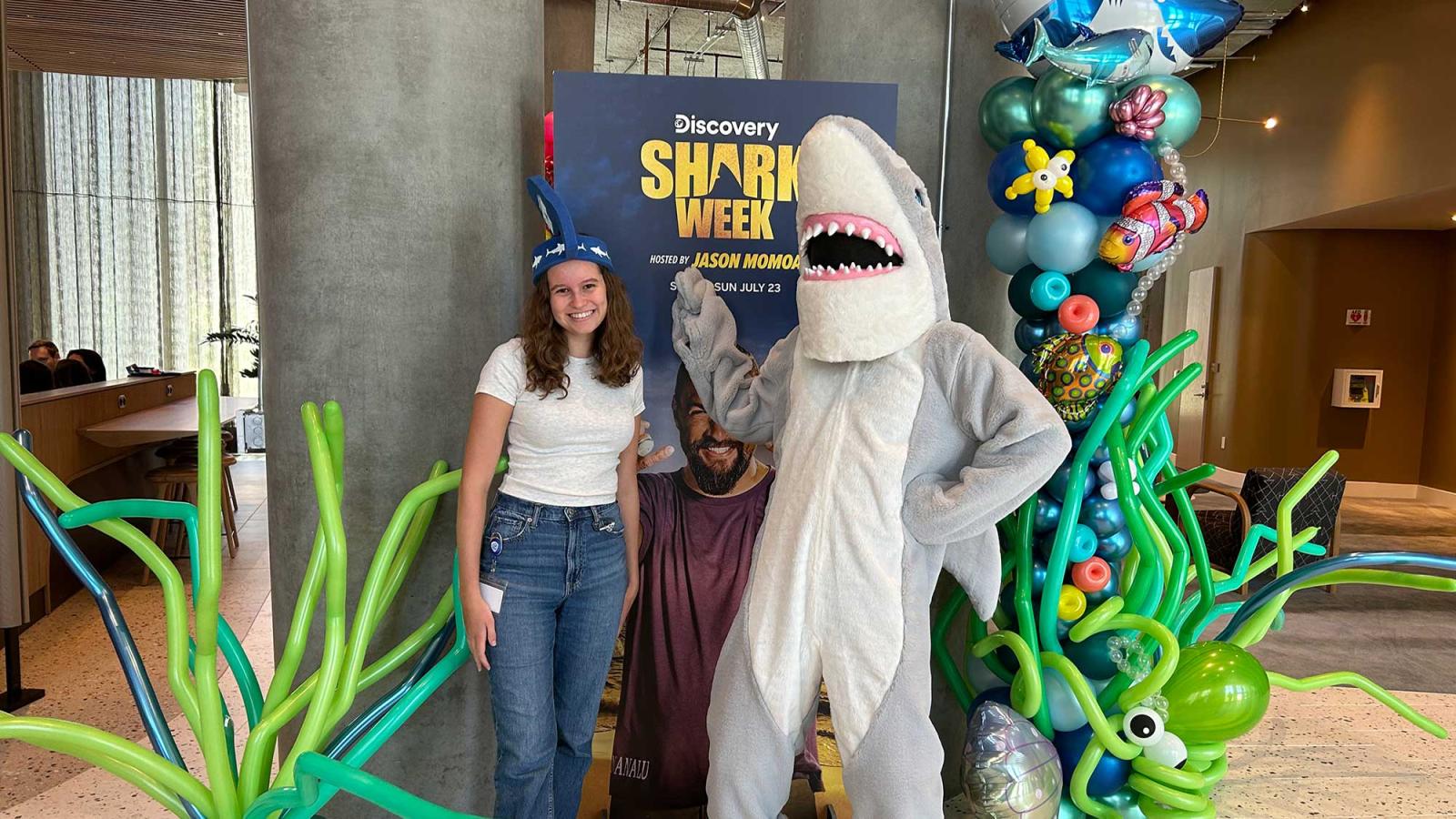 Name: Bianca Mazur
Pronouns: she/her
Anticipated Year of Graduation: 2027
Hometown: Burbank, California
Degree/Major: Marketing, Advertising and Integrated Marketing Communications, BBA
Internship role and employer: Intern for Internal Communications and Engagement, Warner Bros. Discovery (WBD)
Tell us a bit about what you did during your internship. Walk us through what an average day looks like for you.
In my internship, I was responsible for writing copy for posts, helping out at events, and coming up with content ideas for WBD's internal social media website. On the average day, I get to work at 9:00 a.m., and spend about half an hour responding to emails and catching up on any company news.
I usually have meetings in the morning, so I log into Zoom and discuss upcoming events and posts with the team, which is divided between Los Angeles, New York City, and Atlanta. After that, I look through the company's organization charts and LinkedIn to research people I would be interested in speaking to, to learn about their roles.
Around noon, I head to the Lot to meet some of my intern friends for lunch, and we walk around the Lot if we have time, making sure to visit the Stars Hollow set and grab a water at Starbucks. Then, I either stay on the Lot to help the team if there's an event going on, or I drive back to the office if there's nothing planned.
For events, I assist in setting up, make sure everyone has proper verification to enter the theater, and greet guests with a smile. If there's no event for the day, I meet up with my managers to brainstorm content ideas for social media and the company newsletter. I research information about the topics, write copy for social media posts, and come up with ways for employees to enter the latest giveaway. I have at least one networking meeting per day, because I want to ensure that I'm taking advantage of being here as an intern. After that meeting, I continue working with my managers on my writing tasks for the day, and then send my work over to them when I'm done. I say bye to my managers and the rest of the team on my floor, and leave at 6:00 p.m.
What made you gravitate to this role? Was it the organization, the responsibilities, something else?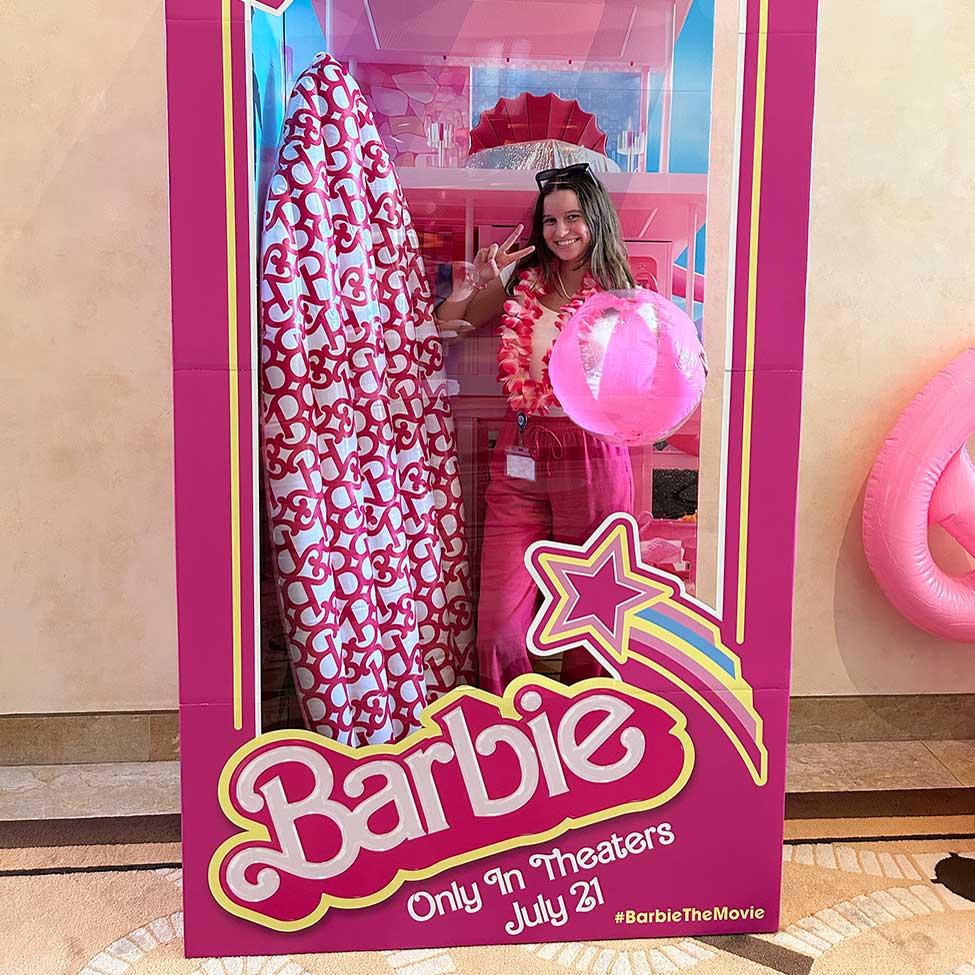 I was interested in this internship because of the opportunities I could gain from it. I'm in a four-year internship program called the Reach Honorship Program, and I'm on the business track specifically. In this program, I will return to WBD for the next three summers for my internship, and each year, I will switch departments to gain an understanding of what different areas on the business side of the company do. I get assigned to a department each year, and this year working on the Internal Communications and Engagement team, I got an insight to how the company works.
I also wanted to join this internship program to meet people in the field and expand my network, because I would definitely be interested in working at Warner Bros. Discovery after graduating. Moreover, I really love the content that WBD puts out (especially Friends), so I figured it would be a perfect fit!
Did you work on any projects or complete any special tasks that brought you a sense of self-satisfaction?
In my first week, my team was working on a piece about the new products in The Flash line, which was a great experience. My manager and I interviewed two people who worked on the products, converted the audio recordings of the interviews into text, and then I edited the text alone.
It was about 20 pages, and I went through each sentence to ensure that it was grammatically correct and flowed smoothly with the rest of the paragraph. All of this work was done in one day, and I felt satisfied that I had accomplished so much. Towards the end of my internship, I worked on another project, and this one was in partnership with the other intern on my team. For this project, we interviewed other interns to learn more about their roles at the company. I asked the interview questions and helped with the lighting set up, and the video was posted on WBD's internal social media website and on @wbdlife's Instagram account. It made me really happy to see that a video I worked on reached so many people.
Do you have a better sense of the industry now that you've had the opportunity to participate in it? Has your internship opened your eyes to new paths or options within your intended field?
I definitely have a better sense of the industry since I've had the opportunity to be a part of it. This internship helped me realize that I'd be interested in trying something with social media management and content creation, and also that I'd love to have another internship where I have creative freedom to design something.
Have you interned anywhere else prior to this?
This is my first internship! Before this, I was a host at a restaurant for almost two years.
Did you get this internship with assistance from Career Services or did you snag this one independently?
I heard about this internship from two of the girls who joined the program the year before, and they said they really liked it, so I applied!
What have you gained from this internship role?
From this internship role, I expanded my network and made a lot of new connections. Between working with other teams for events and seeing people on the Lot, I was meeting someone new every day, and it was super interesting to learn about their positions. This helped me improve my communications skills as well. I also gained a better understanding of aspects of the company and how long it takes for an idea to turn into a movie or product.
Do you have any advice for people who are considering taking on their first internship?
Go for it! Internships are great learning opportunities. Even if it's not your perfect fit, you gain soft skills that you can apply to other jobs and internships, and an internship can help you realize what you want (or really don't want) to do in the future. You'll meet so many new people and form connections with them, which could lead to career opportunities in the future.
If your internship was a TV show or movie, what would it be and why?
If my internship was a TV show, it would definitely be Friends. Everyone is really close, and there's always something fun going on. When I check in every morning, I'm always in a good mood because I get to work with some really great people.
Did you have a favorite spot to get lunch nearby?
My favorite spot to get lunch nearby is Raising Cane's because it's only a short drive away from my building, and I always see someone I know when I eat lunch there!
Did anything unexpected or silly/funny happen during your internship? What was it and what did you take away from it?
When I started my internship, I never expected that I would be walking around the cafeteria at lunch with another intern who was dressed up as Chompie, the official Shark Week mascot. We were tasked with passing out Shark Week fin hats to employees eating lunch in the building, and hyping them up for Shark Week. It was pretty funny to walk around the lobby and talk to a guy dressed in a shark costume. Everyone was super excited to see Chompie and grab some free Shark Week merch.
From this experience, I learned that a job is only as fun as you make it, and that everyone loves free swag :)
More from Pace
Students
Lubin student Samantha Nieves '24 is going above and beyond at her summer internship with Cisco. Not only does she welcome feedback from her managers, but she's also not afraid to ask questions, learn new things, and take on challenges...And she isn't just a leader at Cisco. This fall, Samantha will serve as Chief Executive Officer of Pace University's on-campus chapter of the American Marketing Association. Equipped with her experience from Cisco, Samantha is ready to take AMA to the next level.
Alumni
MPA graduate Ásthildur Sturludottir has been serving as the mayor of Akureyri, Iceland since 2018, where she champions sustainability and renewable energy. Committed to creating a brighter future, she believes that communities, both large and small, should embrace sustainability and leave a positive impact on the environment.
Pace Magazine
Lubin student Sadie Lorence spent her senior year researching the intricacies of a notable legal dispute around the '90s hit song, "Bittersweet Symphony"–and in doing so, has found her professional calling.