Press Release
Pace University Launches The Lubin Center for Sustainable Business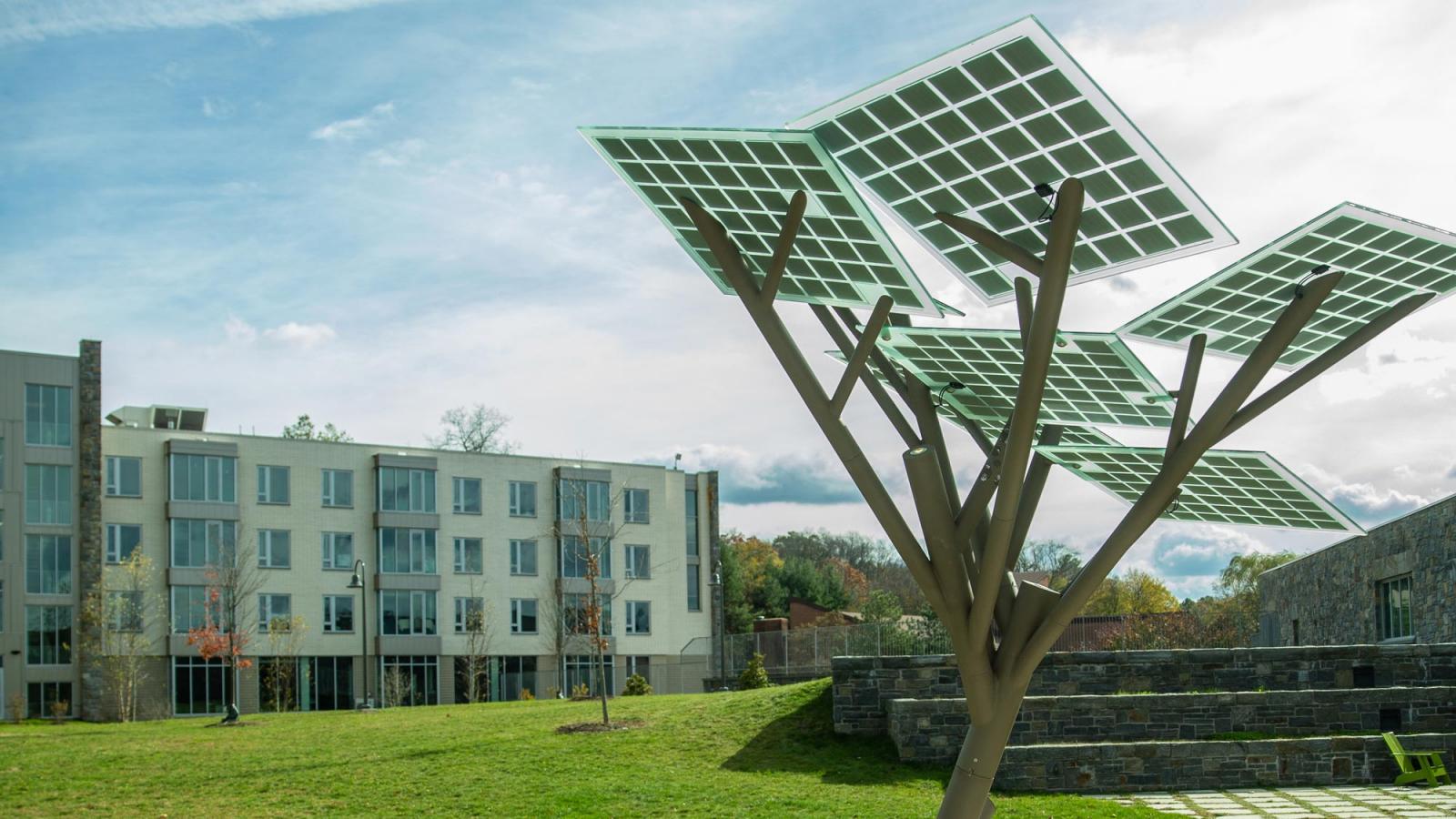 The Center, part of the Lubin School of Business, to focus on the integration of business, environmental, social, and governance stewardship
Inaugural Event was the 2021 Renewable Energy Conference
NEW YORK, N.Y. (July 1, 2021) — As a means of preparing students for a job market of the future and providing responsible businesses with workers and leaders who understand that advancing Environmental, Social, and Governance (ESG) principles and profitability goes hand-in-hand, Pace University today announced the launch of the Lubin Center for Sustainable Business (CSB).
The Lubin CSB – headquartered in the Financial District, just steps away from Wall Street, and operating at the Lubin School of Business at Pace University – is designed to equip students, faculty, professionals, and communities with education, research, and the job skills necessary for maintaining sustainable business models. The new center will also operate as a knowledge hub focusing on engagement, information exchange, and networking that uniquely focuses on the intersection of ESG stewardship and business purpose.
"The Lubin School of Business has been exploring and contributing to the evolving intersection of ESG and business for some time," said Steven Mezzio, executive director of the Lubin Center for Sustainable Business, and professor of Accounting at Pace University. "Given the emerging market-mandate to integrate ESG stewardship and business purpose, we decided that now was the right time to launch a centralized hub dedicated to sustainable business."
The Lubin CSB will equip, enable, and empower students, alumni, faculty, businesses, and communities with the education, research, knowledge and job-skills to better understand, influence, and lead this global ESG-business movement, Mezzio added.
With a learning, research, and service platform-based mission, the Lubin CSB will also develop, deliver, and facilitate ESG-related academic degree programs, non-degree certificate and badge programs, continuing professional education, executive education, research, public events, and community service.
Its inaugural event was the 2021 Renewable Energy Conference: A Leadership Forum on Energy Policy, which was held on June 29 and June 30, and brought together business leaders, environmental experts, and leading voices in the fields of energy, transportation, technology, academia, and government to discuss ways to effectively put New York and its businesses on a path to green energy. The conference was done in partnership with The Business Council of New York State, The Hudson Renewable Energy Institute, and the Lubin School of Business.
"I am delighted to announce the launch of Lubin's new Center for Sustainable Business," said Lawrence G. Singleton, dean of the Lubin School of Business. "With a focus on environmental, social, and governance factors that contribute to driving value and profitability in business, the Lubin CSB will serve as a hub for thought leadership and as a vehicle for educating our students and the broader population in this area of importance to businesses."
Pace University has a rich history of excellence in business education and was founded as a school of accountancy in 1906. With a strong focus on experiential learning and one of the largest internship placement programs in the New York metropolitan area, Lubin's combined job placement rate is nearly 90 percent. Earlier this year, the Lubin School of Business successfully maintained its dual accreditation for both business and accounting by AACSB International, an elite distinction shared by fewer than 2 percent of schools in the world offering business degree programs.
"Pace University has always prided itself on preparing students to be responsible leaders who are ready to meet the demands of the marketplace," said Pace President Marvin Krislov. "That's why we are so excited to establish the Lubin Center for Sustainable Business, which will advance the critical understanding that responsible environmental, social and governance principles are essential for society and a company's bottom line. We are grateful to Lubin Dean Lawrence Singleton, Executive Director Steven Mezzio, and the staff at the Lubin School of Business for making the Lubin CSB a reality."
For further information on the Lubin Center for Sustainable Business, contact Steven Mezzio, the Lubin CSB Executive Director at smezzio@pace.edu.
About Pace University
Pace University has a proud history of preparing its diverse student body for a lifetime of professional success as a result of its unique program that combines rigorous academics and real-world experiences. Pace is ranked the #1 private, four-year college in the nation for upward economic mobility by Harvard University's Opportunity Insights, evidence of the transformative education the University provides. From its beginnings as an accounting school in 1906, Pace has grown to three campuses, enrolling 13,000 students in bachelor's, master's, and doctoral programs in more than 150 majors and programs, across a range of disciplines: arts, sciences, business, health care, technology, law, education, and more. The university also has one of the most competitive performing arts programs in the country. Pace has a signature, newly renovated campus in New York City, located in the heart of vibrant Lower Manhattan, next to Wall Street and City Hall, and two campuses in Westchester County, New York: a 200-acre picturesque Pleasantville Campus and the Elisabeth Haub School of Law in White Plains. Follow us on Twitter or on the Pace News website.
About the Lubin School of Business at Pace University
Globally recognized and prestigiously accredited, the Lubin School of Business integrates New York City's business world into the experienced-based education of its students at Pace's suburban and downtown campuses, implemented by one of the region's largest co-op programs, team-based learning, and customized career guidance. Its programs are designed to launch success-oriented graduates toward upwardly mobile careers.