Pace Magazine
Shaping Healthcare's Next Generation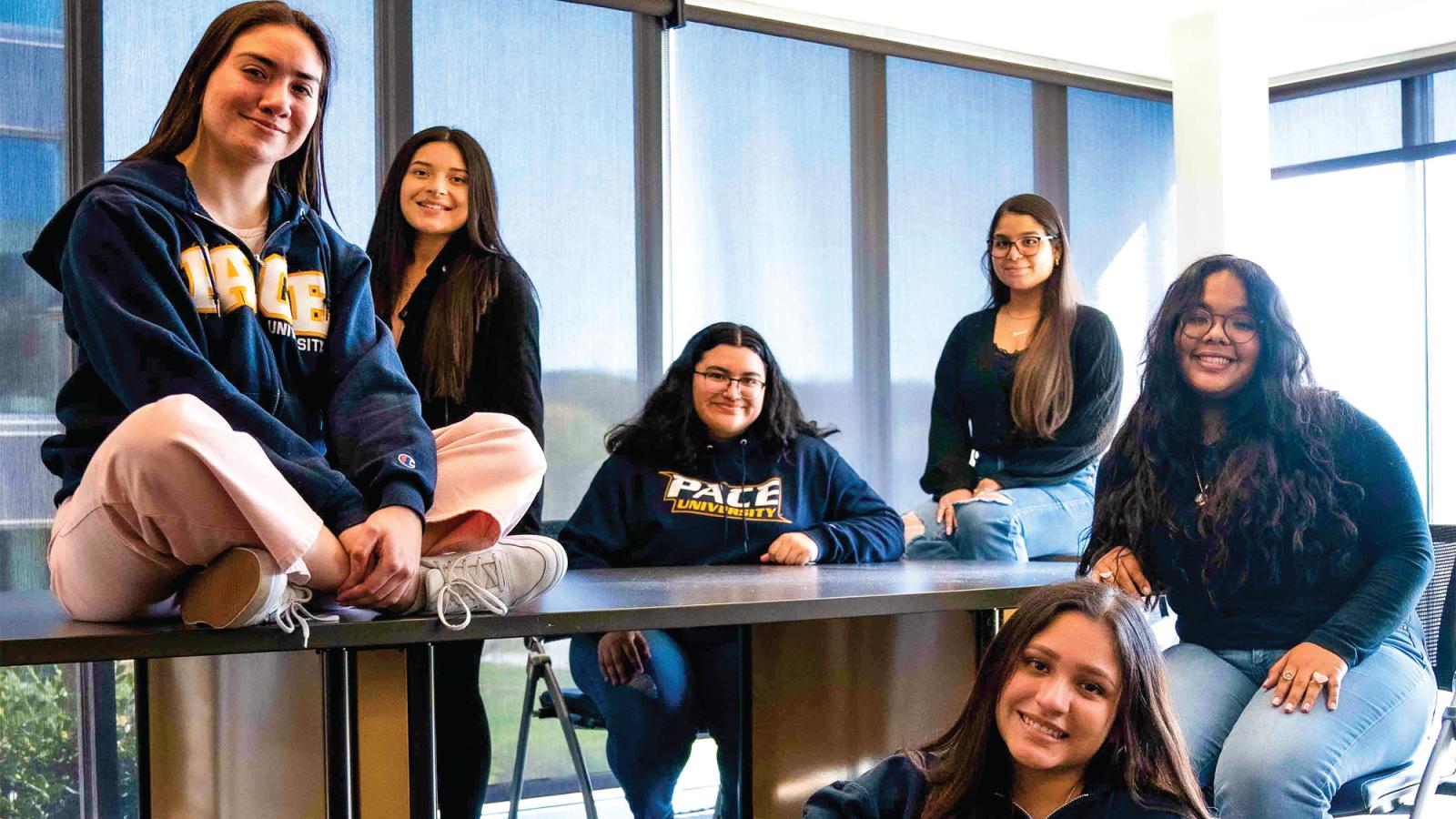 "For the more than 50 years that it's been in existence, Pace's Lienhard School of Nursing has been committed to serving diverse communities," says Rhonda Maneval, DEd, RN, vice dean of Pace's College of Health Professions. "Part of that commitment is educating nursing students from diverse backgrounds in order to create a nursing workforce that can better address the health care needs of our diverse communities and improve health outcomes for all people."
The COVID-19 pandemic served as a stark reminder that people from underserved communities suffer from severe disparity in health outcomes—due in part to lack of access, linguistic and cultural barriers, and economic and job conditions. For Maneval and the other leaders at Pace's College of Health Professions (CHP), that experience emphasized the need to attract and support more diverse nursing students at Pace.
Last summer, CHP's Lienhard School of Nursing received a nearly $2 million federal Nursing Workforce Diversity grant, funded through the US Health Resources and Services Administration (HRSA). The grant works to increase educational opportunities and retention rates for first generation college students from underrepresented ethnic and racial minority groups in nursing. The grant—facilitated through CHP's innovative STEPS to Success program and authored by Maneval—provides support, scholarships, mentoring, tutoring, wellness workshops, and resiliency training aimed at preventing burnout and promoting academic success for nursing students.
For the nine nursing students who have just completed their first year as part of the inaugural HRSA cohort, the support, guidance, and mentorship they've received through the program have provided unparalleled opportunities.
"Many minority groups, especially those who are of Hispanic or Latin descent—like myself—tend to avoid health care institutions because of the fear of the language barrier that is so prevalent when trying to receive care," says HRSA scholar Joeleena Hernandez '25.
A Higher Calling
"My first 'ah-ha' moment was when I was nine-years-old," says Alessandra Gutierrez '25, whose grandmother, Tita, lived with her growing up in Ossining, New York. "She had broken her dominant arm and was diabetic, so she needed assistance with her insulin and testing her glucose levels. That was when I realized I loved helping others and wanted to help them as I did with my grandmother." That call to caring is what eventually brought Gutierrez to Pace.
Sofia Garcia '25 had never considered a career in health care until her senior year in high school, when her father suffered a medical emergency that left him fighting multiple organ failure for weeks. "I observed how attentive the nurses were and the difference they were making in my dad's recovery, and realized I wanted to have that same impact on someone else's life as well," she says.
"I tell the students all the time, 'We need you to be registered nurses, but we also need you to be leaders. We need you to go out there and take charge and lead.' And that's something we do well—we give you the skills to begin that leadership journey."
The impact these students will have after graduation doesn't begin and end with just patient care—they're being educated to critically examine care in the clinical environment and strive for leadership roles within the nursing industry to carry the wave of change forward to the nurses who will come after them.
"Part of this program is really introducing the scholars to nursing leaders, because we need them to be the next generation of leaders," says Maneval. "I tell the students all the time, 'We need you to be registered nurses, but we also need you to be leaders. We need you to go out there and take charge and lead.' And that's something we do well—we give you the skills to begin that leadership journey."
Total Immersion
Scholars in the nursing diversity program come from underrepresented racial and ethnic groups in nursing, and they must also be first-generation students, meaning they are the first in their family to attend college. While going off to college is a feat in itself, doing so as a first-gen student presents its own set of challenges. To help ease students and their families into college life, the scholars had the opportunity to participate in a week-long summer immersion program that introduced them to campus, their future faculty, advisors, and alumni who were working in area hospitals.
"Being part of the summer immersion program allowed me to meet students who were experiencing the same things as me," says Evelyn Cabrera '25, who is also in the Pforzheimer Honors College. "I was more comfortable going into the school year because I felt as if I already had a group of people I could rely on. Being part of a cohort really allowed us to build connections with faculty and other students to create a big family who supports one another."
During that week, students in the cohort lived together on campus, met their peer mentors (nursing students further along in Pace's nursing program), got connected with key resource offices at Pace, and started building connections with each other and their individually assigned faculty mentors.
And it wasn't just the scholars who built connections—their families were invited to campus to meet each other, meet their student's faculty and advisors, and learn about how the program will impact their children. "I've always said that people who choose nursing are very, very special people, and we wanted to communicate that with the families, and we wanted them to know how challenging nursing school can be," Maneval says. "We invited the families to be cheerleaders and supporters for their students because we know that their students will sometimes feel overwhelmed. Having families know that these things are going to happen in advance means we can prepare them to help their students in positive ways."
Now a year into the four-year program, students and their families have already felt the impact that this type of comprehensive and immersive support can have on student success. "Everything is kind of new to us, in terms of college, but I think we've both adjusted well and are doing great so far," says Hernandez about her and her mother. "My mom is so happy and excited for all the new things I've learned and been able to do and accomplish in the program. She always says that my hard work will pay off, and this opportunity is one thing that proves it."
It Takes A Village
"This grant gave us a great opportunity to capitalize on the strengths that we already had," explains Maneval. "We were able to say to HRSA 'You should invest in us because we have a good track record in educating diverse students, but we need help to do more.'"
As part of the funding, there is a deep focus on student retention and persistence to graduation—meaning no missed semesters, no drop-outs, and an always-forward academic progression for students. And, of course, one of the most important facets of the grant is the financial support from which the students benefit.
"It's important, because not only does the scholarship say to the student that they are being invested in and that we believe in them, but it also helps to limit the amount of outside work they need to engage in," Maneval says. "We know that many students are working lots of hours outside of academics, and that can be a major barrier to success."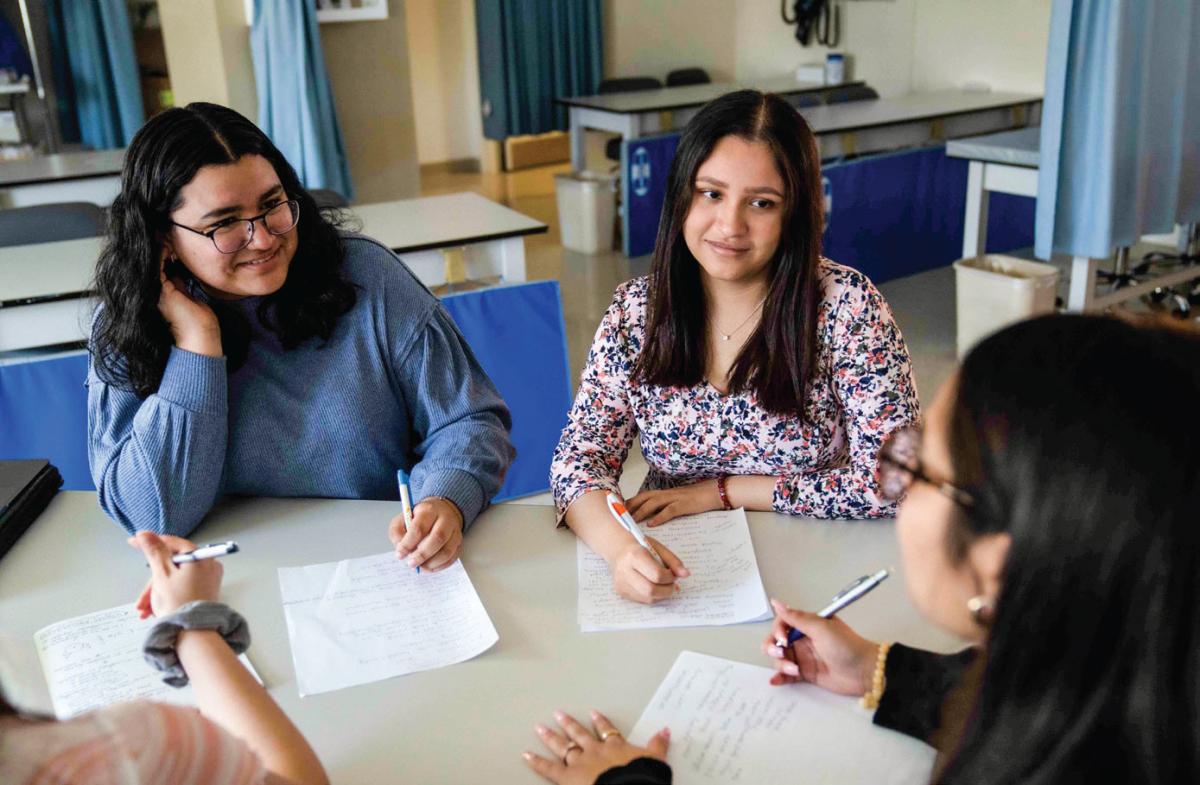 For nursing students in particular, the level of academic commitment required is extremely high. Between full class loads, labs, and on-site clinical rotations, it's an intensive and full-time effort. To help these students balance it all, peer and faculty mentors step in to offer guidance, moral support, and serve as sounding boards.
"It was incredibly reassuring to see an adult nurse who succeeded in her journey and still had time to dedicate to her relationships with her family and friends," says Garcia, who was able to travel with her faculty mentor to Utah for the National Student Nurses Association Convention. "It was also delightful to talk to her about her experiences growing up."
"We all were able to build great relationships and bonds with our peer mentors," Gutierrez says. "They're all nursing students who are one or two years older than us and it's great to be able to talk to someone who has walked in our shoes."
And it's not just the people at Pace who are making a difference in student outcomes—it's their families, too. By getting them involved in the process early, it paves the way for understanding and compassion when the road to graduation gets a bit rocky.
"They realize that being a nursing major is hard work, but they are there with me every step of the way to remind me that I am capable of becoming a nurse."
"My family was very proud of me when I started this journey and still are," says Jahaira Pereira '25. "They realize that being a nursing major is hard work, but they are there with me every step of the way to remind me that I am capable of becoming a nurse. They help keep me relaxed and calm when things get to be a handful and without my family I wouldn't be where I am now."
"There's real intentionality behind involving so many people and resources in the success of these students," says Maneval.
"When we designed the program, we looked at what the best evidence was for the things that seem to make the most difference to the success of students. And in four years, we'll be evaluating what really worked and what didn't and use that information and those strategies to support all of our students in the best ways."
It All Adds Up
Prior to their junior year, these scholars will spend time in externship placements at partner hospitals in the Westchester area. They'll be earning wages and working closely with registered nurses in areas that are of interest to them as they begin to explore future career paths.
"Again," says Maneval, "these placements are another strategy to build confidence and skill sets."
"I am very thankful for the grant," says Pereira. "It's helped me be able to afford to attend school, but also helped me realize the impact I am making for the future of nursing. Being able to relate with my fellow students about how we want to make the representation of Hispanic nurses larger just helps to show the impact everyone in the program wants to make in the future. Overall, I hope that this grant will impact the industry and patient care by making more of a diverse community in the nursing community."
For students like Hernandez, the grant has helped remove obstacles that she may have otherwise faced as a first-gen student entering a challenging program like nursing.
"I hope that more people in minority groups are propelled in the health and patient care industry because their contribution is so important to promoting wellness everywhere," she says. "The HRSA program and grant is truly aiming to combat obstacles and barriers to education and access to health care and I have no doubt we can all achieve it."
More from Pace Magazine
Pace Magazine
Esports has arrived at Pace as our 15th varsity sport. Get your introduction to this booming industry, our new Esports director, and the students who have been passionately dedicated to the program since its days as a student club.
Pace Magazine
At 14 years old, Shahab Gharib is not your typical Pace student. Here is his extraordinary story.
Pace Magazine
We're reaffirming our commitment to cutting-edge academics, moving up in the rankings, earning grants, and paying it forward. All this and more in the latest edition of 10 Things to Inspire You.