Construction Project Management, Certificate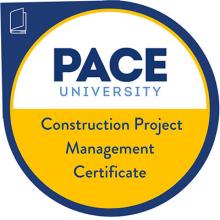 Certificate and Digital Badge presented on successful completion of course requirements
Learn how to strategically manage your construction projects
The field of construction management is enormously complex. There are several major classifications of construction that differ markedly from each other: housing, nonresidential building, heavy, highway, utility, and industrial projects. Such projects involve much time and expense, and close management control of them is required if they are to be completed within the established time and cost limitations.
A construction manager is in charge of the overall planning and control of a project; this demands a command of many skills.
The Construction Project Management Certificate program is designed to provide you with the knowledge of the regulatory, insurance, management, safety, estimating, and environmental aspects of the construction management industry.
About the Class
Master the essentials of Construction Project Management. This innovative course provides construction-orientated professionals with the practical knowledge and expertise in project cost estimation, project scheduling, and managing key business concepts in the field of construction.
Participants will receive a Pace University Certificate of Completion. This course is approved for 22.5 hours of continuing education for real estate salespersons and brokers (NYS approved).
The instructor was excellent, organized, and well qualified. He was very up-to-date with technology and provided us with a classroom experience by interacting with us by using a whiteboard and building a schedule. He has a lot of experience with major construction management firms and so was able to provide us with real life examples of why the role and tools of the construction project manager are so important.

—Kayvon Nossrati
Who Should Enroll
Individuals new to the field of construction
Construction project planners and designers, engineers
Those under contract with or employed by the owner, developer, or management firm overseeing a construction project
Additional Upcoming Courses
When: November 15, 2022 to December 15, 2022
Days: Tuesdays, Thursdays
Time: 5:30 p.m.–9:00 p.m.
Location: Online
Cost: $595.00
Program Topics
Determining the cost for construction and evaluating cost performance
Establishing construction schedules
Applying time value of money concepts for evaluation of alternatives
Value engineering and performance management
Course Benefits
The opportunity to develop professionally and to improve, acquire, and develop new and relevant knowledge to enhance professional growth
The knowledge and problem solving skills to determine costs for construction activities and projects
Apply time value money concepts for evaluation of alternatives
Evaluate project schedules and cost performance
Interpret construction material properties and standards
Perform managerial functions
Certificate and Digital Badge presented on successful completion of course requirements
Meet the Instructors
Michael Debiak
Michael Debiak joined Faithful+Gould in 2016 as a vice president and managing director leading the New York Metro Area office and infrastructure business line for the northeast, bringing more than 35 years of construction and program management experience to the firm.