Image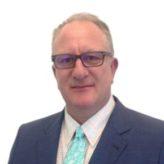 PSP, EVP, PMI-RMP Michael Debiak / Vice President |Managing Director
Mike joined Faithful+Gould in 2016 as a vice president and managing director leading the New York Metro Area office and infrastructure business line for the northeast,  bringing more than 35 years of construction and program management experience to the firm.  Prior to joining Faithful+Gould Mike was an associate vice president and principal project director with ARCADIS in their Infrastructure group. As the northeast's infrastructure business line lead, Mike is driven to become a client's trusted advisor by helping them find practical solutions that solve problems, save time and reduce cost. Mike emphasizes sound business-focused decision making, while working to achieve optimal project outcomes. Mike draws upon his experience as an owner/developer and contractor on conventional design-bid-build and complex design-build projects to achieve early issue identification, mitigation and resolution to deliver successful quality projects, on time and within budget.
Working with market sector and service line leadership Mike leverages his demonstrated expertise and extensive industry network to identify opportunities, position for the win, and deliver projects. Mike's extensive unequaled experience and expertise includes risk management, project planning and scheduling, claims analysis and negotiations, program/project controls systems and implementation, pre-construction, delivery and procurement methodologies, contract administration, and execution strategies. Mike has demonstrated expertise in program/project financing including federal, state and local grants, developer funding, P3, bank facility, and TIFIA.
Mike differentiates himself through national involvement in industry organizations, notably as Subject Mater Expert (SME) on risk and schedule for the U.S. Government Accountability Office (GAO).  Mike presented to more than 35 international corporations and associations, including the nationally broadcast webcast on Project management strategies and changing technology for CE News sponsored by Oracle Primavera.  Mike taught scheduling in the Masters Program at Columbia University, is currently teaching construction management at Pace University and is co-author of the book Leadership: Helping Others to Succeed with Dr. Warren Bennis.