Students
Commencement 2023: Your Questions Answered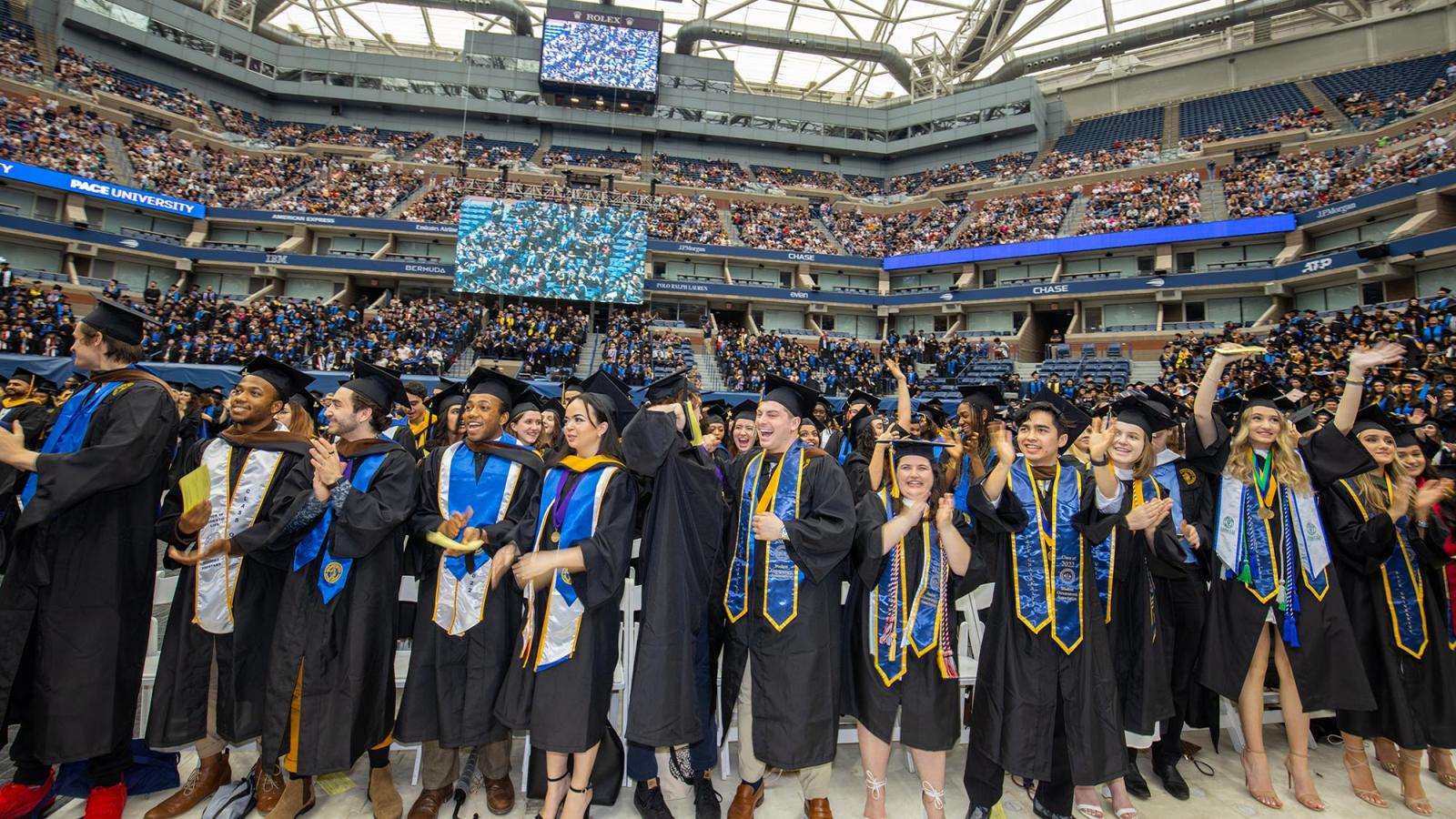 Accessing your tickets, when to arrive, where to park, what to eat, and so much more. You've got questions and we've got answers. Get ready to walk, grads.
Accessing Your Tickets
We know there are a lot of questions about receiving, accessing, and transferring your tickets to your guests. We've created a special FAQ section with detailed instructions and information to help you get the info you need. We are still distributing tickets—if you registered late or are on the waitlist, keep checking the Pace email you used to register.
When To Arrive
Graduating students should plan to arrive one hour before their scheduled ceremony start time. Graduates and guests with ADA needs should plan to arrive 1.5–2 hours prior to their ceremony start time.
9:45 a.m.–11:15 a.m. | Elisabeth Haub School of Law | Louis Armstrong Stadium
10:00 a.m.–11:30 a.m.| Lubin School of Business | Arthur Ashe Stadium
12:15 p.m.–1:30 p.m. | Main Ceremony | Arthur Ashe Stadium
2:15 p.m.–4:45 p.m. | College of Health Professions and Seidenberg School of Computer Science and Information Systems | Louis Armstrong Stadium
2:30 p.m.–5:00 p.m.| Dyson College of Arts and Sciences and School of Education | Arthur Ashe Stadium
How To Get In
All graduates and guests must present a ticket for entry into the USTA complex at the East Gate. If you have ADA parking or drop-off/pick-up passes, please enter through the West Gate.

Be sure to access your tickets via NTC Ticketmaster Account Manager in advance and save them on your mobile device. If you are transferring tickets to your guests, they also need to access and save them in advance.
If you or your guest(s) do not have a mobile device or are otherwise unable to access your tickets digitally, you will still be able to enter. Speak to staff upon arrival.
What To Wear
Dress to the nines and make sure to bring your cap and gown! If you're feeling extra flashy, wear it to the venue. No idea how to put it on? We got you. Pace staff will be onsite to help grads robe up.

Real talk: The venue is BIG. You'll be doing a lot of walking, so consider comfy shoes or at least a pair to change into.
Transportation
Subway: The 7 train provides service from Grand Central Terminal to Mets-Willets Point Station, including connections for all Metro-North Trains from Westchester and Connecticut. Service is also available from the Port Authority Bus Terminal.
Long Island Railroad: LIRR provides easy service to Mets-Willets Point Station from Woodside, and convenient connections from Penn Station for New Jersey Transit customers. For guests with disabilities, get off the LIRR train at 61st Street-Woodside Station and transfer to the 7 train. Take the 7 train to Mets-Willets Point Station.
Parking
Event parking is at Citi Field, located next to the USTA complex. USTA recommends using Grand Central Parkway exit 9E or Whitestone Expressway Exit 13D for the shortest route to available parking lots.
Upon arrival, lot attendants will direct you to the appropriate area.
There is a $40.00 charge for parking and cash is not accepted.
Accessibility
Some of our grads and their guests may have questions regarding ADA and accessibility. We've created a special FAQ section with detailed instructions and information to help you get the info you need.
Food and Drink
The USTA's Grounds and Food Village will be open from 11:00 a.m.–4:00 p.m.; cash is not accepted.
Bottle re-filling stations are available throughout the USTA complex. Bring your refillable bottles to stay hydrated!
Rain Plan
Commencement takes place rain or shine. Both Arthur Ashe and Louis Armstrong stadiums will be covered in the event of inclement weather, so grads and their guests can stay dry. Check the weather closer to the event date and bring an umbrella in case of rain.
Still don't have the info you need? Visit the Commencement website.