Students
Cultivating Connections and Collaboration
Massiel Ubillus Rivera
Surveys Associate, Dialectica
Class of 2020
MBA in Strategy and International Business
Member Of: Lubin Women in Leadership, Graduate Finance Club, Lubin Graduate Marketing Club
Image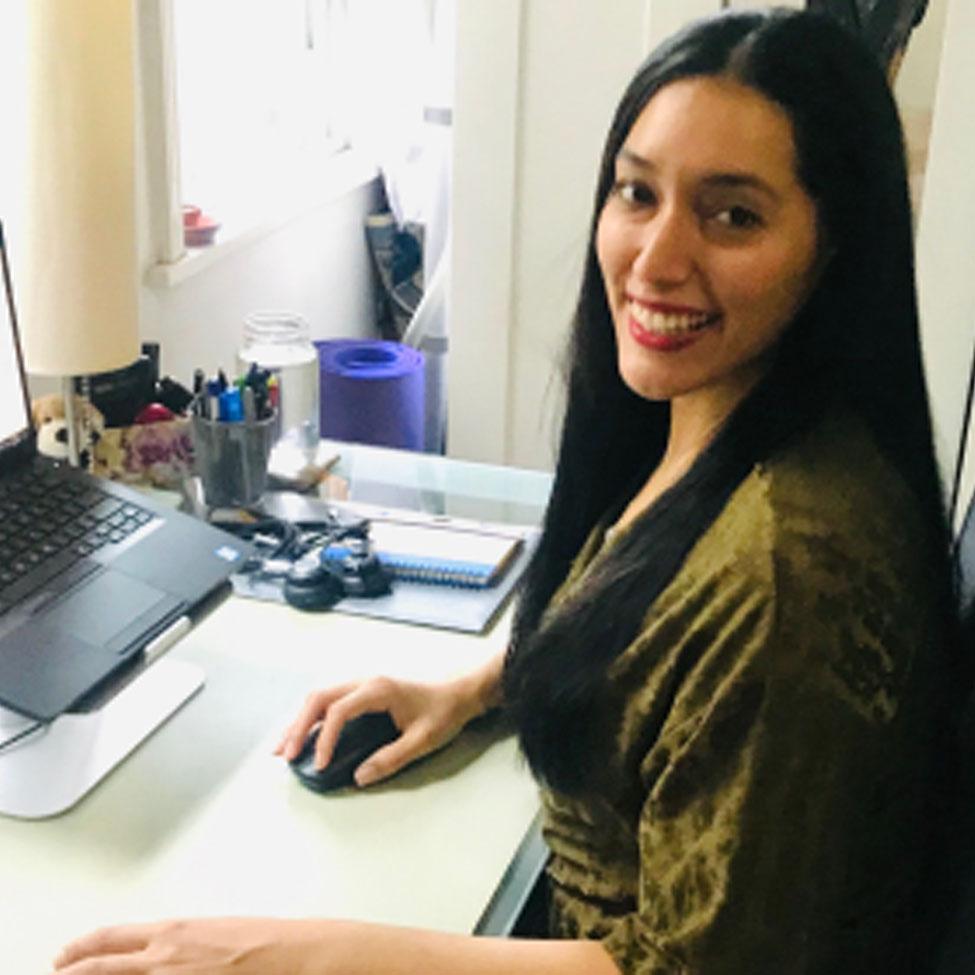 Meet Massiel, an international student from Peru who came to Pace University in pursuit of a degree that would allow her to develop her strategic thinking skills and move her career to the next level. With a background in healthcare and non-profit, Massiel has taken advantage of opportunities at Lubin to expand her knowledge base. This is how she landed a coveted internship at American Express. We talked to Massiel about her journey and most cherished experiences at Pace as she gets ready to graduate at the end of the Fall 2020 semester.
You came to Pace in pursuit of your second master's degree. Why did you choose Pace for your MBA?
There's a lot of things to consider when pursuing a second master's degree. I chose Pace because I felt like it was a great fit for me. Pace's focus on upward mobility, its location, and reputation were key factors in my decision. Pace made me feel like I could go places and achieve great things. When I visited the campus for the first time, I instantly felt like everyone was very welcoming, and I really liked that. I feel a great sense of belonging and never feel like I am just another student here!
Pace made me feel like I could go places and achieve great things. When I visited the campus for the first time, I instantly felt like everyone was very welcoming, and I really liked that. I feel a great sense of belonging and never feel like I am just another student here!
Tell us about your experiences at Lubin. What resources have you been using?
I've had an amazing experience at Lubin so far. With my previous master's degree program, I was more focused on work and didn't make the time to be involved on campus, nor did I get to know my peers, faculty, and staff. That is why starting from my first semester at Pace I really made it my mission to be more involved on campus. Right away I became a graduate assistant. This opportunity allowed me to work closely with professors such as the Finance Department Graduate Program Chair, Dr. P.V Viswanath and the Director of the Hospitality and Tourism Management Program, Dr. Claudia Green. I have also worked as a graduate assistant in the Office of Communications and External Relations and the Office of Graduate Advisement and Student Development at Lubin. In addition to being a graduate assistant, I've also joined student organizations and held leadership positions within Lubin Women in Leadership, which truly enriched my MBA education. Lastly, I took advantage of the Janetschek Professional Growth Fund to complete a professional training certification program in Excel and financial modeling.
This past summer, you secured a coveted internship at American Express in their Global Treasury department. Tell us about that experience. What did you learn at American Express and how will you apply what you have learned to your future endeavors?
Working at American Express was a very challenging, but rewarding experience. Due to COVID-19, the internship was shortened from ten weeks to six weeks, and it was fully virtual. I was prepared to give it my all and learn as much as I could about finance and working in a corporate setting. My background is in healthcare and the non-profit sector, so this was my first time working for such a big company. In addition to understanding financial services and developing my technical skills, I learned a lot about myself, which is something I didn't expect. I learned how I work best and was able to understand my strengths, weaknesses, and preferences. I also had the opportunity to virtually connect with many colleagues all across the organization, which enhanced my networking skills. I now feel extremely comfortable building a quick rapport with anyone! This will prove to be very beneficial in our new virtual reality.
You have been very involved on campus as a student leader and as a member of many of our graduate student organizations. What is your favorite memory participating in student life activities?
As part of Lubin Women in Leadership (LWL), I loved getting to know other student leaders and organization members during our weekly meetings. We got to share our experiences and I felt like I had a network of fellow students I could count on. I also attended many student events such as a Diwali event coordinated by the Pace Indian Student Association (PISA). Further, I attended incredible lectures hosted by the Graduate Finance Club, visited the UN and Federal Reserve Bank of New York, and attended a very useful data visualization workshop featuring Dr. Vishal Lala, which was hosted by the Lubin Graduate Marketing Society (LGMS). There were a number of other activities in which I was able to engage as well. One of my favorite memories was attending a salary negotiations workshop featuring Dr. Katherine Richardson; it was very eye-opening, fun, and extremely useful!
What advice do you have for incoming students in our MBA program?
That saying that you keep hearing is true: Get involved! I would also add: get involved as soon as possible! I think it's very important to get good grades, but it is equally important to get to know Lubin and everyone who participates in making the school a great business school. You never know what opportunities may arise from cultivating your connections!
What does #LubinLife mean to you?
To me, #LubinLife is being fully immersed in Lubin. I love the idea of being myself and bringing my best self to my classes, but also to my interactions with peers, faculty, and staff. We have a very collaborative culture at Lubin with people from all walks of life and backgrounds from whom we all can learn.