Press Release
Elisabeth Haub School of Law at Pace University's Pace International Law Review Holds Symposium on the War in Ukraine and Annual Dyson Lecture Given by Professor Monica Hakimi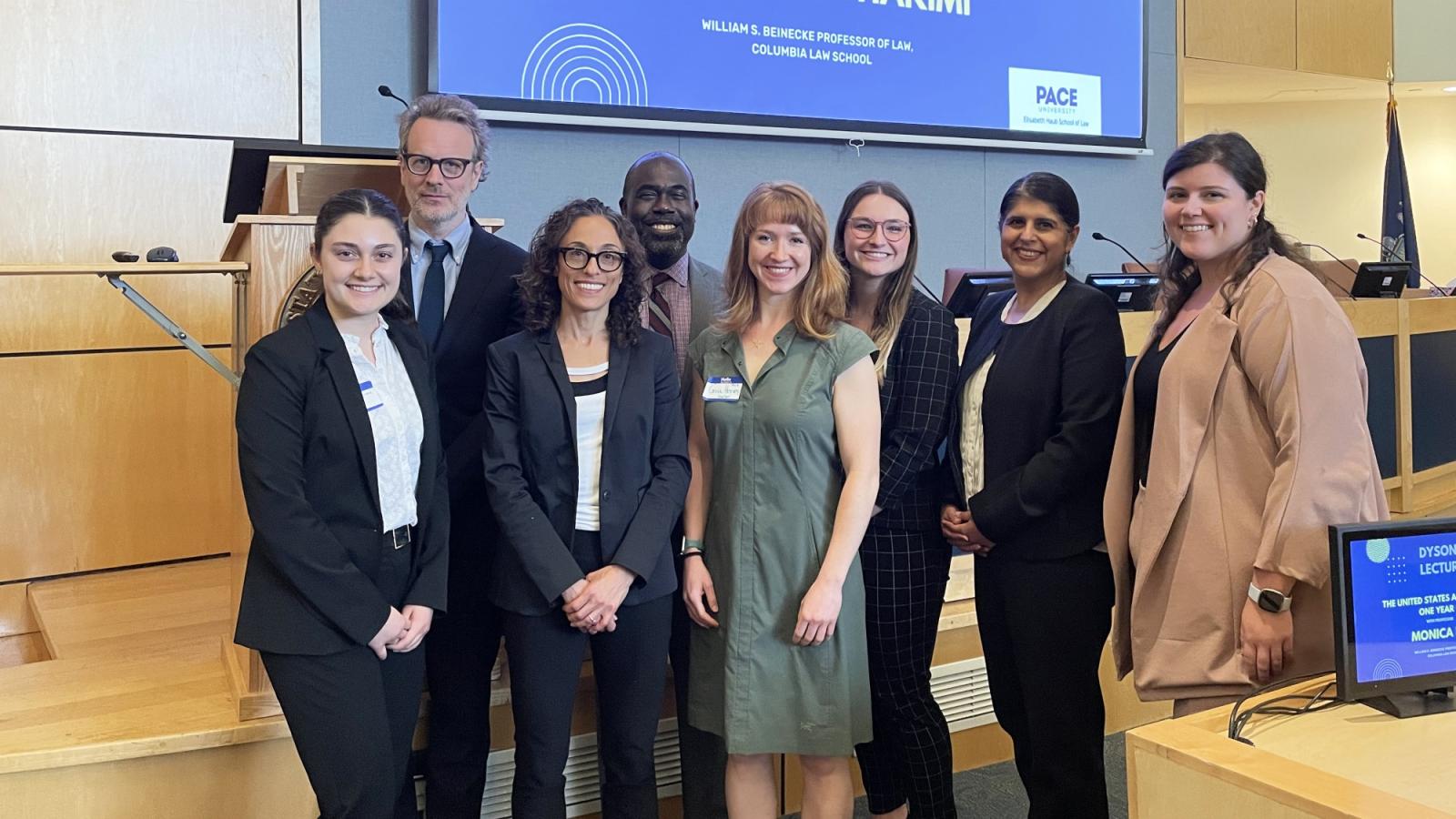 On Friday, April 14, the Elisabeth Haub School of Law at Pace University presented its triennial Pace International Law Review Symposium and its annual Dyson Lecture. The theme of the symposium was 21st Century Conflict: International Law and the War in Ukraine. The Dyson Lecture, entitled The United States and Ukraine: One Year On, was delivered by Professor Monica Hakimi, the William S. Beinecke Professor of Law at Columbia Law School.
The Pace International Law Review (PILR) Symposium (PDF) was a full-day event organized by the PILR board with the support of PILR faculty advisors Professor Alexander Greenawalt and Professor Smita Narula. Opening remarks were delivered by PILR Editor-in-Chief, Alexandra Tamburrino, and Managing Editor Bailey Andree. The symposium's themes were explored through three panels featuring experts in international law and related fields. The panels focused respectively on regulating war, on prosecuting international crimes, and on human rights and the environment Each panel was moderated by an expert on the topic at hand and featured renowned scholars. A full list of panelists can be accessed on the agenda for the day.
In between the lively panel discussions, a highlight of the conference was the presentation of the Dyson Lecture by Professor Monica Hakimi. Haub Law Dean Horace Anderson introduced Professor Hakimi noting her expertise in international law, both as an academic and a practitioner. Professor Hakimi's scholarship is widely published in prestigious journals and law reviews including the American Journal of International Law, Michigan Law Review, Yale Journal of International Law, and more. Recently, she was elected co-editor-in-chief of the American Journal of International Law.
During her lecture, Professor Hakimi asked important and significant questions about the future of the United States' involvement in international conflict in relation to Russia, the Ukraine, China, and beyond. Speaking on the United States, she asked, "What international agenda should we prioritize? How should we go about achieving them? What steps should we take to make sure that we don't suddenly pull the rug out from those who have for decades depended on or organized themselves around our massive weight?" She added that these same questions should frame the research agenda for international lawyers for years to come and should include questions about how legal institutions and arrangements should be preserved, adapted, or discarded for a world with potentially very different geopolitical dynamics.
Following the symposium was a reception where students, faculty, panelists, and attendees had the opportunity to continue their conversations and network with one another.
Edited and published by students, the Pace International Law Review is a periodical journal devoted to the publication of scholarly materials concerning both public and private international law. Content from the Pace International Law Review may be found on the law review web site. The law review also maintains the Pace International Law Review Blog with continually-updated content on international topics. This year, several panelists plan to publish papers with PILR based on their remarks during this symposium.
The Dyson Distinguished Lecture was endowed in 1982 by a gift from the Dyson Foundation made possible through the generosity of the late Charles H. Dyson, a 1930 graduate, trustee, and long-time benefactor of Pace University. The principal aim and object of the Dyson Distinguished Lecture is to encourage and make possible scholarly legal contributions of very high quality in furtherance of Haub Law's educational mission.