Press Release
Haub Law Hosts Inaugural Equity & Justice Forum Featuring Marcia Sells, Chief Diversity Officer, Metropolitan Opera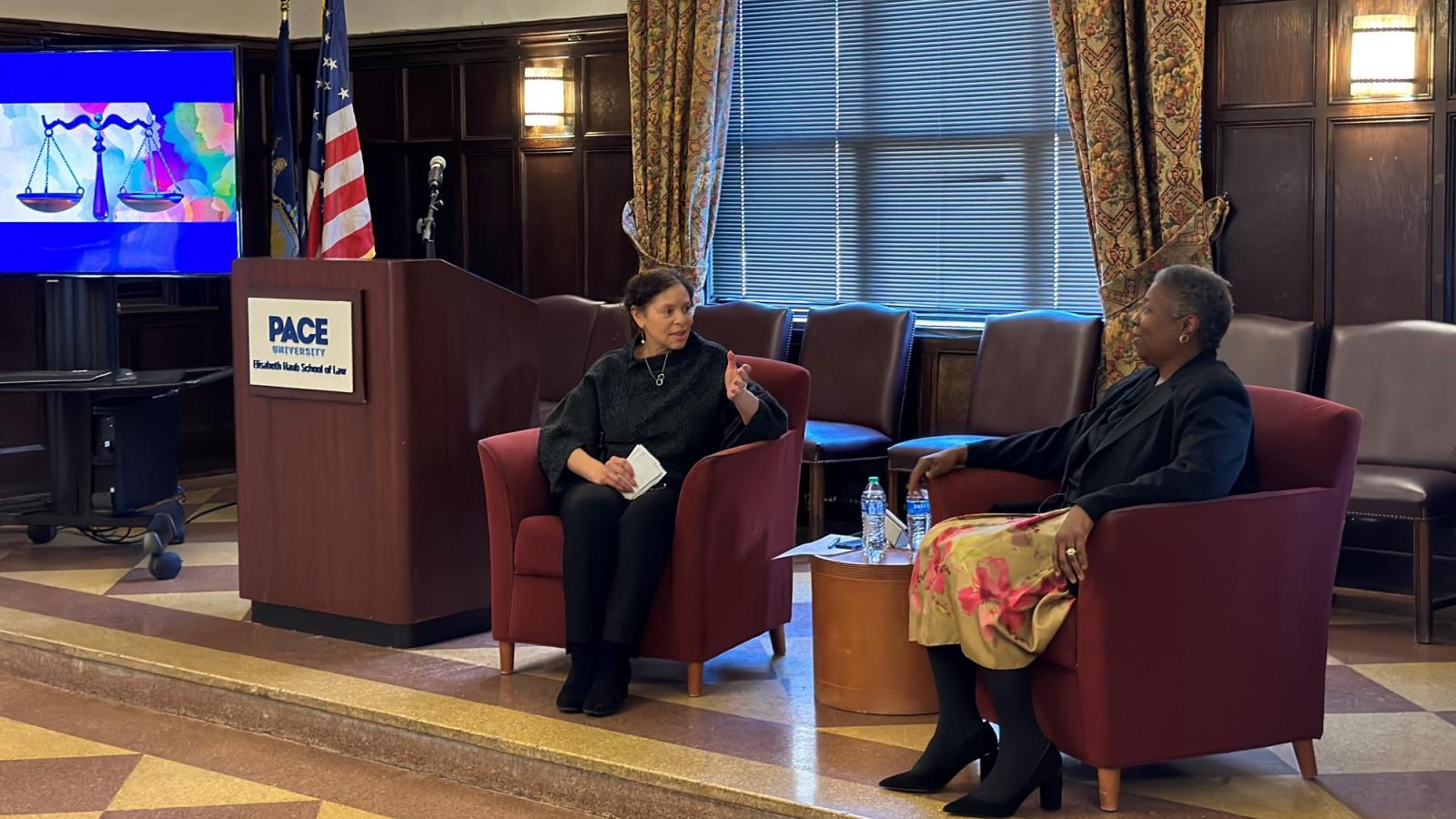 On Monday, March 20, the Elisabeth Haub School of Law at Pace University presented their annual Inaugural Equity & Justice Forum. Marcia Sells, Chief Diversity Officer, Metropolitan Opera, was the featured panelist for this inaugural forum titled, "Belonging – Centuries of Struggle," which highlighted the challenges of diverse communities in the legal profession. The forum was moderated by Haub Law Professor and Director of Diversity, Equity, and Inclusion, Barbara Atwell.
In his introduction, Dean Horace E. Anderson, Jr. said, "We here at Haub Law are deeply committed to advancing racial and social justice in our community and more broadly throughout the world." Dean Anderson noted Haub Law's expanded social justice curriculum, its recently launched Access to Justice project, expanded pipeline and pathway programs, and more. He spoke of the importance of using conversations such as this as a way to reflect, evaluate and then effect further change, which is the purpose behind the Equity & Justice forum which will be an annual event at the law school, among other related events and programming.
Marcia Sells was appointed the first Chief Diversity Officer for the Metropolitan Opera in 2021. In this role for the largest performing arts institution in the nation, Marcia leads the development of diversity initiatives designed to address inequities in the art world and create a more inclusive workplace that values the diversity of its staff and the audiences it serves.
During the forum, Marcia spoke about her upbringing, her background as a ballerina, her law school experience, and the evolution of her career. The conversation between Professor Atwell and Marcia evolved into speaking not just about diversity, equity, and inclusion, but the greater sense of "belonging." Marcia noted that, "Belonging has always been there," but the crux of belonging now is, "how do we actually create as a community true space and acceptance?" The enlightening and engaging conversation, was followed by a Q&A session, which concluded with Marcia's remarks that "We all have the right and responsibility to find that thing we do really, really well and go out there and do that." A reception followed the event.
Prior to her current position, Marcia Sells held senior leadership positions in higher education, as Associate Dean and Dean of Students at Harvard Law School, at Columbia University where she had the dual-title of Associate Dean in the School of the Arts for Outreach & Education and Associate Vice President, Program Development & Initiatives, for the Office of Government and Community Affairs. Marcia also served as Dean of Students at Columbia University School of Law. Marcia's varied work experiences have also included positions in the private and public sector for Reuters America, the National Basketball Association, and as Assistant District Attorney trying rape and child abuse cases for the Kings County District Attorney's Office. Before going to college at Barnard and earning her law degree at Columbia Law School, Marcia began life in the arts as a ballerina in the Dance Theatre of Harlem and Cincinnati Ballet.