Faculty and Staff
LaVar Ball and Building a Media Agenda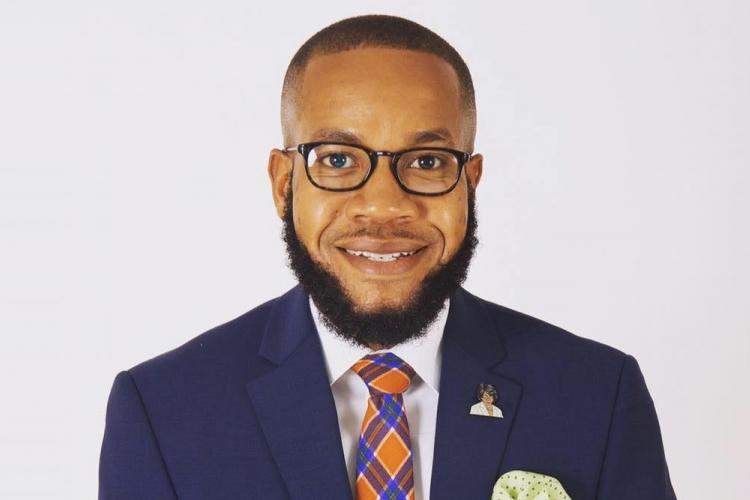 "Before I moved to New York City, I lived in Huntsville, Alabama," explains Dyson Assistant Professor of Communication Studies Melvin Williams, PhD. While still living in Huntsville, Williams' hardcore sports fanatic barber would regularly have ESPN playing on the television. One day, when Williams was in for a haircut, he was able to catch Stephen A. Smith vs. LaVar Ball on ESPN's First Take.
"I remember sitting back in the chair and being captivated by the exchange—this Black father directly advocating for his son," said Williams. "It made me think of my own father and the media agenda building theory."
Williams is referring to the media agenda building theory outlined by Gladys and Kurt Lang in the 1980s, which lays out a six-step process that helps explain the often-reciprocal relationship between the mass media, prominent issues, and public figures ability to comment on said issues. In other words, it is a framework for understanding how individuals can manipulate the mechanisms of media to promote their own agenda.
If you haven't heard of LaVar Ball yet, just wait—you will. He's become a household name in recent years. Through constant promotion and advocacy for his sons Lonzo, LiAngelo, and LaMelo, the launch of shoe and apparel company Big Baller Brand, media feuds with celebrities including President Trump, and a Facebook reality show, LaVar Ball has arguably established the Balls as basketball's "First Family."
Following the experience in the barbershop, Williams contributed a piece for the Huffington Post about Ball and Black fatherhood, which received considerable attention and confirmed to Williams that he was perhaps on to something bigger. "I thought, ok, you've written an opinion piece, now it's time to do a research project," said Williams.
Williams and his co-researcher, Matthew J. Cotton, got to work, conducting a critical discourse analysis of 50 televised interviews of Ball on CBS Sports, CNN, ESPN, and Fox Sports from 2016 to 2017. Their aim was to examine the intersections of agenda building, Black fatherhood, celebrity culture, and sport communication, by investigating how Ball built a media agenda on behalf of his sons.
In an award-winning research paper co-published by Williams titled "Better Than Steph Curry and More Profitable Than LeBron James: An Analysis of LaVar Ball's Agenda Building of the Ball Brothers," Williams argues that through strong adherence to media agenda building theory, Ball has been able to address class inequities facing Black athletes in amateur and professional sports, and has refuted deadbeat-dad stereotypes facing Black fathers.
Williams found that whether intentionally or unintentionally, Ball followed all six steps of Lang and Lang's media agenda building theory. In other words, Ball was able to use the media coverage he received and created to his advantage—and by doing so, was able to promote his personal agenda while also countering a number of stereotypes faced by both Black athletes and Black fathers.
"LaVar Ball led a spirited discussion about sports media's preference in highlighting Black mothers and absentee fathers," said Williams. "There has been quite a coded racial discussion that has been permeated in mass media. 'This person grew up without a father and grew up poor.' There was a rags-to-riches narrative he was intentional in debunking."
To support this conclusion, Williams cites a number of quotes by Ball throughout the paper that indeed suggest that Ball was intentional in countering such narratives. Just to cite one example, Williams includes the following quote from Ball, from a 2017 ESPN video:
"Here's the thing. They didn't interview Kevin Durant's dad, LeBron's dad, Dwayne Wade's dad, and Derrick Rose's dad. Now you got a father who has been there, because you're used to, 'Hey, my baby's good.' And all you have to do is be comfortable with the mom and do what you want with their sons. I'm not going to back up! I've been in my son's life all this time," said Ball.
Throughout the paper, Williams and Cotton cite a number of different topics Ball often discussed—for example, sports apparel companies and the fact that athletes often don't have ownership of their signature shoe—and how Ball was intentional in debunking a pre-existing narrative, and advancing the conversation in a way that benefited his media agenda and his shoe and apparel company, Big Baller Brand.
"There's a history of Black athletes being exploited by athletic brands, their images being used by athletic brands, and them reaping far less benefits," said Williams. "In the case of Big Baller Brand, it is largely just LaVar Ball. The family had an opportunity to establish a brand and maintain sole ownership."
While the relationship between Ball and his sons, specifically in the realm of businesses, certainly has its fair share of criticisms and complications (to cite two examples, Ball's eldest son Lonzo has long had a contentious relationship with Big Baller Brand, and his youngest son LaMelo, a top pick in the recent NBA draft, has vocally stated that he does not want to be a figurehead of Big Baller Brand, and actually signed an endorsement deal with Puma) there is no question that LaVar Ball was able to galvanize much of the media attention he has received to shed light and counter pernicious stereotypes often latent in sports media.
"He humanized his children as Black athletes, and especially in a media climate where Black athletes are often described in overtly physical terms. He highlighted their intellect and their multi-layered personalities. This passion that Black fathers have for their children has always existed. What makes this case unique is you have a Black father who is intentionally pushing himself to the forefront of geopolitical and sports media," said Williams.
For their work, Williams and Cotton received the 2020 Outstanding Journal Article Award from The National Communication Association's African-American Communication and Culture Division.