Students
Managing Passengers and Acapella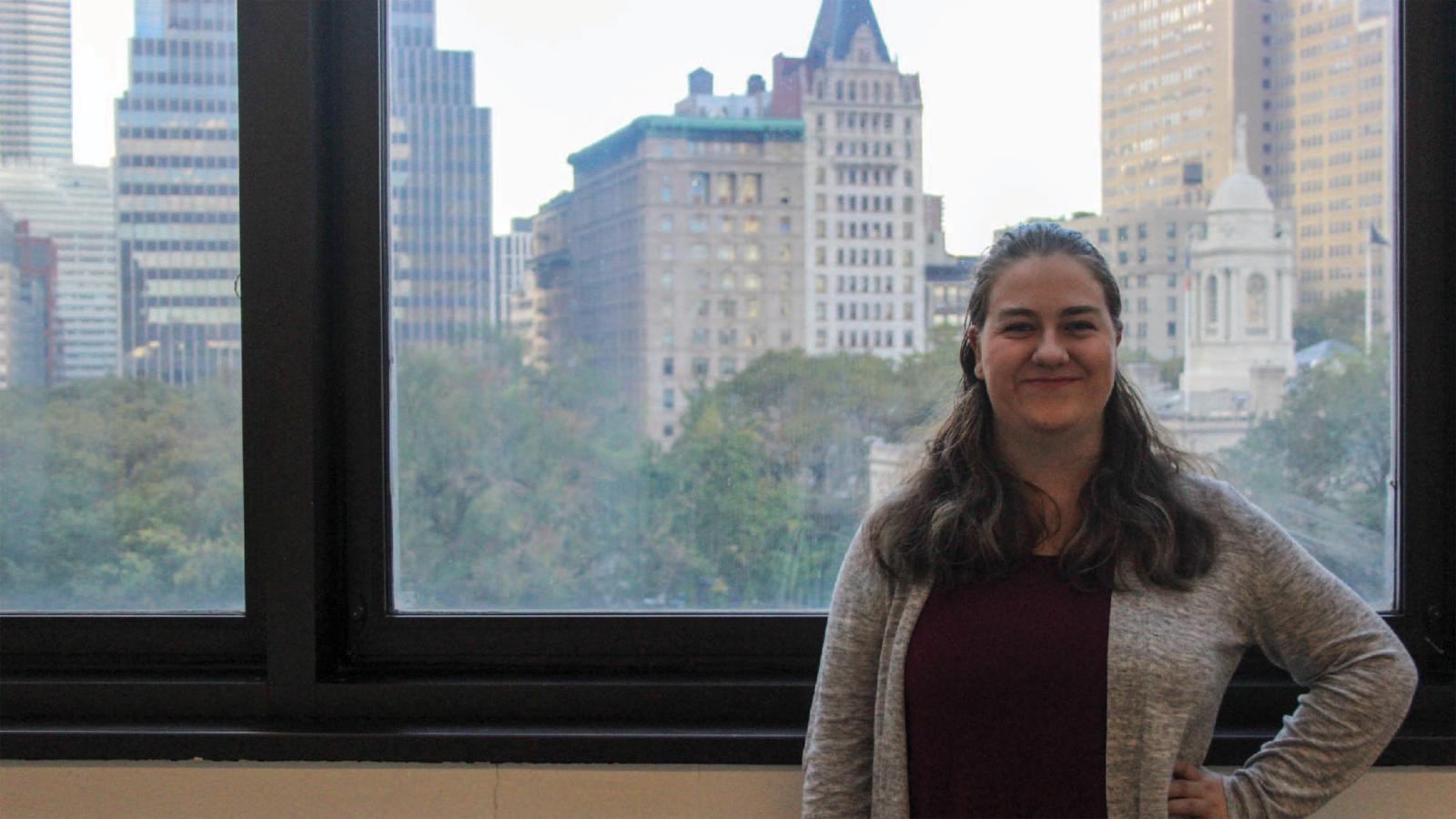 Erica Jurus
Operations Manager, Regal Music Theater
Class of 2022
BBA in Arts and Entertainment Management with a minor in Law.
Member Of: Pforzheimer's Honors College, Tonal Recall, Industry Network
Meet Erica Jurus, an Arts and Entertainment Management major who is also an incredibly talented singer. She has performed with country star Eric Church and the rock band Foreigner! She came to Lubin seeking an understanding of what the business side of the music industry looks like, but she hasn't left her passions behind. Erica has taken the role of leading one of Pace's acapella groups, Tonal Recall, as their President, making sure that they are in perfect shape for their upcoming International Championship of Collegiate Acapella (ICCA) competition.
Why did you choose Pace University and the Lubin School of Business?
I chose Pace and Lubin for the Arts and Entertainment Management major. No other university that I looked at had a program that was so well thought out and applicable to the real world. And with the program being in the business school, I knew I was getting a quality business education with an entertainment industry twist – plus, where else would you want to learn about entertainment than in New York City?
Tell us a bit about your internships. How will you apply what you learned on them to the rest of your career? What comes next?
This past summer I interned at Boston Logan International Airport in the Massachusetts Port Authority's Public Service Department, where our objective was helping passengers with anything they needed, mostly giving out information and assisting in the international terminal. While interning there, I was able to develop my communication skills. For example, when it came to interacting with passengers and trying to solve issues they may have, I would have to figure out what their problems were, how I could fix them, and give them instructions towards the solution. Communication is so important, especially nowadays with so many different forms of it; it is always a skill worth having.
There is so much to do in the city, and so much to learn from it, it feels like a waste not taking advantage of the opportunity to work hard and learn as much as I can.
Do you have any advice for other Lubin students looking for internships?
Utilize Career Services and Handshake. The career counselors are incredible and will help you with resumes, cover letters, interviewing skills, and making sure you are prepped and ready to get the internship. Handshake has so many job opportunities, some with applications as easy as uploading your resume and clicking submit. You could browse jobs and internships for hours and apply. Additionally, there are so many other resources, between your professors, your peers, and just being in the city, the opportunities are endless. Network all you can!
What motivates you to work hard?
I am so lucky to go to school in New York City, and I do not want to take that for granted. And because there is so much to do in the city, and so much to learn from it, it feels like a waste not taking advantage of the opportunity to work hard and learn as much as I can.
You are the President of Pace's acapella group Tonal Recall. Tell us a bit about that experience and how it has helped you to become a well-rounded professional.
Tonal Recall is a fun outlet for me to continue my love of singing. It's a nice break twice a week from classes and homework, and with a great group of people. As President of the group, I have enhanced my leadership skills, and because we sing acapella (no music) we have to trust each other and work together to create something great.
What does #LubinLife mean to you?
#LubinLife means taking advantage of all the opportunities around you to become a better person, student, and businessperson.