Press Release
Mayor Eric Adams to Pace Students: To Change the World, You Must Protest and Protect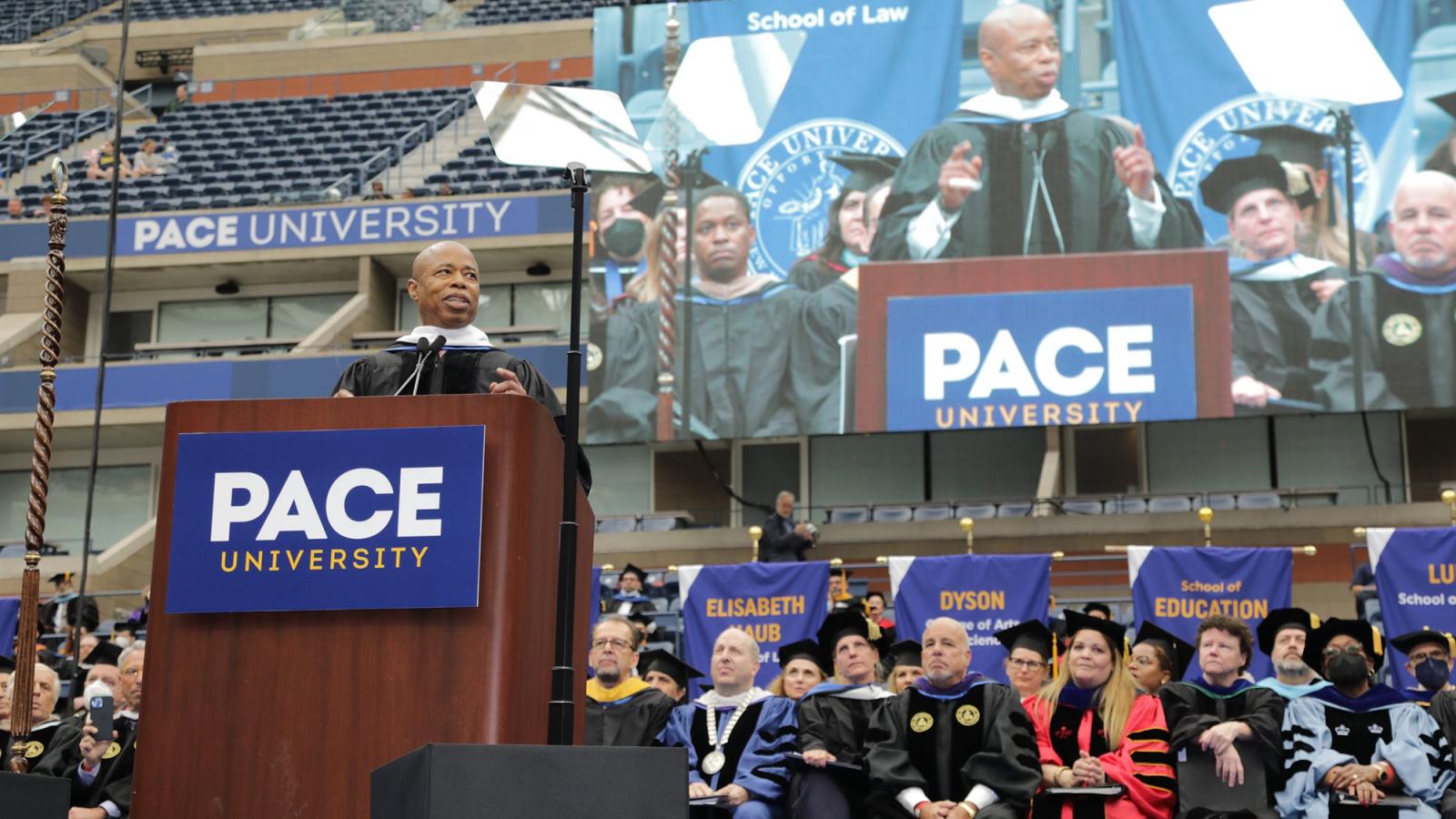 NEW YORK (May 16, 2022) – Standing before thousands of graduates at Pace University's Commencement, Mayor Eric Adams today praised the uniqueness of the American Dream and said that in order for it to be realized, people must not only shine a light on injustices facing society, but they must then take action to protect the afflicted and those who are suffering.
Speaking to roughly 15,000 people – including 3,500 graduates, 2,800 from the Class of 2022 -- at USTA Billie Jean King National Tennis Center in Queens the mayor listed a series of protests he was involved in over decades and said whether it is an issue with gun violence, homelessness, or other societal injustices, people must fight for what they think is right.
"Here is my message to graduates: Yes, protest. But then protect," said Adams. "You are what the American Dream is all about … As long as you dream. As long as you fight for what is right, this country will be the country we want it to be."
"All of us are imperfect," he continued. "All of us are trying. All of us are fighting for the America we want."
The ceremony marked the first time that Pace held a combined commencement for graduates from its campuses in New York City, Pleasantville and from its Elisabeth Haub School of Law in White Plains. Students from the Classes of 2020 and 2021, who were not able to have a traditional celebration due to pandemic-related restrictions, participated in what was the largest ceremony in the history of the University.
In addition to Mayor Adams receiving a Doctor of Humane Letters, honoris causa, degree during the main ceremony, Congresswoman Grace Meng received a Doctor of Laws, honoris causa, degree at the ceremony for the Elisabeth Haub School of Law. Baroness Ariane de Rothschild '88 MBA '90, also received a Doctor of Humane Letters degree, honoris causa, from the Lubin school of Business. Both Meng and de Rothschild addressed graduates at their respective ceremonies.
"Graduates, my message to you today is simple," said Pace President Marvin Krislov. "I want you to remember that change is inevitable. Nothing is forever. As a 2020 graduate told me when she watched her final semester turn remote: tomorrow is not guaranteed."
"This, I believe, is the biggest lesson of the past two years," Krislov continued. "Who would have anticipated this pandemic? Who would have anticipated our political upheaval? Our powerful racial and social justice movement? War in Europe? But the very fact that nothing is forever is exactly what gives us hope for the future. Everything changes. Things will change. You can change things. You will change things. And that is what we have taught you at Pace. We have taught you about your field, but we have also taught you how to think. How to interact. How to be lifelong learners. How to be flexible. How to make positive change."
Students celebrating this exciting achievement were a mix of undergraduate, graduate, law, and doctoral students, spanning a variety of disciplines and future careers, such as nurses and physician assistants, cybersecurity experts, lawyers, accountants, teachers, performers, and much more. After the main event, ceremonies took place throughout the day and across the USTA Billie Jean King National Tennis Center. A DJ entertained students and their families in a celebratory atmosphere.
During the main ceremony, Pace awarded members of the New York City and Westchester communities who exemplify the Pace motto of Opportunitas, or creating opportunities for people, with the Opportunitas in Action Award. Marco Damiani, CEO of AHRC NYC, the largest organization in New York dedicated to supporting people who are neurodiverse and helping them to lead full and equitable lives, was New York City's honoree.
Joseph Kenner, CEO of Greyston, a pioneering organization that unlocks the power of human potential through Open Hiring—a process that is open to anyone who wants to work, without background checks, resumes, or interviews – was Westchester's honoree. For over 40 years at its world-renowned Greyston Bakery in Yonkers —which makes the brownies included in Ben & Jerry's products and packaged brownies for Whole Foods Market—Kenner's organization has offered jobs to hundreds of people who otherwise faced obstacles to employment.
In her remarks to students, Victoria Rooney, a graduate of Dyson College of Arts and Sciences, noted the uniqueness of the past few years, and said regardless of which campus a student called home, Pace was one community where "nothing is impossible, and everything is achievable."
"Even throughout a world-altering pandemic, we adapted and diligently zoomed our way through our studies, proving that we could persevere and conquer the unpredictable," she said. "However, being students at Pace was not just about the hands-on learning and opportunities, it was also about the everlasting relationships and memories we made. These last four years have been filled with discovery, love, fun, and knowledge."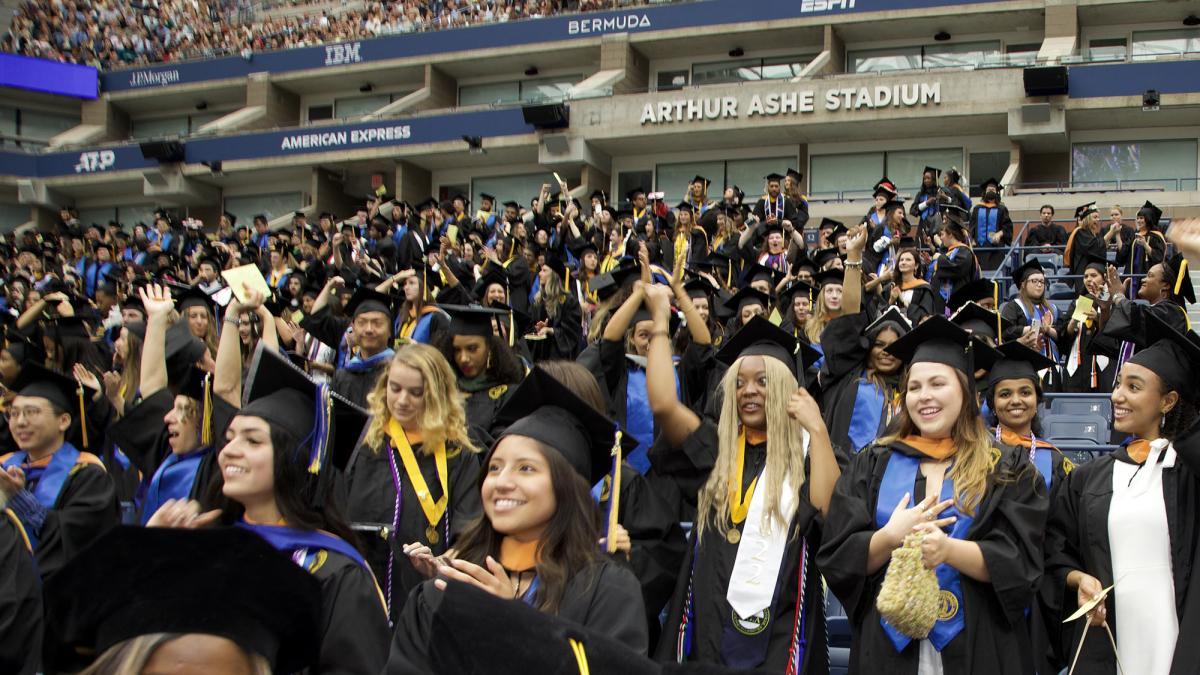 About Pace University
Since 1906, Pace University has educated thinking professionals by providing high quality education for the professions on a firm base of liberal learning amid the advantages of the New York metropolitan area. A private university, Pace has campuses in New York City and Westchester County, New York, enrolling nearly 13,000 students in bachelor's, master's, and doctoral programs in its Dyson College of Arts and Sciences, Lubin School of Business, College of Health Professions, School of Education, the Elisabeth Haub School of Law, and Seidenberg School of Computer Science and Information Systems.