Press Release
Pace University, BMCC Sign Transfer Agreement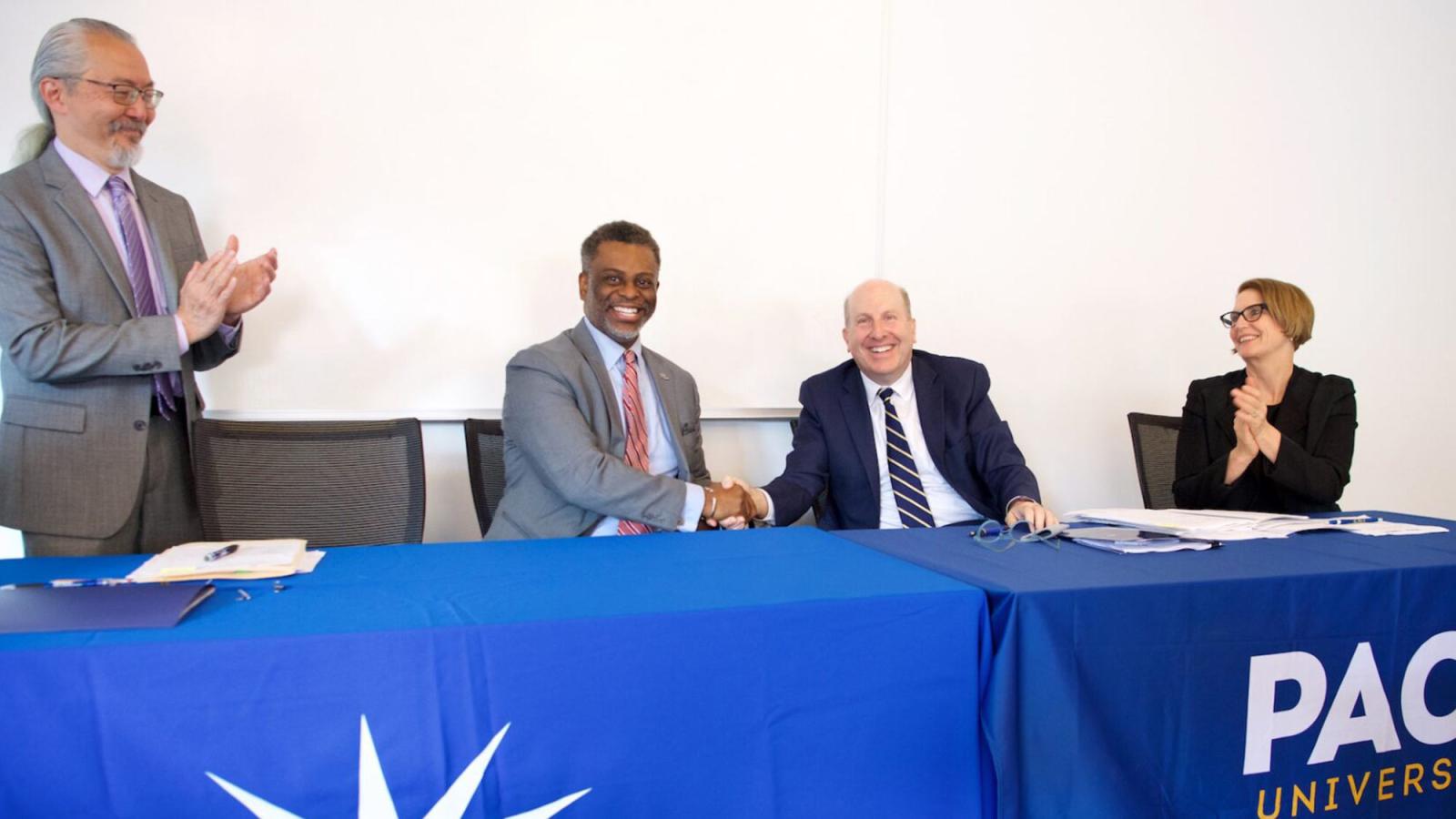 Partnership brings transfer opportunities to students
Pace University and the Borough of Manhattan Community College (BMCC/CUNY) have partnered to offer transfer opportunities for BMCC students. At a signing ceremony held June 8, President Krislov and Dr. Anthony E. Munroe, President of BMCC, announced the program, becoming available this Fall.
"We are thrilled to join with the Borough of Manhattan Community College, our neighbor in Lower Manhattan, in this important and forward-looking agreement," said Pace President Marvin Krislov. "This partnership will allow us to help BMCC students achieve their dreams, and we are eager and excited to continue providing all our students opportunities to succeed in the ever-changing global economy."
"All students should have the opportunity to fulfill their dream of earning a bachelor's degree from fine institutions, like Pace University," said President Munroe. "This partnership is one of many collaborations established to ensure students have access to higher education. We are very proud of this partnership, and we hope many of our students take advantage of this program."
The jointly approved agreement provides a seamless and smooth pathway for students who are graduating from BMCC, with an Associate of Science/Arts, to participate in the BMCC/Pace University Articulation, leading to a Bachelor of Science/Arts in corresponding programs at Pace.
Students who complete their associate degree with a cumulative grade point average of 2.5 or higher are guaranteed admission to Pace University in various disciplines including Art, Biochemistry, Marketing, Finance, Management, Entrepreneurship, Criminal Justice and Childhood Education.
About Borough of Manhattan Community College
Borough of Manhattan Community College is a diverse teaching and learning community committed to advancing equity and the intellectual and personal growth of students. Working to strengthen a culture of care inside and outside the classroom, we share a passion for learning with students from around the world. We strive to increase degree completion, successful transfer, career achievement and service and leadership within our community, New York City, and beyond.
About Pace University
Pace University has a proud history of preparing its diverse student body for a lifetime of professional success because of its unique programs that combine immersive academics and real-world experiences. Pace is ranked the #1 private, four-year college in the nation for upward economic mobility by Harvard University's Opportunity Insights, evidence of the transformative education the University provides.