Press Release
Pace University Unveils State-Of-The-Art Esports Center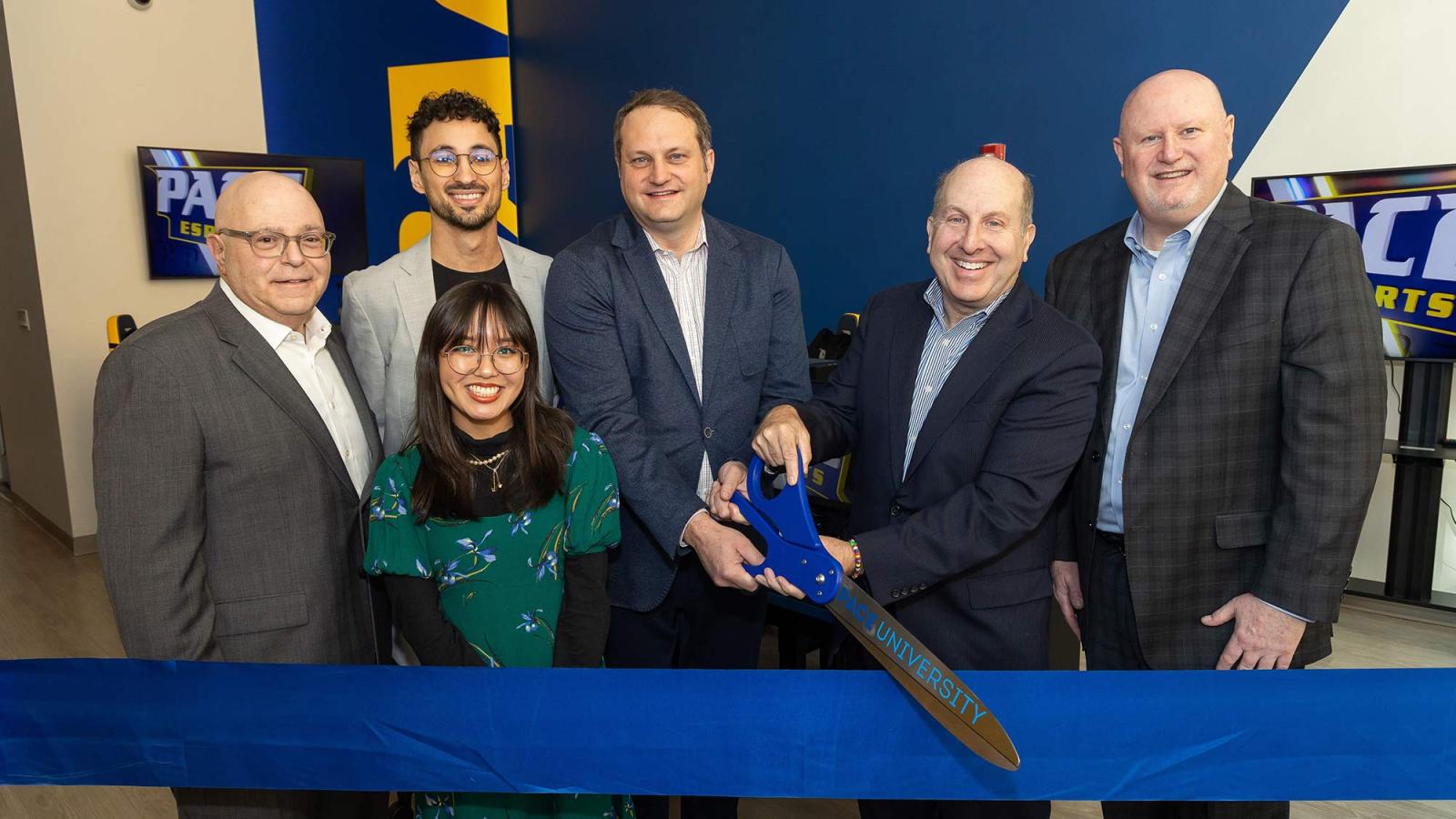 Pace University unveiled a dedicated Esports arena on 33 Beekman Street, the tallest university residence hall in the world, highlighting the rapidly growing gaming industry. This highly visible and state-of-the-art space will act as a home for the competitive student gamers, combining competition and academics.
The Esports program aims to propel the future of gaming through curricular and vocational pathways, marrying the Pace University Athletics Department and the Seidenberg School of Computer Science and Information Systems. The Esports center was funded by Dov Horowitz '05, through his company American Technology Services.
"Gaming was a critical element to my early career success and the chance to help others use gaming was a gift I simply couldn't pass up," said founding partner, Dov Horowitz '05, in his remarks at the ribbon-cutting event.
Image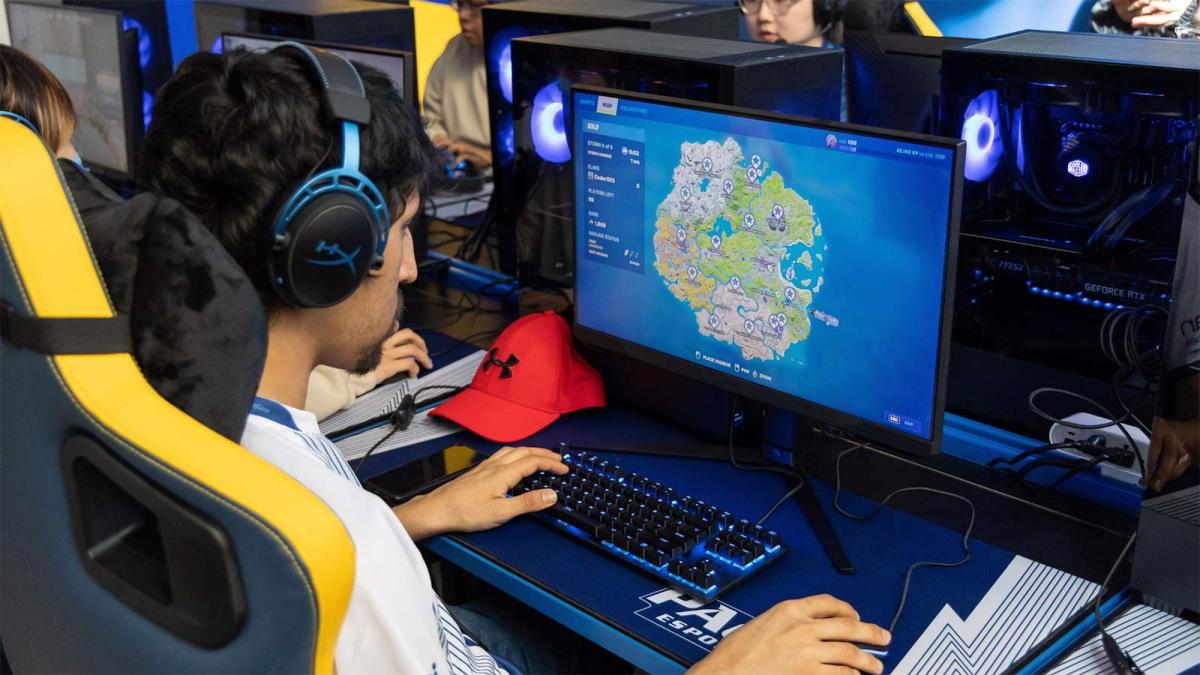 Pace Athletics announced Esports as its 15th varsity sport in December 2021. Currently, there are more than 500 members across both campuses that are a part of the Pace University gaming community, including players on Pace's Varsity, Academy, Club, and intramural teams. The program entered its second official season after a successful inaugural year in spring 2022. The goal is for competitive and casual gamers to be able to connect with like-minded peers in online and offline settings. Pace Esports' Smash Gold 2 team won the Eastern College Athletic Conference (ECAC) Open Division Grand Finals earlier this year, with just one match loss while finishing in first place out of 76 teams in their division. Pace Esports' All-Women's VALORANT Blue Team ("Pace Blue") recently placed third in the first-ever VENOM LAN event in Columbus, Ohio.
"I'm excited about what Esports, and more specifically this facility will mean for our institution. This space will allow us to reintroduce varsity athletics back to our Manhattan campus and impact that community in real significant ways; ways that only college athletics can achieve with respect to campus life and school spirit," said Pace Athletics Director Mark Brown.
Pace student-athletes, faculty, staff were joined by Associate Commissioner, Workforce Development and Educational Initiatives at the New York City Mayor's Office of Media and Entertainment, Alia Jones-Harvey, University President, Marvin Krislov, Director of Athletics, Mark Brown, Director of Esports, Jesse Bodony, founding partner Dov Horowitz, valued donors, and additional supporters of the program.
"Congratulations to Pace University on the unveiling of their new Esports arena, which builds on their work to bring together competitive and casual gamers," said Commissioner of the Mayor's Office of Media and Entertainment, Anne del Castillo. "We are thrilled to see this investment in digital games, which generates $2 billion in economic activity and over 7,600 jobs for New Yorkers."
"Esports is the fastest growing sport in the United States. It's the fastest growing activity on Pace University's campus, and why do we care about it? Because we care about you all," said Pace President, Marvin Krislov, to student gamers in attendance. "We care that you are learning how to work together, that you're competing, that you're finding community, and there are going to be opportunities for you professionally and recreationally as well."
"Esports means a lot to me because of the social freedom. I used to be an introvert before joining the Esports community. Now I feel more open to meeting new people and gave me the opportunity to be more competitive," said sophomore Information Technology major and a member of the varsity All-Women's VALORANT Blue Team, Kayla Reaves.
About Pace University:
Since 1906, Pace University has educated thinking professionals by providing high quality education for the professions on a firm base of liberal learning amid the advantages of the New York metropolitan area. A private university, Pace has campuses in New York City and Westchester County, New York, enrolling nearly 13,000 students in bachelor's, master's, and doctoral programs in its Dyson College of Arts and Sciences, Lubin School of Business, College of Health Professions, School of Education, the Elisabeth Haub School of Law, and Seidenberg School of Computer Science and Information Systems.
About Pace University Athletics:
Pace University Athletics is a member of NCAA Division II, competing within the Northeast-10 Conference (NE10). Pace Athletics sponsors 15 intercollegiate sports, along with cheer and dance teams and a Pep Band. Known as the Setters, Pace's official mascot is known as T-Bone. In 2021-22, Pace student-athletes posted a cumulative grade point average of 3.33. Additionally, a total of 562 Setters were selected to the NE10's Academic Honor Roll with 69 student-athletes earning Academic Excellence with 4.0 semester GPAs. Twenty-two student-athletes earned NE10 President's Award for Academic Excellence, recognizing graduating student-athletes who have attained Magna Cum Laude at their institution, have participated in at least two seasons of NE10 competition and are current student-athletes at the time of graduation.
About The Seidenberg School of Computer Science:
At Pace University's Seidenberg School of Computer Science and Information Systems, students experience a best-of-breed technology education at one of the first comprehensive schools of computing in the nation. Strategically located in the heart of NYC's tech scene, the Seidenberg School places students on the doorstep of New York's most promising companies, whether they are established tech giants or exciting new start-ups. Through partnerships with leading corporations, banks, federal agencies, and global entities, the school's curricula and programs are designed to give students the latest in computer science theory and invaluable hands-on practice to ground it. The faculty includes numerous cybersecurity experts who operate labs and centers providing students with practical experience and connections that lead to impressive internships and jobs.
About American Technology Services:
American Technology Services was founded in 1994 to serve the IT needs of small and mid‐sized information-intensive organizations by providing a wide range of IT services. The premise for ATS was the notion that smaller organizations often have complex needs in IT, just like large organizations, but lack access to high-quality support. ATS' objective has always been to provide high-quality IT services for our customers with a consultative approach. ATS's high-quality technology services help clients tackle a broad spectrum of IT issues, from top-level strategy, managed services and infrastructure support, compliance, privacy, and security, to IT operations in the cloud and on-premises. The company helps clients address existing cyclical challenges, such as managing cloud migration and tackling associated security issues. Focused on IT field services, ATS leverages a detail-oriented solution architecture to aid clients in combating real-world IT problems and innovating and improving their IT operations.