Press Release
Press Release: Pace University Names S. Brian Jones as Assistant Dean for Diversity and Equity in the Arts
Image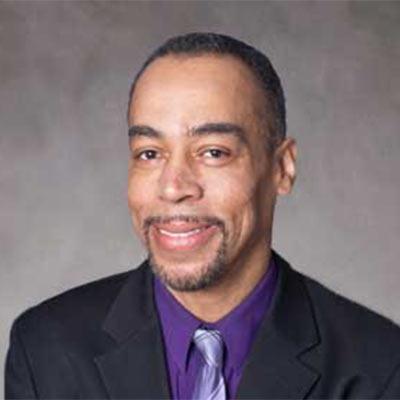 Appointment Made Possible by
The Edmond de Rothschild Foundations
NEW YORK, N.Y. (March 8, 2021) – Pace University has named S. Brian Jones, an award-winning and well-respected artist, writer and arts educator, as its new assistant dean for diversity and equity in the arts.
In announcing the appointment of Jones to this newly created position at the Dyson College of Arts and Science, President Marvin Krislov cited Jones' unique background as an artist, educator, and advocate for diversity, equity and social justice.
"Pace University is fully committed to being a supportive and inclusive community for all of our hard-working and ambitious students," said Krislov. "S. Brian Jones brings the ideal background to ensure we live up to that commitment as our first-ever assistant dean for diversity and equity in the arts. I'm excited to see what he does at Pace, and I thank The Edmond de Rothschild Foundations for supporting this new role."
The position has a number of responsibilities including administrative oversight of programming; supervising the Pace Storytelling for Equity and Inclusion Fellowship; and fundraising for diversity, equity and inclusion in the arts, among other responsibilities. The position is made possible through a grant from The Edmond de Rothschild Foundations.
Jones began his professional career at Delaware Theatre Company, where he worked as teacher-in-residence and summer arts program director. While there, Jones was instrumental in starting the Playwriting in Prison program at Ferris School for Boys and New Castle County Detention Center for youth, a program that received Bravo's Excellence in Arts Education Award.
Prior to DTC, Jones worked at La Jolla Playhouse where he served as an instructor for the Teen Summer Program and was the teacher-in-residence at "The Place" a high school for homeless, runaway and transitional teens. He has also worked at a number of other widely respected theater programs in New York and California. Jones holds a master's degree in Applied Theater from the City University of New York and a Bachelors of Arts in Public Relations with a minor in Theatre and Business Management from Rhode Island College.
"We are delighted to welcome S. Brian Jones to Dyson College and the Pace University community and we are grateful for the generous support from The Edmond de Rothschild Foundations for helping to make that happen," said Tresmaine R. Grimes, dean, Dyson College of Arts and Sciences and School of Education. "He brings a wealth of experience to this newly created position that will serve him well as he embarks upon coordinating the many diversity, equity, and inclusion initiatives already on campus, as well as those that will be developed by Pace University's newly established Barry M. and Jackie Gosin Center for Equity and Inclusion."
Pace University in February established the Gosin Center, which was made possible by a donation from the Gosins, that supports ongoing efforts at Pace in anti-racism and equity; expands work to elevate job placement and entrepreneurship among Black, Indigenous, and people of color (BIPOC) students; and enhances academic scholarship in these areas.
The new Gosin Center, which complements many other initiatives including the creation of this news assistant dean position, will advance Pace's ability to continue fulfilling its core mission of creating opportunities for young people.
Pace has always been a beacon for historically underrepresented and first-generation college students as they seek a brighter future. It is also ranked the number one private, four-year college in the United States for driving upward economic mobility, according to the Opportunity Insights research project at Harvard University, because Pace uplifts its students academically and professionally with relevant, focused and forward-looking degrees and programs. The Pace community is vibrantly diverse and inclusive, with ethnic, gender, and economic diversity that sets it apart from most other institutions in higher education. A majority of Pace's student body identify as BIPOC, close to 30% of Pace students are from low-income families eligible for Pell grants, and close to 40% identify as the first in their family to go to college.
"At Pace, we are always striving to create opportunities for students that will pay dividends over a lifetime," said Pace Provost Vanya Quiñones. "The appointment of S. Brian Jones complements so many of our other diversity and equity initiatives; all aimed to help us envision a more inclusive future and ultimately serve our students for the better. We're pleased to welcome S. Brian to the Pace community and look forward to furthering our mission of Opportunitas together."
Regarding his appointment at Pace, Jones said: "I am privileged and honored to be joining Pace University, an institution committed to being on the forefront of providing opportunities for underserved and underrepresented communities, with a sound understanding that diversity and equity not only have a place in our society, they are, in fact, the seeds which one day will save it."
###
About Pace University
Pace University has a proud history of preparing its diverse student body for a lifetime of professional success as a result of its unique program that combines rigorous academics and real-world experiences. Pace is ranked the #1 private, four-year college in the nation for upward economic mobility by Harvard University's Opportunity Insights, evidence of the transformative education the University provides. From its beginnings as an accounting school in 1906, Pace has grown to three campuses, enrolling 13,000 students in bachelor's, master's, and doctoral programs in more than 150 majors and programs, across a range of disciplines: arts, sciences, business, health care, technology, law, education, and more. The university also has one of the most competitive performing arts programs in the country. Pace has a signature, newly renovated campus in New York City, located in the heart of vibrant Lower Manhattan, next to Wall Street and City Hall, and two campuses in Westchester County, New York: a 200-acre picturesque Pleasantville Campus and the Elisabeth Haub School of Law in White Plains. Follow us on Twitter or on the Pace News website.
About Dyson College of Arts and Sciences: Pace University's liberal arts college, Dyson College, offers more than 50 programs, spanning the arts and humanities, natural sciences, social sciences, and pre-professional programs (including pre-medicine, pre-veterinary, and pre-law), as well as many courses that fulfill core curriculum requirements. The College offers access to numerous opportunities for internships, cooperative education and other hands-on learning experiences that complement in-class learning in preparing graduates for career and graduate/professional education choices.