Students
Pursuing New Passions at Lubin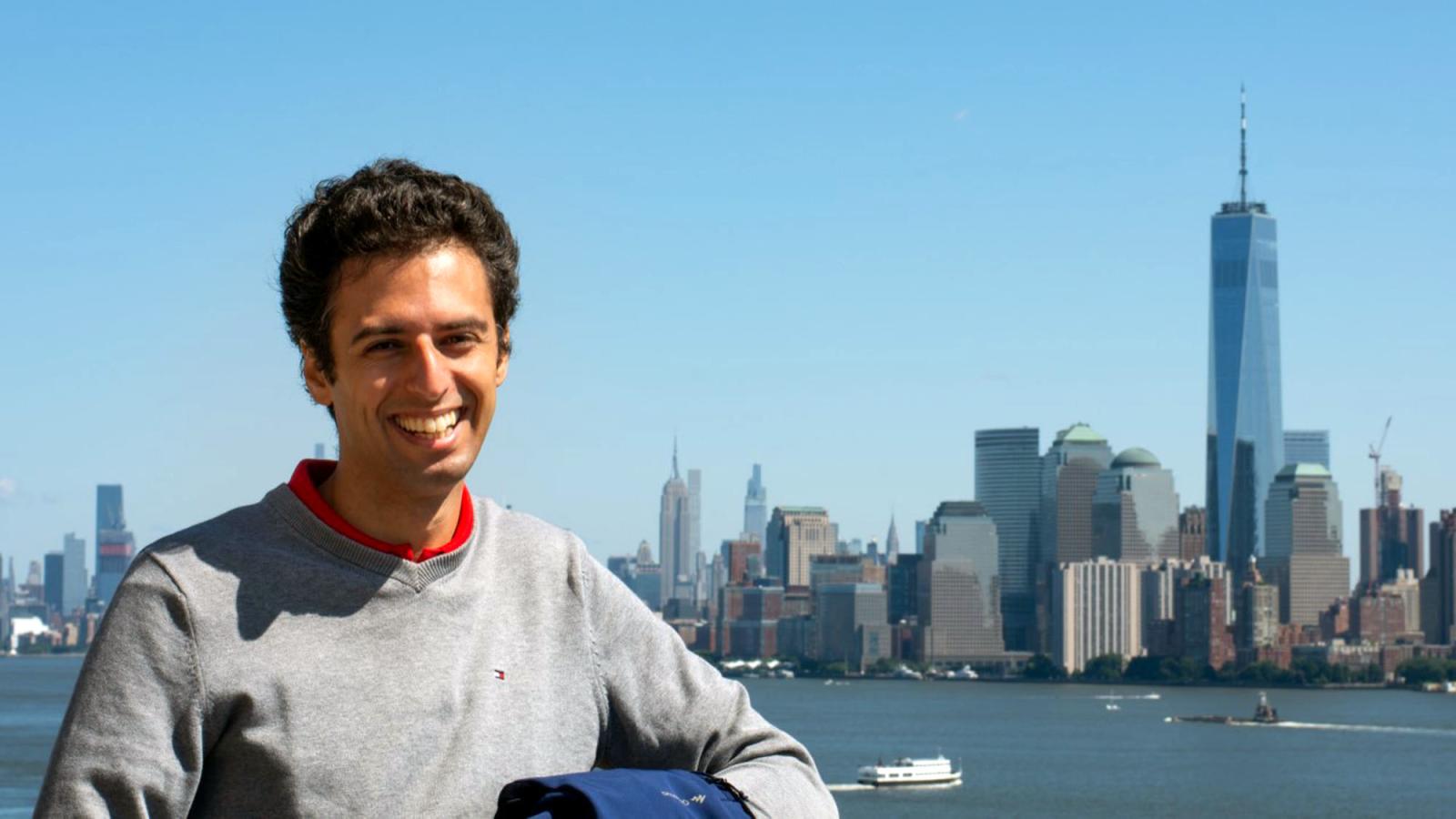 Manuel Crugliano
Class of 2022
Currently Studying: MS in Social Media and Mobile Marketing
Member Of: Beta Gamma Sigma, Pace Investment Club, Pace International Students Club, Pace Advertising Club
Pronouns: He, His, Him
While working as a materials scientist in his home country of Italy, Manuel Crugliano realized he needed to make a change. He packed up his life and moved to New York City to enroll in the Lubin School of Business to work towards a master's degree in Social Media and Mobile Marketing. Between multiple on-campus activities and a successful internship at NBCUniversal, Manuel is getting ready to graduate—and he encourages anyone looking to pursue social media and mobile marketing to take the plunge with Lubin.
Why did you choose Pace University and the Lubin School of Business?
Pace and the Lubin School of Business offer the ideal advanced degree in Social Media and Mobile Marketing. I decided to join because the program offered the chance to improve my skills and be ready for my new career. The balance between analytical classes and marketing strategy classes was perfect. Also, the expected return on investment is really favorable.
How have clubs on campus helped enrich your student experience?
Knowing about different activities through clubs opened my mind to a new way of thinking and living in the United States. These kinds of activities are not typical in my home country, so it was extremely helpful to experience the openness and enthusiastic approach of other students. As a former NBCUniversal intern, I was recently asked by the TEAM Pace club to participate as a speaker in an event highlighting NBCU professionals. It was a great experience, and I am thankful to the TEAM Pace president, Jennifer Zaurov, and my friend Andrew Tsentner, who invited me and moderated the event.
Tell us a bit about being an international student at Pace.
Being an international student at Pace is amazing. I feel included, supported, and valued. Career Services does a great job evaluating all possible strategies to help students successfully land a full-time job. As international students, we have intrinsic issues that we are forced to experiment with in our journey, but with Pace's support and a very well-structured strategy, we can feel covered by experienced professionals and not overwhelmed by the system.
Being an international student at Pace is amazing. I feel included, supported, and valued. 
After spending years as a materials scientist in Italy, you discovered your passion for digital and social media marketing. What advice for you have for Lubin student looking to get into the industry?
Do not underestimate your analytical skills. To anyone who is dreaming about a career in digital marketing and social media—I assure you that there's an increasing need of new methods to measure performance in reliable way. Having strong analytical skills will help you stand out from the competition and reassures potential employers that you're not only up to date on the latest social media and digital strategies, but you are also able to demonstrate your findings numerically.
You recently completed a digital research internship with NBC News. How did Lubin help prepare you for this internship?
Enrolling in Lubin classes that included the use of analytical software, like Tableau and SPSS, was one of the most important things in helping me prepare for my internship. When I was hired, I was ready to contribute from day one because I was already aware of how to use some of the software. Talking with the Career Services was also helpful, as they explained the possible interview process I could encounter and trained me to be prepared.
What has been your favorite opportunity at Pace?
Besides being immersed in such a vibrant environment, I truly appreciated Pace's mentorship program, which gives students the opportunity to connect with experienced professionals that support and guide them through a challenging path. Establishing a relationship with a mentor not only helps professionally, but also stimulates personal growth.
Do you have any advice for other Lubin students?
First, do not stop believing in yourself—I know it sounds repetitive, but it's true. Second, try to embrace an environment that is supportive of the things you are good at, so you can express yourself at your best.
What does #LubinLife mean to you?
It means opportunity, and the chance to do what I like, which is exactly what I was looking for on this journey.
Connect with Manuel:
LinkedIn: Manuel-Crugliano
Instagram: @Manuel.Crugliano
Twitter: @M_Crugliano