Students
Q&A with Michael Huertas '23
Image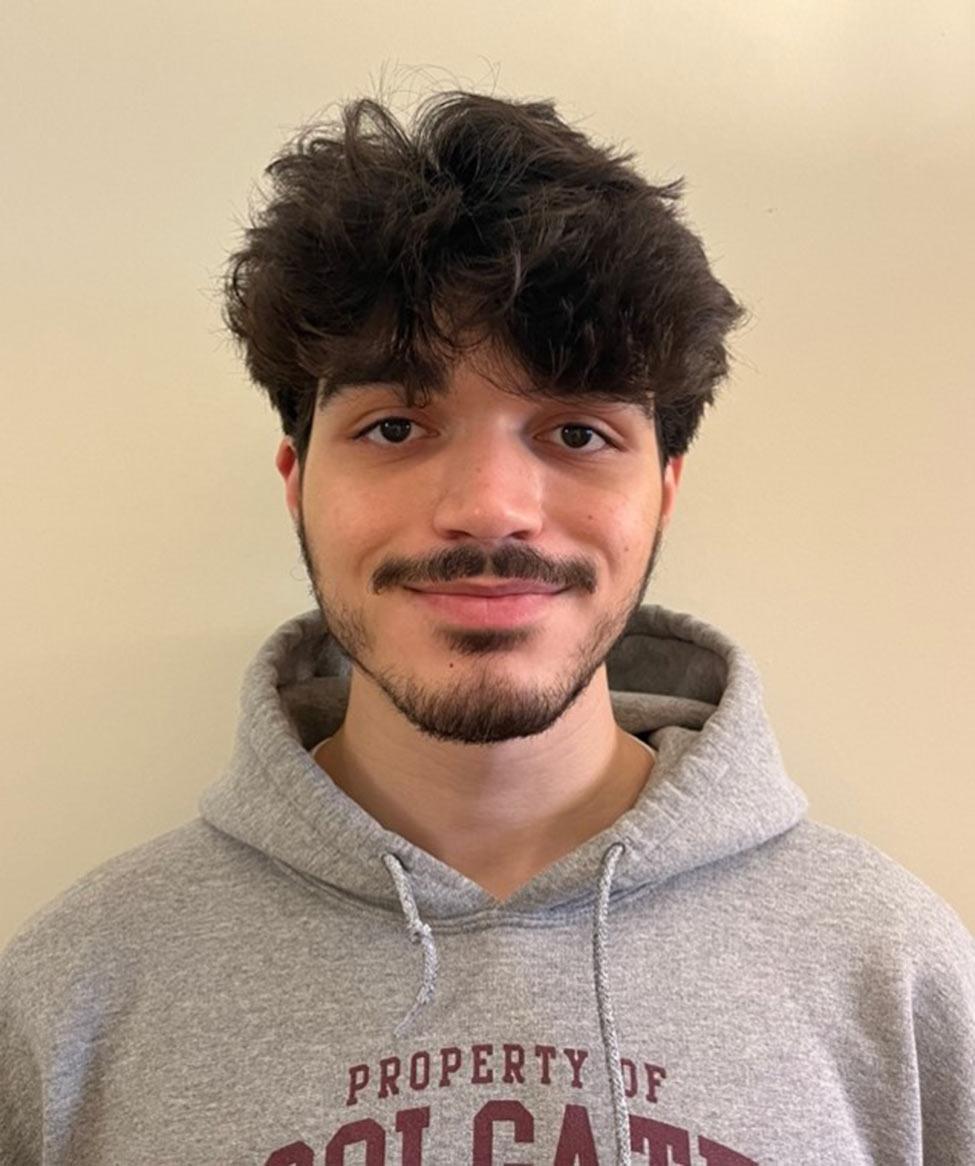 Recently, you co-published a peer-reviewed book chapter with Associate Professor Melvin Williams entitled, "Hip Hop's White House Guest: Jack Harlow and White Rap Authenticating Strategies" in Race/Gender/Class/Media: Considering Diversity Across Audiences, Content, and Producers (5th edition). The research was a textual analysis of Harlow's two studio albums, That's What They All Say (2020) and Come Home the Kids Miss You (2022), and Harlow's White rap authenticating strategies and potential social criticisms of racial injustice, Whiteness, and White privilege in rap and society.
Tell us what this research experience was like and how it was meaningful to you.
Never have I been so blessed and grateful to work with such a wonderful individual as Professor Melvin Williams. My research experience has been nothing but extraordinary, and I learned a great deal about academic research, fundamental life skills (such as decision-making, problem-solving, creative and critical thinking, self-awareness, and empathy), and how to advance my communication. It was very meaningful to me because as a student, when someone believes in you, it can be transformational. Fear dwindles, confidence climbs, and you gain the courage to set higher goals and take leaps of faith. I succeeded in collaborating through evolving ideas, dissecting data, and being involved in interpreting our discoveries. Lastly, I was granted a magnificent opportunity to travel to DePaul University in Chicago, Illinois, for an academic conference to present my research to other academic scholars.
Your project received many accolades, such as the 2022-2023 Provost Student-Faculty Undergraduate Research/Creative Inquiry Award and presentation at the 2022 Midwest Popular Culture Association Conference.
What do you feel is the significance of your research and what do you hope readers will gain from it?
I hope that our research guides the reader to a deeper understanding of the complex relationship between race, gender, class, media, and society through the lens of Hip-Hop. I want our readers to garner their own perspectives on the challenges that under-acknowledged communities face in the music industry and the ways that these challenges intersect with broader issues of diversity, representation, and authenticity. I believe that this research obtains important information and elaborate analyses of the ongoing discourse on social justice and equality in the music industry, and we invite readers to thoughtfully analyze these vital challenges.
How did you become interested in pursuing a Bachelor of Arts in Communication and Media Studies?
Since a young age, I've been fueled with a passion for media studies, and it has always been a component of my life. Naturally, I've developed a deep interest in the media's antics, and I appreciate that Pace's Communication and Media Studies department challenges its students to pursue magnificent careers. Early on, I realized that the skills obtained in communication and media studies are rich in personal development. Those we acquire are practical and applicable in real-world scenarios, such as communicating in many contexts, developing critical thinking skills, and becoming media literate consumers. At large, I am interested in how communication and media studies tackle and challenge oversimplified media concepts, and various aspects of society, including politics, culture, identity, and social issues.
Why did you choose to attend Pace?
As much as I feel like I chose Pace, I have always felt that Pace chose me! From the first time I stepped on campus, the passion and thrill that I felt have still not left. To me, Pace abounds in uplifting their students to reach remarkable achievements and acknowledging diligent individuals. It is a wonderful university located in one of the most inspiring locations in Manhattan.
What have your experiences been like with the Communication and Media Studies Department?
I thrive in the Communication and Media Studies department because they are very invested in their students. The overall culture within the department is a one-of-a-kind environment, and they give students a chance to engage in hands-on media production, research, and critical dissecting of media messages. I am very fond of the supportive faculty, and the unique array of courses they offer.
"Never have I been so blessed and grateful to work [on co-authoring a peer-reviewed book chapter] with such a wonderful individual as Professor Melvin Williams. My research experience has been nothing but extraordinary, and I learned a great deal about academic research, fundamental life skills, and how to advance my communication."
What other activities and organizations have you been involved with as a student?
As a student, I am very glad that I became involved in organizations, and I had some of my favorite college experiences at Pace-run activities. I am a Pace Press staff writer and a member of Gamma Iota (the fraternity chapter of Lambda Pi Eta, the National Communication Association's official honor society at four-year colleges and universities), and the National Society for Leadership and Success. In Gamma Iota, I held an executive board position, and as part of that, presented an inauguration for new members, as well as had the privilege to co-host a Q&A with Marielle Segarra, an award-winning podcast host of NPR's Life Kit. I was also a student representative for new hires in the Communication and Media Studies department.
As a first-generation, Latino undergraduate college student, tell us of any challenges you have overcome in your personal and/or academic journey that you are proud of, and would like to share.
I have encountered many challenges that I am glad to have surpassed. Without guidance of family members and others who had gone through the educational system, I had a very individualized experience in navigating the complexities of college. Similarly, I overcame other issues such as networking, and how to thrive as a self-reliant individual in a metropolis. One of my greatest accomplishments is creating a standard for my nieces and nephews in Pennsylvania to follow and assisting them in pursuing college.
What would you like to do upon graduation/what are your career goals?
Upon graduation, I am very enthused to jumpstart a career in the communication and media studies industry. My favorite areas of interest include media production, journalism, public relations, research and analysis, and event planning. I am still deciding and applying to jobs, but I know that I am interested in the production side of the industry, and I aspire to work in television, film, radio, digital media, or content creation.
What advice would you like to give to our current students?
"Eat your rice." If I must elaborate, sometimes in life, the glamour and glory must remain hidden and disguised for you to remain steadfast and enthusiastic in your pursuit of greater achievements. If you are captivated by superficial beauties and distractions, growth is hindered, causing you to lose track of why you started in the first place. Eat your rice. Simplicity is powerful. Instead of dwelling on the reasons behind your problems, focus on seeking solutions to overcome them.