Students
Students Showcase Their Hard Work at CHP Scholarship Day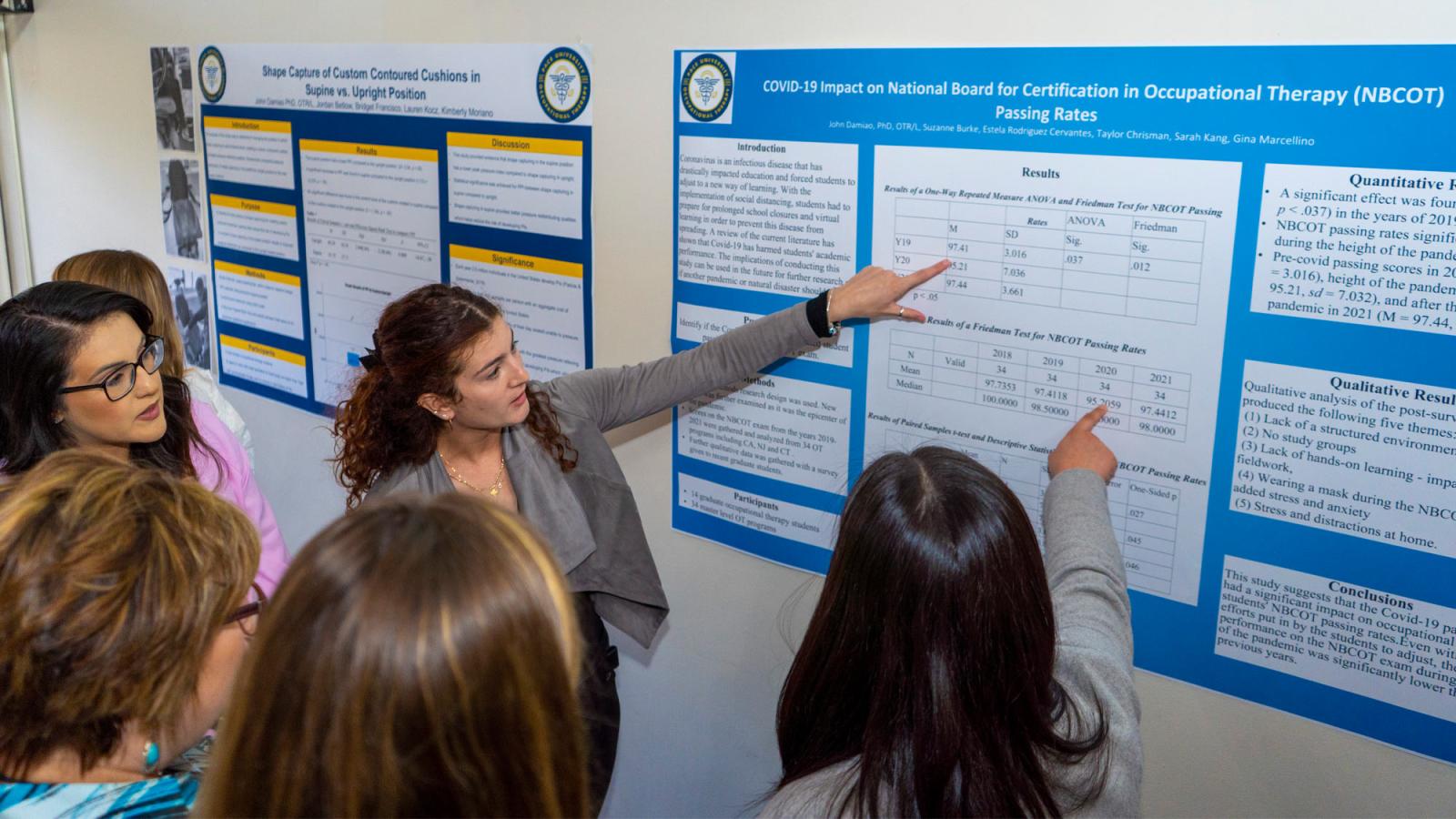 Image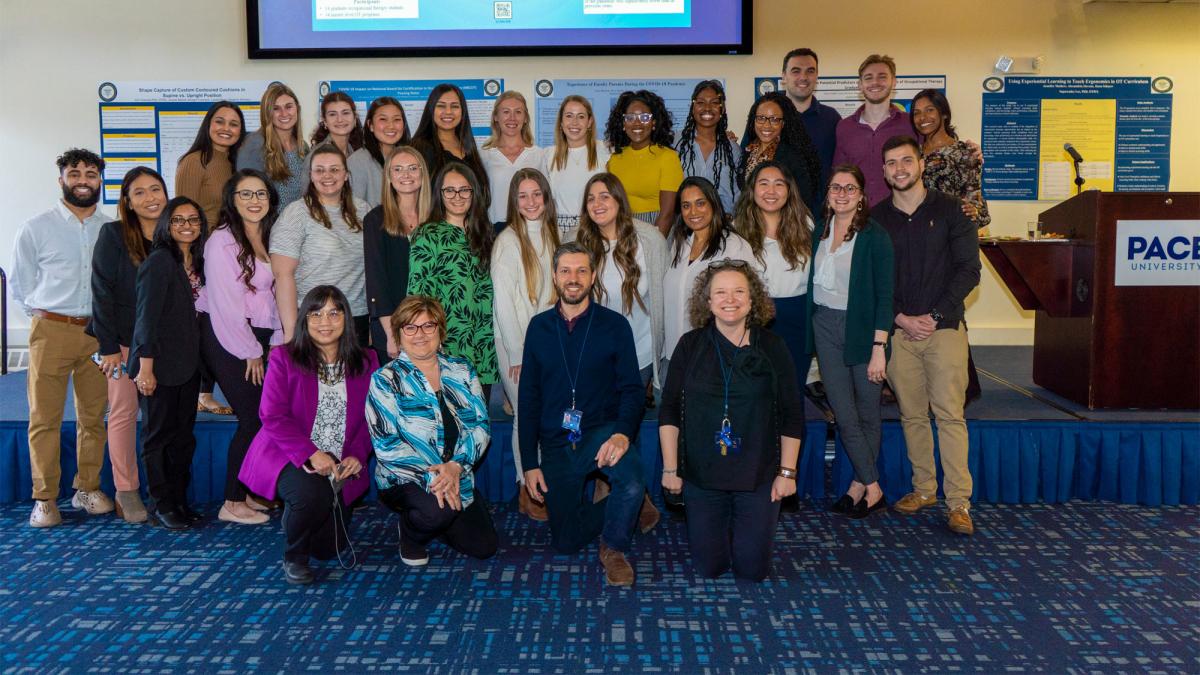 On April 27, students from various degree programs, including occupational therapy (OT), the PhD program, nursing, and health science showcased their scholarly projects on the NYC and Pleasantville campuses.
Project topics from OT included trends within predictors of resilience; faculty experience during the pandemic; effectiveness of 3D printing splints compared to traditional thermoplastic splints; using experiential learning to teach ergonomics in OT curriculum, the best practices of shape capturing methods for creating custom contoured wheelchair cushions, and COVID 19's impact on the National Board for Certification in Occupational Therapy (NBCOT) pass rates. "I cannot even begin to express how proud I am of our students," said Lisa Raymond-Tolan, clinical associate professor of occupational therapy.
Image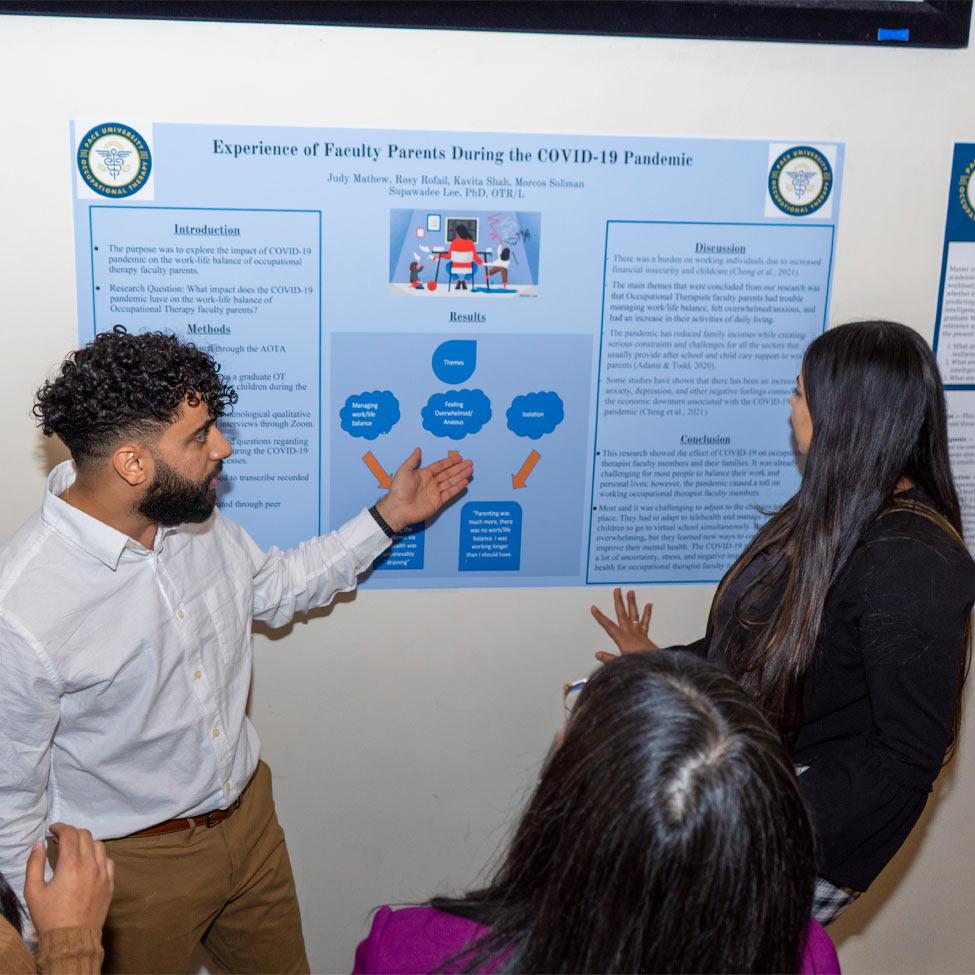 Students in the PhD, Health Science, and Nursing programs conducted research on topics such as liver transplant outcomes, comfort assessments for hospitalized adult patients, high rates of diagnostic errors in health care, medication noncompliance, and more.
Students tend to be drawn to areas of research that have affected them in some way. Jessica Barresi, junior nursing student in the RN4 program at the Pleasantville Campus, collaborated with her team to focus on the major issue of medication noncompliance, targeted specifically in the geriatric population. She said this topic was inspired by her elderly grandmother who has multiple underlying health conditions therefore leaving her to be prescribed with various different medications. Because discharge instructions in the healthcare setting can be so cumbersome and overwhelming, her grandmother tends to forget to properly take each medication. "Our idea is to create an age friendly pamphlet with easy-to-read medication instructions, allowing administration details to be more accessible," said Barresi.
Image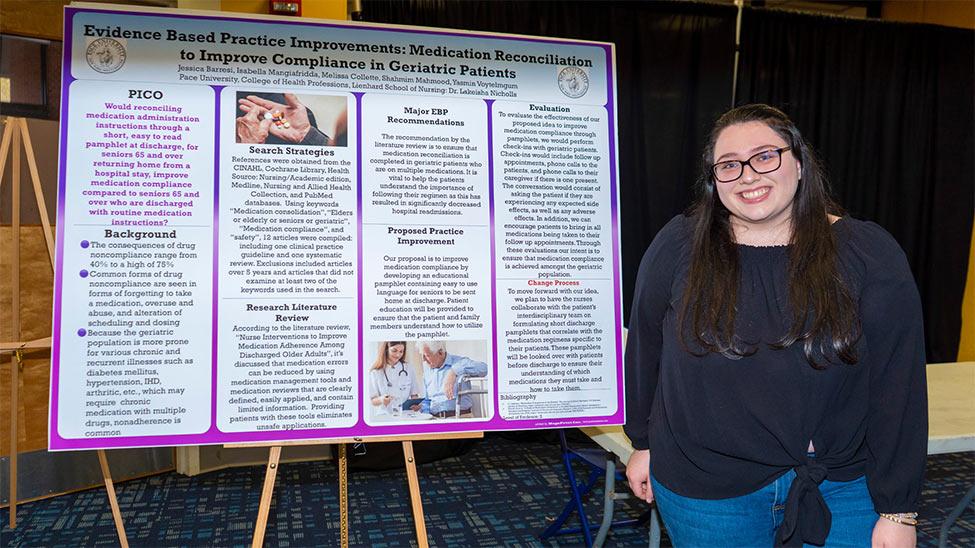 Another student, Grace Henderson, a senior health science major, was motivated to do her project on diagnostic error after having family members experience it firsthand. "I wanted to address the high rates of diagnostic errors in health care and ways in which these can be prevented," she says. After conducting a series of interviews, she found that all participants experienced some form of a diagnostic error when trying to obtain a diagnosis for their chronic illness. She discussed with participants the possibility of interprofessional collaboration (alliance between multiple healthcare providers working together to ensure quick and accurate diagnoses) as a possible prevention strategy.
Image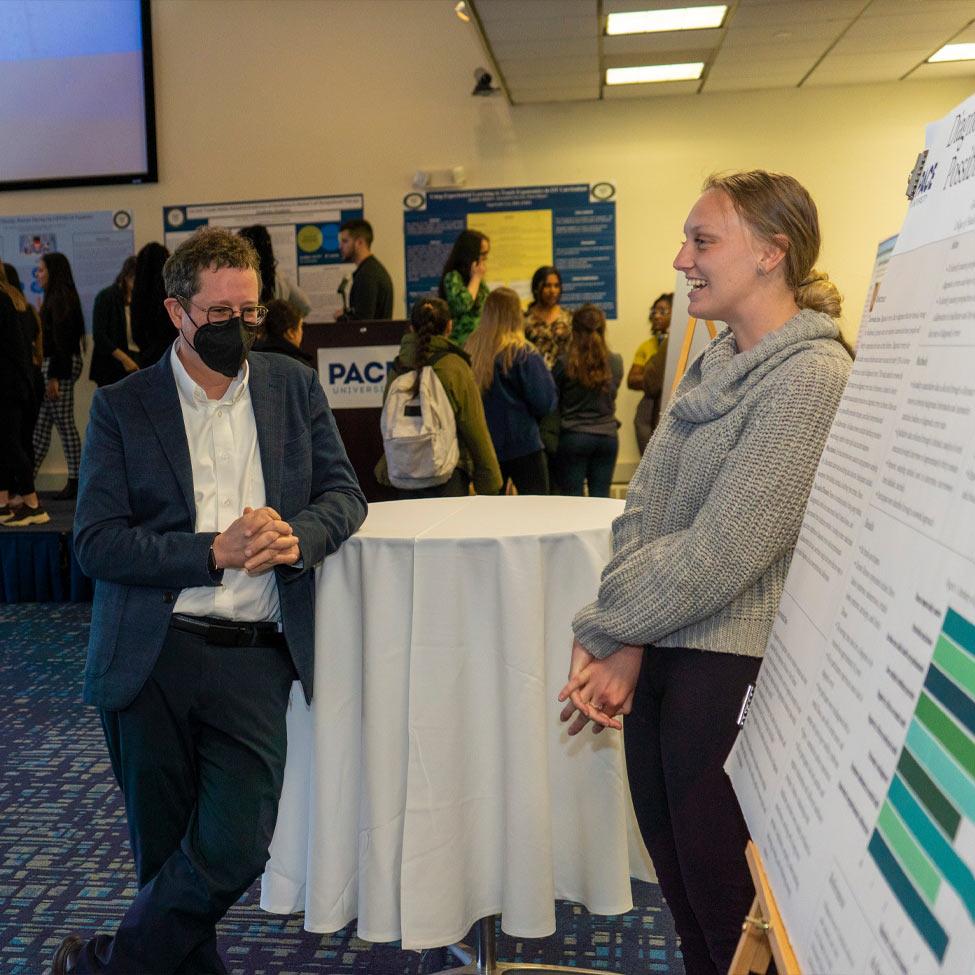 After over two years of COVID-19 restrictions, everyone was pleased to be back on campus. Dean Tye, faculty, and staff made their way around the room, engaging with students about their research and offered congratulations. "Not only did we have a great turnout from our second-year students who are presenting, but our entire first year cohort is here," said Raymond-Tolan. "It was so nice to have everybody together in one space and see the work that people have been spending so much time and energy on."
See all of the research projects (PDF) this year.
More from Pace
Students
Nursing student Kalin Tang '22 traveled around the world and found herself at Pace University's Lienhard School of Nursing. Kalin and her family lived in countries like Hong Kong, Korea, and Thailand, and also in several states throughout the United States.
Alumni
"I was fortunate enough to work with a physician and participate in clinical trials that changed the fate of HIV from a death sentence to a chronic illness like asthma and diabetes. This is what ignited my passion for clinical research."
Students
Grainne McGinley was voted by her peers and faculty to address the College of Health Professions at Commencement 2022. At the heart of her journey as a first-generation college student is the spirit of service.