Alumni
Embracing Opportunities to Influence, Becoming a Student Advocate
Peruvian and first-generation graduate Lauren Cordova, PA-S, '22, is making a place at the table for herself and other students in underserved populations. She chose the Physician Assistant (PA) Pleasantville program in the College of Health Professions (CHP) because of the emphasis on cultural sensitivity, community service, and diversity and that it teaches the importance of representation in healthcare. "After my interview, I knew that I would be supported during my time here and would have multiple opportunities during my clinical year," said Lauren.
Image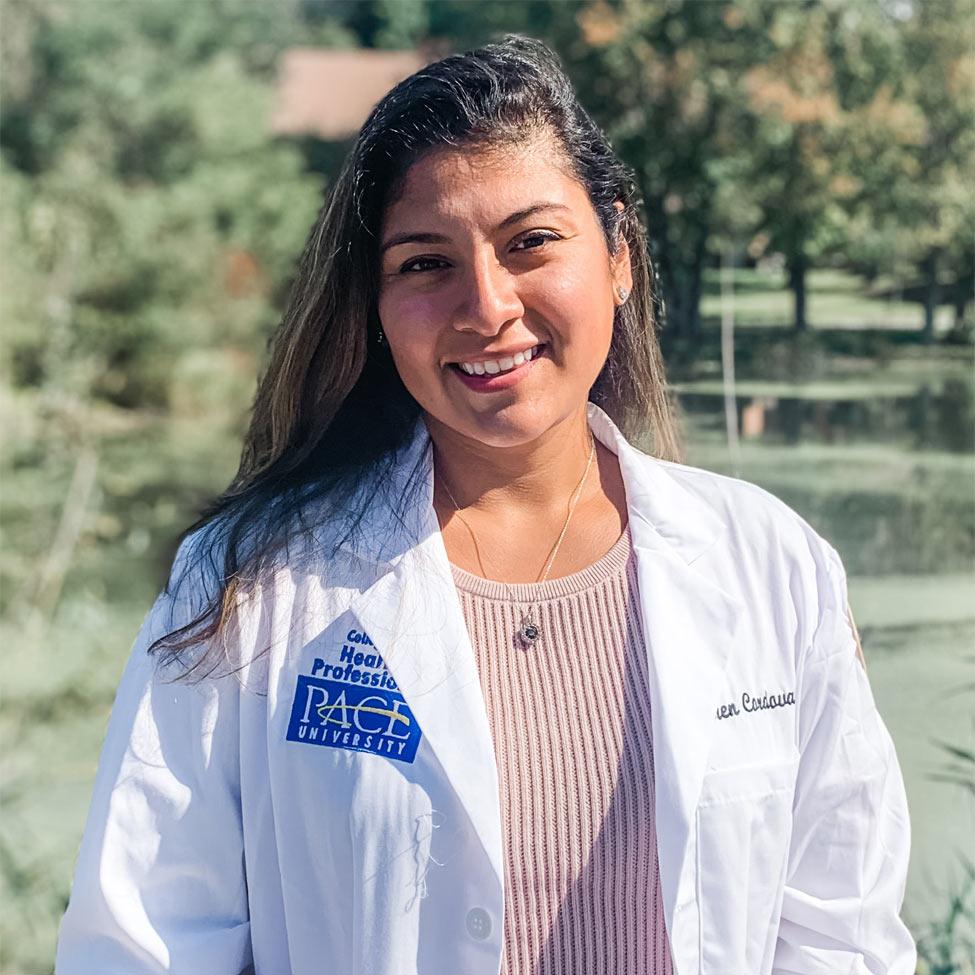 As a student in the program, Lauren was given a membership to the New York State Society of Physician Assistants (NYSSPA). She took advantage of this opportunity and began attending their webinars because she believes it is important to learn outside of the classroom to become a well-rounded PA. She was then appointed student director for NYSSPA to serve as a student representative, partnering with two students from other New York State PA programs. Lauren was most passionate about speaking for the student perspective in board meetings. She was also responsible for sending communications to students in New York PA programs about scholarship opportunities and legislative updates as well as gathering contact information from each student society throughout the state. She hopes to continue to advocate with NYSSPA in her future workplace and utilize what she has learned to give more opportunities to others.
Lauren was also selected to serve on the CHP search committee for the new Health Science program chair. "I thought it was important that the students feel supported by the selected candidate and that there was someone who was active in advancing our learning resources, whether that be rotation sites, mentorships, or scholarship opportunities," she said. "This was my opportunity to use my student voice."
"As a first-generation, Peruvian PA student, I know that I cannot always wait to be invited to the discussion and that I must pull a chair up to the table and make the changes that I want to see happen. I am someone that always wants to be involved in whatever organization I am a part of," said Lauren. Working for these organizations enhanced her education and taught her that everything in life is a learning experience, "it reminded me that it's okay to be uncomfortable but to know your limitations."
Since graduating in December 2022, Lauren has been studying for the Physician Assistant National Certifying Exam (PANCE) and will be taking a trip to Thailand with her peers from the PA Pleasantville program. She is excited to begin her career as a cardiothoracic surgery PA and eager to continue to be a voice for the PA community and a mentor to future PA students.
More from pace
Alumni
Nothing describes a #Go-Getter better then Pace University's College of Health Professions (CHP) Lenox Hill Hospital Physician Assistant Program (PA-NYC) graduates.
Alumni
"You have to find that passion every day," says College of Health Professions alumna Tyra Prophete, RN. "I always knew I wanted to advocate for people."
Students
Commencement 2023 just got 5x more exciting! This May, the Class of 2023 will celebrate with a creative genius and fashion entrepreneur, an intrepid US Senator, a renowned legal scholar, a former CEO of the largest telcom company in the US, and a nonprofit leader dedicated to justice and equality.