Students
What can you do with a Computer Science degree?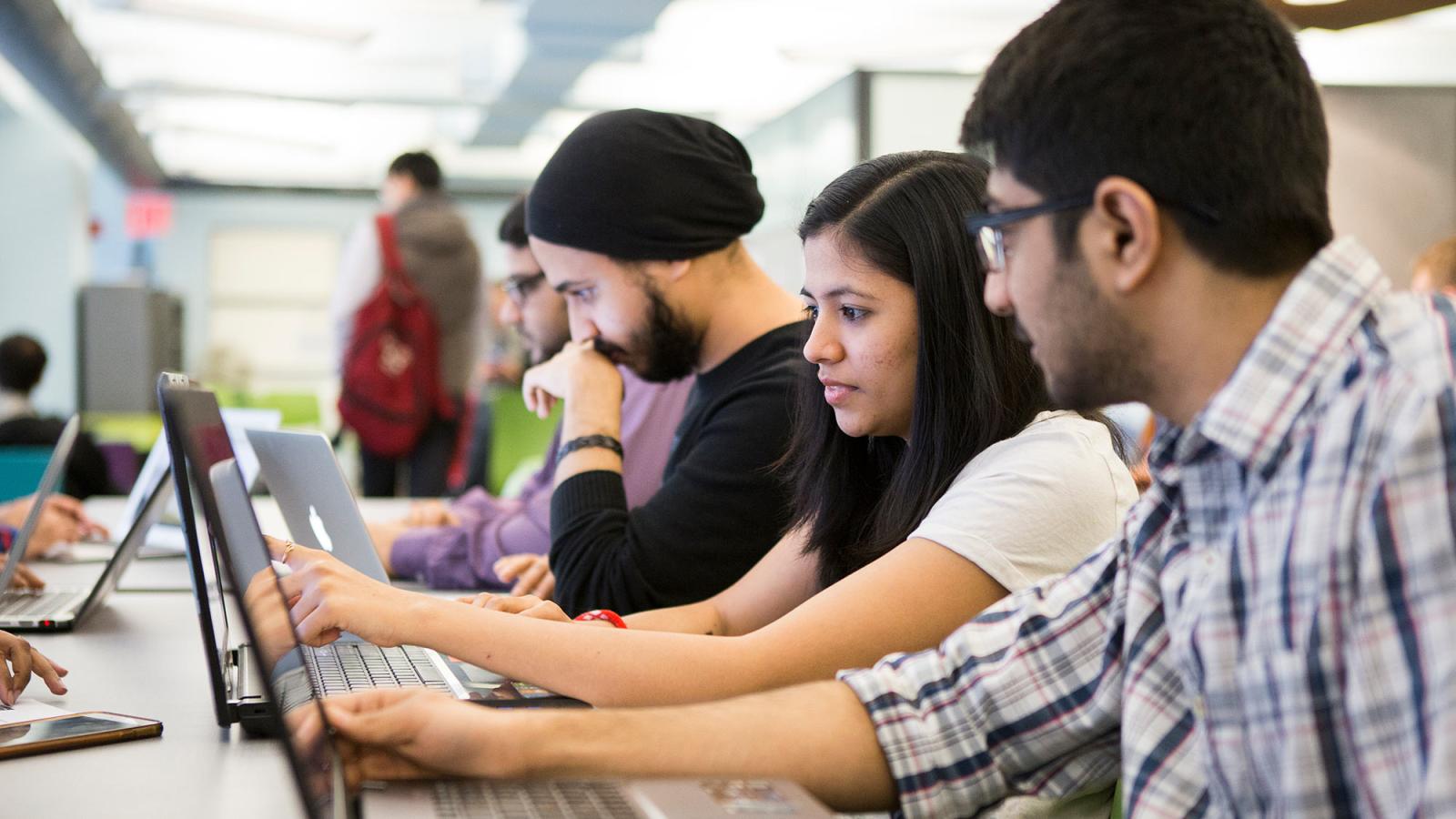 With a Bachelor's degree in Computer Science, you can enter many different fields in a wide variety of industries. Majoring in Computer Science can lead you to a range of career paths depending on your interests, the coursework you take, and your internship experience. Know that you can do so many things with a Computer Science degree! It is a very adaptable degree that is in high demand.
What do you learn as a Computer Science major?
Majoring in Computer Science unlocks your future opportunities by building your foundational knowledge in computer science and creating career-building projects that demonstrate your practical abilities. Typically, a Computer Science major covers the mathematical foundations of algorithms, incorporates calculus and programming languages, and explores larger questions about data science and cybersecurity. From hardware to computer networks, a Bachelor's degree in Computer Science introduces you to the concepts and skills that will support technology and computer science careers for years to come.
Careers in Computer Science
Computer Science graduates pursue careers across many industries, which is one of the key benefits of a computer science major. Graduates who can demonstrate their mastery of coding languages and theoretical knowledge through a portfolio, a variety of coursework, and relevant work experiences will be well-prepared for their future careers in computer science.
Many students imagine that majoring in Computer Science only leads to programming careers. In fact, the adaptability of a Computer Science major can lead you into the fields of business, healthcare, government, security, finance, tech, and many others. As the digital economy innovates and grows, there will always be a need for workers with computing expertise, especially in the ever changing areas of cybersecurity, cloud computing, artificial intelligence, and data science.
What can you do with a Computer Science degree? Join any industry that needs someone to innovate through computing and algorithms!
Computer Science Demand and Job Outlook
Beyond the technology sector, the demand for career-ready computer science training is strong in many different fields like healthcare, the military, finance, and business. According to the U.S. Bureau of Labor Statistics, computer and information technology occupations are projected to grow 11% from 2019 to 2029. This rapid growth will likely add over 530,000 new jobs across the United States. With the continued demand for computing knowledge and expertise, majoring in Computer Science is an excellent investment in your future.
What jobs can you get with a Computer Science degree?
Whether you are writing code, analyzing data, or creating websites, your Computer Science degree serves you well in a variety of jobs. According to the Occupational Outlook Handbook, common job roles for Computer Science majors include:
Network Architects
Programmers
Systems Analysts and Administrators
Database Administrators
Computer and Information Research Scientists
Security Analysts
Web Developers
UX Digital Designers.
Majoring in Computer Science at Pace University
At Pace University, both undergraduate Computer Science programs are STEM-designated, signifying their academic rigor and allowing international students to pursue Optional Practical Training (OPT) after graduation.
The Bachelor of Arts in Computer Science features more streamlined major requirements to facilitate students having a relevant minor or concentration. Popular choices for a minor include Information Technology, Information Assurance for the Criminal Justice System (cybersecurity), Digital Design, Economics, and Business. By combining their study of computer science with another subject area, students can further explore their career interests.
In comparison, majoring in Computer Science to earn a Bachelor of Science in Computer Science degree offers an intense exploration of the field with advanced courses related to software and databases. The Bachelor of Science program is accredited by the Computing Accreditation Commission of ABET, Inc highlighting our commitment to high-quality education leading to in-demand computer science careers.
Computer Science Internships in New York City
Pace students can pursue a career-focused Computer Science major on both the New York City or Westchester, NY campuses. The NYC campus provides streamlined access to professional opportunities.
At the Westchester campus in Pleasantville, NY, you can enjoy campus life on a newly renovated suburban campus and are connected to the Metro North rail system that takes students to Manhattan in 45 minutes. In addition, Westchester, New York has many opportunities of its own, with an emerging start-up scene and multiple headquarters for Fortune 500 companies.
Learn more about what you can do with a Computer Science degree!
At Pace University, our Computer Science Bachelor's degrees prepares you to do so many technology-related jobs in software development, information security, and computing. Whether you join us in Westchester or NYC, our program provides a career-ready undergraduate education that translates your goals into a successful computer science career. For students looking to continue their education, Pace offers a range of in-person or online master degree programs, including an online Master of Science in Computer Science degree.
To learn more about Pace University, request information today!