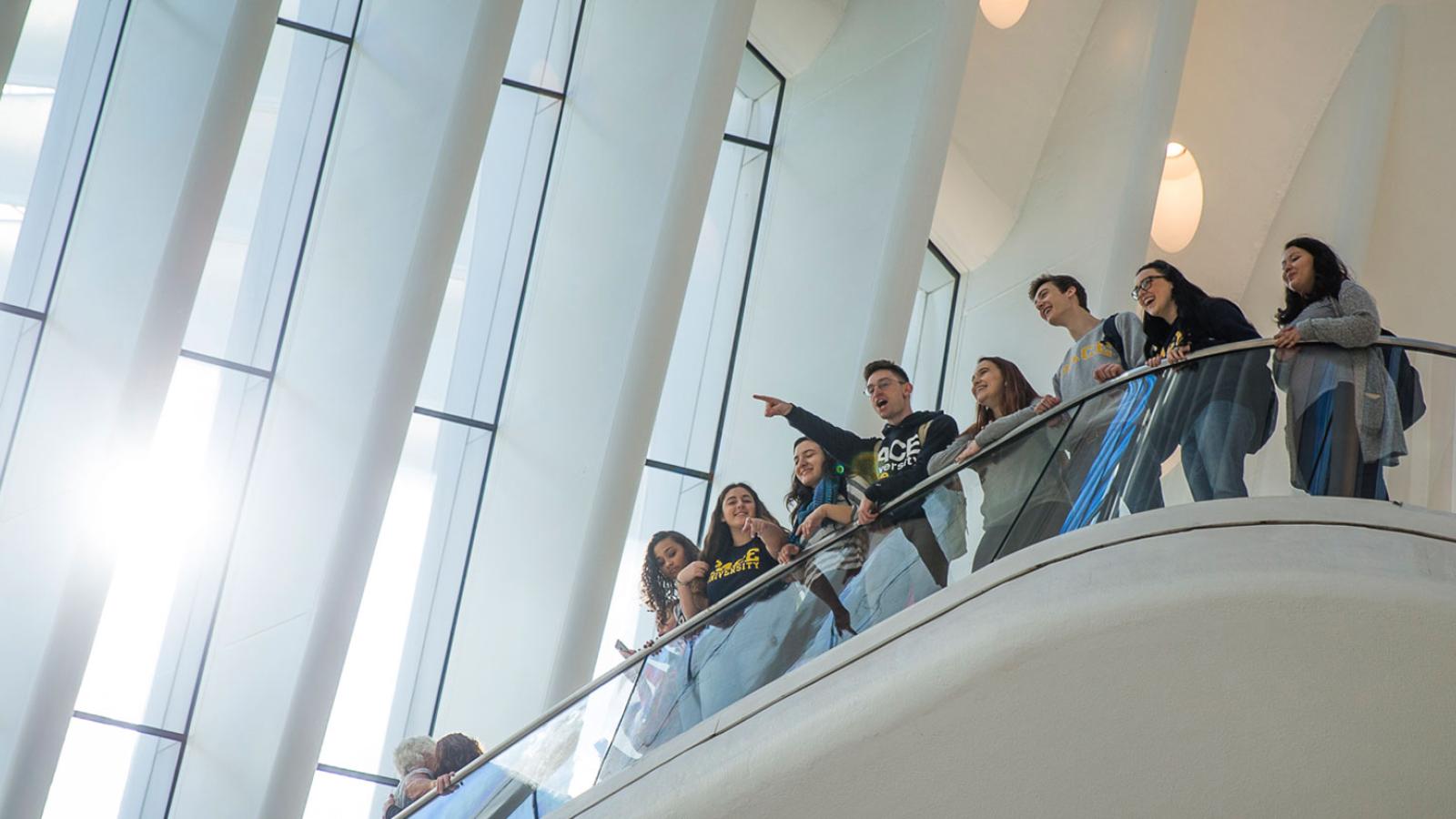 Get A Pace Badge
Representing your skills as a badge allows you to share your abilities online in a way that is simple, trusted and can be easily verified in real time. Badges provide employers and peers concrete evidence of what you had to do to earn your credential and what you're now capable of.
What are badges?
Badges at Pace University are a collection of courses and experiences that teach skills and competencies which are documented by digital badges.
Digital badges are web-enabled versions of a credential, certification or learning outcome which can be verified in real-time, online. Digital badges are issued on the online credentialing platform Credly Acclaim.
Each badge earned is a chance to digitally share and celebrate an accomplishment with your network.
How do Pace's badge programs work?
Credit and Non-Credit Badges
When you're looking at our badge offerings, you will notice that badges are identified as "credit" or "non-credit." What is the difference?
Credit badges allow for the student to earn college credits that can be applied to a degree or certificate. Students who take credit courses receive a letter grade at the completion of the semester. In addition to a grade on a Pace University transcript, the badge provides students with a credential to acknowledge skills, competencies, accomplishments, and the mastery of knowledge.
Non-credit badges are tied to courses which cannot typically be applied to degrees (although in some special circumstances they can) and instead award Continuing Education Units (CEU's).
How do I apply for a Badge?
All credit badges and some non-credit badges require the earner to apply for the courses and experiences needed for successful badge completion and for the earner to be approved to complete the badge.
The application process is different for current Pace students and individuals who are new to Pace. Current students will complete a Badge Enrollment Form (DOCX) to indicate their desire to earn the badge. Individuals who are new to Pace will need to complete an application. The approval process for the badging application is relatively quick.
For questions about applying for a badge, please email badges@pace.edu.
How will I receive a badge?
The process is slightly different if you're taking a credit or non-credit badge.
Upon completing required courses through Pace University for a credit badge, you will complete a Badge Completion Form (DOCX), and your credentials will be uploaded to Credly Acclaim. This action issues your badge. Credly Acclaim will email you with instructions on how to claim the badge and display it to your social media. Credly Acclaim's site includes all instructions on how to proceed through the process.
For non-credit, there is no form to submit, and your credentials are uploaded to Credly Acclaim when you pass your badging program.
Get in touch
If you have questions or would like more information about Pace University's digital badges, please contact us directly.
Phone Admissions: (914) 923-2835
Phone General Questions: 1 (888) 561-7223
Email: badges@pace.edu