Students
Meet Ronak Laungani
What program do you study at Pace and why did you pick that one?
The Master of Science in Information Systems at the Seidenberg School. When I was planning to fly to the States for my graduate degree, I was already two years into my design career. I looked up design courses and already knew most of what they had to offer. I found that I was more intrigued by the planning and strategizing of a product, as those lead up to important design decisions. Knowing the technical aspects, feasibility, organizational information, data analysis, and other stages of the process made a lot of sense to me as a designer. By adding those skills, I would become more than just a person who can arrange pixels on the screen. If designers want a seat at the table, they should know a lot more than just design.
Image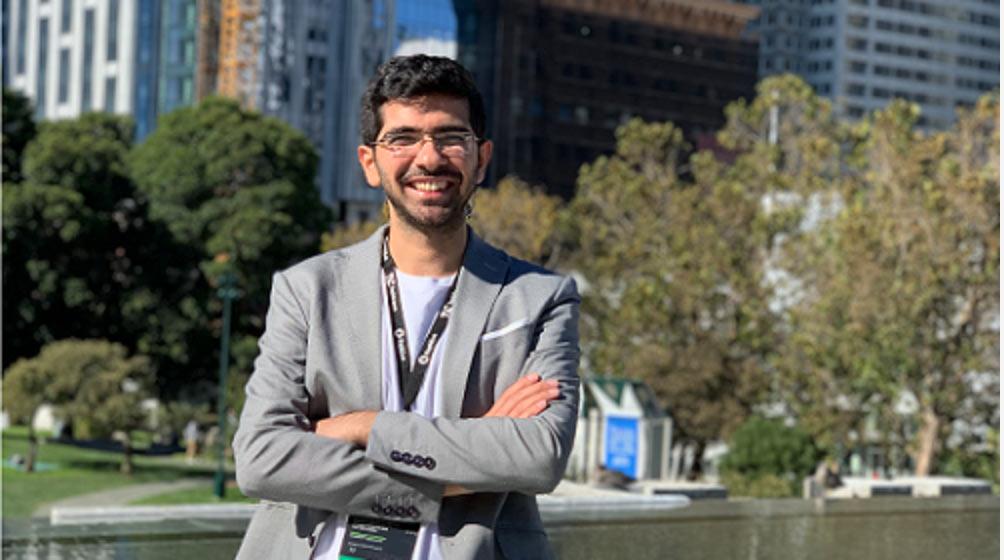 For that reason, I took front end development courses at Pace University so I could understand what comes next – after I've designed something. Those classes helped me think about how a website or app will actually be built, and enabled me to design with development in mind. Knowing all of that makes the development cycle simpler for everyone, which is a great thing to bring to a team in the workplace.
The MS in Information Systems helped me build myself as a complete designer.
What are your main interests?
I absolutely love design. I'm really lucky to have figured that out early in my life. I have tried coding and other domains around design, but nothing has been able to pull me out of my chair when I'm designing; I end up starving for hours – and it's really enjoyable!
Apart from that, I have a strong instinct for content. Now that I look at the things I did during my undergraduate life, I have created a lot of content. I've written 60+ articles for a content related organization I founded as a student. It was called Pen Paper and Thoughts. Deciding a name has not been my strongest pursuits clearly. My interest in these two domains led to the biggest project of my life – the Unpixelate Design Podcast series. Three cities, 14 episodes, with five top designers in India.
Did anything surprise you during your degree?
I'm really fascinated by the higher education system here in the States. I love it. There are just so many things a student can do – they just need to extend their arm and grab it. For a person like me who learns a lot outside the classroom, it felt like paradise. I still feel I could have done even more in my grad student life, but with two jobs plus classes I have a full schedule! Plus, the education system here revolves a lot around the students, instead of the faculty – which is how I feel it should be.
What are you the most proud of?
I have been lucky to have a few things. First, the podcast series. It was a big investment in terms of time and effort for me; my parents were boggled by the amount of effort I was putting in. I had so much interest and enthusiasm about it. While most of the people around me questioned me and thought I was wasting my time, some felt it added a lot of value to my profile. And the results have been really good. I still get new subscribers every week, two years since the last episode went up. People still comment how the podcast has helped them and that they love the conversation. There is some recognition for me as well. It is really satisfying, so much that I really wanted to make a second season here in the United States. But doing it alongside a master's program is tricky. Someday I will, I hope.
Secondly, there is this brilliant project I'm working on with the faculty at Pace University – CyberPassport. It's a project funded through the Department of Defense Cyber Scholarship Program, and I've designed the website and the mobile app for it. It's an amazing opportunity for me. The team is just brilliant at what they do, and that makes it really enjoyable to design. It puts a good product in my portfolio during my student life, which I think is really cool. Professor Andreea Cotoranu and Dr. Li-Chiou Chen have been amazing mentors to me for this project.
Any standout moments?
Oh, there are so many! In class, in the Seidenberg student lounge, around campus, where I live in Jersey City, everywhere. Moving countries has been great for me. I have met brilliant people here - especially the creative team at Seidenberg School. I have been fortunate enough to have an opportunity to work with these amazing students who are so great at design and content strategy. I remember feeling really humbled by the amount of creativity flying around in our group meetings every Monday. That was a standout moment right there, every week. Thanks to Katie Todd for bringing me on the team. It's something that gets attached to my college life as the best memory.
What's one piece of advice would you give future students?
Skills: build them, practice, and do projects. That is all that matters. Life is easier if you can do something not everyone can do. Take up courses that build your skillset. Do personal projects and most importantly - finish them. It's a really satisfying feeling to learn a new skill and produce something out of it. There's no better time than the student life to do that. I am constantly working on new projects every month to sharpen my skills. Recently, I reimagined Instagram, as if it was designed at Apple. It was really fun. You should also have a website portfolio, irrespective of your domain. With a website, you can show off your skills easily – plus there is a sense of pride in seeing your name in the URL of a website that contains all your amazing work.
Interested in seeing some of Ronak's work? Check out his website.