Students
New Adventures and Business Ventures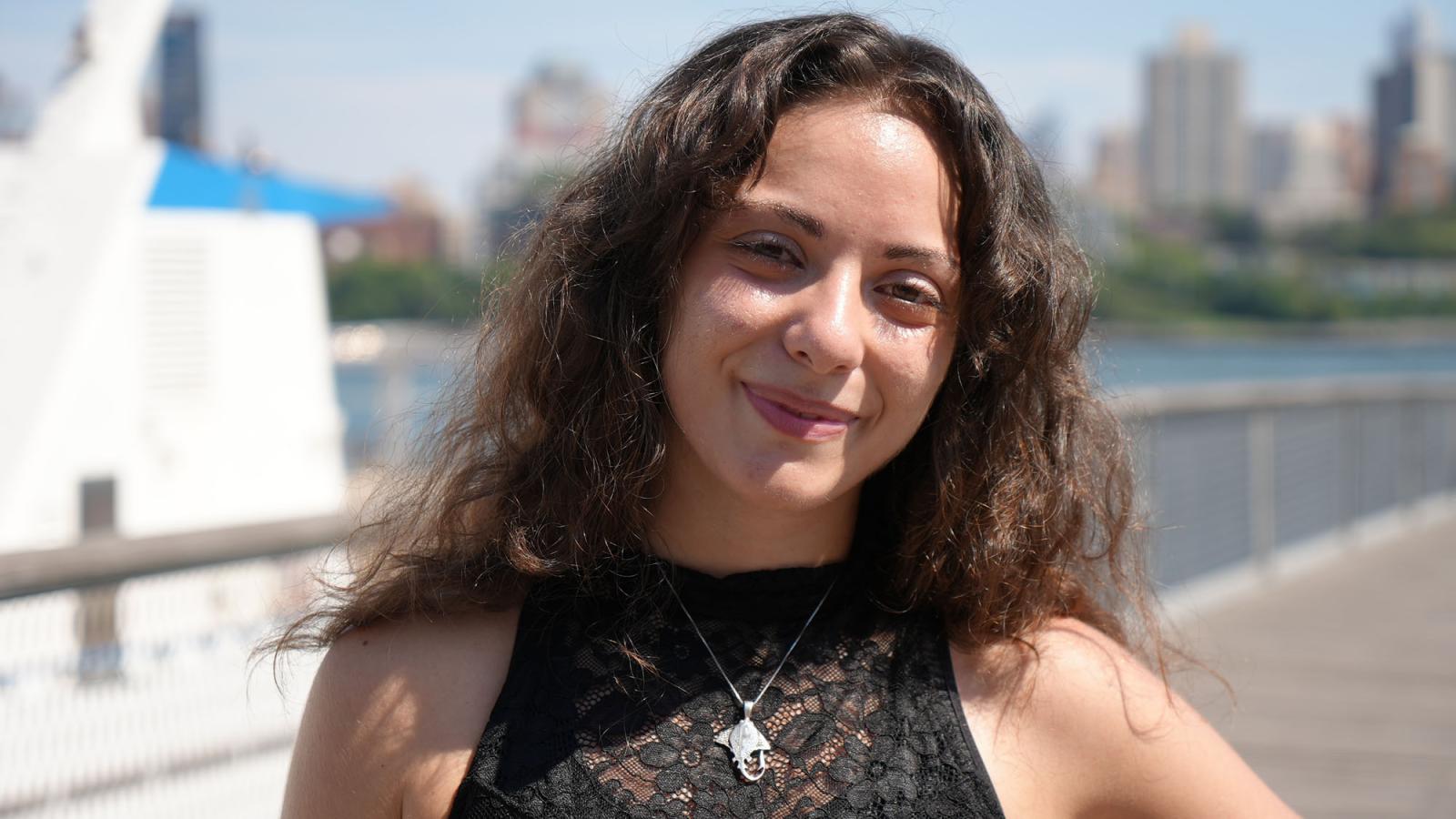 Sara Puccitelli
Class of 2025
Currently Studying: BBA in Entrepreneurship and BA in Economics (double major)
Pronouns: She/Her/Hers
Starting college in a new country is never easy, but international student Sara Puccitelli is going all in at the Lubin School of Business. Not only is she double majoring in Entrepreneurship and Economics, but she also dedicates her time to helping other students learn new languages. On top of that, Sara started a business with her father to help bring tourists to New York City.
Why did you choose Pace University and the Lubin School of Business?
I chose Pace University because I was looking for a university in New York that could provide me with knowledge to start my own business. I read about Pace and I immediately liked it. Plus, I really love where the University is located—it is near every subway line, and the view of the Brooklyn Bridge is wonderful.
Tell us a bit about being an international student at Pace.
Being an international student a Pace is not hard. It was easy to apply, and tutors and advisors always have helped me.
You started a travel agency with your dad. Tell us about your business and other ventures you're exploring.
I started a travel agency with my dad to help bring tourists—specifically Italian tourists—to New York City. We want to help them visit and participate in sports and events here, like the NYC Marathon. We create customized plans for tourists, which include flights, hotels, and either tours or sporting events. I am also starting a new business, Pucci's Crescia. My plan is to make crescia, an Italian snack similar to pizza, stuffed with meats and cheeses of choice and deliver it in the NYC area.
How have the skills and concepts you learned within the Lubin School of Business helped you run your businesses?
The Lubin School of Business has been really helpful when it comes to running my two new businesses. Thanks to what I have learned, I was able to make business and financial plans by myself. As I keep studying at Pace, I continue to learn new skills every day and find important resources on how to manage my businesses.
You also tutor other Pace students in Italian, French, and Spanish. What motivates you to help other students?
I had a friend who was always asking me questions about her Italian homework, so I decided to apply to become a tutor to help other students with the same problems I had while studying different languages. Italian is my native language, so I had to learn Spanish and French. I noticed that most students learning those languages are—for the most part—facing the same problems I had. It makes me feel good to help them.
What has been your favorite opportunity at Pace?
There are a lot of different clubs to join at Pace. I am also a dancer so having the opportunity to share my passion with other students has been great. There are also clubs related to my majors, which help me understand how to apply what I am studying in real life.
Do you have any advice for other Lubin students?
Listen and learn as much as possible. Lubin professors have a lot of experience in what they teach, so learning from them is extremely worth it. If you are having problems understanding something, or if you just want their opinion on a topic, you can reach out to them. Do not be scared or shy to reach out because they are here to help.
What does #LubinLife mean to you?
#LubinLife means friendship and opportunity. I met two of my closest friends at Pace. #LubinLife means meeting people with business mindsets, which makes it easier to share and discover new ideas. People are willing to support you, and with Lubin located in a city like New York, you will have access to the best resources, which will definitely help you succeed.