Press Release
Pace University Adopts Okanagan Charter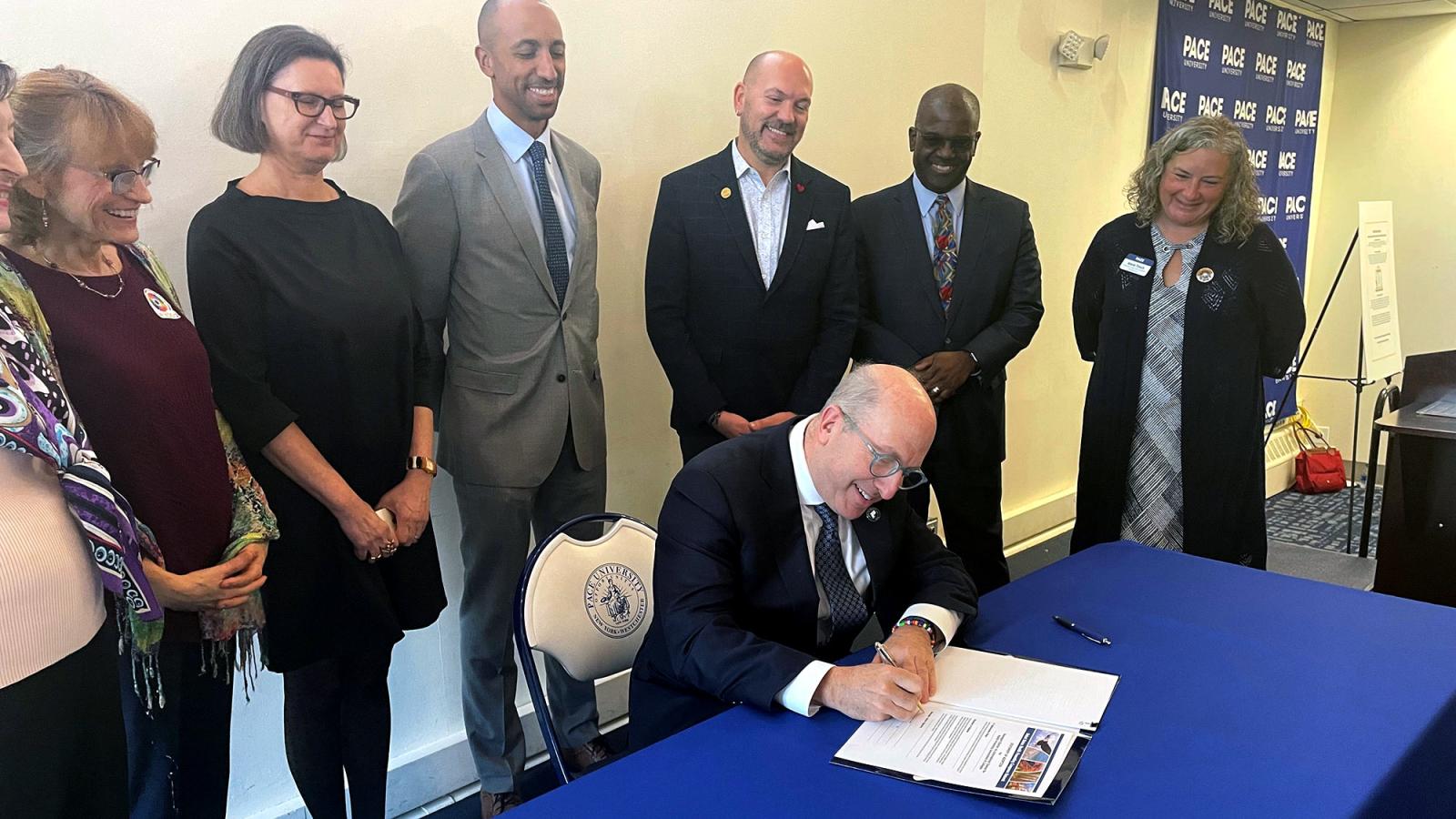 Hosts Inaugural Campus-wide Wellbeing Fair
Charter is an Internationally Recognized Initiative That Will Mark Pace as a Health-Promoting University
Pace University yesterday adopted the Okanagan Charter, an international framework for promoting wellness on campuses globally, during a campus-wide fair lauding the importance of wellbeing for its students.
Hundreds of students, faculty, and staff turned out across all three of its campuses to celebrate the signing as well as to see dozens of exhibitors and programs available to members of the Pace community.
"At Pace University, we are determined to give our students the tools they need to succeed in college, life, and their careers," said Pace President Marvin Krislov. "Today, we know that mental health and wellness supports are a key part of that, and we are expanding our investment in those crucial services—for our students, our staff, and our faculty. We are pleased to sign on to the Okanagan Charter and renew our commitment to being a health-promoting institution for everyone in our community."
The Charter has two calls to action: to embed health into all aspects of campus culture, across the administration, operations, and academic mandates; and to lead health promotion action and collaboration locally and globally. Created in June 2015, the Charter provides institutions with a common language, principles, and framework to become health and wellbeing promoting campuses.
Image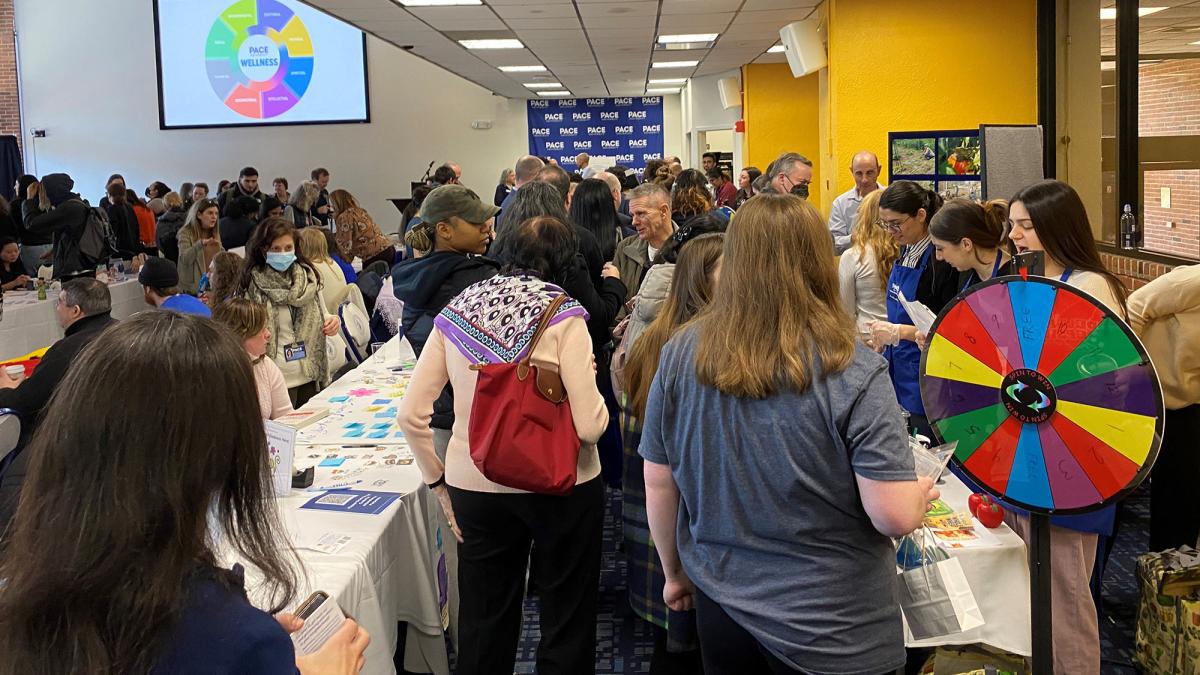 To celebrate, President Krislov signed the Okanagan Charter and Pace kicked-off their inaugural Wellbeing Fair for its community on all 3 campuses – lower Manhattan, Pleasantville, and White Plains. The Wellbeing Fair is inclusive of the entire campus community, featuring 70+ tables of well-being information and activities hosted by members of the Pace Community and neighboring organizations. This is part of Pace University's wellness strategic plan that integrates an approach to physical, mental, and financial well-being for a diverse community of students, faculty, and staff. In fact, advancing wellness is a priority for Pace's diverse community.
Pace University fosters an environment that promotes inclusion, equity, mental/emotional support, and healthy lifestyle choices to improve the overall quality of life. In developing an approach to promoting wellbeing on campus, Pace University organized their efforts and goals within three pillars: Diversity, Sustainability, and Wellness. Pre-existing goals developed by the Division of Diversity, Equity and Inclusion, Division of Campus Planning and Facilities, and the Wellness Advisory Committee with input from key constituents from across the university have informed the development of this charter document.
"We are so thrilled that Pace will be signing the Okanagan Charter to join a higher education consortium committed to being health-promoting institutions," said Todd Smith-Bergollo, senior associate dean for students and Wellbeing Fair co-chair. "This brings together our university's sustainability, DEI, and wellness goals and allows us to build more momentum toward reaching these goals."
Pace will focus upon three key principles for action to contribute to the wellbeing of people, places, and the planet. Pace University endeavors to advance diversity, equity, inclusion, and social justice where everyone can experience dignity and respect while having the opportunity to flourish while living, learning, and working in a sustainable, resilient, and thriving ecosystem.
"We are very pleased to be the 15th university in the United States to adopt the Charter," said Richard Shadick, director of the Counseling Center in New York City. "The adoption will be a boon for the wellbeing of our students, staff and faculty."
For Stephanie Spruck, a sophomore majoring in applied psychology and human relations, Pace's signing of the Okanagan charter reflects its dedication to students, faculty, and administration. "Pace not only cares for the community as educators and learners, but also for who we are as individuals, committed to our overarching health," she said. "Wellness is needed now more than ever, and I feel proud to be part of a community that values and prioritizes wellness first and foremost."
About Pace University
Since 1906, Pace University has educated thinking professionals by providing high quality education for the professions on a firm base of liberal learning amid the advantages of the New York metropolitan area. A private university, Pace has campuses in New York City and Westchester County, New York, enrolling nearly 13,000 students in bachelor's, master's, and doctoral programs in its Dyson College of Arts and Sciences, Lubin School of Business, College of Health Professions, School of Education, the Elisabeth Haub School of Law, and Seidenberg School of Computer Science and Information Systems.