Press Release
Pace University Receives $2M Federal Grant for Nursing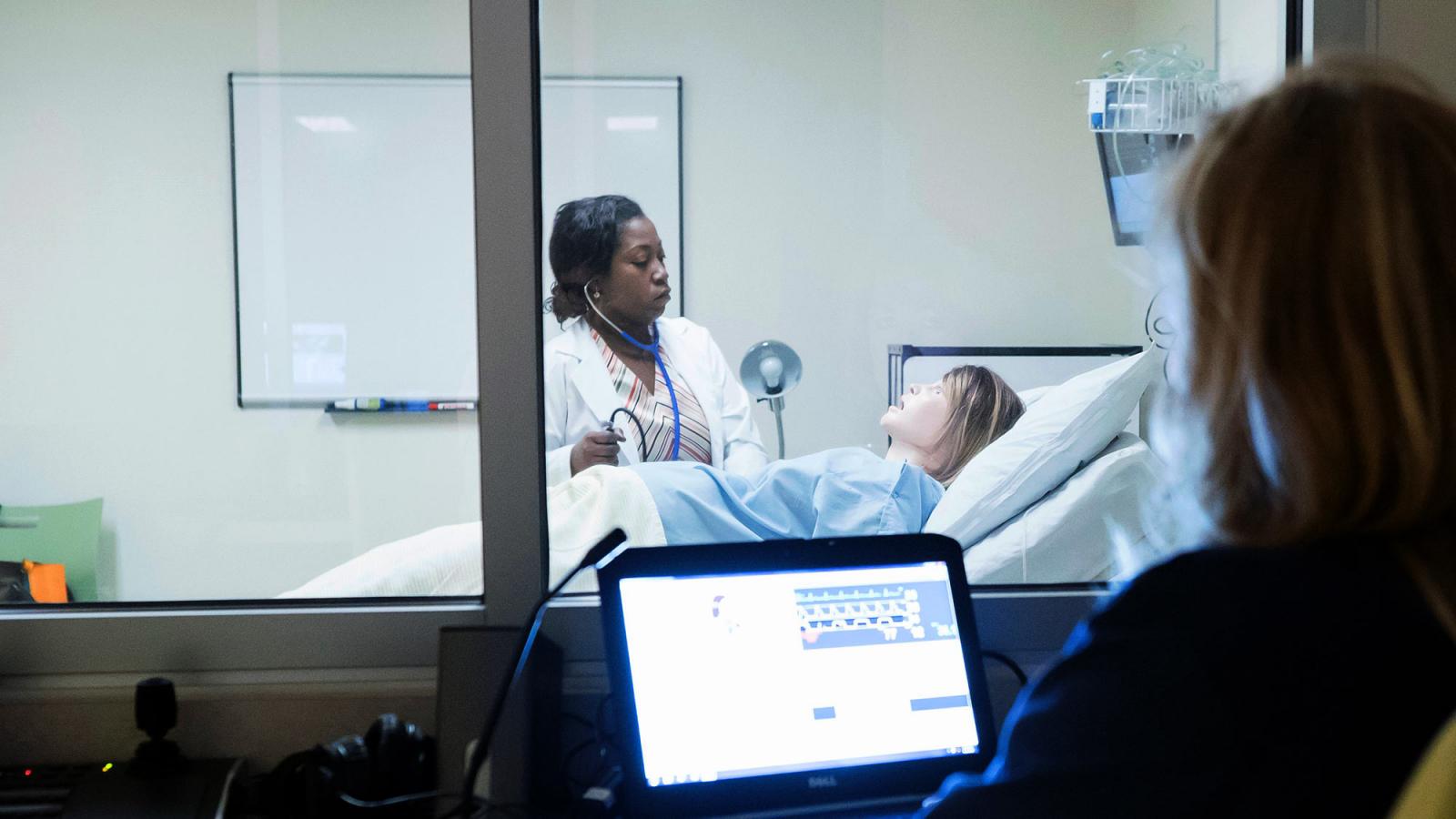 College of Health Professions' STEPS to Success Program Increases Opportunities, Retention for African American, Black, and Hispanic nursing students
PLEASANTVILLE, N.Y. (June 30, 2021) – Pace University's College of Health Professions has received a nearly $2 million federal grant to increase opportunities and retention for historically underrepresented minorities in the field of nursing.
The prestigious Nursing Workforce Diversity grant is funded through the U.S. Health Resources and Services Administration (HRSA) and is designed to increase educational opportunities and retention rates for first generation college students from underrepresented ethnic and racial minority groups, notably African American and Hispanic students pursuing a career in nursing.
The award comes at a period when society and the healthcare sector are facing a growing shortage of qualified nurses throughout the country, which was highlighted during the Covid-19 pandemic, and is adversely affecting communities with some of the greatest healthcare needs.
"I am so pleased to see this recognition of our longstanding commitment to diversity in both our student and faculty populations," said Dr. Harriet R. Feldman, dean and professor at the College of Health Professions and the Lienhard School of Nursing at Pace University. "In order to best reflect the populations we serve as nurses, we need a workforce of practitioners and educators from diverse backgrounds. The HRSA Award will move us closer to our goal."
In particular, the grant will be facilitated through the College of Health Professions' and the Lienhard School of Nursing's innovative STEPS to Success program, which provides support, scholarships, mentoring, tutoring, wellness workshops, and resiliency training aimed at preventing burnout and promoting academic success for nursing students. The grant will be funded over 4 years.
The goal in serving this population is to provide a solution to the inequality among the race and ethnicity of nurses and the populations they serve, that, in turn, results in inequities in health care outcomes, noted Rhonda Maneval, D.Ed., RN, senior associate dean, Pace University College of Health Professions and Lienhard School of Nursing.
"Receiving the HRSA NWD grant is a significant opportunity for the Lienhard School of Nursing to build on its legacy and commitment to increasing the racial/ethnic diversity of nursing students, and ultimately practicing nurses," said Maneval. "In general, schools of nursing are not educating and graduating nurses reflective of the ethnic and racial diversity of their home communities. This lack of diversity results in health disparities that have significant impact on health outcomes of minority populations. The grant allows us to better ensure a pipeline of diverse nurses into our local communities. The grant will also support our efforts to recruit and retain a more diverse nursing faculty. We are thrilled to have received this funding and look forward to implementing the program."
The grant announcement comes at an exciting time for Pace University, as it is poised to transform Lienhard Hall, home to its College of Health Professions on the Pleasantville campus, into a modernized Healthcare Hub with the help of $1 million in funding from New York State. With these critical funds, Pace will add important programming for students preparing for careers in the region's burgeoning healthcare and biotechnology sector while adding to, and modernizing, existing lab, classroom and simulation space -- all with the goal of meeting the ever-changing technology demands in the healthcare sector and preparing much needed nurses in New York State.
Additionally, it's estimated that as many as 75,000 qualified students were turned away from undergraduate and graduate programs in the U.S. in 2018 because of insufficient space, clinical sites, and faculty, according to an American Association of Colleges of Nursing's report.
The combination of grant funding will help Pace address a nursing shortage, particularly in the metropolitan and Hudson Valley regions, while creating opportunities for students interested in a career in health care.
"Pace University has always been about creating opportunities for its students," said Provost Vanya Quiñones. "These funds will go a long way in helping students start a rewarding career in nursing while helping our communities provide critical care practitioners that are the backbone of our healthcare system."
About Pace University
Pace University has a proud history of preparing its diverse student body for a lifetime of professional success as a result of its unique program that combines rigorous academics and real-world experiences. Pace is ranked the #1 private, four-year college in the nation for upward economic mobility by Harvard University's Opportunity Insights, evidence of the transformative education the University provides. From its beginnings as an accounting school in 1906, Pace has grown to three campuses, enrolling 13,000 students in bachelor's, master's, and doctoral programs in more than 150 majors and programs, across a range of disciplines: arts, sciences, business, health care, technology, law, education, and more. The university also has one of the most competitive performing arts programs in the country. Pace has a signature, newly renovated campus in New York City, located in the heart of vibrant Lower Manhattan, next to Wall Street and City Hall, and two campuses in Westchester County, New York: a 200-acre picturesque Pleasantville Campus and the Elisabeth Haub School of Law in White Plains. Follow us on Twitter or on the Pace News website.
About the College of Health Professions
Established in 2010, the College of Health Professions at Pace University offers a broad range of programs at the bachelor, master, and doctoral levels. It is the College's goal to create innovative and complex programs that reflect the changing landscape of the health care system. These programs are designed to prepare graduates for impactful careers in health care practice, health-related research, or as educators, and equip graduates to work in health policy and global health fields. Students in clinical programs receive hands-on training in the College's interprofessional Center for Excellence in Healthcare Simulation and have the opportunity to apply their developing skills in real-world settings at many of the regions' leading clinical facilities. The College is currently comprised of several growing and important areas of study, which include Nursing, Physician Assistant, Communication Sciences and Disorders, Nutrition and Dietetics, Occupational Therapy, and Health Science. Our vision is to be recognized for our innovative leadership in education, practice, scholarship, and service to improve health and the health professions. Our mission is to educate and challenge diverse students for the health professions to be leaders, innovators and lifelong learners who will positively impact local, national, and global health. For more information, please visit the College of Health Professions website and the Lienhard School of Nursing website.