Press Release
Pace University to Transform its College of Health Professions Facility into Healthcare Hub
Image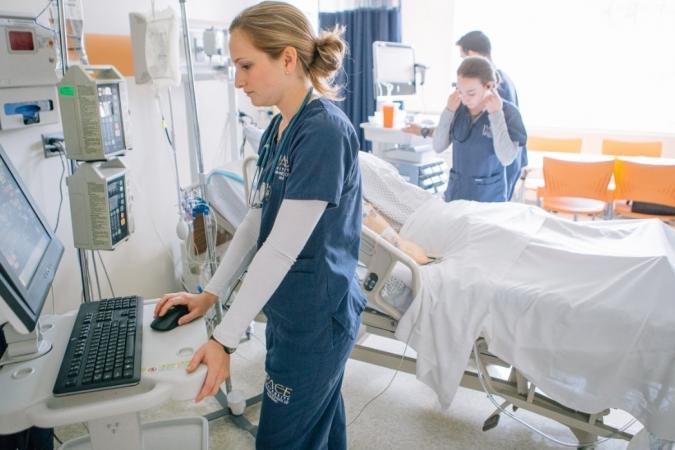 $1 Million in Matching State Funding to add programming, modernize space and help address nursing shortage
PLEASANTVILLE, N.Y. (March 23, 2021) – Pace University is poised to transform Lienhard Hall, home to its College of Health Professions on the Pleasantville campus, into a modernized Healthcare Hub with the help of $1 million in state funding.
With these critical funds, Pace will add important programming for students preparing for careers in the region's burgeoning healthcare and biotechnology sector while adding to, and modernizing, existing lab, classroom and simulation space -- all with the goal of meeting the ever-changing technology demands in the healthcare sector and preparing much needed nurses in New York State.
The grant, awarded as part of the New York State's Higher Education Capital Matching Grant Program (HECap), is intended to increase preparation, laboratories and facilities in health sciences throughout the state.
"The new Healthcare Hub on our Pleasantville campus will enable Pace University to continue our proud tradition of educating nurses and other health professionals in such high demand in our region," said Pace President Marvin Krislov. "I congratulate Pace's College of Health Professions on its successful application for a HECap grant. I thank all our partners in the New York S​tate government for this crucial funding, and I'm excited for our future CHP students, who will benefit from the state-of-the-art labs and learning spaces in the new Healthcare Hub."
The goal is to help address a growing shortage of qualified nurses throughout the region, state, and country that was highlighted during the Covid-19 pandemic, and is expected to grow as demand only increases in the field. Additionally, it's estimated that as many as 75,000 qualified students were turned away from undergraduate and graduate programs in the U.S. in 2018 because of insufficient space, clinical sites, and faculty, according to an American Association of Colleges of Nursing's report.
"We are profoundly grateful to have the opportunity to expand our state of the art Center for Excellence in Healthcare Simulation to accommodate more students to address the growing shortage of registered nurses, nurse practitioners, and nursing faculty," said Dr. Harriet R. Feldman, dean and professor at the College of Health Professions and the Lienhard School of Nursing at Pace University. "The new Healthcare Hub will also provide educational space for active learning, vital to what today's students need in nursing and allied health professions."
Lienhard Hall is the heart of the College of Health Professions; it was constructed in 1968 and is home to CHP's simulation labs, practical exam rooms, lecture hall and faculty and administrative offices. The new Healthcare Hub will allow Pace to expand capacity to educate greater numbers of pre-licensure and advanced practice nurses, as well as future faculty and nursing leaders. The Hub will also allow CHP to develop additional simulation space with high fidelity equipment, telehealth simulation capability, and advanced information technology that will support and enhance the student learning experience.
For nursing student Brandon Joachim, the new Healthcare Hub will be a great asset and learning space for students at Pace.
"I've learned and grown from the number of hands-on experiences Pace has offered from so early in the curriculum," said Joachim, a senior. "I believe the addition of the new Healthcare Hub will be a tremendous and safe place to encourage, facilitate and foster our growth. I'm truly excited to see it elevate the Pace experience and the Nursing program to the next level."
The state grant to Pace is part of $57.2 million provided to 35 colleges and universities across New York State. All recipients must invest $3 for every $1 the state provides.
"These state investments in higher ed capital projects are smart growth job creating engines that will benefit our communities for years to come," said Sen. Pete Harckham.
About Pace University
Pace University has a proud history of preparing its diverse student body for a lifetime of professional success as a result of its unique program that combines rigorous academics and real-world experiences. Pace is ranked the #1 private, four-year college in the nation for upward economic mobility by Harvard University's Opportunity Insights, evidence of the transformative education the University provides. From its beginnings as an accounting school in 1906, Pace has grown to three campuses, enrolling 13,000 students in bachelor's, master's, and doctoral programs in more than 150 majors and programs, across a range of disciplines: arts, sciences, business, health care, technology, law, education, and more. The university also has one of the most competitive performing arts programs in the country. Pace has a signature, newly renovated campus in New York City, located in the heart of vibrant Lower Manhattan, next to Wall Street and City Hall, and two campuses in Westchester County, New York: a 200-acre picturesque Pleasantville Campus and the Elisabeth Haub School of Law in White Plains. Follow us on Twitter or on the Pace News website.
About the College of Health Professions
Established in 2010, the College of Health Professions at Pace University offers a broad range of programs at the bachelor, master, and doctoral levels. It is the College's goal to create innovative and complex programs that reflect the changing landscape of the health care system. These programs are designed to prepare graduates for impactful careers in health care practice, health-related research, or as educators, and equip graduates to work in health policy and global health fields. Students in clinical programs receive hands-on training in the College's interprofessional Center for Excellence in Healthcare Simulation and have the opportunity to apply their developing skills in real-world settings at many of the regions' leading clinical facilities. The College is currently comprised of several growing and important areas of study, which include Nursing, Physician Assistant, Communication Sciences and Disorders, Nutrition and Dietetics, Occupational Therapy, and Health Science. Our vision is to be recognized for our innovative leadership in education, practice, scholarship, and service to improve health and the health professions. Our mission is to educate and challenge diverse students for the health professions to be leaders, innovators and lifelong learners who will positively impact local, national, and global health. For more information, please visit the College of Health Professions website and the Lienhard School of Nursing website.