Pace Magazine
Undergraduate Research? Pace is the Place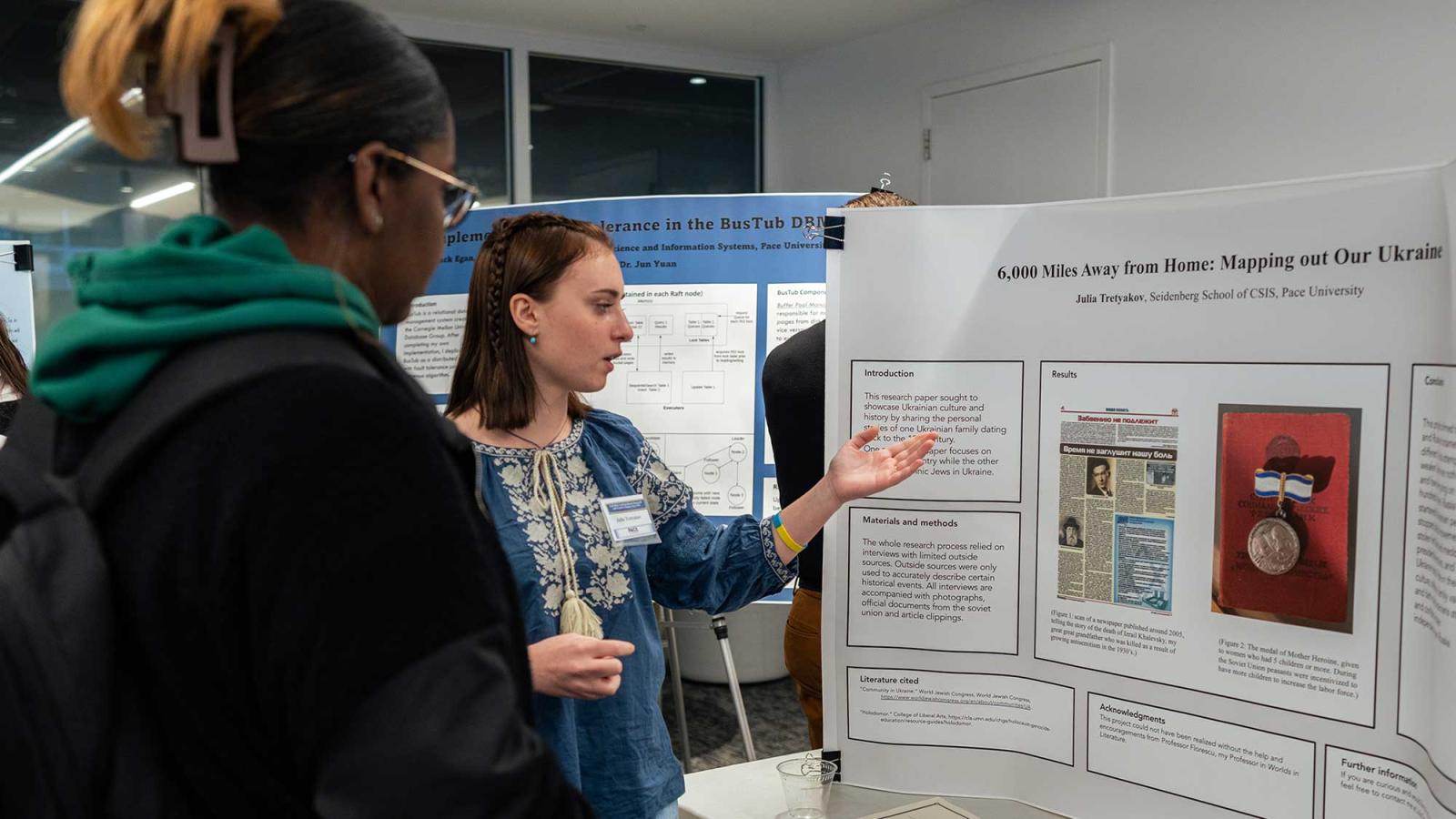 At some universities, research is typically the domain of professors only—perhaps walled off from undergraduates in a lab or library and employing only graduate students as research assistants.
Pace operates differently. Our professors are constantly pushing the boundaries of scholarship, of course, but the strong research culture at Pace extends to our undergraduate student body. Through dedicated faculty mentoring, ever-expanding initiatives and inspired administrative vision, the University is positioning itself for leadership in the high-impact pedagogical practice of undergraduate research.
"Immediately, three words come to mind—visibility, access, and expansion," says Maria Iacullo-Bird, PhD, when asked about how Pace's undergraduate research programs have evolved over the past few years.
Iacullo-Bird, the assistant provost for research and clinical associate professor of history in Dyson College, was recently elected the 2024–2025 president of the Council on Undergraduate Research, a national organization with international reach comprised of 700 institutions and 13,000 individual members dedicated to promoting and supporting mentored undergraduate research, scholarship, and creative inquiry. As president of CUR, Iacullo-Bird will further advance Pace leadership in the global undergraduate research community.
Since taking the helm in university-wide undergraduate research, Iacullo-Bird has strengthened existing Pace initiatives such as the Provost's Student-Faculty Undergraduate Research programs and expanded student access to research opportunities through Federal Work-Study Undergraduate Research Assistantships. She has guided the launch of both the Seidenberg School Summer Undergraduate Research Program and the Dyson College Amelia A. Gould Research Assistantships in the Creative Arts. Iacullo-Bird has increased student presentation options offering a combination of virtual, hybrid and in-person research showcases and has introduced the term "creative inquiry" at Pace to encourage students in the arts to participate in undergraduate research. She advocates for first-year research experiences, and the scaffolding of research within majors, while also raising awareness of existing programs and resources to ensure information is accessible to the Pace Community.
"Over the last several years in developing the Pace University Center for Undergraduate Research Experiences (CURE) website, we have created a central repository for undergraduate research activity. The website is designed to inform prospective and enrolled students, faculty, staff, and donors about the reach and depth of undergraduate research at the schools and colleges of Pace University," says Iacullo-Bird
As part of its commitment to experiential learning, Pace offers the Classroom-based Research Awards program which encourages the development of new course-based undergraduate research experiences, a long-standing part of the Pace undergraduate curriculum. Classroom-based research award projects such as the practical application of Jupiter Robots, or exploring podcast creation as an occupational therapy teaching tool, have helped bring the ethos of scholarly research and creative inquiry further into everyday coursework.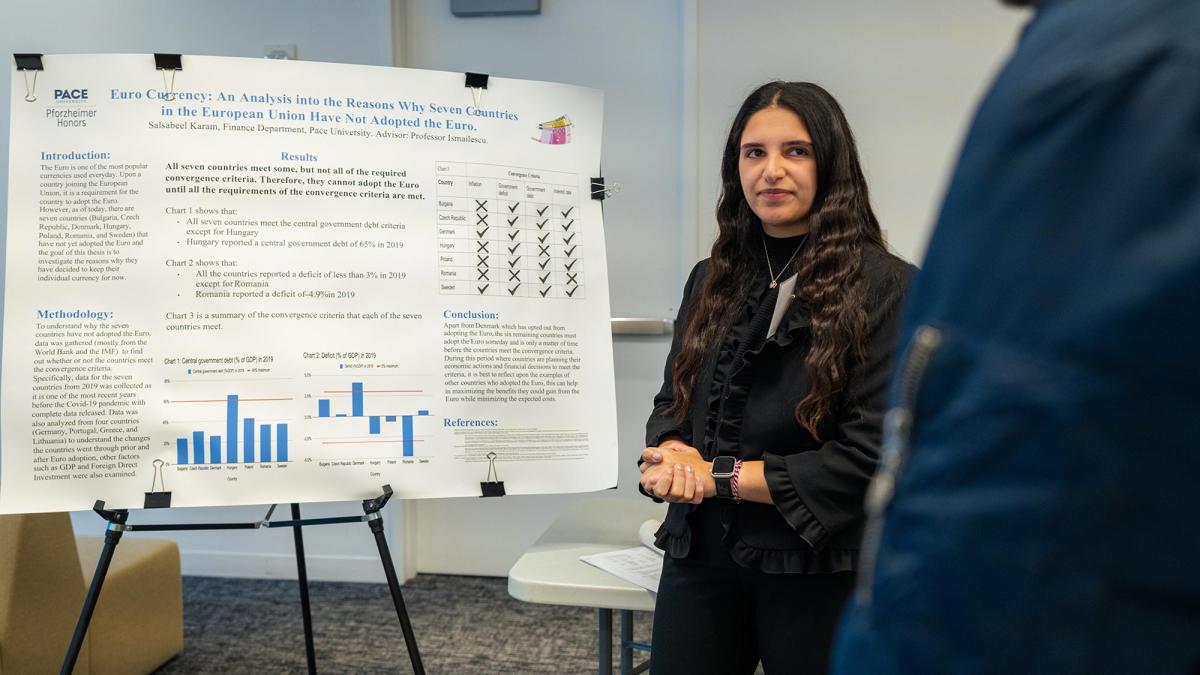 Furthermore, funding for initiatives such as the Pace Student Academic Conference Travel Fund helps students gain valuable experience presenting research at prestigious discipline-based conferences not just in the New York metro area, but around the country and even abroad.
"I am especially proud of the expanding participation of Pace undergraduate students at national and international research conferences. To cite one example, in April 2023, eight students attended the Third World Congress on Undergraduate Research at the University of Warwick in Coventry, England. They were approved to present their individual research projects through a rigorous peer review process and several of them participated in international student research initiatives presented at the Congress," notes Iacullo-Bird.
She adds, "Students have represented Pace at the National Conference on Undergraduate Research (NCUR) and continue to present at disciplinary-based conferences both within the US and abroad."
In looking to the future, Iacullo-Bird anticipates advancing the institutionalization of undergraduate research at Pace—which includes completing a survey of course-based undergraduate research experiences to create an inventory of research courses across schools and colleges; building more student-focused structures that address the responsible conduct of research; commencing long-term funding initiatives to sustain and grow programs; and most notably, continuing to build the best possible undergraduate experience for Pace students.
"I look forward to the expansion of infrastructure to sustain and expand undergraduate research at Pace," says Iacullo-Bird. "Undergraduate research and creative inquiry are an integral component of Pace experiential learning that will significantly contribute to the distinctive branding of Pace undergraduate education."
More from Pace Magazine
Pace Magazine
With the impending opening of our new modern, sustainable, and welcoming campus building at 15 Beekman and the soon-to-start renovations of One Pace Plaza East, Pace has big plans for downtown. Simply put: Pace is building.
Pace Magazine
For 42 years, Ellen Sowchek has been sharing her infectious enthusiasm for Pace University history. Take a look at five of her favorite finds from the University archives.
Pace Magazine
National Championship? Check. A trip to the White House? Check. Read all about Pace women's lacrosse's dream season.