How to sign on to the NYASC-L listserve
The NYASC-L discussion list is an OPEN list so anyone can subscribe.
To subscribe to the list
Create a new email message.
Address it to listserv@list.pace.edu. There should be no subject in the subject line.
The text of the email should be: subscribe nyasc-l firstname lastname (Note the address is NYASC-L and not the number 1). Where firstname and lastname are your name. Please do not include a signature in the message.
Image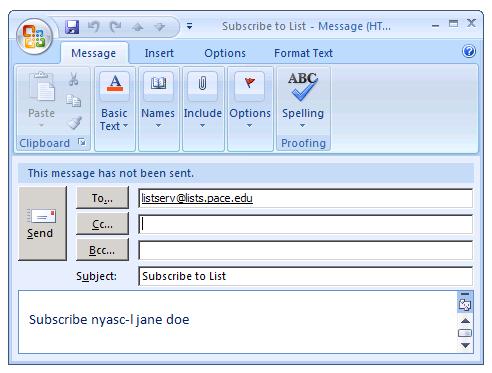 You will receive an email back asking you to confirm the subscription. Reply to that email with the message ok. You will then become subscribed to the list and receive a final confirmation.
To unsubscribe to the list
To unsubscribe, follow the same procedure except the text of the message is: unsubscribe nyasc-l.
To post a message
To post a message to the list, please send your message to one of the following and it will be submitted to the listserv: mstambaugh@pace.edu, dmoreno@pace.edu, igarcia@pace.edu, or mpotolsky@pace.edu.
Note: Any replies to the list will go to only the originator of the email.