Press Release
Pace University Appoints New Dean for its College of Health Professions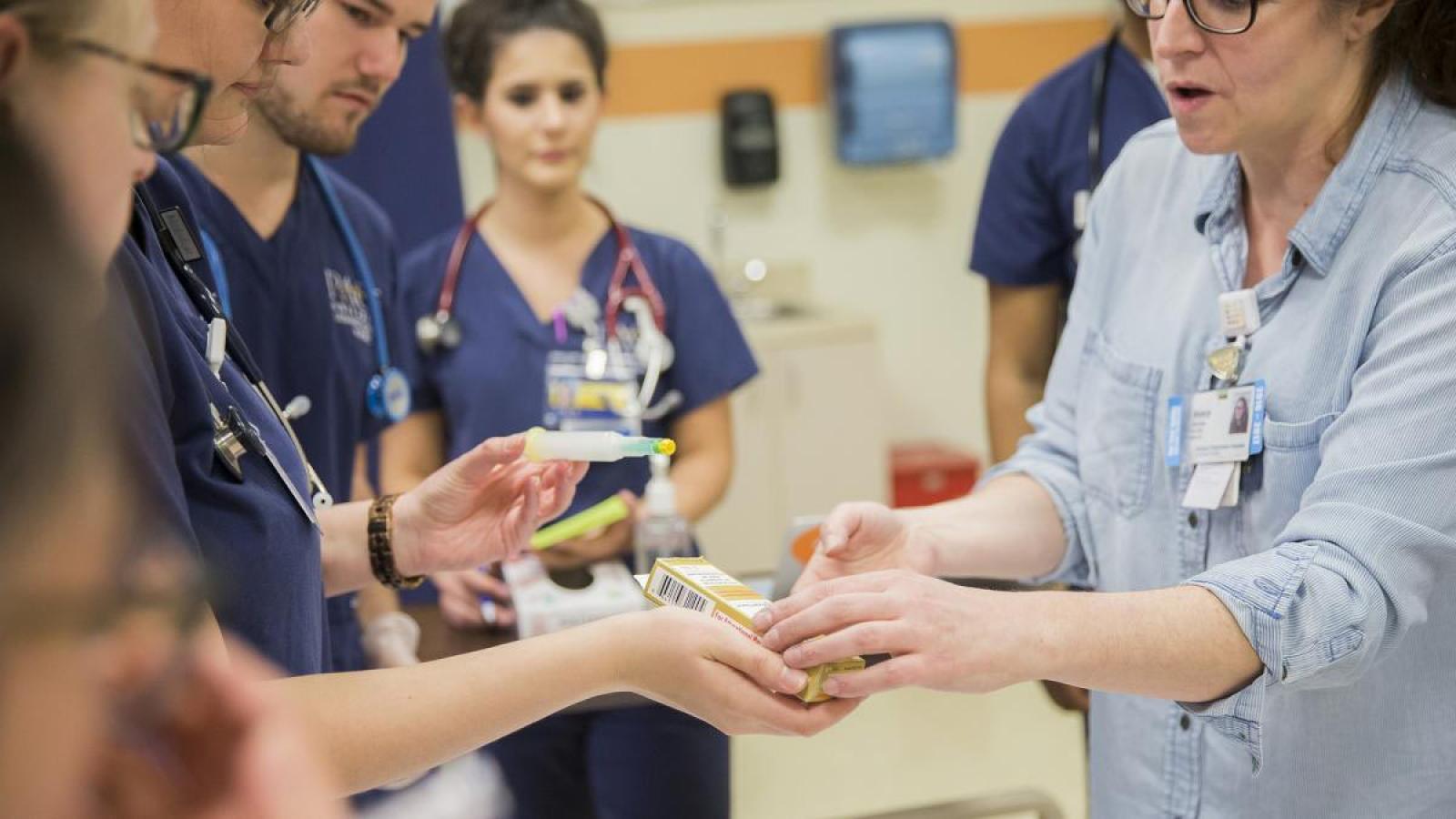 NEW YORK & PLEASANTVILLE, N.Y. (July 20, 2021) – Pace University has appointed Marcus C. Tye, PhD, as dean of its College of Health Professions. The appointment is effective July 1, 2021.
Tye, a licensed clinical psychologist, comes to Pace having served as dean of the School of Health Sciences and interim dean of the School of Education at the College of Staten Island, City University of New York (CUNY). He succeeds Dr. Harriet R. Feldman, who served as a professor at the Lienhard School of Nursing and as dean for the College of Health Professions for 28 years.
"Marcus C. Tye comes to Pace University with a wealth of experience as a clinician and an academic leader who will serve our students well as they prepare for rewarding, in-demand careers in the health professions and health sciences," said President Marvin Krislov. "We welcome him to the University, and I look forward to working with him as we continue to grow our College of Health Professions. We also salute Dean Feldman for her impressive tenure building CHP."
The appointment comes at an exciting time for Pace University, as it is in the process of transforming Lienhard Hall, home to its College of Health Professions on the Pleasantville campus, into a modernized Healthcare Hub and adding important programming for students preparing for careers in the region's burgeoning healthcare and biotechnology sector. Additionally, Pace was recently awarded a $2 million federal grant to increase opportunities and retention for historically underrepresented minorities in the field of nursing.
"Dean Tye's career and expertise align well with the vision, goals, and mission of Pace University, and our aim to educate our student body for current and future healthcare challenges," Provost Vanya Quiñones. "We welcome Dean Tye to Pace and are excited that he will bring the necessary know-how to prepare our students as successful healthcare professionals. We also would like to express our appreciation to Dean Emerita Harriet R. Feldman, who is retiring from the deanship after 28 years of service. We thank her for her long and successful leadership of the College of Health Professions and her strong commitment to the University."
Prior to Tye's positions within CUNY, he served as regional lead of a master's in counseling psychology program at National University in Fresno, California, and held earlier positions at private and public institutions. In those previous roles, his leadership focused on student success and program development.
A prolific author, he has written a comprehensive survey textbook on gender and sexuality rooted in the biopsychosocial model with an emphasis on cultural diversity. He has lived and worked in Europe, Asia, Micronesia, and North America, and cultural diversity forms a core part of his professional writing and work.
Tye has also provided psychological services in assisted living facilities, inpatient rehab, and long-term psychotherapy, as well as consulting in criminal and civil cases.
Tye holds a PhD and master's degree in Psychology from the University of North Dakota and a bachelor's degree in Psychology from Princeton University with additional undergraduate study at St. Anne's College, Oxford University. He currently serves on the board of Princeton's LGBTQIA+ alumni association.
"It's a privilege to join the College of Health Professions and work to create new programs to complement the already strong roster of program offerings," Tye said. "I believe Pace is uniquely positioned with medical center affiliations throughout Westchester and NYC to develop new programs in genetic counseling and precision medicine, public health and other fields in the health sciences, and to further diversity and inclusion in interprofessional education with cultural competence and LGBTQIA+ populations. From my first teaching position in 1997, I have worked at universities and colleges that have focused on first-generation students, so I am proud to work for this University that leads the country in social mobility among private universities."
About Pace University
Pace University has a proud history of preparing its diverse student body for a lifetime of professional success as a result of its unique program that combines rigorous academics and real-world experiences. Pace is ranked the #1 private, four-year college in the nation for upward economic mobility by Harvard University's Opportunity Insights, evidence of the transformative education the University provides. From its beginnings as an accounting school in 1906, Pace has grown to three campuses, enrolling 13,000 students in bachelor's, master's, and doctoral programs in more than 150 majors and programs, across a range of disciplines: arts, sciences, business, health care, technology, law, education, and more. The university also has one of the most competitive performing arts programs in the country. Pace has a signature, newly renovated campus in New York City, located in the heart of vibrant Lower Manhattan, next to Wall Street and City Hall, and two campuses in Westchester County, New York: a 200-acre picturesque Pleasantville Campus and the Elisabeth Haub School of Law in White Plains. Follow us on Twitter or on the Pace News website.
About the College of Health Professions
Established in 2010, the College of Health Professions at Pace University offers a broad range of programs at the bachelor, master, and doctoral levels. It is the College's goal to create innovative and complex programs that reflect the changing landscape of the health care system. These programs are designed to prepare graduates for impactful careers in health care practice, health-related research, or as educators, and equip graduates to work in health policy and global health fields. Students in clinical programs receive hands-on training in the College's interprofessional Center for Excellence in Healthcare Simulation and have the opportunity to apply their developing skills in real-world settings at many of the regions' leading clinical facilities. The College is currently comprised of several growing and important areas of study, which include the Lienhard School of Nursing with Nursing programs from undergraduate through doctorate, Physician Assistant, Communication Sciences and Disorders, Nutrition and Dietetics, Occupational Therapy, and Health Science. Our vision is to be recognized for our innovative leadership in education, practice, scholarship, and service to improve health and the health professions. Our mission is to educate and challenge diverse students for the health professions to be leaders, innovators and lifelong learners who will positively impact local, national, and global health. For more information, please visit the College of Health Professions website.