Students
From Pixel to Product: A Game Developer's Quest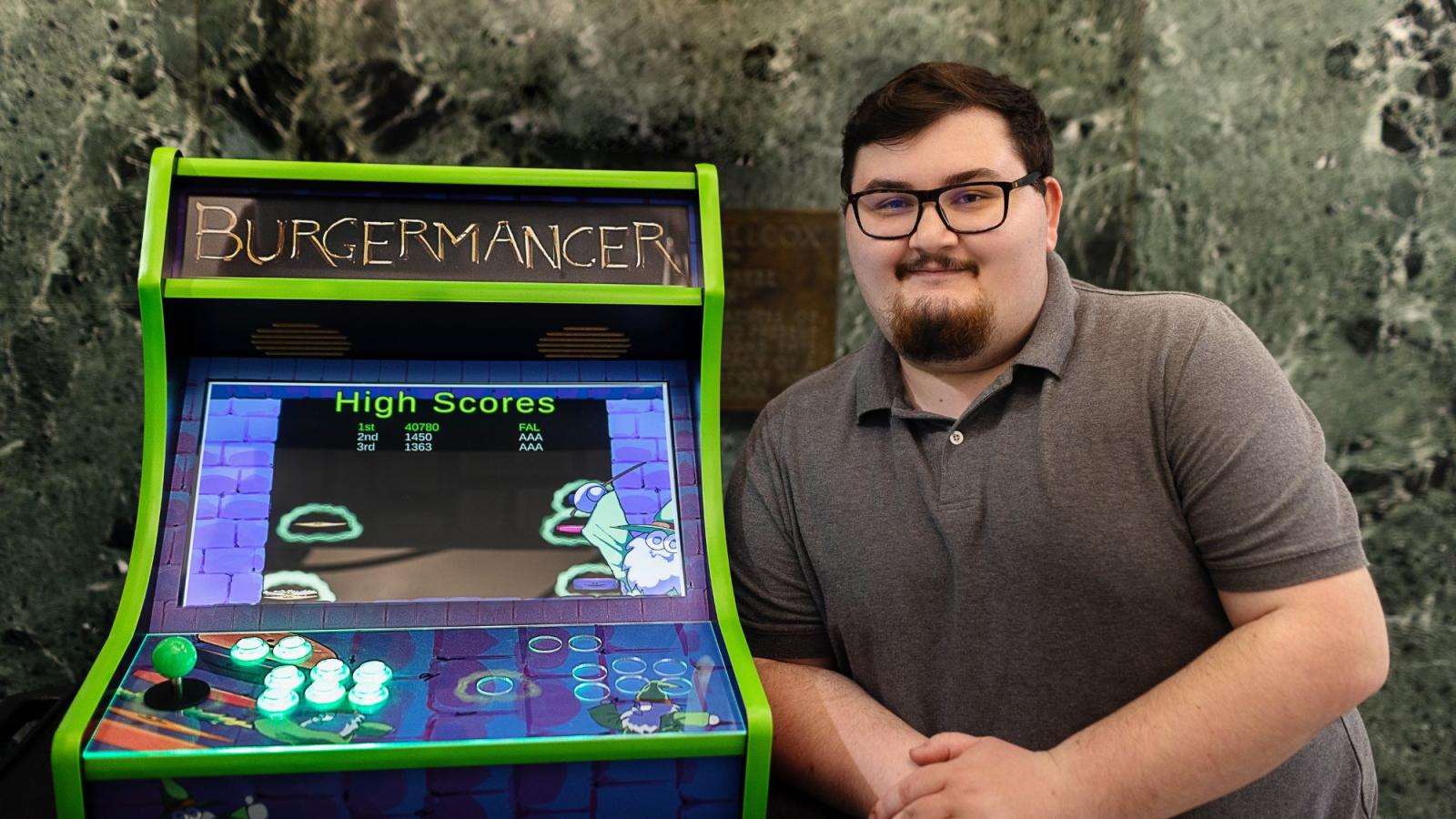 Michael Falco—who goes by Falco—came to Pace to study computer science with the hopes of building video games. When he took a new course, Game Development for Everyone, it opened up a world of possibilities and led to Falco not just programming but physically building an arcade-style game, which is playable in person on the Pleasantville campus.
Students like Falco who are deeply passionate about building games led to the creation of the new BS in Game Development, which launches Fall 24.
We asked Falco to tell us about how his passion for games was able to unfold and grow at Pace University.
What brought you to Pace University?
Originally when looking for a college I wanted somewhere far enough away to do my own thing but close enough to home that I could come home for Sunday dinner if I was inclined. When visiting the campus I liked how the freshman dorms weren't the typical cinder block asylums I saw at other places I visited.
Tell us about your experience with game development at Seidenberg
At the end of my sophomore year I began to grow frustrated with the lack of game development focused classes at Pace as that was something I was passionate about learning. Luckily enough, my junior year I took Game Development for Everyone (despite being advised not to, as I wouldn't receive any credits for it). It turned out to be the best decision I've made at this university, hands down. Game Development for Everyone which taught me more about scripting then some of my core Computer Science classes for my major. The class allowed for a lot of creative freedom when it came to the projects and it helped me get a grasp on the fundamentals of independent unity game development. I loved that class so much that the projects I worked on were the basis of my honors thesis.
What opportunities did you get at Pace?
During my time at Pace I had an abundance of help from every corner of this university—friends, faculty, and staff all gave me endless opportunities to develop myself and my career. The most notable opportunity was everything the Honors college offered, such as the mentor program and the thesis project. Because of the mentor program, I was able to meet new lifelong friends and was able to work part time and eventually move to full time in the Client Support Office doing IT work here at Pace University. While working full time, I developed my honors thesis which pushed me to work outside of my comfort zone of my own technical skill sets, as well as to reach out and network for talent to collaborate with. At one point, I was managing programming the game myself, coordinating with an artist and a musician, managing the budget for funding the materials, doing research, and working my full-time job. Needless to say, I was given ample opportunity to gain experience here
What's next for you?
Currently I am finishing up my graduate degree, the MS in Cybersecurity here at Pace while still working IT. I hope to round out my toolset and apply for bigger and better things after graduation. As for game development, I am still passionate about the medium and see myself making more games in the future.
What advice do you have for future students?
The best advice I can give is be open to every opportunity. The staff at Pace—and especially Seidenberg—love opening doors for student creativity and expression as well as general skill set growth. Go to every event, meet new people and do the projects you are passionate about, even if nobody has done it before at Seidenberg.
Anything else you'd like to add?
Visit my website to play the games I've made so far! Also make sure to go to the Honors Lounge in Kessel Student Center on the Pleasantville campus to play my arcade game, **BurgerMancer** in person! For anything else you can reach me on LinkedIn!