Image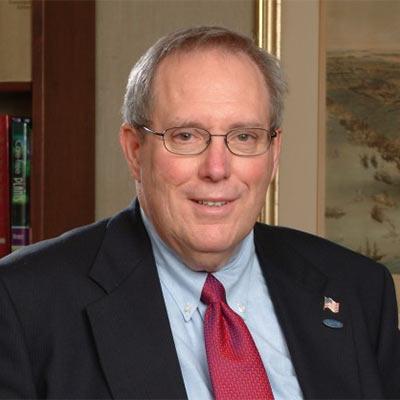 David A. Caputo
Term of Office: 2000–2007
David Armand Caputo became the sixth president of Pace University in July 2000, and presided over its 100th anniversary in 2006. During Caputo's tenure, Pace accelerated its regional and national leadership, following a five-year strategic plan titled "Reaching New Heights." Funded research grants for faculty grew from about $500,000 to nearly $7 million. The Pace Academy for the Environment forged a consortium of nearly 50 colleges and universities in the Hudson River Valley to address environmental concerns. Conferences and a Pace Downtown Index of economic activity involved the University in the revitalization of lower Manhattan. The Pace Poll, the only New York City-based university polling institute, was founded to advance understanding of issues facing New Yorkers and other citizens.
Pace is one of the original ten founders of Project Pericles, a consortium of campuses that encourage lifelong participation in democratic processes. Partnerships between Pace, the Hudson Stage Company, "Inside the Actors Studio" televised on the Bravo Network, and the Actors Studio MFA program raised the curtain on new educational and theatrical opportunities for students. In 2005 Pace University joined an elite group of universities and colleges that are certified to offer college degrees in China to Chinese citizens. The University's involvement in teaching and exchange programs expanded there and in Italy and Brazil.
Caputo's focus was on strengthening teaching and research and making the University more student-centered. Administrative functions were improved by a comprehensive, state of the art Enterprise Resource Planning system. Plant improvements in downtown Manhattan included a new student residence hall on Fulton Street, educational facilities on William Street, a new multi-purpose room, and a total renovation of the Eddie Layton Student Union in the One Pace Plaza building complex. In Westchester County, the University added a new campus welcome center and a modern, multi-purpose fitness and recreation center in Pleasantville, and the New York State Judicial Institute in White Plains.
After seven years of service, Caputo retired from the presidency on June 3, 2007. Stephen J. Friedman, then Dean of the Law School, was appointed as interim president.