Image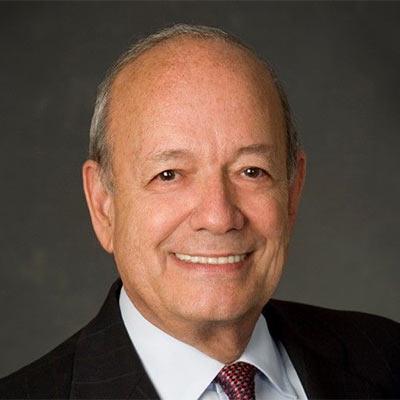 Stephen J. Friedman
Term of Office: 2007–2017
Stephen J. Friedman became the seventh president of Pace University on June 4, 2007. As president of Pace, Mr. Friedman has presided over a substantial increase in core enrollment while sustaining the University's historic commitment to providing access for students from all economic backgrounds. An advocate of education for the professions, he regards the combination of liberal arts and career preparation as critical for creating opportunity and improving the nation's global competitiveness. Under his leadership, Pace has established an increasing number of new academic programs, placed greater emphasis on study abroad and other international experiences for students, launched an ongoing revitalization of the major campuses in New York and Pleasantville, and built a solid financial foundation for advancing Pace's mission.
Prior to being named president, he served for three years as dean of Pace University School of Law.
Mr. Friedman is a former senior partner and co-chair of the Corporate Department of Debevoise & Plimpton LLC. He has served as Commissioner of the Securities and Exchange Commission, Deputy Assistant Secretary for Capital Markets Policy at the United States Treasury Department, as executive vice president and general counsel of the Equitable Companies Incorporated and the E.F. Hutton Group Inc., and as law clerk for U.S. Supreme Court Justice William J. Brennan, Jr.
Mr. Friedman has written and lectured widely on regulation of the securities markets and of financial institutions. He is the editor of "An Affair with Freedom", (Atheneum 1967), a collection of Justice Brennan's opinions and speeches during his first ten years on the Supreme Court.
Mr. Friedman is chairman emeritus of the American Ballet Theatre. He serves as a Board member of the National Museum of the American Indian in New York, and as a member-at-large of the executive board of the Coalition of Urban and Metropolitan Universities. Mr. Friedman also serves on the board of directors for the Alliance for Downtown New York, Inc., Westchester County Association, and Project Rebirth. He has previously served as a trustee of the Commission on Independent Colleges and Universities, the New York Downtown Hospital, and on the board of directors for the New York Stock Exchange Regulation, Inc. He is a Trustee Emeritus of the Practicing Law Institute.
Mr. Friedman received his AB magna cum laude in 1959 from the Woodrow Wilson School of Public and International Affairs at Princeton University, and his JD magna cum laude in 1962 from Harvard Law School, where he was an editor of Harvard Law Review and a recipient of the Sears Prize.