Alumni
The Inspiring Journey of Rossana Rosado '83
From award-winning journalist, to first female editor-in-chief, CEO, and publisher of the nation's largest Spanish language newspaper, to New York State Secretary of State, Commissioner Rossana Rosado is inspired by the stories of others.
Image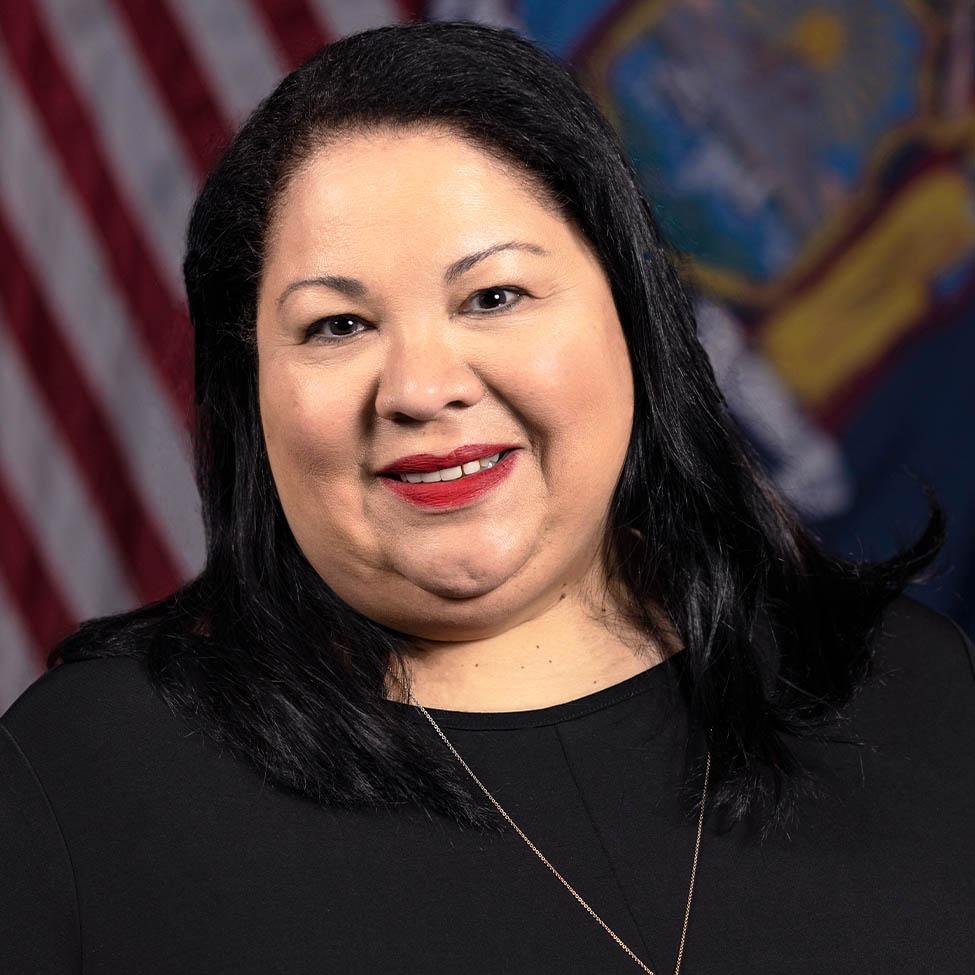 You are currently commissioner of the New York State Division of Criminal Justice Services (DCJS). Tell us more about this role. How is this role meaningful to you and what do you hope to achieve through it?
I was confirmed as Commissioner in February of 2022 by the New York State Senate after being nominated for the position by Governor Kathy Hochul. Our mission is to enhance public safety by providing resources and services that better inform decision making and improve the quality of the criminal justice system.
DCJS administers more than $400 million in state and federal funding to local community organizations and law enforcement agencies. We also oversee nationally recognized gun violence prevention programs; provide training for police and peace officers, probation officers, correction officers, and security guards; and support probation and community correction programs, and forensic labs, among other programs. We provide comprehensive assistance to all facets of the criminal justice system. This allows us to be an integral part of moving our justice system forward—and ensuring it works fairly, equitably, and efficiently for all.
The most meaningful aspect of this work for me is to be able to influence policy, to bring a new perspective, and to constantly focus on how we can improve and make sure all these systems consider the humanity of everyone involved.
You received a Bachelor of Arts in Journalism from Pace. What attracted you to pursue this course of study and how had it prepared you for your career in public office?
I think it is true that any degree can prepare you to be a good journalist, but I also believe that a degree in journalism prepares you for any role. The basics are reading, writing, and an honest interest in other people. I was always interested in the stories of others—how they got here and how they moved in the world. I was fascinated by the way in which people blend the values from their ancestry with our modern society. The most important part of being a journalist is to be a willing and patient listener and to be genuinely interested in opinions other than your own.
Have certain faculty been instrumental in your academic and/or professional journey?
Bob Klaeger was an influential professor for me at Pace because he pushed me to compete for an internship, which I won, and which was life changing, as I spent a summer at WCBS-FM radio with a wonderful mentor who just opened the media world to me. I also stayed in touch for many years with Dr. Betty Torrance who taught Spanish—that was my minor.
College is a significant time in a person's life. As you look back at your time as a Dyson student, how did it influence you to become the person you are today?
College was my first time away from home. I was a whole 30 minutes away from my parents, but the contrast between my Bronx neighborhood and the small college campus (what is now Pace's Haub Law Campus) was significant. I think that time away from my household, making independent decisions about my interests and direction, was crucial to my development as a journalist and as a leader. I believe that I would not have grown as much at a school in the city. The ability to live on campus and still be close to my Puerto Rican family was perfect for me and my parents.
One of my jobs was at the pub on campus (love the '80s!). Pouring pitchers of beer for law students and undergrads gave me an opportunity to meet a cross section of folks, including commuters and night students. It really gave me a sense of the world outside my neighborhood, and I found I enjoyed meeting folks from all over the world. I was interested in their journeys. I liked being part of a bigger community.
The most meaningful aspect of this work for me is to be able to influence policy, to bring a new perspective, and to constantly focus on how we can improve and make sure all of these systems [in criminal justice services] consider the humanity of everyone involved.
Before entering public office, you had a very successful, award-winning career in journalism, with roles at WNYC, WCBSAM, and, later, as the first woman to be named editor-in-chief and to serve as CEO and publisher of El Diario, the country's largest Spanish language newspaper. As both a woman and a Latina, were there challenges that you faced, and if so, how did you overcome them?
I had a wonderful 30-year career in media. I worked at jobs that I loved. I learned so much and had the opportunity to lead teams, to influence public opinion, and to empower the Latino community. I had many challenges as a woman and a Latina both inside my own newsroom and outside in the world.
Although there has been progress, I grew up in a chauvinistic society in a male-dominated profession. Challenges can drive you out or make you stronger. My way of dealing with them was to confront them, to push back and to challenge the perceptions that other people had about who I should be, what I should do, and what I should wear while doing it all. It could be exhausting at times, but I hired more people like me, and I built a team of change agents.
What drew you to public service and what initiatives or achievements are you most proud of and why?
I always knew that I wanted to enter public service in my 50s when my kids had graduated college and I got to live that dream when I was asked to be Secretary of State. I spent my first two years as Secretary building an infrastructure for immigrants in distress, as the presidential administration at the time was targeting them. I am proud to have been able to help so many immigrants in New York. And I am proud of the work we did during the pandemic to address the inequities in health care. I have met the most brilliant people I have ever worked with in government.
You are a first-generation college student, born in the Bronx, New York, with your family moving to the United States from Puerto Rico. How did your early life experiences inform the values you would have as an adult in both your personal life and career?
Being a Bronx born-and-bred Puerto Rican has shaped who I am in so many ways. My core values come from my amazing family and upbringing. They embody love and justice and are committed to helping others, especially those who have less. I grew up surrounded by loving adults who loved Puerto Rico, unpacked its traditions in our kitchens, and fed us that heritage in our rice and beans. When you learn at an early age who you are and where your people are from, your confidence comes from that history. You are armed for success.
What advice would you give to our students, as they navigate their college life?
My advice to all students is to Pace yourself—pun is intended—be present and enjoy the journey. I was always in a hurry to get through the four years. It is important to look up from your screen and cultivate your relationships with other students and especially with the adults at the College who are in a position to help you. The social gatherings and opportunities are as important as attendance in class. College is an experience, don't miss it.
Also, don't be concerned if you don't know exactly what you want to do in the future. Enjoy the process of learning new things and meeting new people. Getting A's is fine, but sculpting your future self is the higher mission.
What do you enjoy doing in your spare time? What inspires you creatively?
Most who know me would say I have no spare time, but I do try to protect my personal time, which I dedicate to my passions. I am a voracious reader; I keep a book journal and challenge myself to beat last year's numbers! I prefer fiction and memoirs or biographies. Also, if I like a book, I will stalk the author until I find their email address and write to them. Roxane Gay responded to my email, and I was over the moon.
I also enjoy cooking and hosting friends and family. What inspires me creatively are other people. I am most moved and energized by the stories of others. This was very difficult for me during the pandemic. I hosted many Zooms with friends. Outside of my work hours, I am continuously involved in mentoring Latino professionals and assisting folks returning to the community from prison.
Dyson Digital Digest: Summer 2022
Students
On May 16, 2022, Pace University spent a joyful day celebrating the Classes of 2020, 2021, and 2022 at the USTA Billie Jean King National Tennis Center.
Alumni
Selected for the Minority Fellowship Program by the National Board of Certified Counselors, Ashley Davis '22 is paving her own path in mental health counseling.
Alumni
If you're looking for shows to add to your streaming queue this summer, Dyson alumni have scored big roles across genres and platforms.