Students
Pace Celebrates First In-person Commencement in Three Years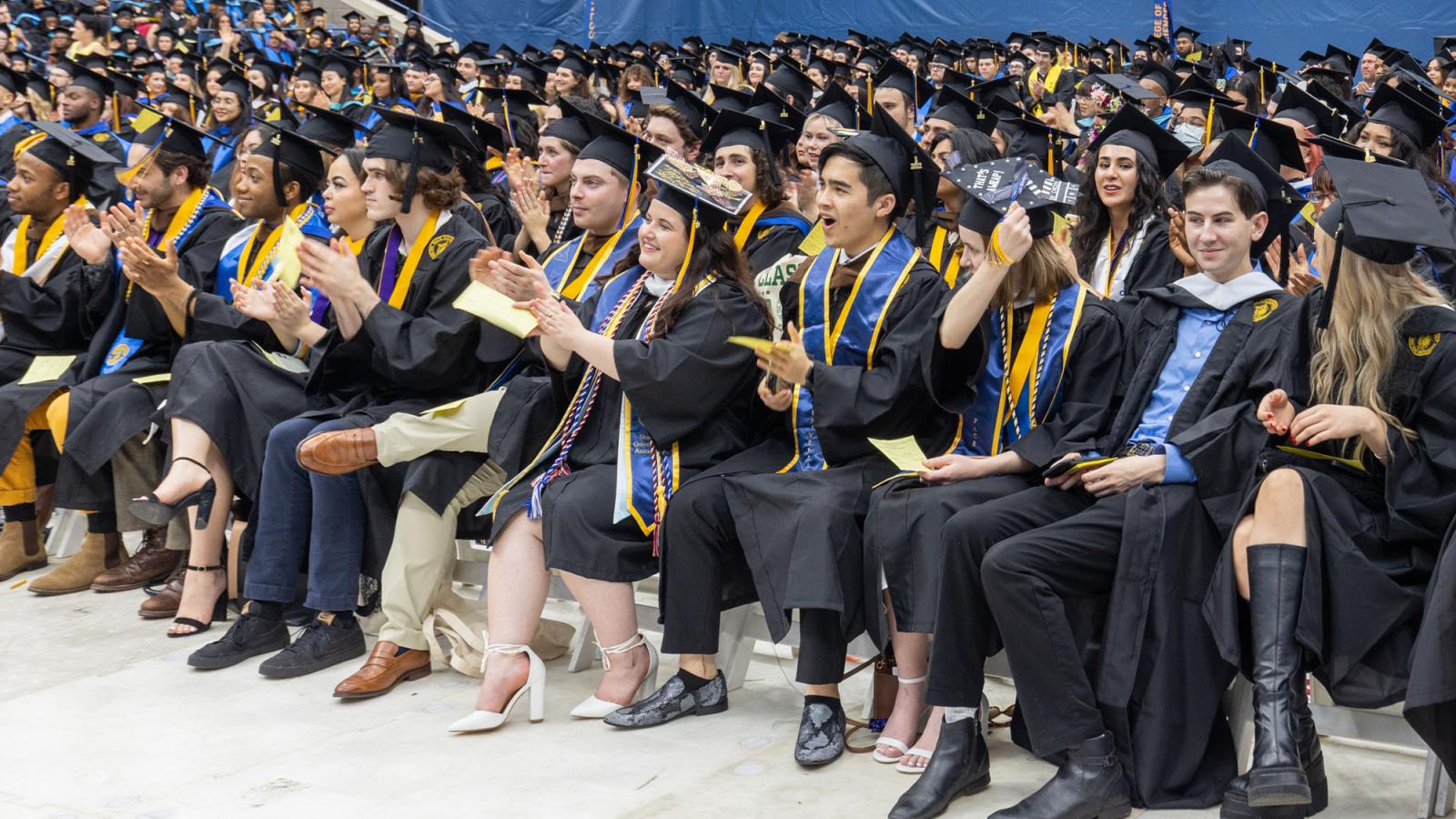 On May 16, 2022, Pace University celebrated the Classes of 2020, 2021, and 2022 in the first in-person commencement ceremony in three years at the USTA Billie Jean King National Tennis Center. It was also the first time that the Westchester, New York City, and Elisabeth Haub School of Law commencements were combined in one ceremony. Throughout the day, the center plaza was bustling with beaming graduates and proud loved ones snapping photos, listening to music from a live DJ, and enjoying treats from food trucks.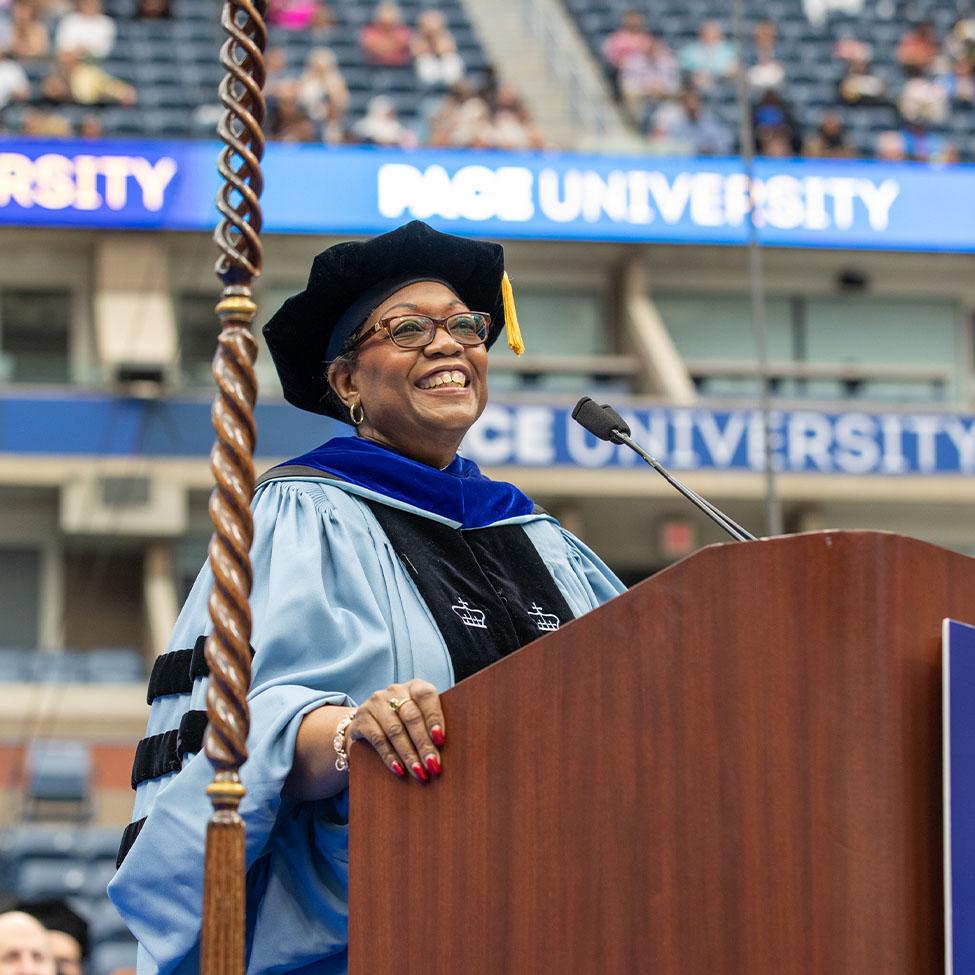 The day began with an opening ceremony for all graduates in Arthur Ashe Stadium, where New York City Mayor Eric Adams delivered the Commencement Address and was conferred an honorary doctoral degree. Graduates then crossed the stage at separate ceremonies dedicated to each School and College, with the Dyson College of Arts and Sciences and School of Education hosting a combined ceremony in the Arthur Ashe Stadium.
Addressing graduates in person for the first time since joining Pace in 2020, Dean Tresmaine R. Grimes, PhD, encouraged students to be present and honor their achievements. "I want you to remember today, clearly, happily, and with pride," she said. "Savor every moment – capture them so that your reflections on your accomplishments are seared vividly in your memory. Those memories will carry you forward in all that you do."
Image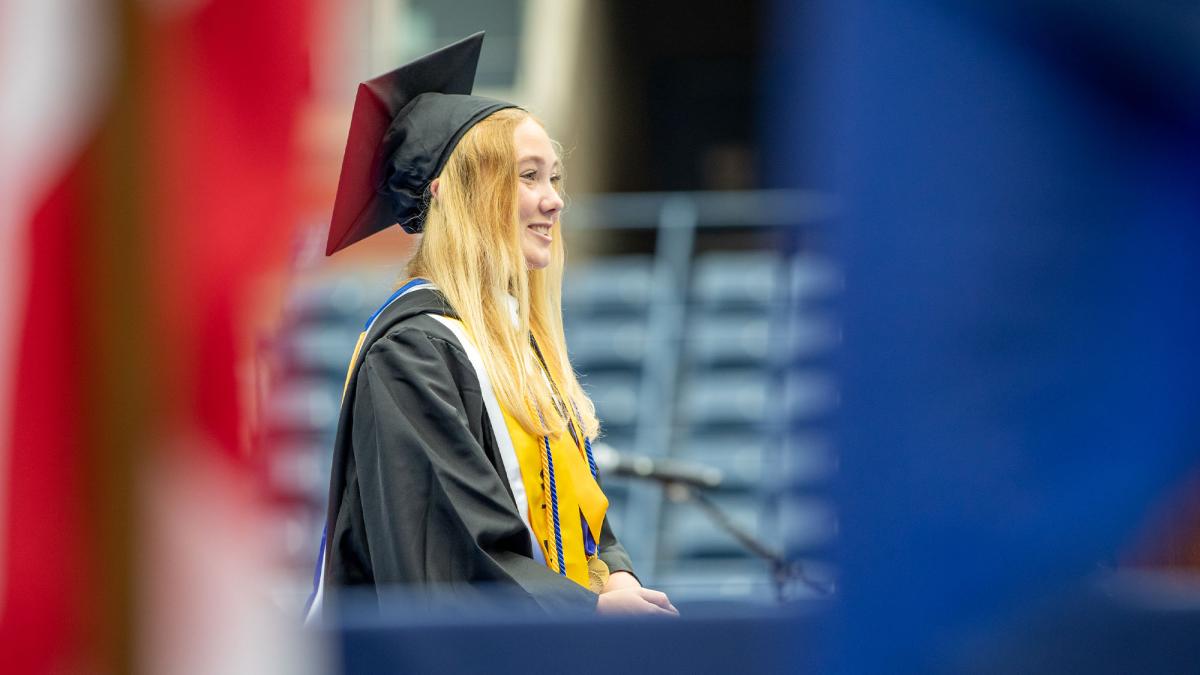 Dyson College student speaker and Scholastic Achievement Award winner Chloe N. Mayhew (pictured above) spoke to her peers about her evolution from a first-year student focused on her own journey to an empathetic, open-minded life-long learner. "As liberal arts graduates, we have acquired the tools to act as change agents, to promote the betterment of civilization," she said, adding, "Over my past four years at Pace University, I have come to realize how little I truly know about our world, and that a wise person knows that they are never done learning."
Dyson faculty and students were recognized for their accomplishments with university-level awards at Commencement, while college-level awards were presented at on-campus award ceremonies in the days leading up to Commencement.
Faculty Awards
Distinguished Professor
Ellease Ebele N. Oseye, MFA, English
Kenan Award for Teaching Excellence
Matthew Marcello, PhD, Biology (New York City)
Anna Shostya, PhD, Economics (New York City)
Ramon Emilio Fernandez, PhD, Math (Pleasantville)
Student Awards
Trustee Award
Presented to the graduating student whose positive contributions to University life and academic accomplishments exemplify the highest level of achievement attainable for an undergraduate.
Maria Elisa Escobar, Women's and Gender Studies
Community Service Awards
Presented to the graduating students whose active contributions to the life of the University community and to the endeavors of our neighbors in the surrounding community and most admirably embody an appreciation for the value of social responsibility.
New York City: Alexandra Marie Kennedy, Sociology and Anthropology
Pleasantville: Irach'e "Shea" Teague, English
Charles H. Dyson Award
Presented to the outstanding member of the Society of Fellows of Dyson College.
Isabelle A. LaBianco, Economics
Scholastic Achievement Award
For excellence in scholarship, effectiveness in class discussion, research, and outstanding performance in a baccalaureate degree program.
New York City: Torah Lenge Muyambo, Political Science
Pleasantville: Chloe N. Mayhew, Political Science
Graduate Student of the Year
Presented in recognition of scholarship and exceptional dedication to the ideals of their school.
Alexis Nicole Ferguson, Psychology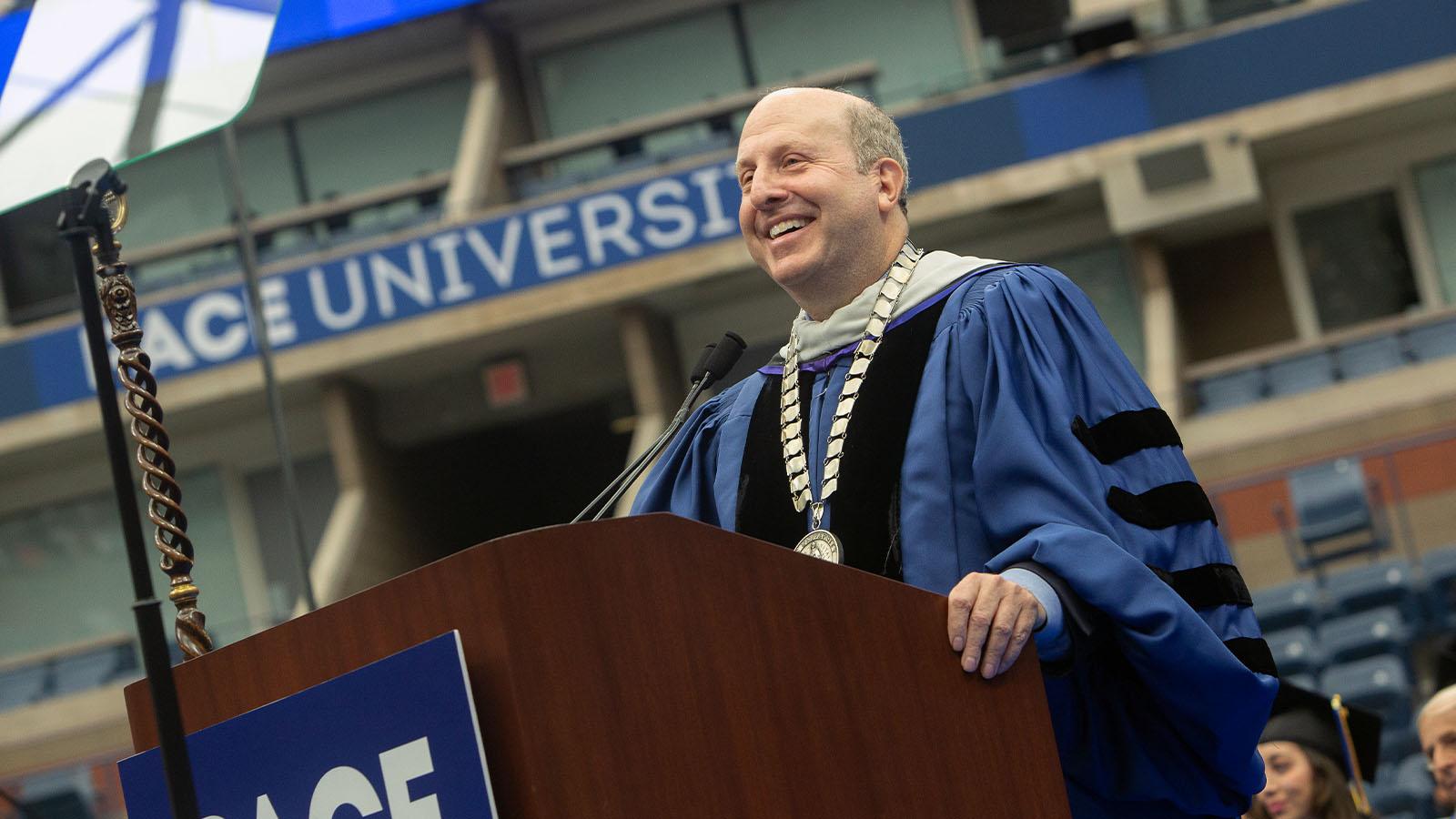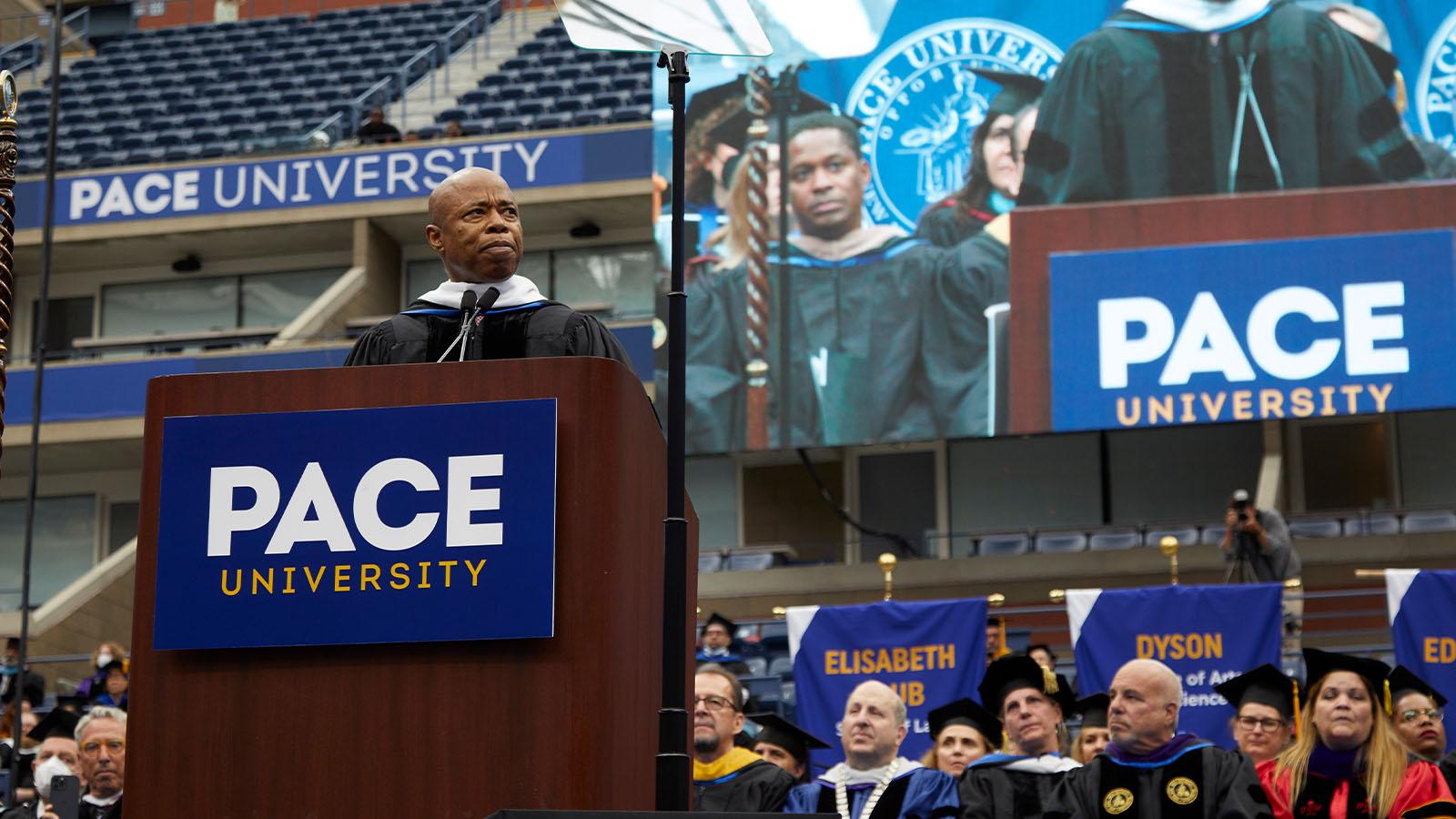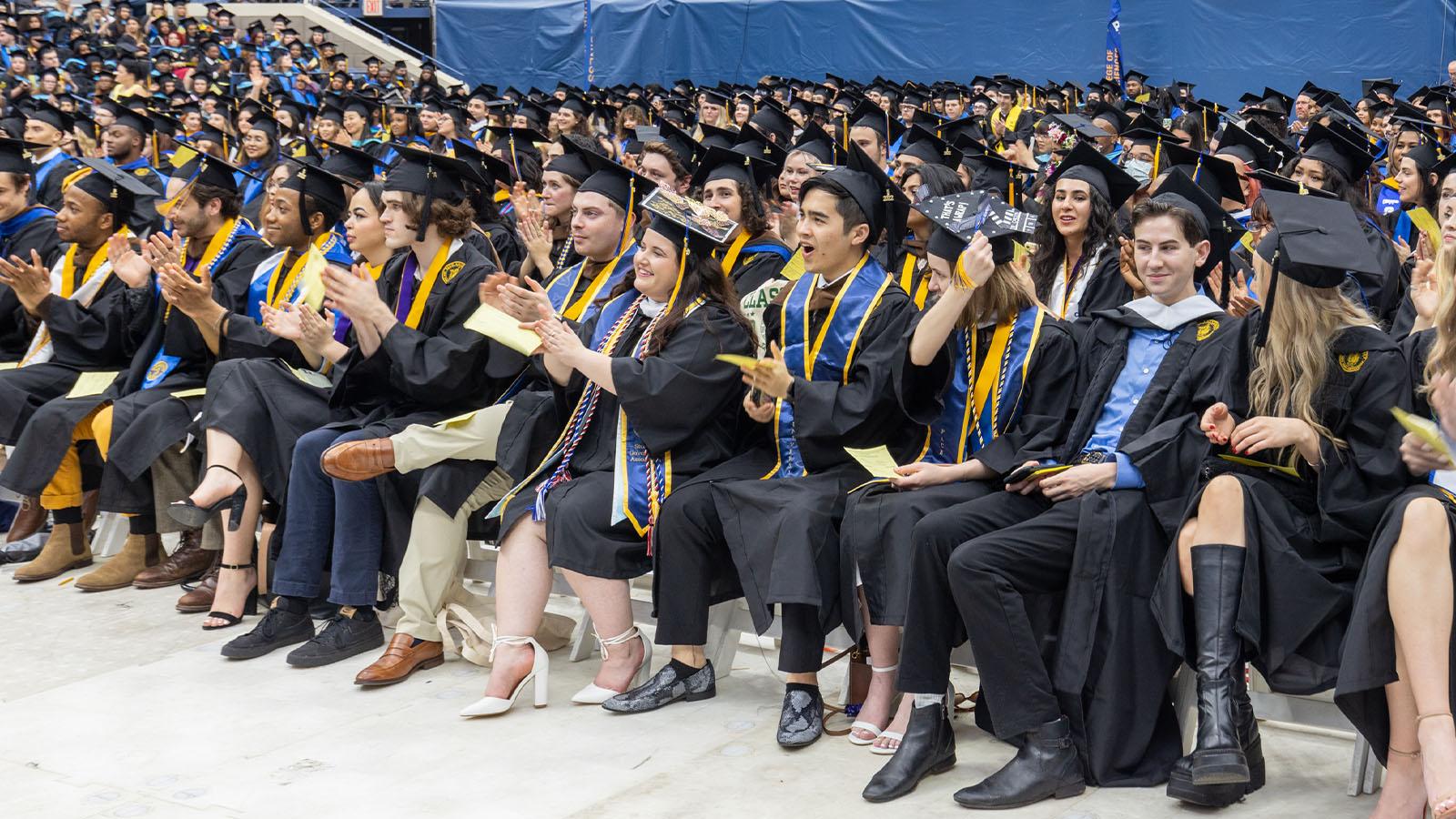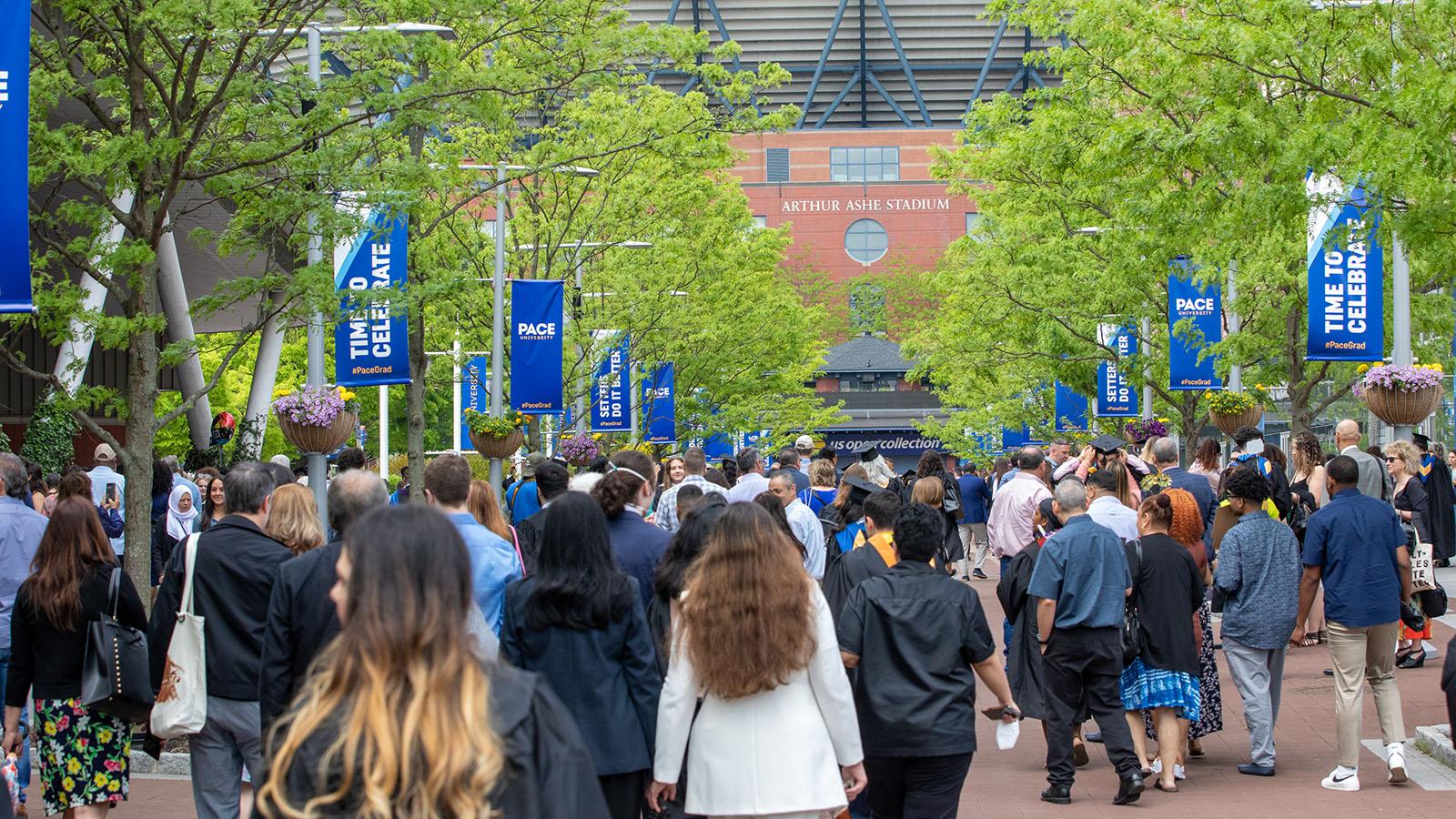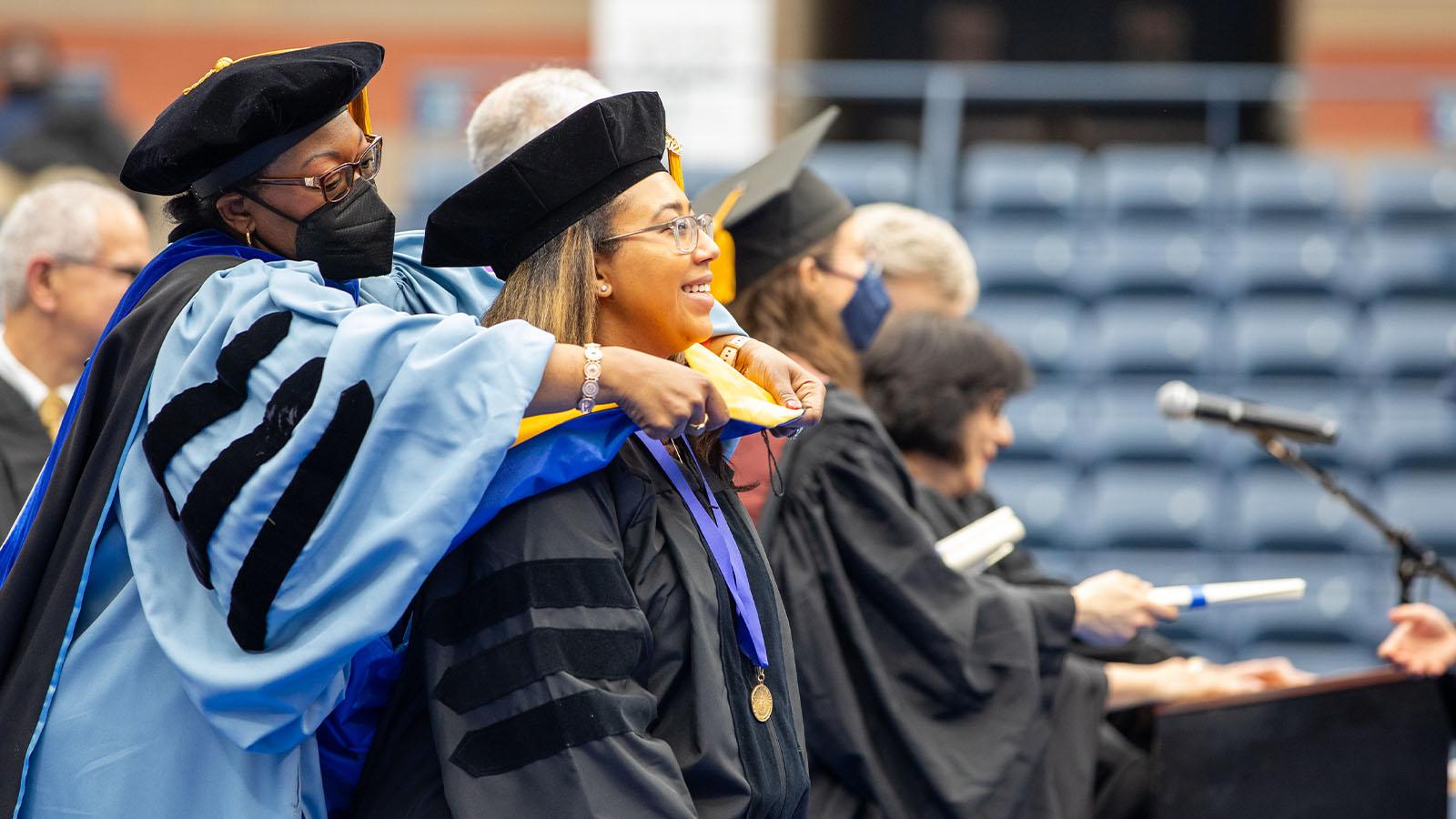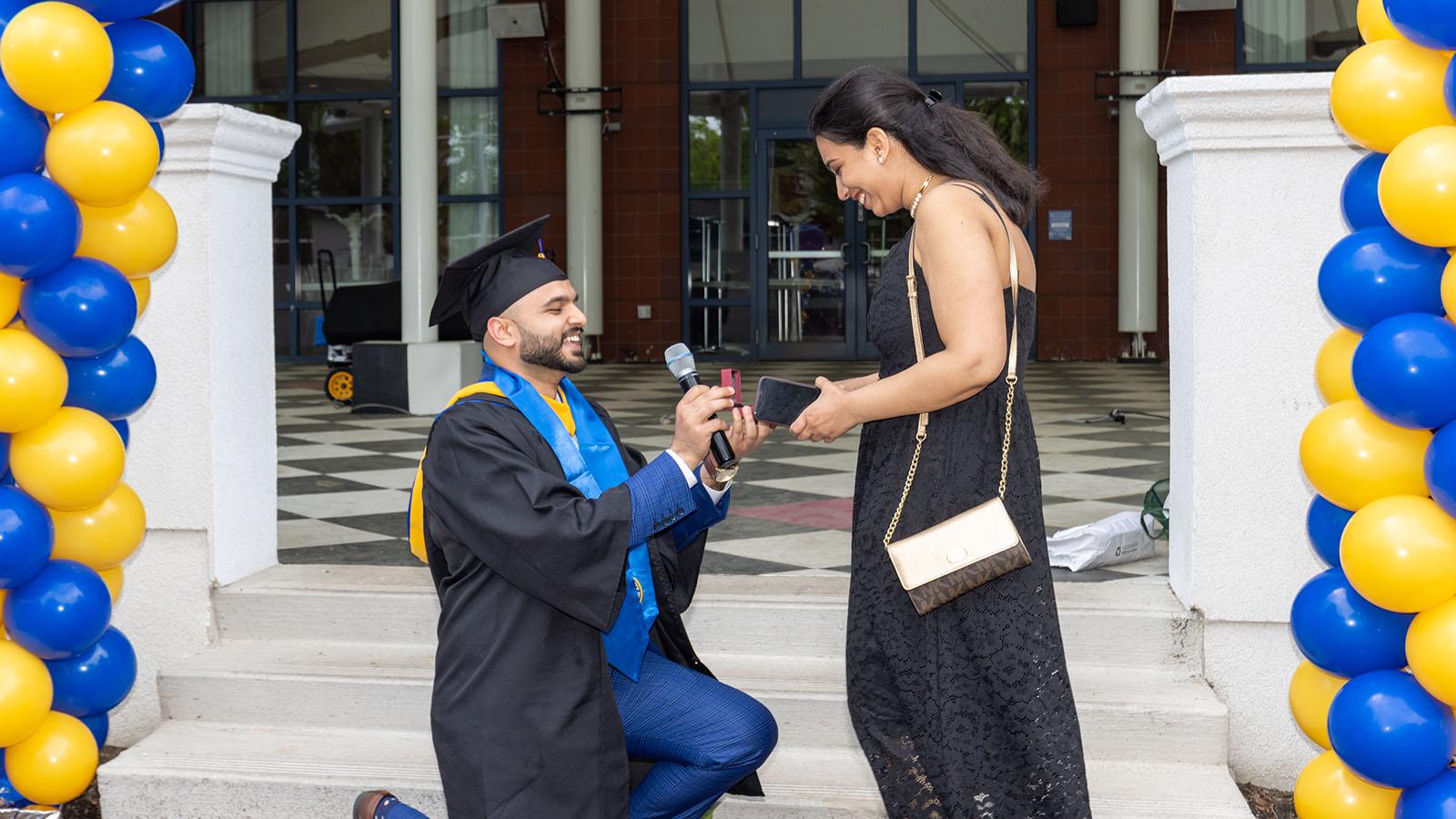 More than 15,000 graduates and guests attended Pace University's first in-person Commencement Ceremony at the USTA Billie Jean King National Tennis Center on May 16, 2022.
Pace University President Marvin Krislov addresses the crowd at the opening, university-wide ceremony.
New York City Mayor Eric Adams addresses graduates before receiving an honorary doctorate.
Graduates from the Dyson College of Arts and Sciences and the School of Education watch and applaud as Dean Tresmaine R. Grimes, PhD, speaks.
Graduates and their loved ones gathered on the plaza at the USTA Billie Jean King National Tennis Center to celebrate.
Dean Tresmaine R. Grimes, PhD, places a hood on a Dyson College doctoral candidate.
Dyson graduate Jatin Jaiswal proposed to his now-fiancé, also a Pace alumna, outside Arthur Ashe stadium.
Dyson Digital Digest: Summer 2022
Alumni
Selected for the Minority Fellowship Program by the National Board of Certified Counselors, Ashley Davis '22 is paving her own path in mental health counseling.
Alumni
If you're looking for shows to add to your streaming queue this summer, Dyson alumni have scored big roles across genres and platforms.
Alumni
From award-winning journalist, to first female editor-in-chief, CEO, and publisher of the nation's largest Spanish language newspaper, to New York State Secretary of State, Commissioner Rossana Rosado is inspired by the stories of others.