Image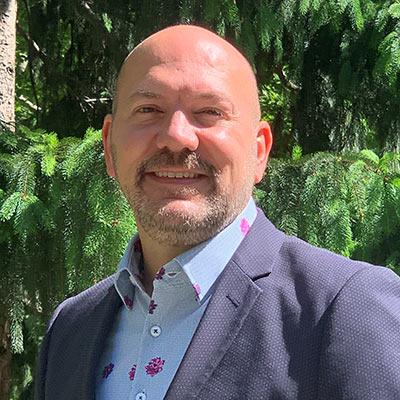 Todd Smith-Bergollo
Senior Associate Dean for Students, New York City
Phone: (212) 346-1306
Email: nycstudentaffairs@pace.edu
Todd has worked in the field of student affairs for over 20 years, with positions in residence life, LGBQA and multicultural student services, civic engagement, orientation, and student activities. Todd came to Pace in 2015 to serve as the Assistant Dean for Students and Director of Student Development and Campus Activities.
Todd received his BA in Mathematics and Secondary Education from the State University of New York College at Geneseo where he got his start in the field of Student Affairs, serving as an RA and an active student leader on campus involved in student government, Greek life, and other organizations. After college he worked with teens at a non-profit agency in Nashville, TN followed by a stint in Alumni Affairs at Vanderbilt University. He moved to New York City to obtain his MA in Higher Education Administration from New York University where he then served as the Director of the Office of LGBT Student Services for several years. During this time he served in a national leadership role in the field of LGBT campus services. He then moved to Columbia University as the Associate Dean of Student Affairs, eventually serving as the Dean for Community Development overseeing student activities, residence life and multicultural affairs. Todd came to Pace in 2015 as the Assistant Dean for Students and Director of Student Development and Campus Activities.
During his time at Pace he has overseen the transformation of SDACA's programs and services, including the creation of a more exciting, engaging, and informative Orientation program, an increase in the number of student organizations, and a myriad of leadership and community-building programs. Todd also serves on the boards of two student affairs professional organizations. Todd's motivation lies in providing opportunities for students to discover themselves and their passions, leading to their success in college and beyond.
Todd enjoys spending time with his husband and son, traveling to explore different cultures, and loves to bake. He has also worked with his business partner for many years to facilitate diversity and social justice workshops to faculty, staff and students at institutions of higher education and non-profit organizations.
Top 5 Strengths:
Communication | Developer | Consistency | Empathy | Positivity