Alumni
The Beauty is in the Eye of the #Go-Getter
Image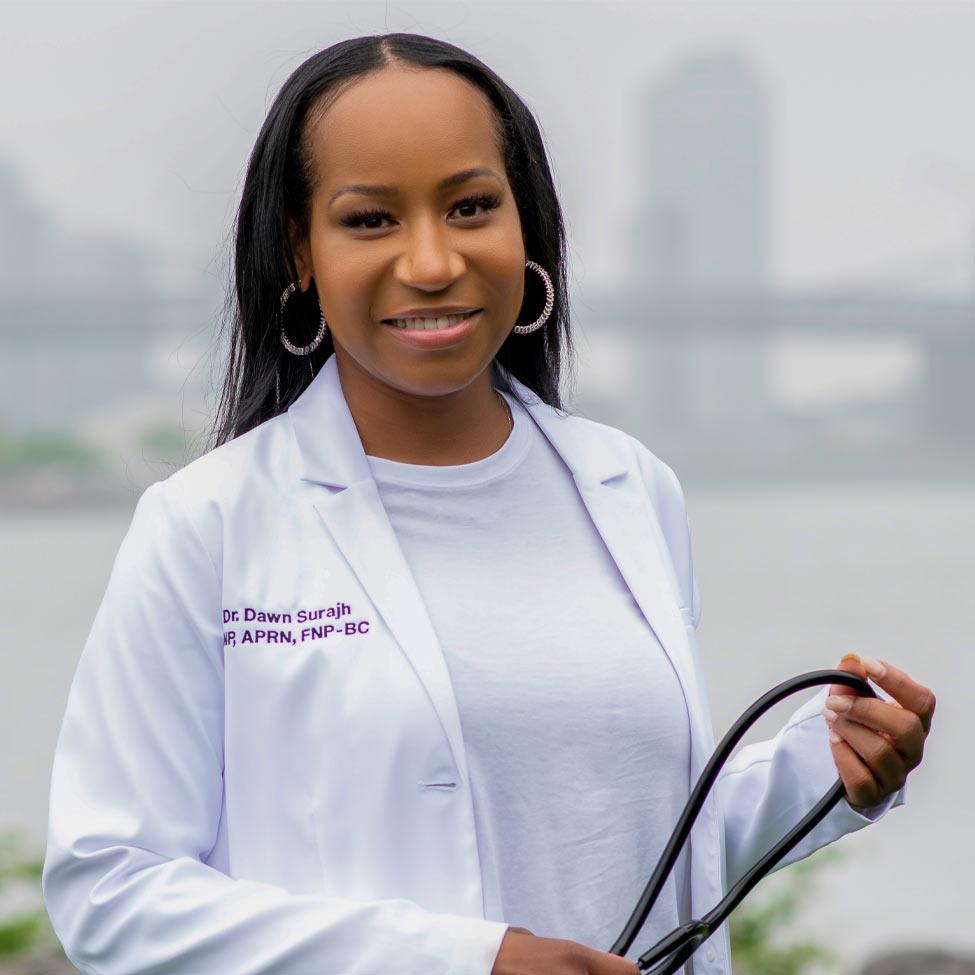 Pace Go-Getters can do it all, said Pace two-time graduate, mother, wife, nurse, and business owner, Dr. Dawn Surajh, DNP, APRN, FNP-C. For Dawn, nursing is not just a passion, it is her foundation.
As an alumna from the Leinhard School of Nursing (LSN) Family Nurse Practitioner (FNP) program and Online Accelerated Doctor of Nursing Practice (DNP) program, Dawn took her nursing career to the next level and opened her own nursing aesthetics practice, D's Aesthetik Inc., in Georgia.
There is a saying that beauty is in the eye of the beholder and according to Dawn, beauty is also expressive. Aesthetics has allowed her to make others' dreams come true, and to her that is an art. She uses her artistic skills along with her medical professionalism to treat patients with care and expertise. "Diving into the beauty industry has been nothing but rewarding for me as a cosmetic injector because I get to witness the happy side of patients and the medical field. I see delight from patients when they view their results produced from these magical hands of mine," said Dawn. She strongly believes in following the mantra, "inject with intent!" guiding her to operate her practice with honesty.
Opening an aesthetic practice takes a lot of patience and trial and error. She was never presented with a blueprint about opening any practice; but felt confident in her Pace education and well accomplished at the end of each degree. "The quality of education and training experience I received at Pace were nothing short of amazing," she said. Starting her own business came with challenges, but as her passion and dream, Dawn did not consider this as work. "It takes a lot of hard work, dedication, blood, sweat, tears, and determination to be successful. My biggest take away was to never give up on your dream," she explained.
"The quality of education and training experience I received at Pace were nothing short of amazing."

—Dr. Dawn Surajh
Dawn chose Georgia as a location for a better family environment for her children. She continues to be dedicated to working on her art of injecting and making clients feel wanted, beautiful and fulfilled. As a business owner, it is not about the money for Dawn, but the rewards behind each procedure from a client standpoint. "If my clients are happy at the end of their treatment, it's evident that I have done my job and have done it well," said Dawn. The most rewarding part of her day is making her clients smile at the end of their treatment with the "wow" effect as she hands them the mirror.
More from pace
Pace Magazine
Pace's faculty are working across disciplines to address the health needs of today.
Pace Magazine
Our innovative new programs in human centered design, health informatics, and more are ensuring that today's Pace students will be tomorrow's leaders in emerging industries.
Pace Magazine
With the help of a nearly $2M federal grant, this inaugural cohort of nursing students is poised to change the face of patient care.