Accounting, BBA
Location
New York City

Westchester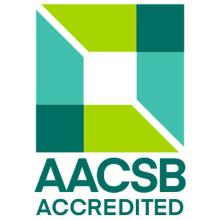 Dual accreditation by the Association to Advance Collegiate Schools of Business (AACSB) International, an elite distinction shared by fewer than 2% of business schools in the world
Don't Wait for It. Go for It.
Pace's BBA in Accounting prepares you to rise quickly in a highly profitable career that can get you all the way to the C-Suite. Get the educational foundation you need to sit for the CPA exam and earn other specialized credentials, like certified internal auditor. We provide CPA review courses (Becker CPA Review) in all programs, and all our programs are ready for the new "Core + Disciplines" CPA exams. 
A Launchpad to Success
Get a solid foundation in accounting principles
Choose from three concentrations that will diversify your skill set
Establish a foundation to study for the CPA exam and other specialized credentials
Add Opportunities and Experiences
Choose from one of three concentrations within the BBA in Accounting program:
Forensic Accounting, which provides a solid accounting foundation alongside specialized training in forensic accounting; Internal Auditing, which develops the skills you'll need to pursue a career as an internal auditor; and the third option, which allows you to customize your BBA.
You can select additional coursework in areas such as taxation, law, finance, information systems, or management. Students who plan to take CPA exams should choose the following courses among electives: ACC 461 Auditing I, LAW 312 or LAW 360 Business Law II, TAX 311 Federal Income Taxation II, and ACC 470 Accounting Research Project.
At Lubin, we get you through the door and behind the scenes for unique opportunities, thanks to our well-developed network of alumni and corporate partners. Graduates of the BBA in Accounting program work for Big Four accounting firms, Fortune 100 companies, the Federal Reserve, and the New York Stock Exchange, among many other enterprises.
Choose Your Career
Career Options
Financial Analyst
Forensic Accountant
Internal Auditor
Management Consultant
Management Accountant
Public Accountant
Where Graduates are Employed
Bank of New York Mellon
Chaser Brand
Citigroup
Deloitte
EY
Friedman LLP
Geller & Company
Gibbs and Cox Marine Solutions
Gryphon Strategies
JPMorgan Chase & Co.
KPMG
Malesardi, Quackenbush, Swift & Company, LLC
PwC
RSM
PricewaterhouseCoopers
W.B. Mason
A Note on CPA Exam Requirements
Students who plan to take the CPA exam should be aware of the specific educational requirements for the state in which they intend to sit for the exam. Visit the National Association of State Boards of Accountancy website (NASBA) for specific requirements in each state. The state of New York currently requires 120 hours of college level education and at least one course covering each of the following (see website NASBA/NYS):
Financial accounting, at the upper division and beyond introductory level,
Cost or management accounting,
Taxation,
Audit and attestation, at the upper division.
The courses required for BBA Accounting program with appropriate elective courses in auditing (ACC 461), taxation, and business law will satisfy the requirements to take the CPA exam in New York.

The CPA licensure however requires a total of 150 hours (33 in accounting) of education, in addition to passing the exam and gaining practice experiences. The requirements for BBA Accounting program do not satisfy all requirement for CPA licensure. Students can earn additional credits by joining one of the graduate programs at Pace (e.g., MS Accounting, MBA Accounting, or MS Accounting Data Analytics and Technologies) to satisfy CPA licensure requirements in education.

Students who are interested in completing all 150 credits of CPA licensure requirements in one step can consider the following programs:
average salary for accounting professionals in New York State (Source: O*NET)
of Lubin's class of 2022 bachelor's graduates are employed or continuing their education or service (Source: Pace University Career Services)
best colleges for accounting and finance in New York in 2023 (Source: Niche.com)